We are back again this weekend with another big MMA event from the world's leading mixed martial arts promoter. UFC Vegas 40 takes place at the UFC Apex and features 11 fights, including five fights on the main card. Let's dive into those five bouts here at The AllStar.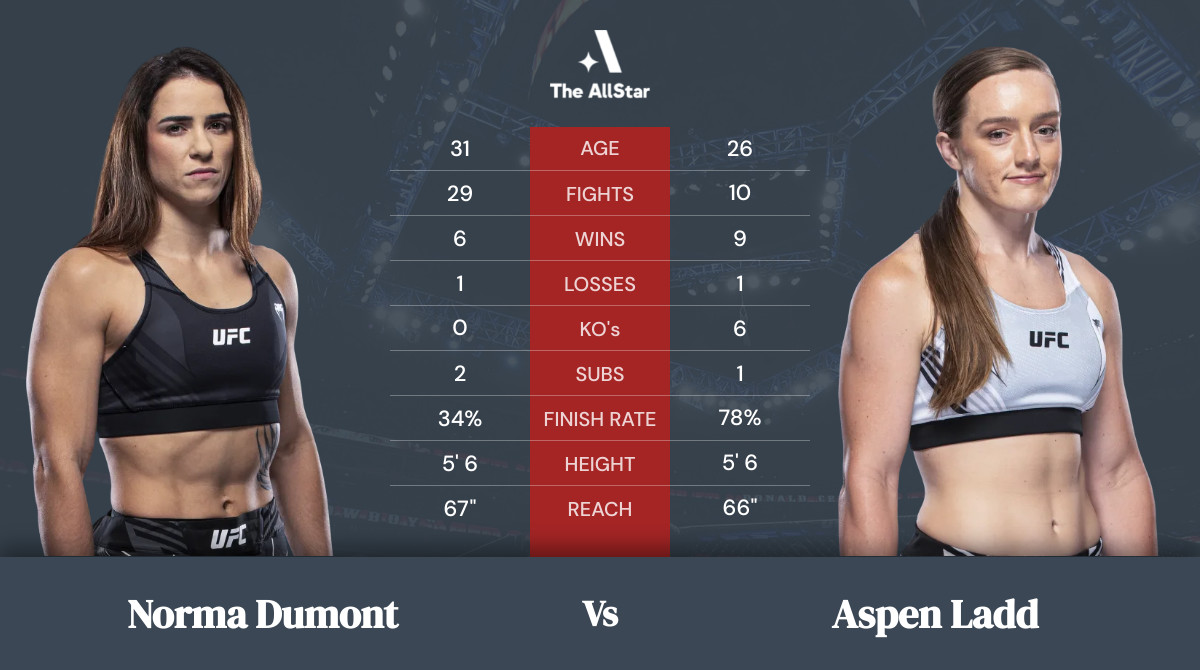 Ladd is the No. 3 ranked women's bantamweight and she is making her UFC featherweight debut in this fight. The 26-year-old is 4-1 so far in the UFC and at times, she has looked like a potential world champion. In her last appearance in December 2019, Ladd finished Yana Kunitskaya for the biggest win of her career. She was closing in on a title shot but blew her knee out in training and she has been out for the last two years. Moreover, she recently had a failed weight cut for a bantamweight fight against Macy Chiasson. Ladd was one of the top contenders at 135lbs before her injury, so it will be good to see her back in the Octagon. But moving up in weight on short notice could prove to be a difficult matchup for Ladd.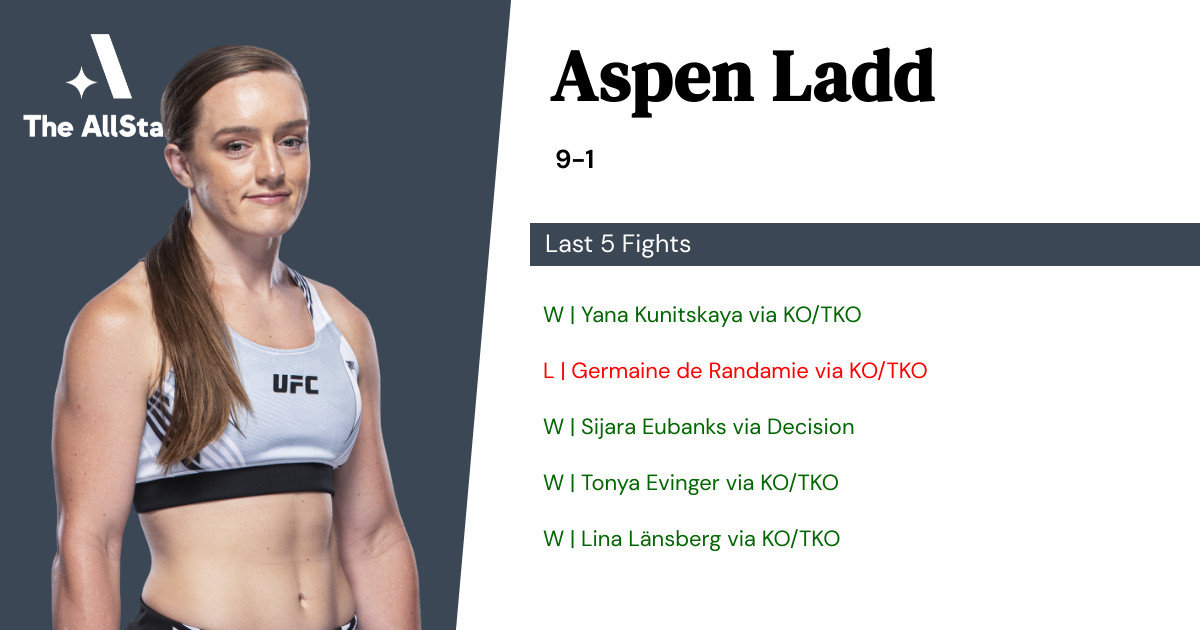 Dumont is one of the top women's featherweights in the UFC. The 31-year-old Brazilian made her promotional debut last year and was knocked out by Megan Anderson at 145lbs. She then dropped down to 135lbs and dominated Ashlee Evans-Smith in a breakout performance. After missing weight for her next fight, Dumont moved up to 145lbs and picked up a win over former title challenger Felicia Spencer. In a shallow division, that win earned Dumont the main event fight against Holly Holm, but the fight was scrapped when Holm pulled out with an injury. Ladd then took the fight on short notice, and here we are.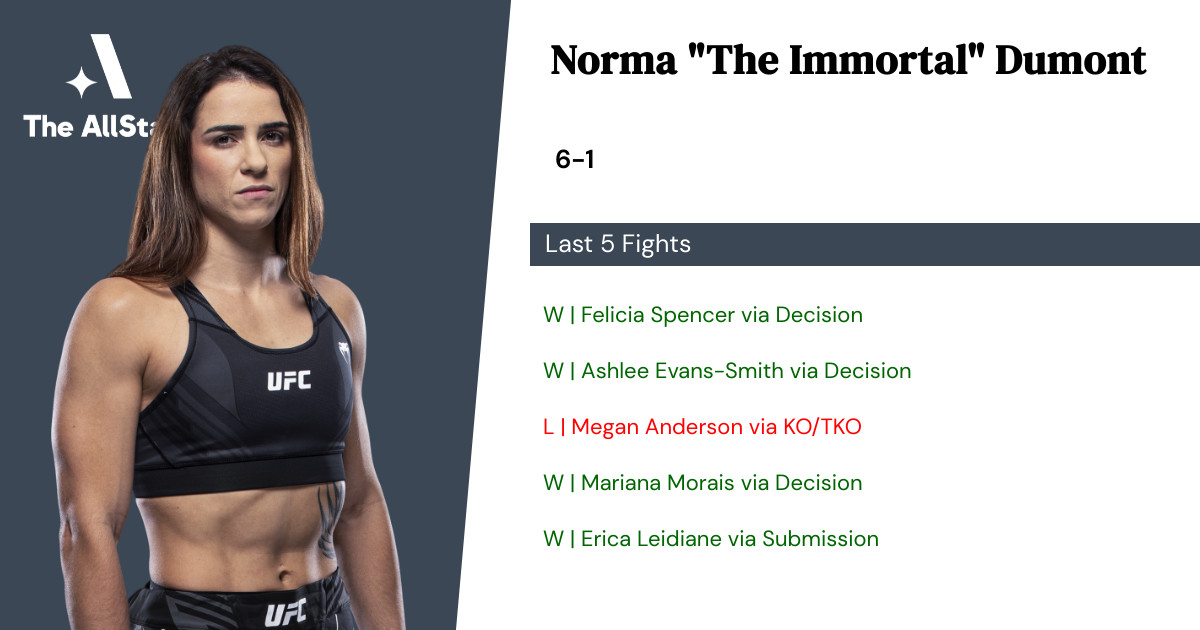 Total rounds (4.5) Over -160 vs. Under +130
The total rounds for this fight have been set at 4.5 rounds, with the odds favoring the fight going OVER the total. Ladd has shown that she has finishing ability, but both of Dumont's UFC wins have come by decision. However, since this fight is five rounds, it's tricky to call which way the total will go. But it does feel like there's a better chance that it goes over.
Let's face it, Ladd vs. Dumont has no business being a UFC main event, but on its own, it is an interesting matchup, especially since it's taking place at 145lbs. With Ladd, she's always been an impressive fighter, but given her layoff, recent weight miss, and moving up in weight for this card, I have a lot of question marks about her. As for Dumont, this is a step up in competition for her, but she has looked fantastic lately and has been passing all of her tests. Ladd typically does her best work on the floor but Dumont is hard to get down to the mat. In this matchup, I see Dumont stuffing takedowns, outboxing Ladd, and winning the decision.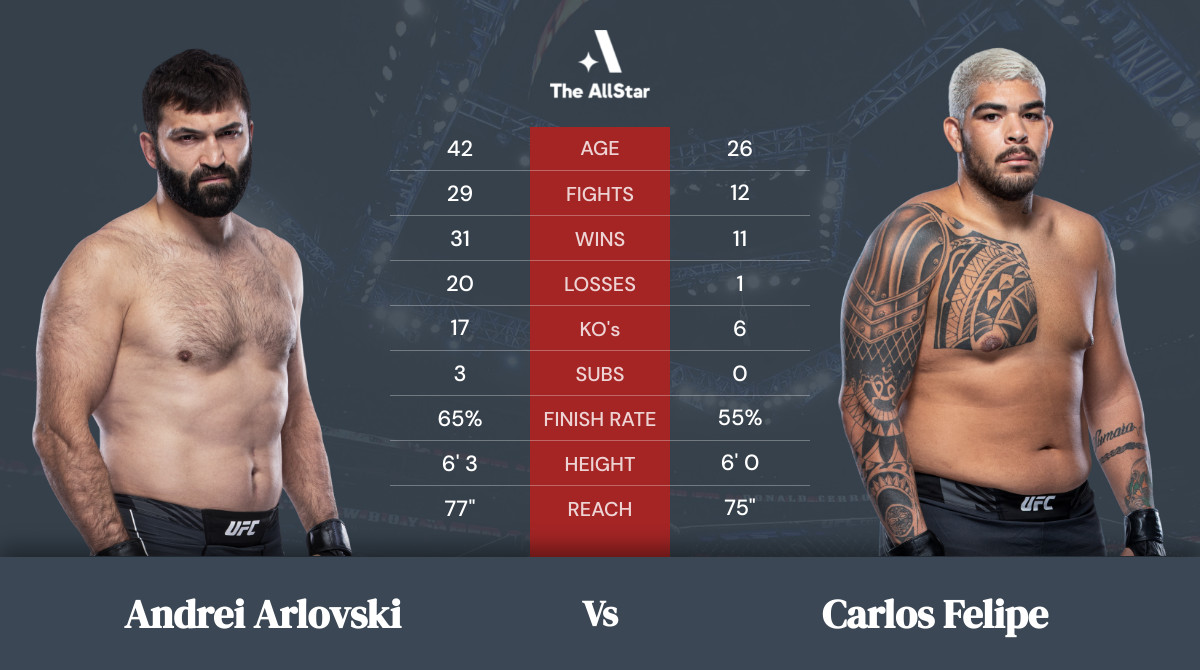 In the co-main event of UFC Vegas 40, Carlos Felipe takes on Andrei Arlovski in heavyweight action. The 26-year-old Felipe has gone 3-1 so far in the UFC and he is currently riding a three-fight win streak, albeit with all his wins coming by decision. He does seem to have pillow hands and that limits his upside in a division full of knockout artists. But Felipe is a busy, volume-based striker who constantly moves forward. Even when he's getting hit with counters, he is always moving forward and the judges seem to love his fighting style.
Arlovski is a legend of the game and he's been looking good as of late with three wins in his last four fights. That being said, he is 42 years old, and at some point, he is going to slow down. Arlovski has been beating his opponents by decision lately in fights where he is staying busier than his opponents with his striking. Against a guy like Felipe who is a whopping 16 years younger than him, I have a hard time seeing Arlovski being able to keep up with him.
Give me Felipe in this fight. Anytime there is such a giant age gap like that, I always favor the younger fighter. In this matchup, I expect Felipe to be more active and win the decision.
Veteran lightweight Jim Miller returns to the Octagon when he takes on Erick Gonzalez. Miller was supposed to fight Nikolas Motta last month but pulled out due to COVID-19. A month later and the 38-year-old veteran will now return to the Octagon against the UFC newcomer Gonzalez.
It's pretty incredible to think that Miller has been in the UFC since 2008. Over the past 13 years, he has been one of the best lightweights in the world, though he never reached the title. Still, he has fought most of the best fighters in his division and he has a number of key wins. Most of his victories have come on the ground as his submission game is nasty. Given that Miller is 38 and has lost three of his last four fights, it's fair to say that he is on the decline. But even a compromised version of Miller still has a good chance to beat most other lightweights.
Gonzalez is a former Combate fighter who is making his UFC debut here. The 29-year-old Mexican-American is certainly a solid prospect and I'm excited to see him make his promotional debut here. He is a nasty finisher and has good cardio, so if he can survive the first round against Miller then he will have a good chance to win this fight. But that's a big if.
Until I see Gonzalez actually beat UFC-level competition, I can't pick him over someone as experienced and battle-tested as Miller. Although I think Miller is on his last legs, I do think he has another submission win left in him, and I think he can tap Gonzalez out in this fight.
Also on this card is a women's flyweight bout between surging contender Manon Fiorot and Mayra Bueno Silva. This fight was supposed to happen last month but a member of Fiorot's team got COVID-19 and the fight was rescheduled.
Fiorot has turned heads in the UFC so far with back-to-back knockout wins over Victoria Leonardo and Tabatha Ricci. In fact, Fiorot has won her last five fights by knockout overall. Not only has the 31-year-old France native been winning her fights, but she has been basically destroying her opponents. It has been impressive to watch and she looks like someone who could eventually be a contender for UFC women's flyweight champ Valentina Shevchenko.
As for Silva, the 30-year-old Brazilian is 2-1-1 overall in the UFC. She has shown some nasty striking skills at times as well as a lethal submission game. However, one big issue with Silva is that she can get taken down and held by stronger wrestlers. Still, she is a good striker and stylistically she should make for an excellent opponent in this fight against Fiorot. Hopefully, these two strikers stay standing and put on a show for the fans in a standup battle.
In this striker vs. striker matchup, I'm going with the fighter with more knockout power in Fiorot. I think she has what it takes to hurt Silva and become the first person to finish her.
Kicking off the main card is a middleweight bout between Julian Marquez and Jordan Wright. Marquez returned last year after a three-year layoff and he got back to work with a submission win over Maki Pitolo. In that fight, the 31-year-old Marquez was getting dominated and appeared to show ring rust. But in the third round, he showed his toughness and his heart by getting the finish. He then followed it up with a submission win over Sam Alvey. While Marquez does have holes in his game, he is also a very tough fighter to beat.
Wright, meanwhile, has been up-and-down so far during his UFC run. The 30-year-old American won his UFC debut over Ike Villanueva by TKO but then he lost to Joaquin Buckley by KO. He then bounced back with a KO win over Jamie Pickett. Overall, Wright is a very dangerous striker, especially early on in the fight. However, he does tend to slow down as the fight goes on, and against a cardio machine like Marquez, that could spell trouble.
Wright will be dangerous in the first round, but Marquez is extremely durable and I don't see Wright finishing him. After burning out early on, I expect Wright to gas, Marquez to take over, and then get the finish with a submission in the second round after Wright tires out.