We are back this Saturday night with another MMA card as UFC Vegas 41 takes place at the UFC Apex. The card features 13 fights in total, including six main card bouts. Let's dive into the UFC Vegas 41 main card in our preview here at The AllStar.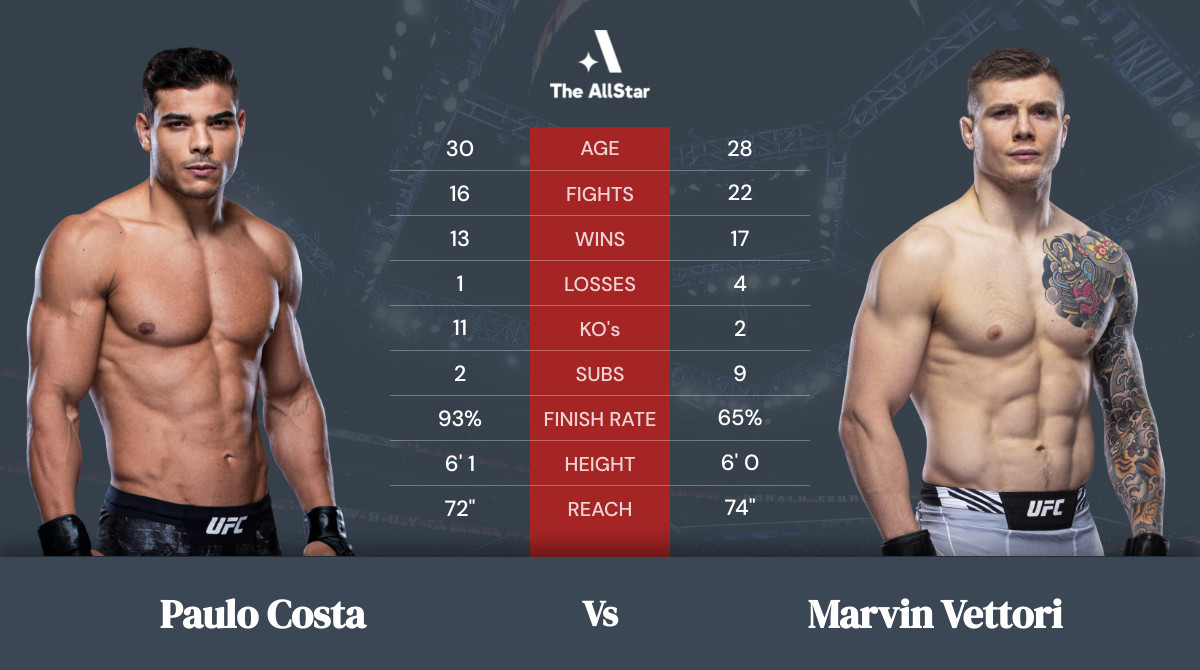 Vettori is the No. 3 ranked middleweight contender in the UFC. The 28-year-old Italian is coming off of a title fight loss to UFC middleweight champ Israel Adesanya at UFC 263 in his last fight which snapped a five-fight win streak for Vettori. While he did lose to the champ, there is no shame in losing to Adesanya, and "The Italian Dream" gained valuable experience as he was able to hold his own on the feet against the champ. Vettori is still improving as a fighter and a win over Costa would put him in line for another big fight at 185lbs.
Costa is the No. 2 ranked middleweight contender in the UFC. The 30-year-old Brazilian stormed up the ranks at 185lbs with five straight knockout wins but he suffered a loss to Adesanya in his last fight. He has said that he was hungover in that fight after a night of drinking which led to a poor performance. It will be interesting to see if he gets back to being the knockout artist of old in this fight. However, if he can't get the finish, it will be interesting to see what happens given that he has never been the full five rounds in his UFC career before.
Total rounds (4.5) Over -120 vs. Under +100
The total rounds for this fight has been set at 4.5 rounds, and the odds are essentially a Pick 'em, with a slight lean towards the over. Vettori has gone OVER 4.5 rounds in his last three fights, but Costa has never gone that far in his career, making this a tricky total to call. Just based on the way Vettori has been fighting lately, the OVER seems to be in play here.
Overall this should be a good fight between two of the best middleweights in the world. Costa will have his chances early on the feet, but Vettori has never shown any durability issues and he should be able to withstand the early onslaught. As the fight goes on it favors Vettori, who has superior cardio and wrestling, and he should be able to grind out a decision win.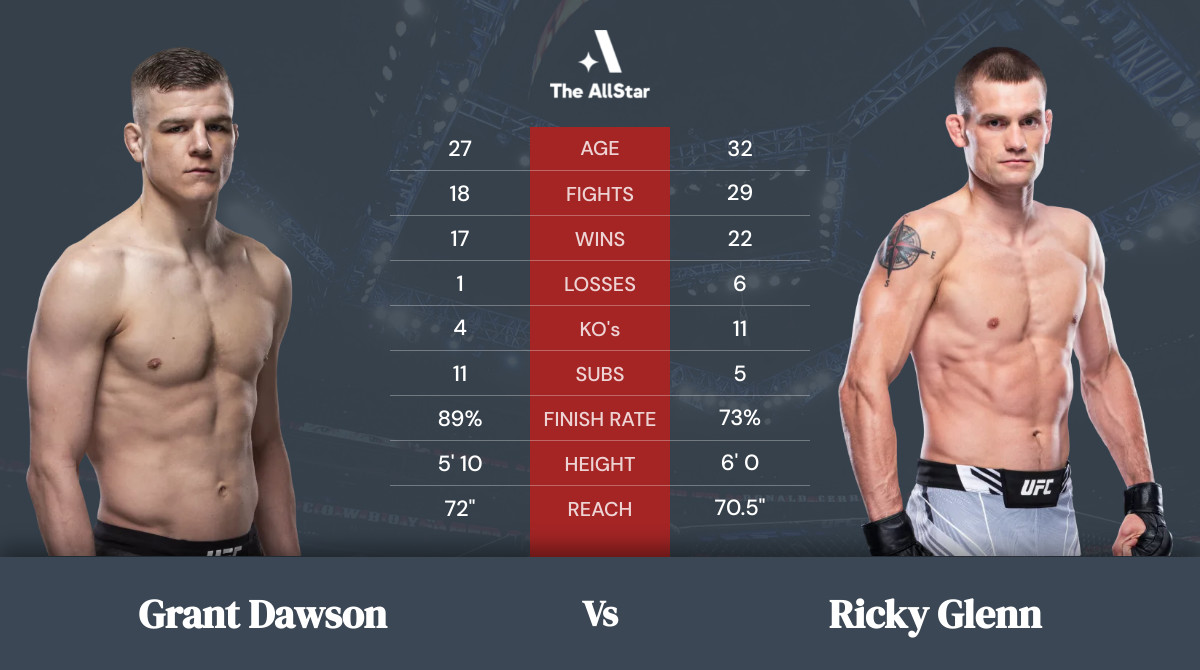 In the co-main event, Grant Dawson takes on Ricky Glenn. Dawson is 5-0 in the UFC and looking every bit the future lightweight title contender. In his last fight, he came back and knocked out veteran Leo Santos at the last second for the biggest win of his career to date. He is an excellent grappler who is improving his standup and overall he has all the makings of someone who should be in line for a top-15 ranking if he is able to get past Glenn here.
Glenn is a veteran of the sport who returned after a three-year layoff to knock out Joaquim Silva in just 37 seconds in his last fight. It was an awesome finish by Glenn and it put him in line for a big fight against someone like Dawson. Glenn is very durable and tough to finish but Dawson is relentless with his grappling and eventually, he should be able to get the takedown and control Glenn. Look for Dawson to win a decision in a back-and-forth fight.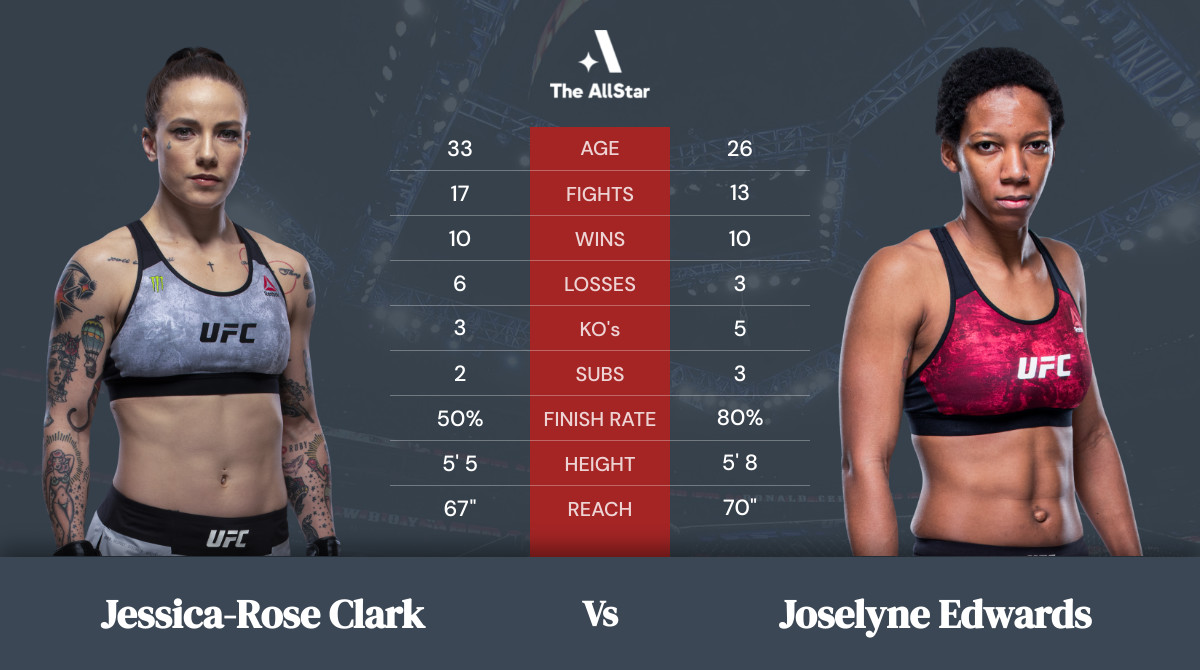 In women's bantamweight action we have Jessica-Rose Clark taking on Joselyne Edwards. Clark is coming off of a TKO win over Sarah Alpar that showed off her well-rounded MMA game. She is a decent wrestler to go along with a passable striker with good cardio and a durable chin. Overall her grappling ability gives her a leg up on her other divisional rivals. It would be nice to see Clark stay more active as she seems to only fight once a year. If she was able to fight more than that, she might be talked about more as a contender at 135lbs.
Edwards defeated Wu Yanan in her UFC debut as an underdog before falling to Karol Rosa in her second appearance. She is a good striker on the feet and likely the superior standup fighter in this matchup, but she is also prone to takedowns. As long as Clark fights smart and wrestles, she should be able to excel in the grappling and grind out a decision over Edwards.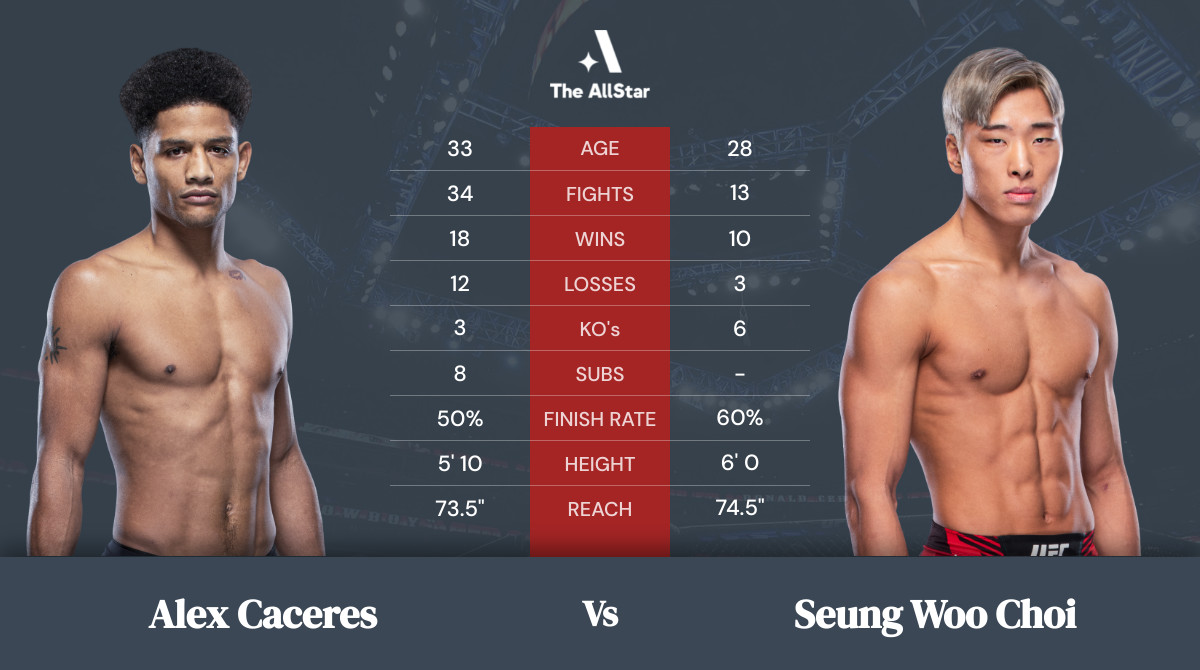 At featherweight, we have SeungWoo Choi taking on Alex Caceres. Choi lost his first two UFC fights but he has won all three of his fights since then including a knockout win over Julian Erosa in his last fight. Choi has good grappling skills to go along with improved striking to potentially become a new contender at 145lbs at just 28 years of age. If Choi is able to finish Caceres, it would really cement himself as someone to keep your eye out for at 145.
Caceres has been in the UFC for over a decade and he has been up-and-down throughout his run in the Octagon while bouncing around between 135lbs and 145lbs. Over the last several years, he has focused on fighting at featherweight and he has looked good with a four-fight win streak. That being said, at age 33 it feels like Caceres is due for a loss, and Choi is a tough customer. Although Caceres will prove tough, look for Choi to win by decision.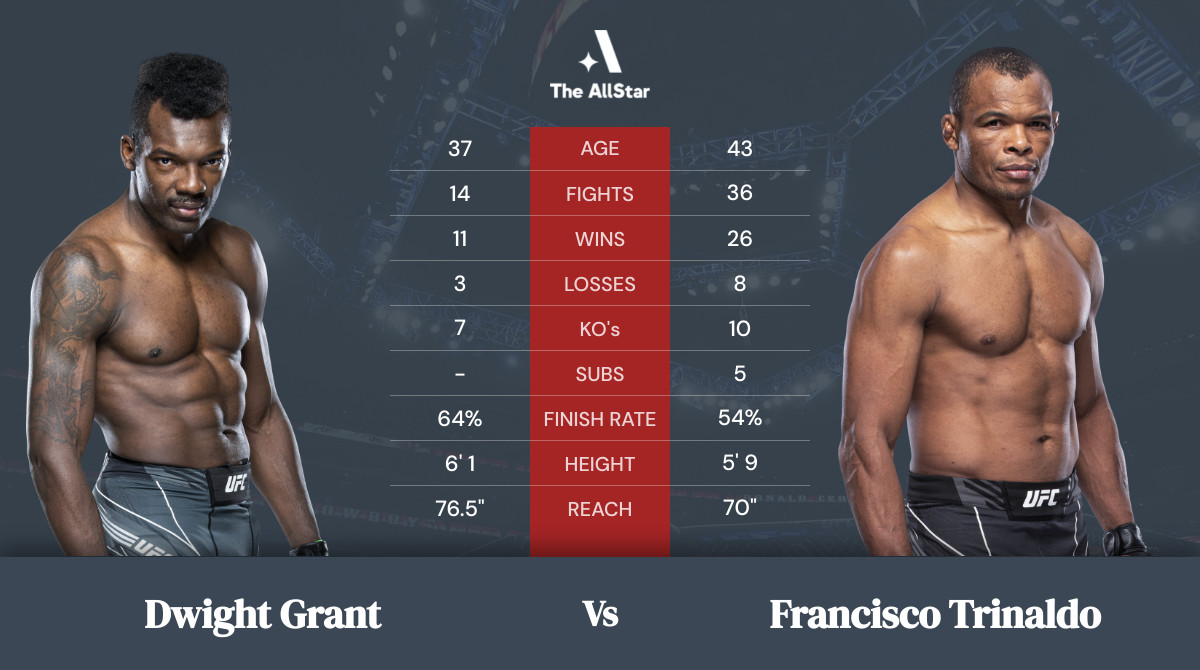 In welterweight action, Francisco Trinaldo takes on Dwight Grant. Trinaldo is 43 years old and he moved up to 170lbs earlier this year after a long and successful run as a lightweight. In his 170lbs debut he lost a spirited decision to Muslim Salikhov, which is not a bad loss. Trinaldo is a respectable striker and grappler and always makes things tough. Still, he's one of the oldest fighters in the UFC and at some point, his durability seems likely to fall off.
Grant, meanwhile, has been up-and-down in the UFC. He is coming off of a split decision win over Stefan Sekulic in his last fight, but in general is known as being a bit of a knockout artist. Grant is 37 so at some point, he is also going to fall off but it does feel like he has more left in the tank. Trinaldo is super tough, but look for Grant to outpoint him for a decision.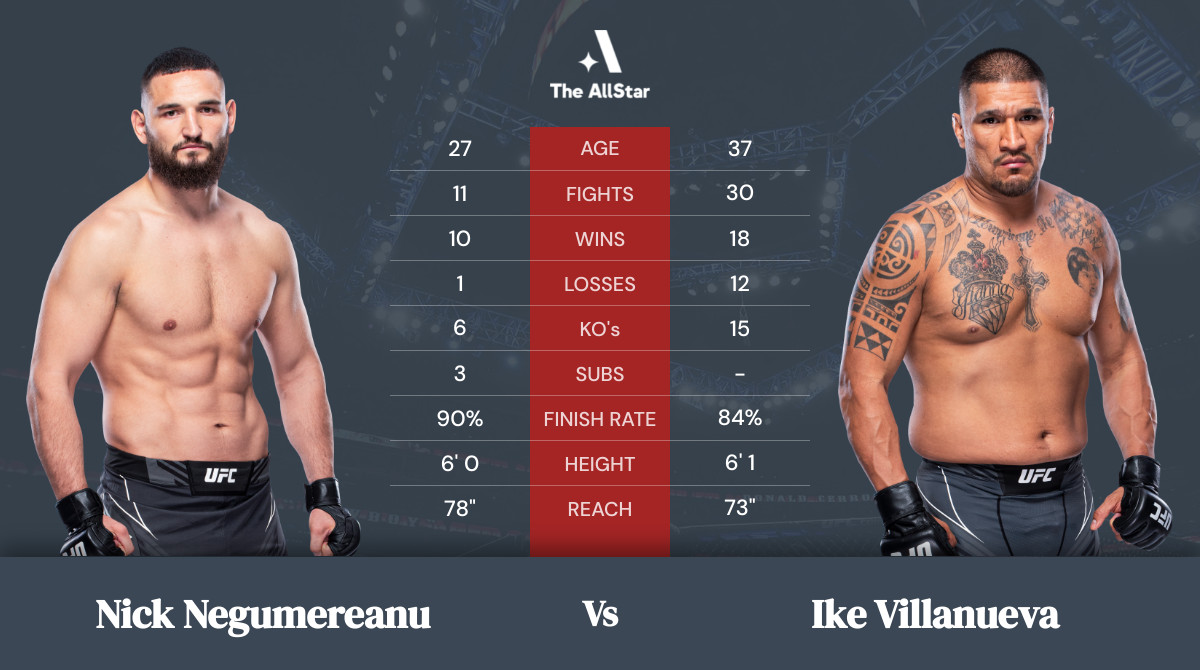 Kicking off the main card is a 205lbs match between Nicolae Negumereanu and Ike Villanueva. The 27-year-old Negumereanu won a split decision over Aleksa Camur in his last outing to pick up his first UFC win. Prior to that, he had lost a decision to Saparbeg Safarov. After taking off two years, he looked like a much-improved fighter against Camur. Negumereanu is a decent striker with a good chin who is also adept at fighting in the clinch.
Villanueva is 37 and he is just 1-3 overall in the UFC. His KO win over Vinicius Moreira was nice, but he's been finished in all three of his losses. He is a veteran with knockout power himself, but his durability seems to be questionable at the UFC level. It just feels like he is a guy who is just below the UFC level, but he does possess that KO power at times. Still, given how often Villanueva has been getting finished, Negumereanu by TKO seems likely here.