Tony Gravely had felt both the thrill of victory and agony of defeat before ever stepping foot inside the UFC Octagon.
He held titles in multiple promotions, but not before stumbling along the way against future top contenders and title challengers. The 30-year-old bantamweight attributes the fighter he is today to those losses and character-building experiences.
When it comes to Javid Basharat, Gravely's as-yet undefeated opponent at UFC Vegas 60 on September 17th, the 30-fight veteran believes the same can not be said. By his estimation, Basharat lacks in strength of schedule over his 12 professional bouts and isn't truly prepared for the bright lights of the world's stage – and he's excited to prove that.
An undefeated record may be nice to look at, but solid experience often talks for itself.
"I'm glad that I got to do that," Gravely told The AllStar of his time on the regional scene. "Because at the end of the day, you see some of these people and if they get signed too early to the UFC, they can get two really hard fights and be done. They've seen all they've seen…"
"If you've got a bunch of fights that are [against] guys that have losing records, or barely winning records, once you hit these guys that, they have some losses but these are quality opponents, that's a rude awakening – and I feel like that's kinda what our fight's gonna be like on September 17th."
Gravely was initially surprised when he received the offer to meet Basharat in just the newcomers sophomore appearance, given the wealth of experience under the Virginian's own belt.
He was expecting a move up the ladder against an opponent with a record similar to his own. Nonetheless, he welcomes the currently unsolved puzzle that the Afghani presents, and intends to utilize his entire toolkit in the battle ahead.
"I wanted someone that was gonna make me have to fight a complete fight. I don't want to go in there and rely on one thing. I want to have to fight completely, so I could show everything – but I thought it was gonna be someone that had a little more UFC experience. But either way, it doesn't matter. he's a tough opponent, and he's a good striker, and that's also gonna make me do the same."
"I plan on going in there and fighting, and doing everything I need to fundamentally, whether we're standing up, I think – even though he's a great striker – I think my defense is a lot better. A lot of it's gonna come down to defense in the striking exchanges."
Gravely's last fight ended just over a minute into the first round, though despite his looming opponent's perceived lack of experience, he's not relying on that fast a finish again – welcome as one might be. The veteran is instead prepared for a grueling 15-minutes, and confident his motor will outlast Basharat's, regardless of the pace they keep.
"My cardio's gonna be too much, my pace, my strength, my power, and my skill and I just think it's gonna be a tough night for him."
"The longer the fight goes, the better off it is in my odds. I know I can keep that same pace, so I can keep that pace the whole time."
"But when you don't have to, that's even better."
---
Fighter profile
Tony Gravely is a 30-year-old male fighter from the United States with 23 pro wins and 7 losses. Gravely is scheduled to fight Javid Basharat at UFC Fight Night: Sandhagen vs. Song on Saturday, September 17, 2022.
Tony Gravely's recent form coming into this matchup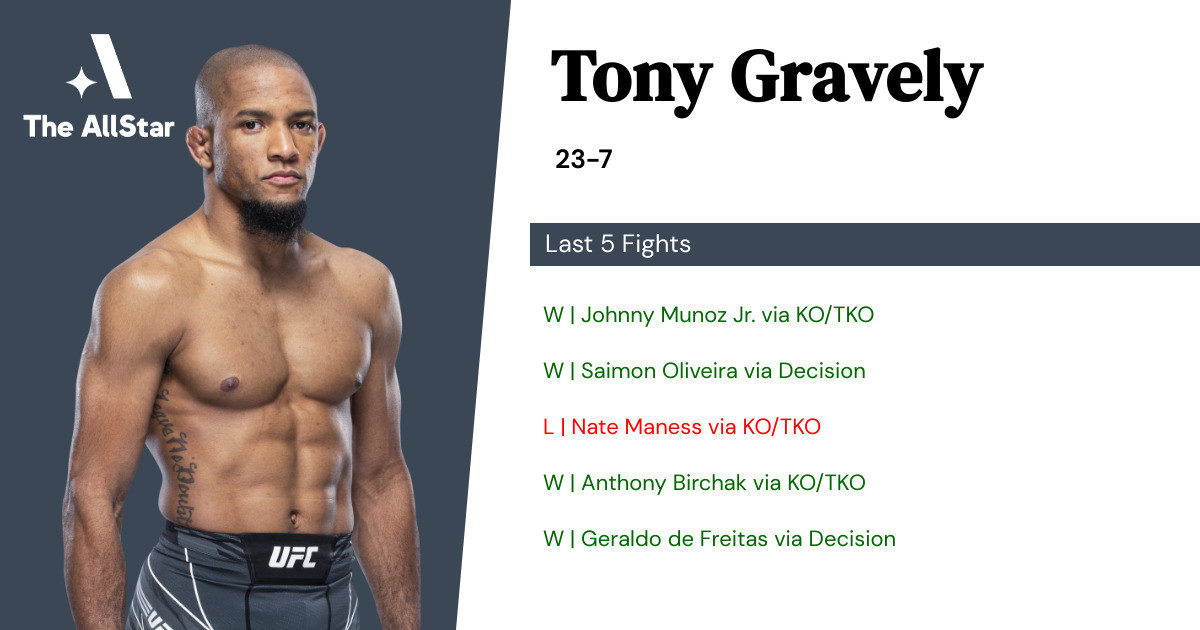 Tony Gravely has gone 4-1 in the last 5 professional MMA fights.
Win vs Johnny Munoz Jr. • KO/TKO R1 1:08 • 2022-06-04
Win vs Saimon Oliveira • Decision R3 5:00 • 2022-01-22
Loss vs Nate Maness • KO/TKO R2 2:10 • 2021-09-18
Win vs Anthony Birchak • KO/TKO R2 1:31 • 2021-04-17
Win vs Geraldo de Freitas • Decision R3 5:00 • 2020-11-14
Tony Gravely's next opponent: Javid "The Snow Leopard" Basharat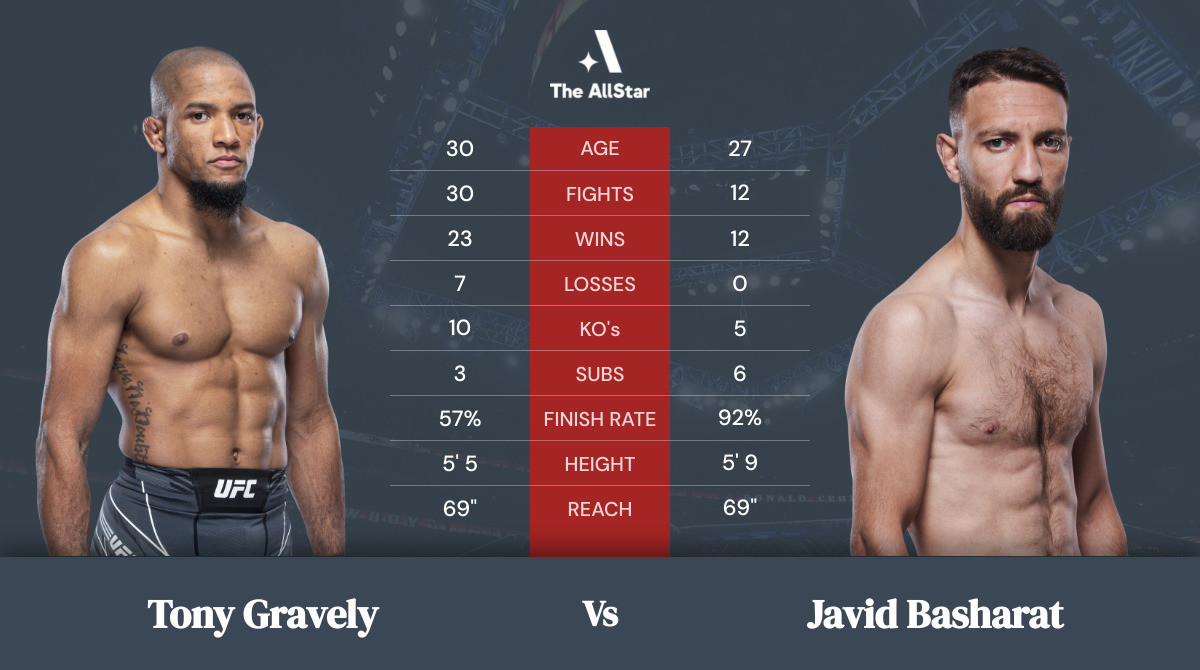 Javid "The Snow Leopard" Basharat's recent form coming into this matchup
Javid "The Snow Leopard" Basharat is a 26-year-old male fighter from Afghanistan with 12 pro wins and 0 losses. Basharat is scheduled to fight Tony Gravely at UFC Fight Night: Sandhagen vs. Song on Saturday, September 17, 2022.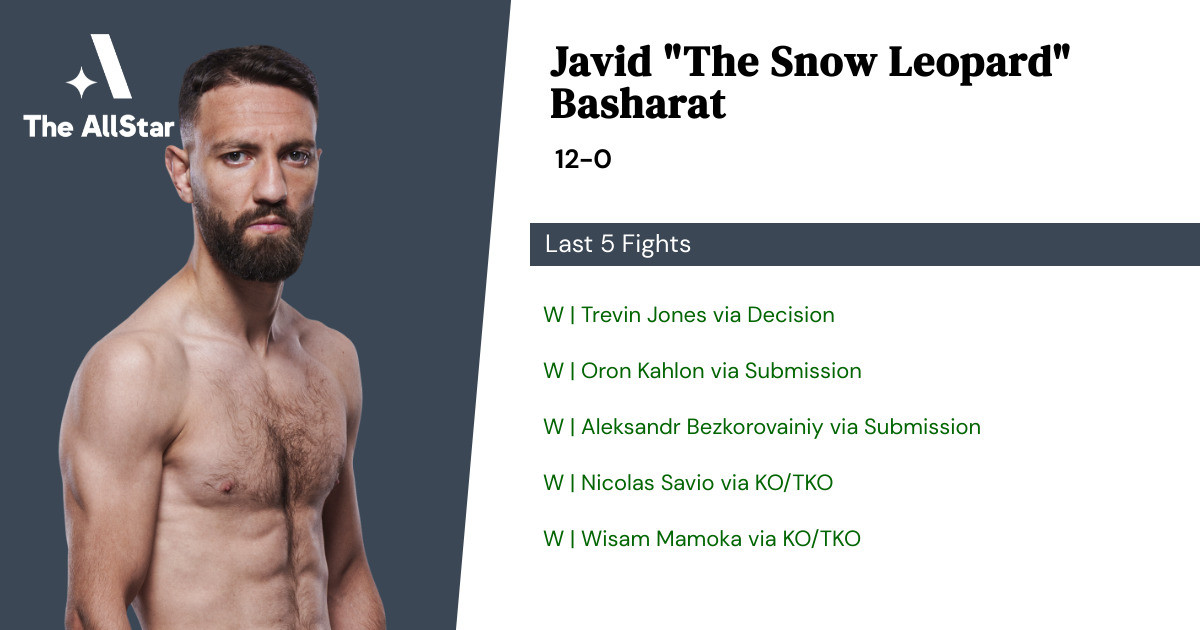 Javid Basharat has gone 5-0 in the last 5 professional MMA fights.
Win vs Trevin Jones • Decision R3 5:00 • 2022-03-12
Win vs Oron Kahlon • Submission R3 4:12 • 2021-10-26
Win vs Aleksandr Bezkorovainiy • Submission R2 4:44 • 2020-12-05
Win vs Nicolas Savio • KO/TKO R1 • 2020-02-15
Win vs Wisam Mamoka • KO/TKO R1 0:51 • 2019-07-06
How to watch and bet on Tony Gravely vs Javid Basharat
Keep track of all the latest odds and line-movements at our bout page for this matchup.