'What have you done for me lately?' – If the sport of mixed martial arts had a slogan, this would surely be it.
Regretfully, such is a truth none are more keenly aware of than UFC lightweight prospect, Mike Davis.
Davis, 29, was made a fixture of the UFC roster in 2019 after accepting a fight opposite Gilbert Burns on just two weeks' notice – a fight that he'd ultimately lose. Over the following three years, the New York native fought only twice more, much to his chagrin; a string of injuries had forced Davis out of planned bouts and away from the spotlight for long stints.
As it stands, when the 155-pound knockout artist enters the Octagon on October 1 to kick-start the main card for UFC Vegas 61 opposite Viacheslav Borshchev, it will be his first time doing so in just shy of two years. Davis, sure of his future place in the division, plans on using this fight as a platform to re-introduce himself, and his much-evolved skillset, to the world.
"I feel like I train and learn so much all the time that my skill set is levels above where I'm at in the UFC," Davis told The AllStar in a recent interview. "Because of my absence – like me fighting once a year, or in this case it's been a year and a half – me [not] fighting in that time frame puts my skill set way beyond where I am ranked, or where I'm fighting [currently]."
With the caliber of bodies on the mats at the renowned American Top Team training facility, Davis has a solid gauge of where he feels he belongs in the lightweight division – and as it turns out, that place may just be near the top of the ladder.
"Like, if I say I keep up with Dustin [Poirier], I keep up with [Mateusz] Gamrot and Arman [Tsarukyan] – like, we go at it back and forth nobody's winning, nobody's losing, it's wars – that's where I am. I'm up in that top ten skill-wise, but because I'm absent, I'm down at the bottom."
Admittedly, Davis is aware of Borshchev's sound fundamental striking. He did note, however, that there are particular shots 'Slava Claus' tends to rely on. Even without verbalizing his game plan, it's clear that in these exchanges is where Davis will look to capitalize on these cues.
A forward thinker, Davis' foresight stretches beyond that of the looming fight itself, however. The young prospect has been in the trenches long enough to know that fighting isn't a career. Witnessing his peers' struggles once the spotlight fades, the 29-year-old understands that making the most of the UFC's platform while it lasts is truly the key to longevity in this business.
"I've been around the people who have taken this platform and done nothing with it. So I've experienced what they have done wrong, and I don't want to be there."
Already, Davis has built a large audience outside of fighting through online streaming and in-person seminars – but he's intent on extending his reach even further. He offered an ultimatum of sorts: help him grow his online following, and in turn, he'll put on the fights fans want to see, and often.
"After my fight when I win, I'm gonna take the mic and I'm gonna say 'look, you want to see me fight more [then] get me to 100 000 followers' – that's all I need [and] you'll see me in here four times next year."
---
Fighter profile
Mike "Beast Boy" Davis is a 29-year-old male fighter from the United States with 9 pro wins and 2 losses. Davis is scheduled to fight Uros Medic at UFC Fight Night: Dern vs. Yan on Saturday, October 1, 2022.
Mike Davis's recent form coming into this matchup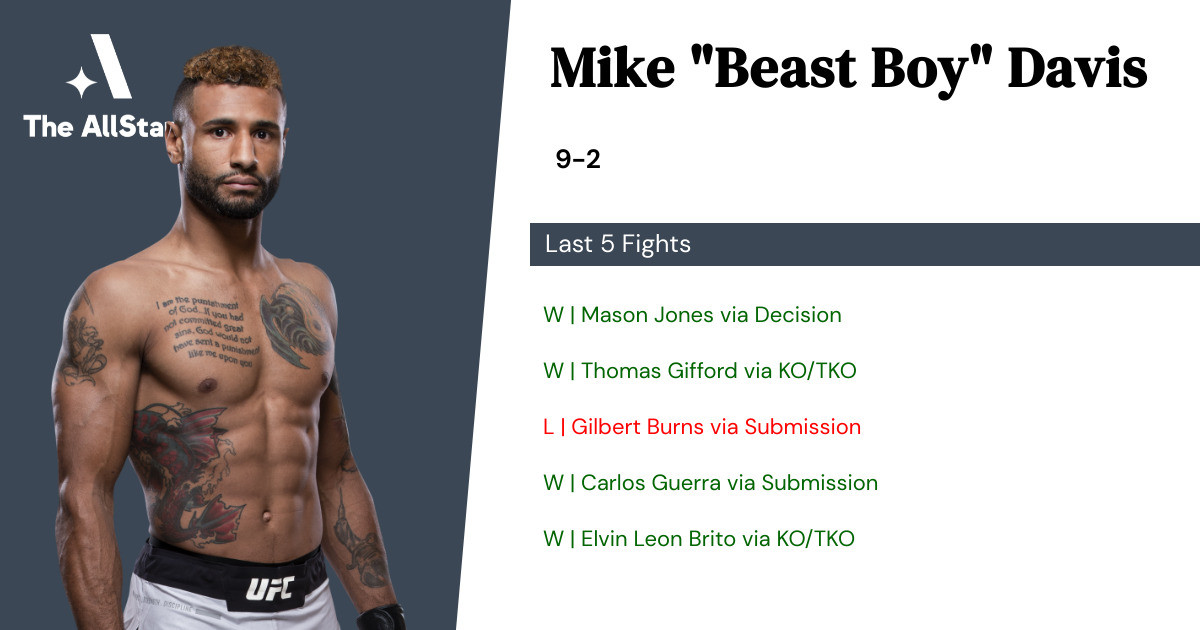 Mike Davis has gone 4-1 in the last 5 professional MMA fights.
Win vs Mason Jones • Decision R3 5:00 • 2021-01-20
Win vs Thomas Gifford • KO/TKO R3 4:45 • 2019-10-12
Loss vs Gilbert Burns • Submission R2 4:15 • 2019-04-27
Win vs Carlos Guerra • Submission R1 2:08 • 2019-03-22
Win vs Elvin Leon Brito • KO/TKO R3 2:52 • 2018-12-21
Mike Davis's next opponent: Uros "The Doctor" Medic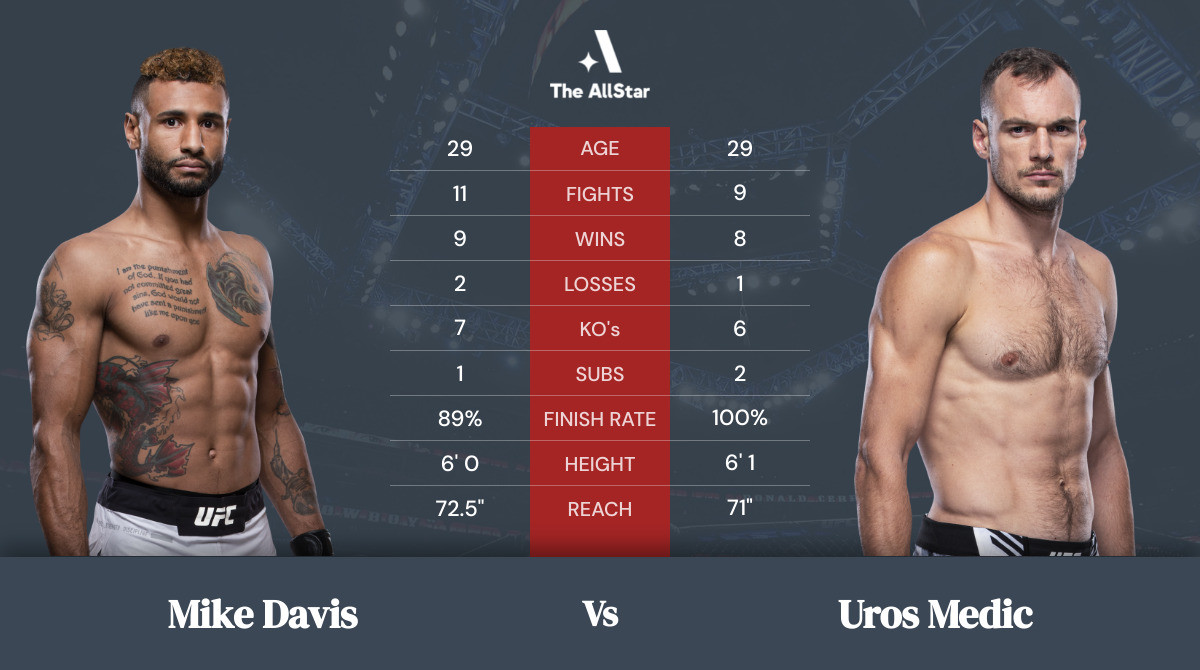 Uros "The Doctor" Medic's recent form coming into this matchup
Uros "The Doctor" Medic is a 29 year old male fighter from Serbia with 8 pro wins and 1 losses. Medic is scheduled to fight Mike Davis at UFC Fight Night: Dern vs. Yan on Saturday October 1, 2022.
Uros Medic has gone 4-1 in the last 5 professional MMA fights.
Win vs Omar Morales • KO/TKO R2 3:05 • 2022-05-21
Loss vs Jalin Turner • Submission R1 4:01 • 2021-09-25
Win vs Aalon Cruz • KO/TKO R1 1:40 • 2021-03-06
Win vs Mikey Gonzalez • KO/TKO R1 2:12 • 2020-08-04
Win vs Alonzo Leisholmn Jr. • KO/TKO R1 2:52 • 2019-05-22
How to watch and bet on Mike Davis vs Uros Medic
Keep track of all the latest odds and line-movements at our bout page for this matchup.