Tresean Gore was on a lightspeed trajectory toward the upper echelons of the middleweight rankings following his stint on The Ultimate Fighter Season 29.
After a 3-0 start to his pro career, Gore hasn't found much success since most recently losing by TKO to Cody Brundage. Weighing heavily on him in recent months is a battle with depression as his mother's struggle with diabetes, forced him to seek solace in an old habit: marijuana.
"I was smoking because I was depressed," Gore told The AllStar recently. "My mother just had her leg amputated because she has diabetes and hasn't been taking care of herself. She's still my hero, she's still a great woman but that's something that made me fall into depression."
The marijuana use compounded a vicious weight cut leading up to the Brundage fight in July.
"To be honest, I was smoking a lot of weed. I quit smoking weed right before I went to Vegas so I didn't have an appetite (on) Monday (or) Tuesday. Wednesday I ate a little tiny bit but I had my first cut of nine pounds, then I cut eight pounds Thursday, then I cut four pounds Friday morning. So, my whole week was spent starving myself and trying to make weight."
"I feel like me cutting a lot of weight like I did and losing weight (in) such a quick amount of time like I did also weakened my mind. My nutritionist told me I didn't have any fluids in my brain to stop the impact (of) my brain rattling around. I lost 21 pounds in two days."
The result? A first-round finish to Brundage, leaving Gore to nurse his wounds and figure out how to turn things around.
Things are different now in his training camp for his upcoming bout against Josh Fremd on October 29. Gore has cleaned up and shifted all of his focus to perfecting his craft.
The ATT Team Lima member has split his camp with Fortis MMA in Dallas under the guidance of Sayif Saud and training partners such as welterweight contender Geoff Neal and middleweight prospect Kennedy Nzechukwu.
"The difference for this camp (is) I'm clean, I'm sober, I'm happy, I'm away from home, I just feel like a new man."
"I feel a lot more agile, alert, a lot more technical. I always had the power but now I'm not going to force anything, you know what I mean? As far as like grappling (goes), you may see some grappling – I'm just going to go in there and flow."
---
Fighter profile
Tresean "Mr. Vicious" Gore is a 28-year-old male fighter from the United States with 3 pro wins and 2 losses. Gore is scheduled to fight Josh Fremd at UFC Fight Night: Kattar vs. Allen on Saturday, October 29, 2022.
Tresean Gore's recent form coming into this matchup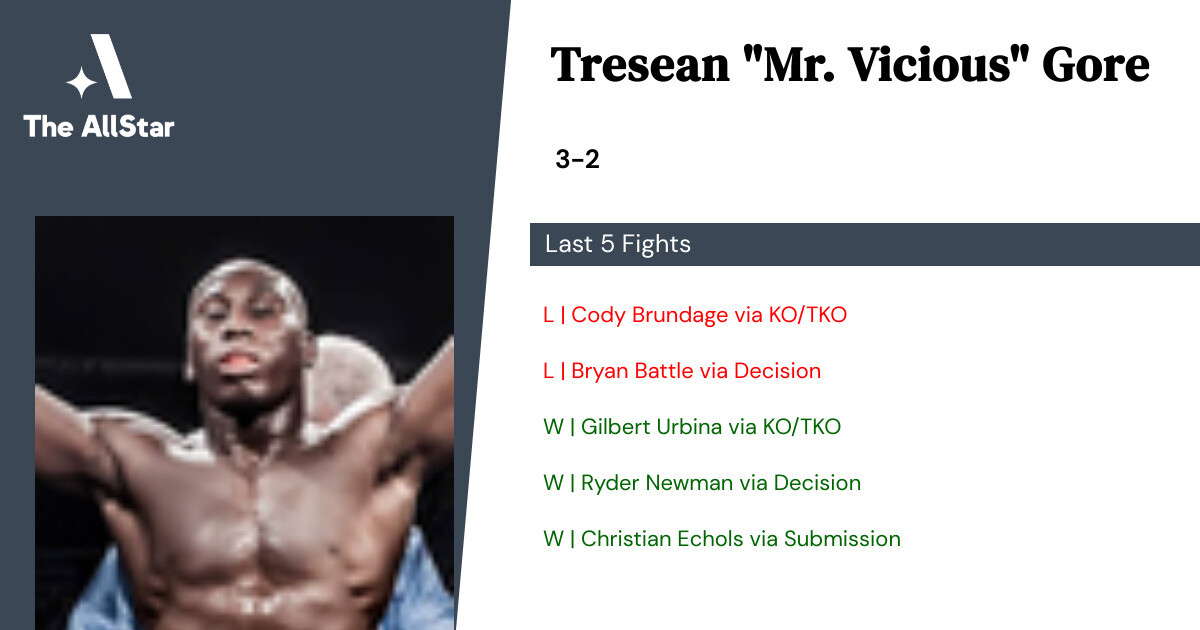 Tresean Gore has gone 3-2 in the last 5 professional MMA fights.
Loss vs Cody Brundage • KO/TKO R1 3:50 • 2022-07-09
Loss vs Bryan Battle • Decision R3 5:00 • 2022-02-05
Win vs Gilbert Urbina • KO/TKO R2 1:14 • 2021-05-20
Win vs Ryder Newman • Decision R3 5:00 • 2021-04-29
Win vs Christian Echols • Submission R1 2:17 • 2020-10-03
Tresean Gore's next opponent: Josh Fremd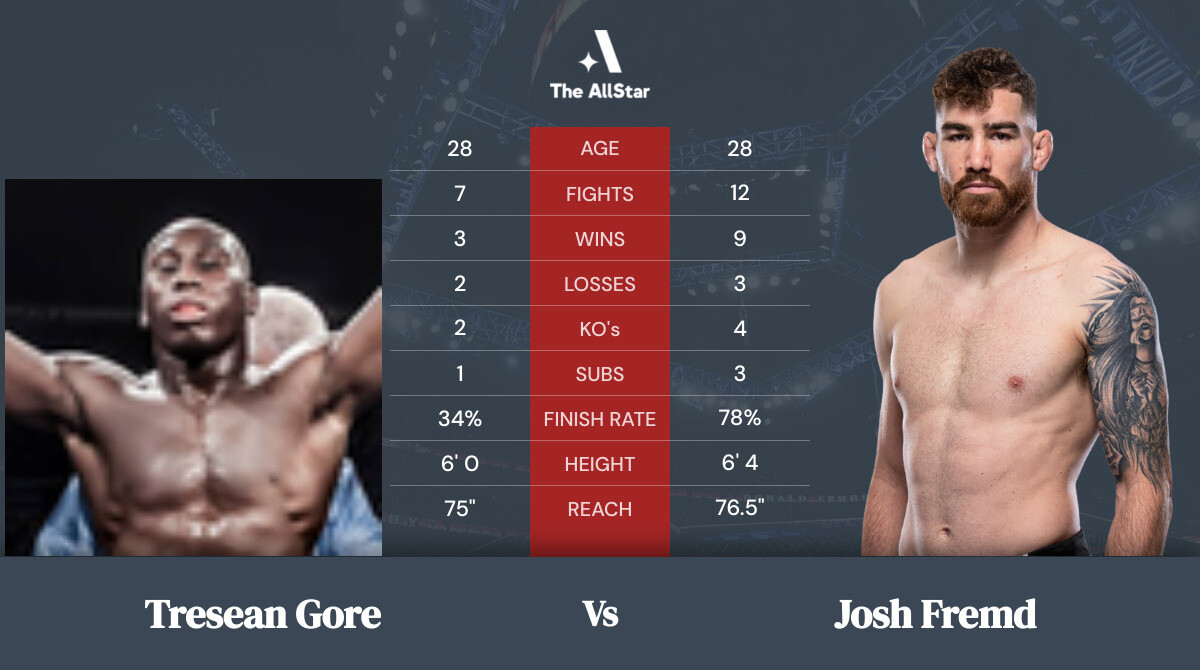 Josh Fremd's recent form coming into this matchup
Josh "The Big Yinz" Fremd is a 28 year old male fighter from United States with 9 pro wins and 3 losses. Fremd is scheduled to fight Tresean Gore at UFC Fight Night: Kattar vs. Allen on Saturday October 29, 2022.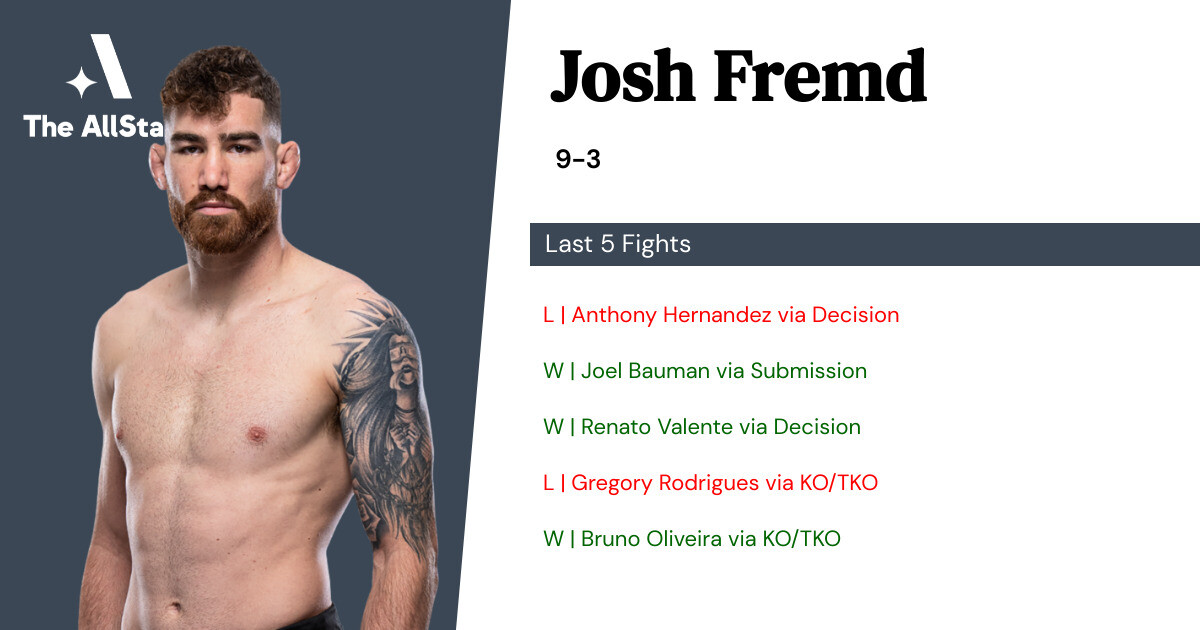 Josh Fremd has gone 3-2 in the last 5 professional MMA fights.
Loss vs Anthony Hernandez • Decision R3 5:00 • 2022-04-09
Win vs Joel Bauman • Submission R2 1:00 • 2022-02-06
Win vs Renato Valente • Decision R3 5:00 • 2021-10-22
Loss vs Gregory Rodrigues • KO/TKO R1 2:20 • 2021-05-21
Win vs Bruno Oliveira • KO/TKO R1 2:37 • 2021-01-29
How to watch and bet on Tresean Gore vs Josh Fremd