In this week's "Understanding the Undercard", we preview the prelims for UFC 268. UFC 268 takes place on Saturday, November 6th, 2021. The preliminary card begins at 6:30 PM EST on ESPN+.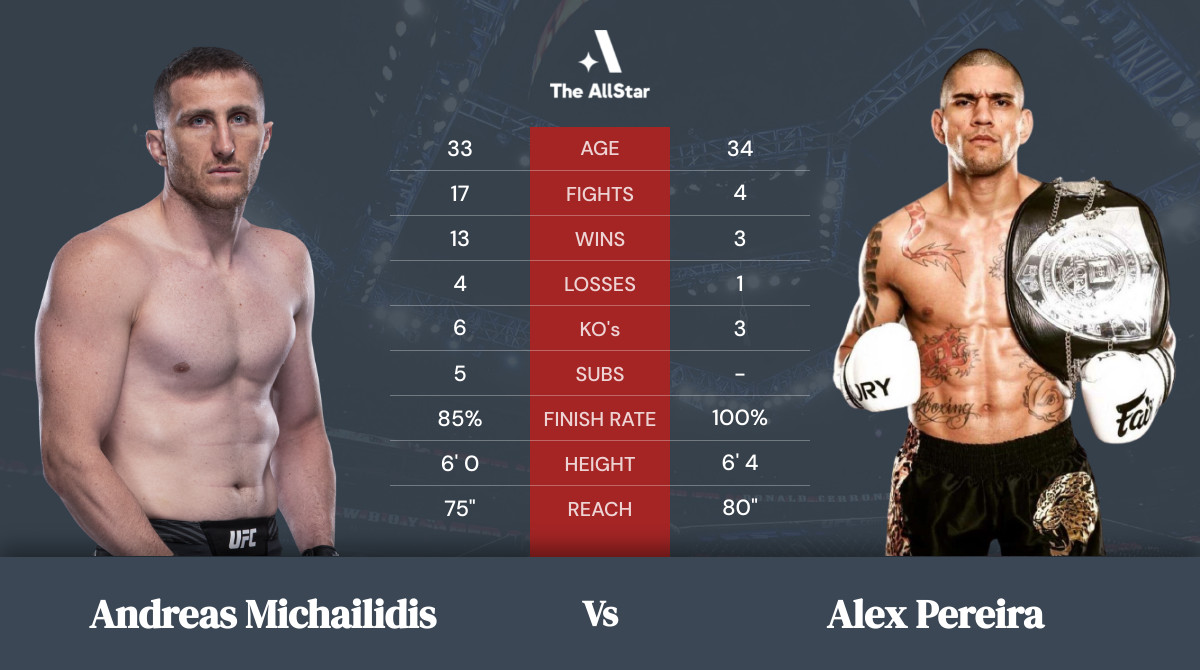 The Skinny
Despite being new to the UFC and only sporting four MMA fights (and just one in the last five years), you've probably already heard of Pereira. Plenty in the MMA circles are talking about the experienced kickboxer and his foray back into the sport. That's because he holds a pair of wins against 185lbs kingpin, Israel Adesanya. He also beat Dustin Jacoby by first round KO in a fight. Like a lot of kickboxers, some have questions about how his takedowns will hold up in MMA, which is why his odds are only -245.
Michailidis enters this fight with four times the experience as Pereira. He is coming off a win over KB Bhullar, which was Michailidis' return to middleweight. He largely prefers to strike from distance and has attempted 0.5 takedowns per round in his time with the UFC. His regional level experience shows that he has a lot of power in those hands, but has yet to really display it on the biggest stage.
The Final Word
This very much seems like the UFC wanted to give Pereira a chance to show off his striking in his debut. Michailidis isn't incapable of shooting a takedown, and in fact I expect him to try. However, he's far from being an elite wrestler. As a result, I think this will be a showcase for Pereira and he'll continue with a KO. Pereira by (T)KO.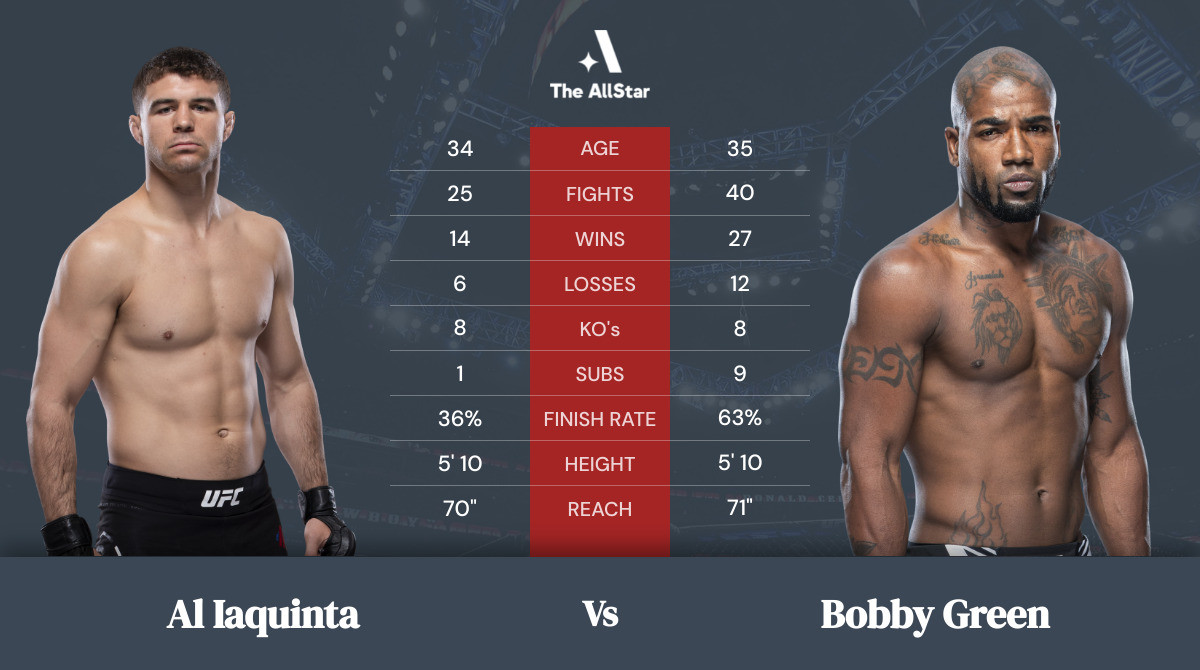 The Skinny
Former title challenger Al Iaquinta returns at UFC 268 after two years outside of the octagon. It's hard to determine what he might look like after that much time away. Prior to the layoff, Iaquinta did some of his best work with his defensive wrestling. He's one of the few fighters who was able to keep Khabib at bay with his attempts – he stuffed nine of his fifteen attempts. On top of that, Iaquinta is a proficient and active boxer.
Green almost seems to be the contrast to what Iaquinta is (or at least was). While his defensive wrestling has occasional left a little to the imagination, he has solid takedowns himself. They're much more similar when it comes to the striking game. Green is also particularly active – actually a bit more active that Iaquinta on the feet. His striking does seem to be a bit less nuanced, which he makes up for with that aggression.
The Final Word
It's hard to handicap a fight in which we haven't seen a fighter in as long as Iaquinta has been out. However, the best we can do to break it down is assume that he is close to the previous iteration we saw. If that's true, I expect him to get by Green here. I don't believe Green's wrestling is good enough to consistently get Iaquinta down and I like Iaquinta to outwork him on the feet. Iaquinta by decision.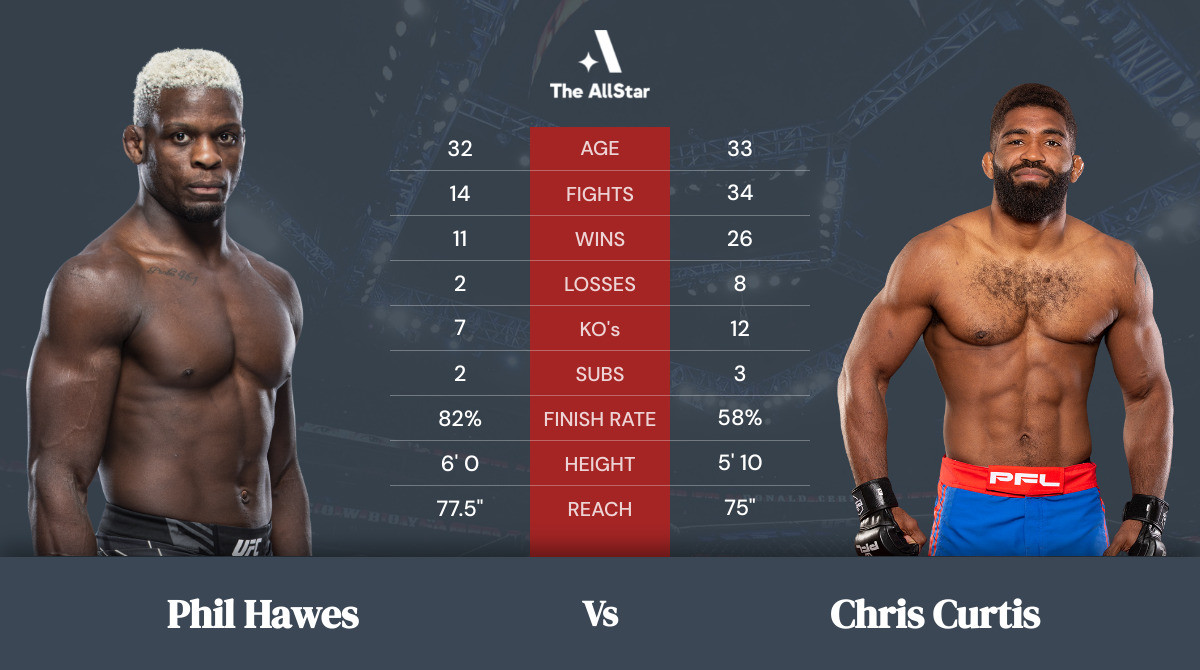 The Skinny
Phil Hawes entered the UFC with clear physical gifts, but some questions about his defense and cardio. Some of those lingered from his time on The Ultimate Fighter and The Contender Series – both of which saw him tire late and lose his first fight. Since then, he's really assuaged those concerns with three straight UFC wins. In each of the last two, he's shown that he can sure up his defense and work late into fights, beating tough opponents like Nassourdine Imavov and Kyle Daukaus.
Chris Curtis is a veteran of the sport who has taken over a decade to get here. He has retired twice, once after winning on Contender Series, but not receiving a contract. Curtis gets this fight as a short notice replacement and has to fight up a weight class at middleweight. He has thrown around the idea that he can bulk up to this size, but it would require the 34-year old to plan around it – which he didn't have time to do for this fight.
The Final Word
Even without the clear improvements for Hawes, the size and strength disparity is going to be too much in this fight. When you add those improvements in, it's difficult to see how Curtis can pull this one off. I think Hawes pushes him hard early and gets him out with the hands. Hawes by (T)KO.
The Skinny
Once thought to be a top prospect at 185lbs, Edmen Shahbazyan has fallen on hard times. He enters UFC 268 on a two-fight losing streak, getting beat handedly by both Derek Brunson and Jack Hermansson. The biggest issue for Shahbazyan seems to be his wrestling getting exposed a bit. In his early fights, that was one of his biggest weapons. Now it seems that he's getting taken down himself, and the threat of his own takedowns is no longer deterring the striking of his opponents.
Imavov is best known for his sniping style, and is even dubbed 'The Russian Sniper', but he also has underrated wrestling as well. In his last fight, he took down Ian Hienisch and controlled him on the mat for a minute. Although that's not going to put him in an elite category, it does show that he has a backup plan should his distance striking not hold up.
The Final Word
I do think people are writing Shahbazyan off a little early. He's fought a high level of competition that he was not quite ready for. However, he is still skilled and definitely a top 20 talent. The problem is that Imavov has a lot of the skills to combat Shahbazyan and take the same advantages that Brunson and Hermansson did. I think he follows that blueprint and takes it here. Imavov by decision.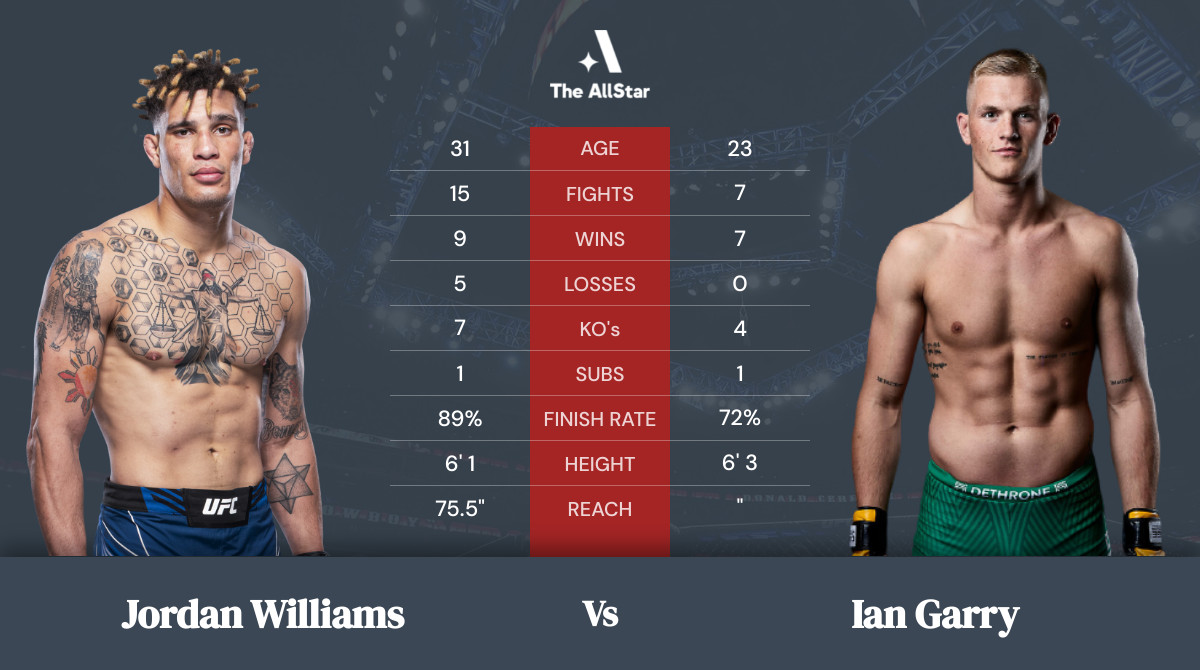 The Skinny
The other prospect who is making his debut at UFC 268 with quite a bit of fan fare is Ian Garry. The Irishman enters the UFC with a spotless seven-fight record that includes a Cage Warriors welterweight title. The hype behind Garry comes from the fact that he seems to have abilities in all facets. From strong submission skills to the ability to drop someone with a head kick – Garry is thought to be the real deal.
Looking to take that hype away is Jordan Williams. Williams is 0-2 in the UFC an, like Andreas Michailidis, is thought to be a sacrificial lamb to the newcomer. I think that is a little disparaging as he certainly has impressive wrestling skills and the ability to take a punch. The wrestling skills failed him a bit last time out against Mickey Gall, but I do think his path to his first UFC victory goes through the mat.
The Final Word
While I think people may not be crediting Williams for just how tough he is, I do think this is a really bad match-up for him. Garry is going to be a lot faster on the feet and has the ability to tag him, no matter how tough he's show he is in past fights. He may look to wrestle, but I think Garry is good enough defensively to stuff whatever comes his way and get it done on the feet. Garry by (T)KO.
The Skinny
Gian Villante was once a guy who people saw as a tough out for just about any light heavyweight. Since then, he's really fallen off in terms of his preparation and his physique. This was most notable in his debut in the division against Maurice Greene. Despite taking Greene down, Villante seemed completely exhausted and appeared to tap to something that wasn't really in. His ability to go fifteen minutes seems to be the biggest limitation for him at the current moment.
Chris Barnett is another fighter like Chris Curtis who took a long time to get to the UFC. Despite his physique and having fought at super heavyweight in the past, Barnett is really agile and quick. This is particularly true with kicks. He mixes in spinning kicks in there as part of his taekwondo background. Like you might imagine with his size, he is susceptible to the takedown and that tends to be where he drops most of his fights.
The Final Word
Neither of these guys are going to threaten the top of the division in their careers. However, I do think Barnett has a clear advantage in this fight through his output and cardio. Villante does not appear to be taking his training very seriously at the moment and I do not believe he can go the distance. Being as he's not much of a takedown threat, I envision him getting tired and finished. Barnett by (T)KO.
The Skinny
Dustin Jacoby steps into this UFC 268 fight on just a week's notice. That seems like a surprising move for a fighter who is nipping at the heels of the top 15. His four-fight undefeated stint in the UFC comes with a recent TKO win over Darren Stewart. His kickboxing has been the story of this run, although his cardio should be mentioned too. Like his former foe Pereira, he thrives when he's able to keep the fight on the feet.
John Allan is a little bit of an anomaly when trying to break him down. On one hand, it does appear that he prefers the fight to be on the mat. He shoots a high number of takedowns and has more than a couple wins by submission or ground and pound. The flip side of that coin is that his losses come on the mat too. This paradox exists mostly because, while dangerous, he takes a lot of risks with positioning on the mat.
The Final Word
The risky nature of Allan is likely to get him in trouble here. On the feet, Jacoby is capable of catching him with a big blow should he leave himself open. If Allan is able to bring the fight to the mat at UFC 268, then his inability to settle in to a position will create opportunities for Jacoby to get up and land those shots again. Given what we know, I just can't imagine Allan having any sustained success in either facet. Jacoby by (T)KO.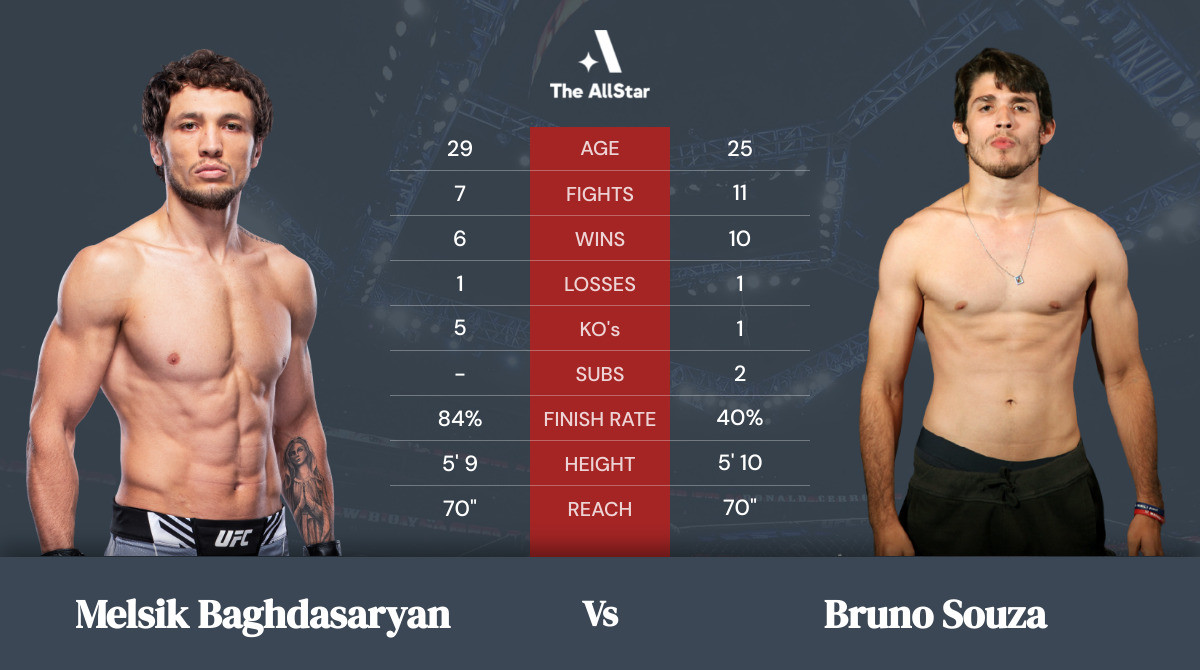 The Skinny
This UFC 268 card is filled with kickboxers and Baghdasaryan continues that trend. He's another one who brings all kinds of weapons on the feet. Thanks to his experience in boxing and klickboxing, he's incredibly fast on the feet and KOed Collin Anglin with an insane head kick last time out. In addition, his defensive wrestling has held up since getting a shot on a bigger stage.
Bruno Souza takes this fight on short notice in place of TJ Laramie, who had to withdraw with a staph infection. Souza is the LFA featherweight champion and has all the skills to compete at the UFC level. He looks excellent in the clinch and uses his elbows well. He also looks quite skilled when the fight hits the mat, although getting it there does tend to be a struggle for him.
The Final Word
Because he does not have the wrestling to get the fight to the mat against the Armenian, I do worry that Souza is going to have to go toe-to-toe with Baghdasaryan. Although I think he has weapons that can make him very successful in the UFC, I do not think they play well against a kickboxer like that. Baghdasaryan by (T)KO.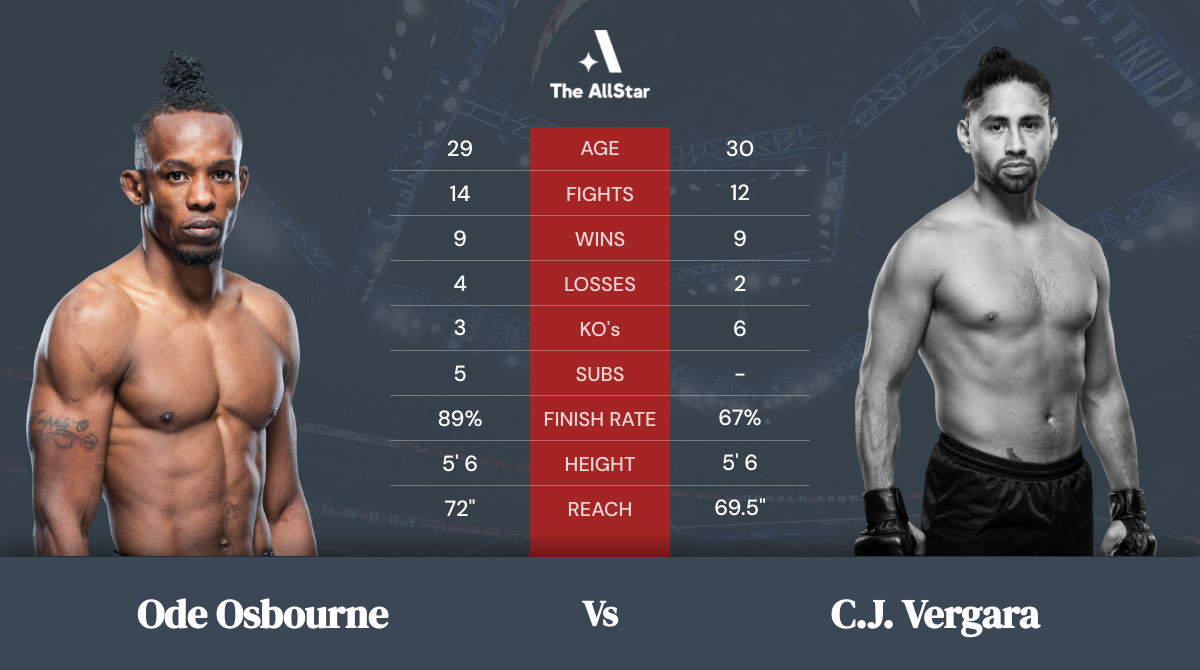 The Skinny
Ode Osbourne gets his fourth crack this weekend at UFC 268. The Jamaican-born fighter is 1-2 with his most recent fight being a flying knee KO loss to Manel Kape. That seems to be the issue for Osbourne, who has some pretty tight boxing and decent wrestling – he struggles with keeping distance. He's long for the division with a 72″ reach, but he often fights much shorter than he is. When he is at length though, he can be really dangerous, as we saw in his KO of Jerome Rivera.
C.J. Vergara makes his way to UFC 268 via The Contender Series. On week two of this year's season, he violently KOed Bruno Korea in the first minute of the fight. That showed a huge progression in his game. Always dangeroud, Vergara's issue in the past had been aggression and not having enough of it. We did see what happens when he turns that up though and it's pretty special.
The Final Word
This fight will really come down to the aggression of Vergara and if he can maintain it. He's got the ability to stop Osbourne, but he needs to work on the inside and can't spend too much time getting there. Osbourne will need to use that jab and stay on the outside to avoid power. I think Vergara does enough to get in range early and set a tone. If he does, he should win this fight. Vergara by (T)KO.
Both Chris Barnett and Al Iaquinta are posted as reasonably-sized underdogs at the moment. Get the best odds for those fighters right here.