In this week's "Understanding the Undercard", we preview the prelims for UFC Vegas 267. UFC 267 takes place on Saturday, October 30th, 2021. The preliminary card begins at 10:30 AM EST on ESPN+.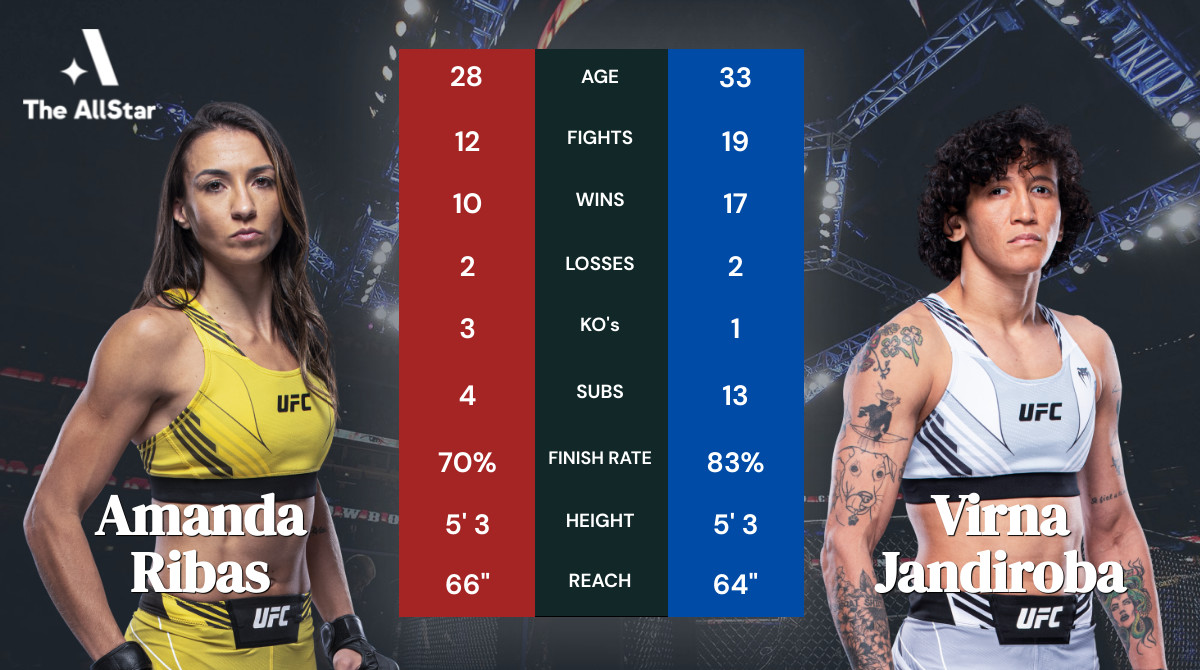 The Skinny
Amanda Ribas seemed to have all the makings of a contender before she ran into Marina Rodriguez. Ribas won four straight, which included a win over Mackenzie Dern, before dropping the fight to the strawweight contender. The way she did this was mostly through strong defensive wrestling, and active, accurate hands. She does like to mix in her own takedowns though, which she was even willing to do with jiu-jitsu ace Dern.
Jandiroba is quite the opposite of Ribas, which makes this a fun styles clash. She has some striking, but a lot of it is winging hooks until she's close enough to grab on to her opponent. She very much wants every fight on the ground and is willing to even jump guard to get it there. Unsurprisingly, the issues she's had in the UFC come against fighters who can stop her from getting the fight there or can control her and stay out of trouble when they do.
The Final Word
Ribas was able to take Mackenzie Dern down and stay safe over the course of a couple of minutes. The rest of the time she was able to neutralize the grappling threat and have her way on the feet. I expect a similar sort of outcome here as Jandiroba doesn't have better jiu-jitsu than Dern. She may have slightly better wrestling, but I still don't expect it to bother Ribas. Ribas by decision.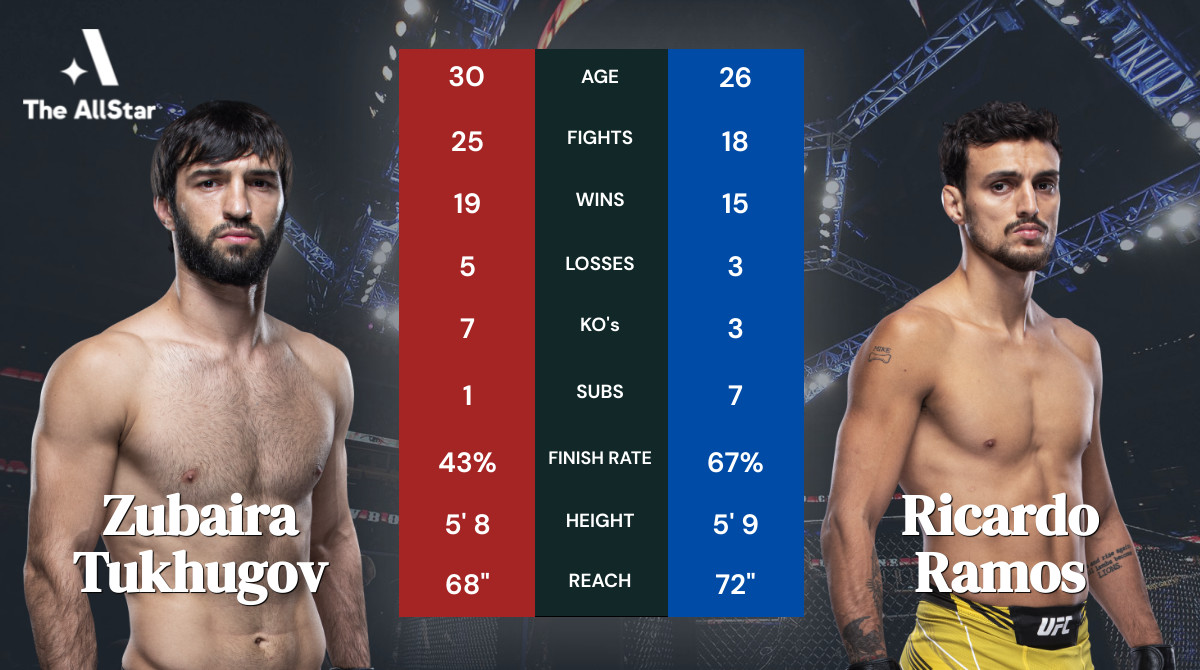 The Skinny
Long thought as a rangy kickboxing type, Ricardo Ramos busted out the well-roundedness last time out. In a win over Bill Algeo, Ramos scored on eight takedowns and spent quite a bit of time in top control. He's still more likely to want to strike as he's gotten a lot of his finishes there, but the weapon being in his back pocket makes it a bit harder for opponents to come at him with a one-dimensional defensive game plan.
Zubaira Tukhugov also prefers to kickbox when given the opportunity. However, the bane of his existence in that realm is that he tends to be a bit complacent with the fight and hardly will ever strike first. In both of his losses (to Hakeem Dawodu and Renato Moicano), he was beaten by longer fighters who were willing to throw first and stay on him.
The Final Word
Ramos fits the profile of someone who would beat Tukhugov. He's long and uses his range. He also isn't afraid to throw first. Even given all of that, I'm pretty certain of Tukhugov at UFC 267. Ramos is just a touch too slow and hittable after throwing his combinations. It might not be the prettiest of fights, but I think the Russian comes out on top. Tukhugov by decision.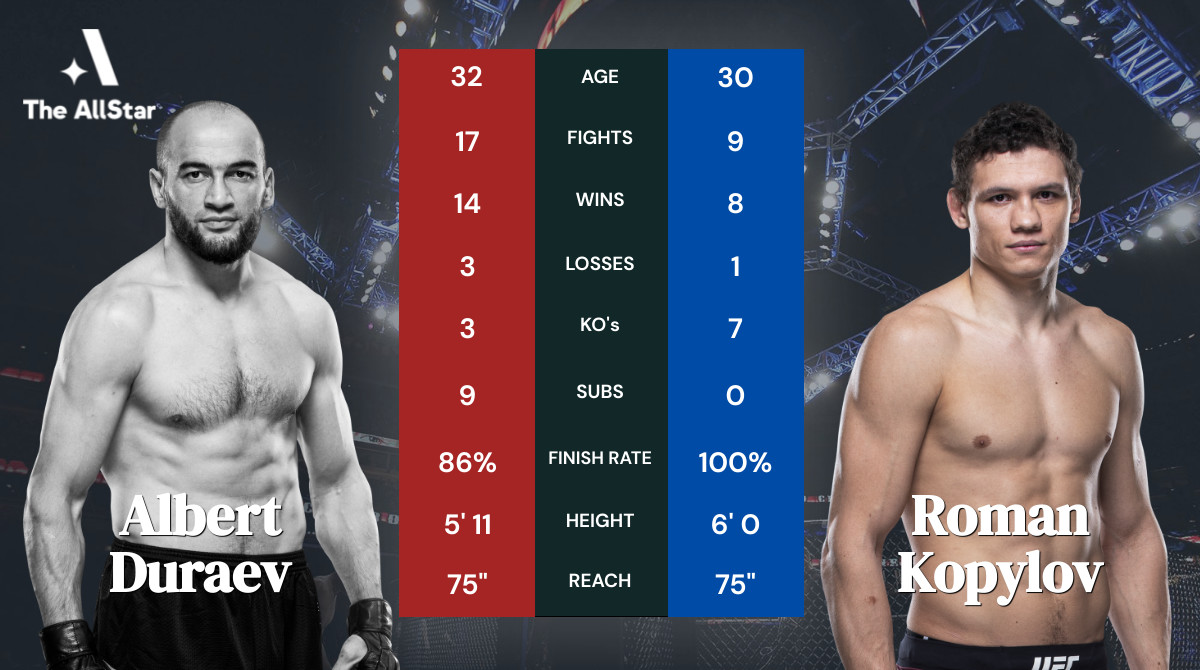 The Skinny
Albert Duraev set the world on fire during week three of the Contender Series this fall. He slammed Caio Bittencourt and quickly worked in a mean neck crank that ended the fight just minutes after it had started. He immediately began calling for names in the top 15 of the UFC's middleweight division, but that seemed pretty far-fetched – even as good as he looked with his wrestling.
Instead, he fights Roman Kopylov – who has just one fight in the UFC. In that fight, he lost to Karl Roberson, a fighter known for his Muay Thai clinch work, by rear-naked choke. He ceded a takedown to Roberson on three attempts and whiffed on his only attempt himself. That fight happened nearly two years ago. Although Kopylov has been booked for at least three other fights, he has yet to make it to the cage again.
The Final Word
If you're giving up takedowns to Karl Roberson, there likely isn't much hope for you at UFC 267 when it comes to fighting Albert Duraev. In the time off, Kopylov may have made some adjustments and improvements in his defensive game. However, there's just nothing to base that on. As a result, I have to imagine this doesn't last long. Duraev by submission.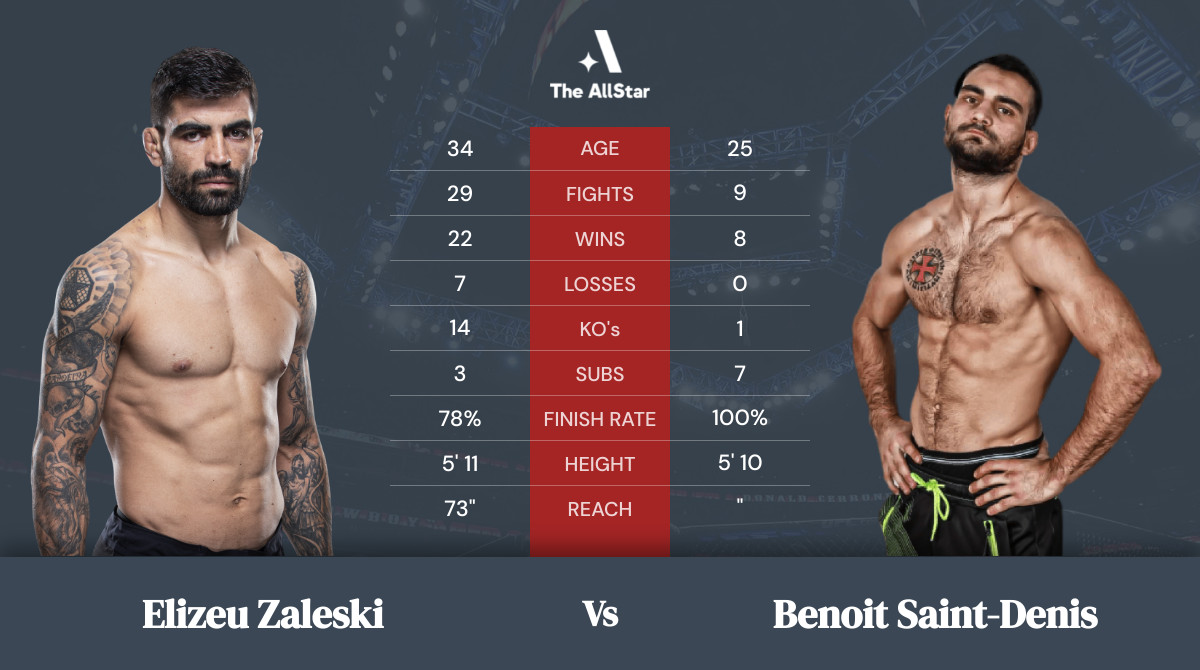 The Skinny
About two and a half years ago, people were talking about Elizeu Zaleski dos Santos as a possible contender in the division. He was riding a seven-fight winning steak and his capoeira-style made him both dangerous and fun to watch. On top of all of that, his grappling attacks are pretty underrated as well. However, since then he's lost two of his last three. One of the biggest culprits in the matter was his inability to work in his ground game. His top presence is impressive, but only landed 22% of takedowns in that span and all were in the lone fight he won.
Benoit Saint-Denis comes to UFC 267 by way of Brave CF, the leading promoter of MMA in the Middle East. In that organization, the Frenchman has seen a lot of high-level competition and has put together a perfect professional record of 8-0. Behind that record are a number of blistering body kicks and a pretty legitimate takedown game. The biggest flaw in his game appears to be how low his hands are when he's striking. His chin has held up against the opposition so far, but that's much tougher at the next level.
The Final Word
From what I've seen from Saint-Denis, I'm impressed. I do think his striking defense could use some work and that could be catastrophic against someone like dos Santos. However, his fight IQ is really high and I imagine he's going to try to take dos Santos out of his element by making him fight off his back or in a phone booth. We've seen dos Santos knocked out in the past and I think Saint-Denis has the hands to do it again. Saint-Denis by (T)KO.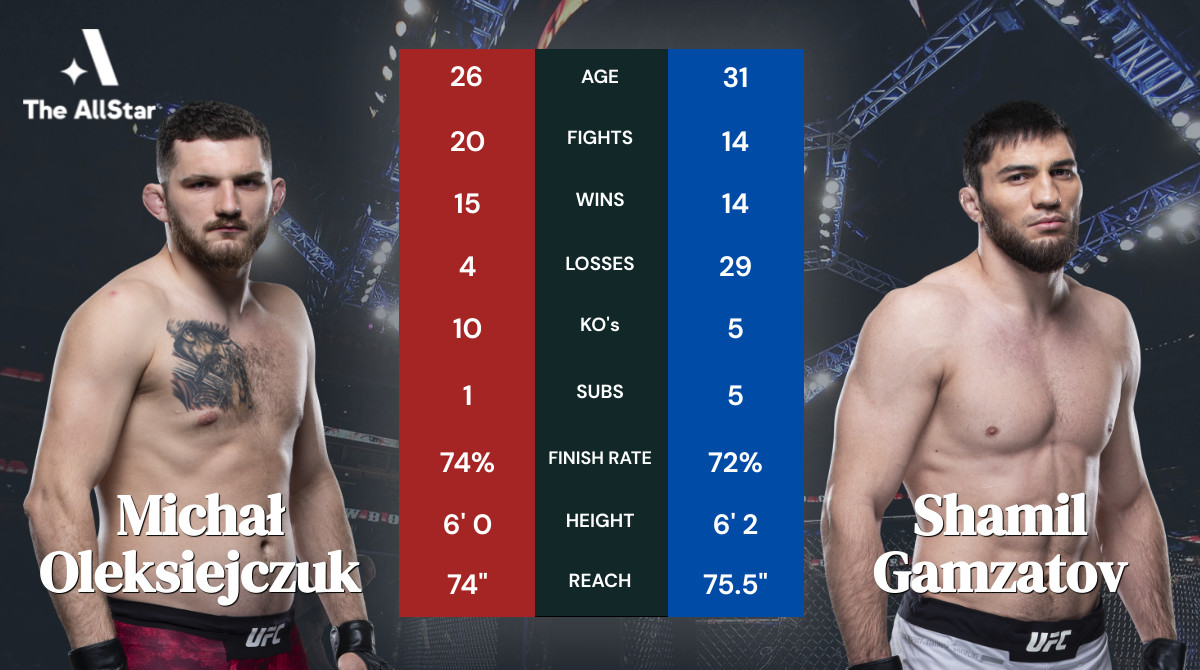 The Skinny
Shamil Gamzatov returns at UFC 267 after nearly two years outside of the cage. In his lone UFC fight, he faced Klidson Abreu and won the fight by close split decision. The majority of media members scoring the fight had it for Abreu and it was largely due to the fact that he was able to control the position. The striking was fairly even with Gamzatov getting out to a big lead and slowing down considerably as the fight went on.
A lot of people thought that Michal Oleksiejczuk was on his way out of the UFC. He lost two fights in a row, albeit to high-level competition in Ovince Saint Preux and Jimmy Crute, and then was booked with Modestas Bukauskas. In the fight with Bukauskas, he showed much improved striking and a smarter approach from start to finish. He also got much better as the fight went on en route to a split decision victory (another that the majority of media disagreed with).
The Final Word
I'm sort of surprised that Oleksiejczuk is an underdog here. The books have him listed at +130, which seems ridiculous considering the improvements, level of competition, and the time off from Gamzatov. I think people are somewhat riding with the Russian name and expect him to wrestle, but I think both will want to strike. I give the advantage to Oleksiejczuk there and think that as the fight goes on, he'll be the fresher fighter. Oleksiejczuk by (T)KO.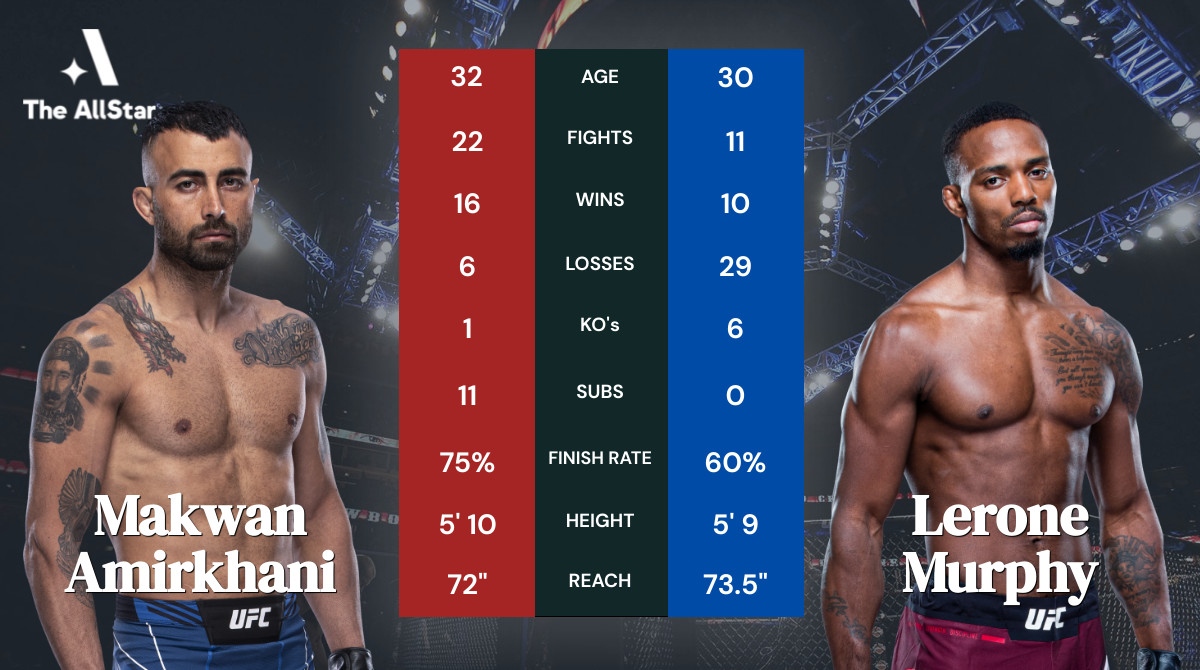 The Skinny
Like Elizeu Zaleski dos Santos, Makwan Amirkhani is a guy who people were quite high on thanks to a significant winning streak. At one point he had won three straight in the UFC and five of six at another. Those wins came with some very flashy grappling, which became the signature of 'Mr. Finland'. However, it wasn't really the takedowns that brought the flash, but the quickness of which he worked to opponents' backs or passed guards. In the recent losses, that didn't really wane, but he faced a couple of opponents who used that riskiness to get up and beat him on the feet.
After drawing with Zubaira Tukhugov in his UFC debut, Murphy has since won two in a row. He does this behind some very smart and technical striking, which doesn't exactly win him points with the fans. His output is pretty low with just 2.86 strikes landed per minute. However, he is so defensively sound that he counters that with just 2.07 strikes absorbed in that same time.
The Final Word
Although I think Murphy is the far superior boxer and maybe the better fighter overall, I think the pressure that Amirkhani brings will make Murphy a bit uncomfortable. Also, it's worth noting that Murphy doesn't have the best record when it comes to defending takedowns. I expect that Amirkhani overcomes a bit of his issue maintaining top time and scores an upset at UFC 267. Amirkhani by decision.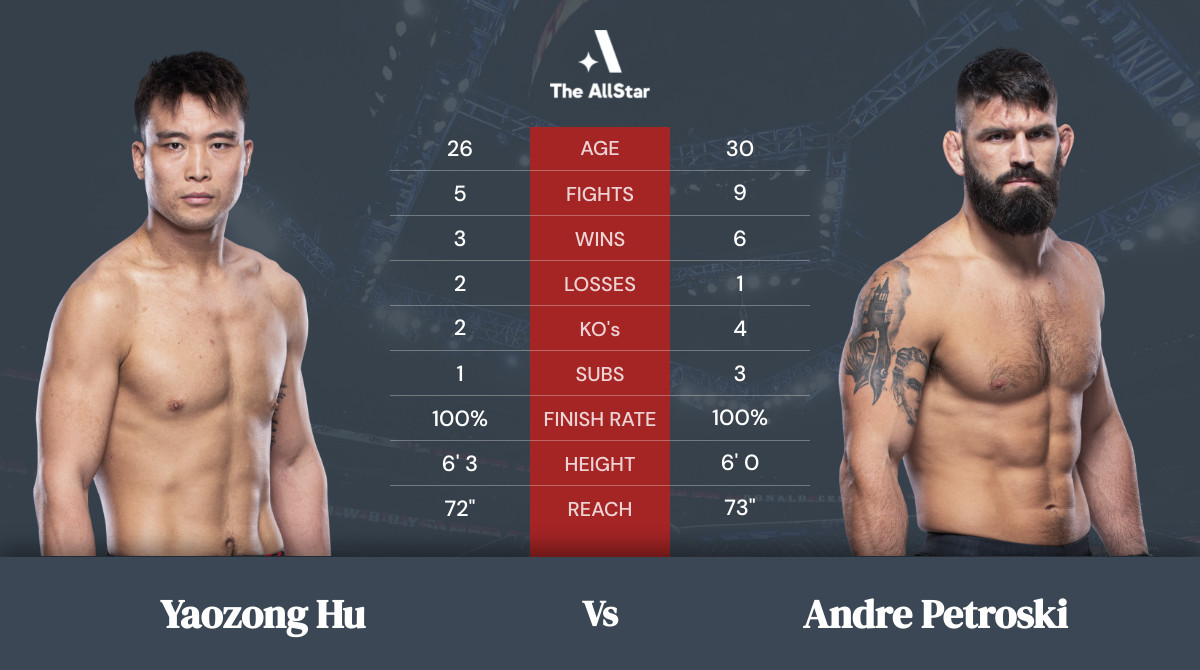 The Skinny
The dynamic of this fight is a really hard one to get a grasp on. Even without looking at Petroski, Yaozong has only fought in the UFC twice and the most recent was three years ago. In addition, he has fought at heavyweight and light heavyweight, but makes his UFC middleweight debut here. That alone leaves a lot of questions as to what you can expect from 'Totoro'.
The addition of Petroski makes this an even harder one to break down. He enters this fight on about a week and a half's notice for Alen Amendovski, who had to pull out. The styles of those two fighters are quite different. Petroski is a wrestler/grappler-type who looks for arm-triangle chokes. Amendovski has never attempted a takedown in his UFC career. This, of course, complicates things when you look to see what Hu was preparing for.
The Final Word
While Yaozong may have a size advantage here, I do question his takedown defense. He gave up some easy takedowns to Cyril Asker, granted that was at heavyweight. He is much better suited for this division, but I think he's still going to have issues with the grappling prowess of Petroski. Those guys from Daniel Gracie Jiu-Jitsu seem to come out vicious with the double legs and are always pressing for submissions. Petroski by submission.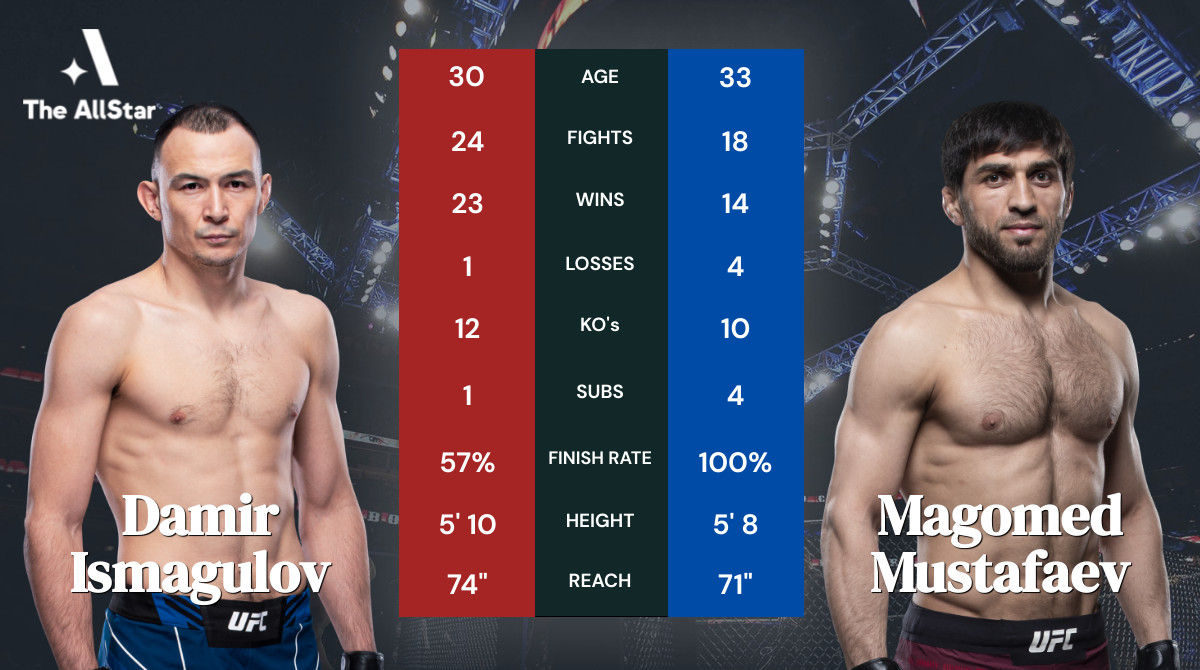 The Skinny
Magomed Mustafaev is a very exciting fighter in that he's always pushing some sort of action. In some fights that involves loading up on leg kicks and doing early damage. In others, it's been shooting infinite takedowns and pushing the pace that way. Either way, he's been moderately effective when he can be the one pursuing the action. The problem for him in some of his losses is that he's had the action brought to him and not necessarily on his own terms.
Ismagulov is probably one of the most underrated lightweights in the UFC. A two-year hiatus from the cage certainly didn't help matters. However, in his return against Rafael Alves, he looked exactly as he was supposed to – an insanely fast striker with dynamic takedowns. His ability to bring the fight to his preferred venue at UFC 267 may be essential to how good he looks against someone like Mustafaev.
The Final Word
While I think the striking of Mustafaev is very good, I think it's a touch slower than Ismagulov. He certainly has the power to end the fight, but I think he needs to catch Ismagulov flush, which isn't easy to do. In addition, I really think that Ismagulov has a large advantage in the grappling and should take this fight easily. Ismagulov by decision.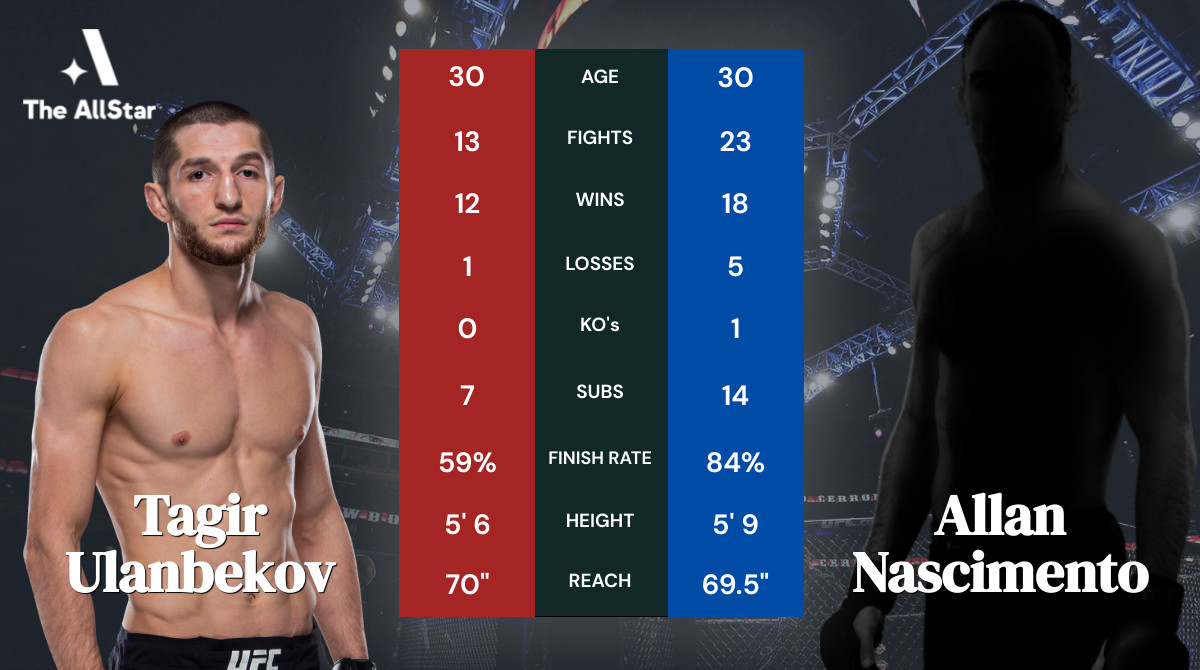 The Skinny
This UFC 267 prelim should bring plenty of intrigue on the feet. There are contrasting styles and how they mesh will determine a lot about how this fight goes. Ulanbekov is a lot rangier. He uses kicks from a distance to keep his opponents at bay and has a long sticking jab that he implements as well. Nascimento is a lot more compact in what he does. He keeps his hands high and tight to prevent any big shots, but it also allows him to load up on short-range shots as well.
The grappling side of things should be equally as interesting. In terms of submission skills, Nascimento should have a clear advantage. He attacks submissions from all positions, which is why he has finishes from armbars and triangles off his back. While Nascimento may have the submission skills, Ulanbekov should have the advantage in controlling the position. He has solid takedowns – and a number of different ones as well. He uses a double leg as well as he uses body lock trips.
The Final Word
The clear advantage on the feet goes to Ulanbekov and he is also going to dictate where the fight takes place. I imagine he'll use his wrestling skills to keep the fight on the feet and destroy Nascimento there. There's a chance he takes it to the ground and puts himself in more danger, but as long as he's on top, he should be safe enough. Ulanbekov by decision.