"I was actually sitting at a Korean BBQ when I got the call. I was stuffing my face and [the UFC] said 'can you make the weight?'. I said 'yeah bro, let's do it.' They [replied with] 'this is your opponent, Raoni Barcelos', and I was like 'shit that's a tough one, let's do it!'"
It's been a long time coming for California's Victor Henry, a 12 year MMA veteran. After years of dominance on the Japanese circuit, including a reign as DEEP bantamweight champion, he received the call of a lifetime.
In a short notice opportunity, he was asked to fight surging Brazilian Raoni Barcelos, possibly the trickiest unranked athlete in the division. Despite jumping at the offer he would contract COVID-19, forcing the bout to be rescheduled for UFC 270 on January 22.
---
---
Casual fans won't be familiar with his name, but that's something Henry is keen to correct. With a wealth of experience overseas, he recognizes that many will be downplaying his chances of coming out on top.
"I was excited to get the call, but my fight career has never been easy. I've never had an easy fight. This is just a different opponent but same situation," he told The AllStar.
"I've got more fights than him (Barcelos). I've fought some pretty tough guys I'd like to think. He's fought some pretty tough guys [too]. Like I said, I don't think Raoni Barcelos is going to be an easy matchup at all, I know it's going to be a tough matchup like they all are. But it was surprising to me to see how many people were squeezing me under the rug as if I had been fighting chumps my entire career and all of a sudden now I'm fighting somebody tough. Like, no? Every fight is a fight. Anything can happen in any fight."
With a point to prove and fight to win, 'La Mangosta' feels like there's no better time to enter the world's largest MMA promotion. While he may not be at his peak physically, he's in the perfect spot mentally.
"Right now at 34-years-old, I believe that 34-year-old [me] could whip the hell out of 27-year-old [me]. [Am I in my] physical prime? Probably not. But mental prime? That's where it counts. You can be a star athlete and bench press 1000 pounds but if you ain't got it in your head, you ain't got shit."
"I'm going to surprise a lot of people with the skillset I do have. I think the mainstream crowd that hasn't seen me fight overseas are going to be really surprised. I know I've got cardio, my submission game is on point, my striking game is on point and I'm only getting better, even though I'm ancient and old in fighting years."
As mentioned, Barcelos is a tough outing for the majority of competitors at 135. Fluid and well-rounded, he sports a promotional record of 5-1 but finds himself in the losing column heading into UFC 270.
He may be more dangerous than ever before, however, Henry is confident he has the tools to pull off the upset.
"I don't want to put everybody in a bubble but Brazilians are fast, explosive, and resilient. They generally have suspect cardio, but I don't see him having [those issues]."
"I think his boxing is great. He's a five-time national Brazilian wrestling champion, [too], and he's fought a lot of great guys. He's one of those guys that's seen a lot of combat and seen a lot of different looks out of a lot of different people."
" I've spent a lot of years in my profession to improve all the skills in my repertoire, and I've had to prove that. Sometimes my takedowns haven't been working, sometimes your striking just isn't working. Things sometimes just don't work. You've got to be able to go to plan B and then circle around to plan A again."
"I want to fight the best and right now the UFC has given me an opportunity to fight theirs."
Fighter profile
Victor "La Mangosta" Henry is a 34 year old male fighter from United States with 21 pro wins and 5 losses. Henry is scheduled to fight Raoni Barcelos at UFC 270: N'Gannou vs. Gane on Saturday January 22, 2022.
Victor Henry's recent form coming into this matchup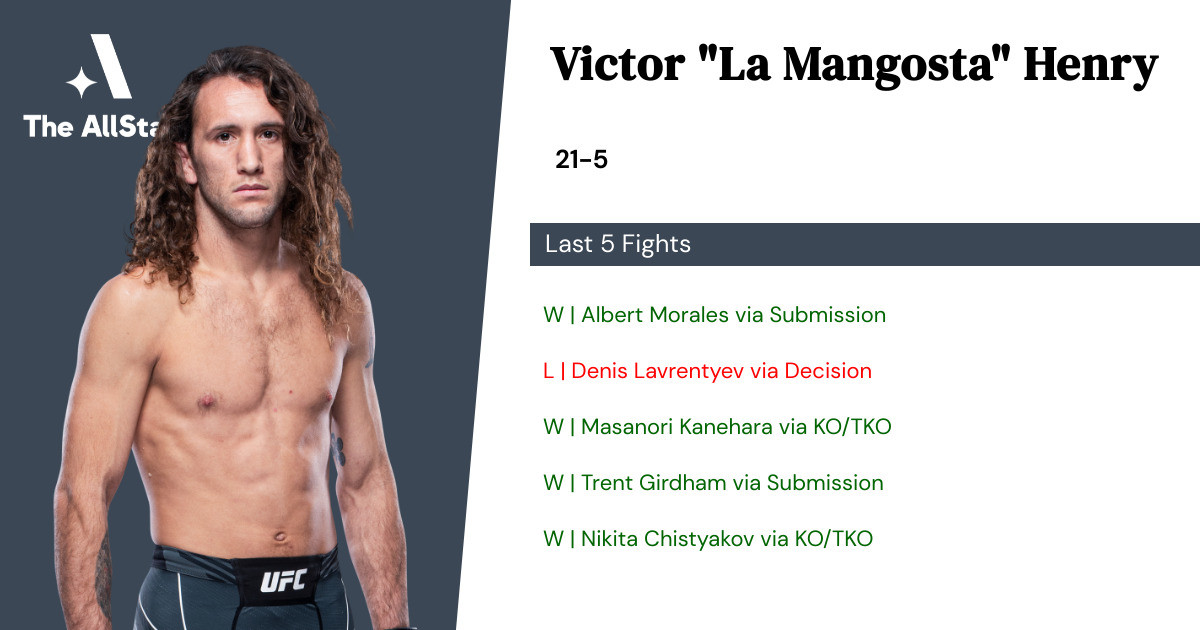 Henry has gone 4-1 in the last 5 professional MMA fights.
Win vs Albert Morales • Submission R2 1:46 • 2021-10-30
Loss vs Denis Lavrentyev • Decision R3 5:00 • 2020-11-07
Win vs Masanori Kanehara • KO/TKO R2 0:45 • 2020-02-22
Win vs Trent Girdham • Submission R3 2:14 • 2019-08-18
Win vs Nikita Chistyakov • KO/TKO R1 4:50 • 2019-05-04
Victor Henry's next opponent: Raoni Barcelos
Raoni Barcelos's recent form coming into this matchup
Raoni Barcelos is a 34 year old male fighter from Brazil with 16 pro wins and 2 losses. Barcelos is scheduled to fight Victor Henry at UFC Fight Night: Kattar vs. Chikadze on Saturday January 15, 2022.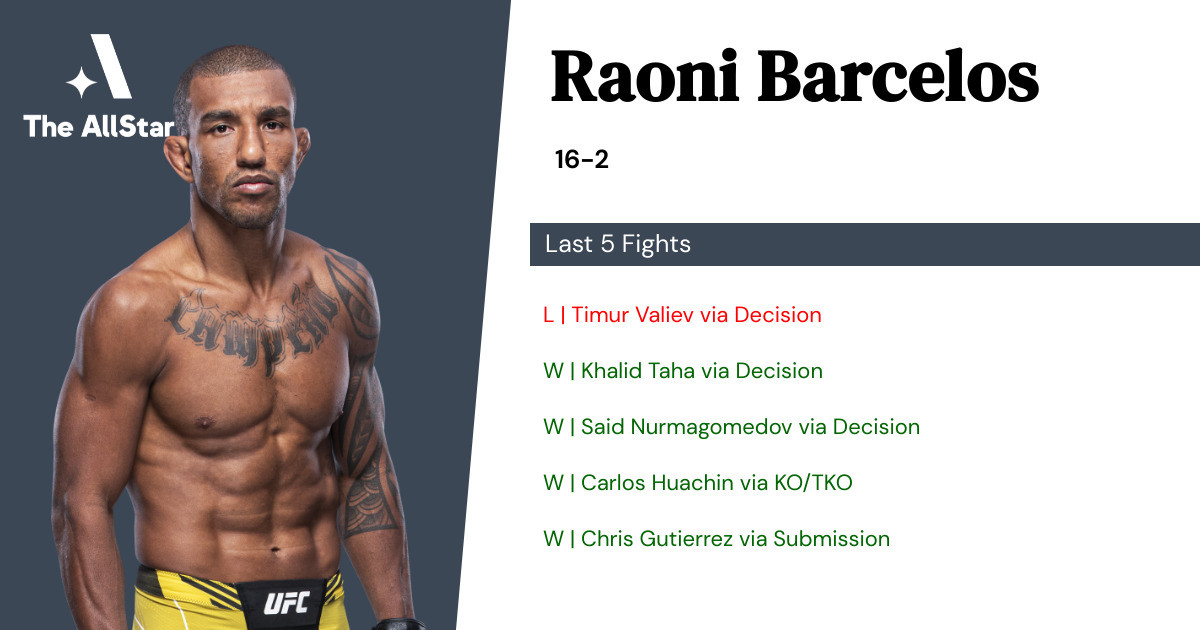 Barcelos has gone 4-1 in the last 5 professional MMA fights.
How to watch and bet on Victor Henry vs Raoni Barcelos
Keep track of all the latest odds and line-movements at our bout page for this matchup.