Che, Phuket Fight Club wrestling coach, talks in detail about wrestling Petr Yan. The Thai national team member was at Tiger Muay Thai serving as a training partner/assistant wrestling coach to many of the elite fighters.
His take on what makes Petr Yan different:
"I think it comes from his emotional control and mental composure. That stuff seeps into your style and into your technique. Because he is so calm, I think in the context of training that helps him really figure out positions.

"It was either George or Frank [Hickman] that was cornering him in one of the fights before the UFC. There was an adjustment he wasn't making in the first round. George said something. Second round he never made the same mistake again. Most people do not learn that fast and they do not implement nearly that fast too."
(Timestamp 0:49) Watch this video and more on The AllStar YouTube Channel.
---
Fighter profile
Petr "No Mercy" Yan is a 28 year old male fighter from Russia with 16 pro wins and 2 losses. Yan most recently fought Cory Sandhagen at UFC 267: Błachowicz vs. Teixeira on Saturday October 30, 2021.
Yan's recent form coming into this matchup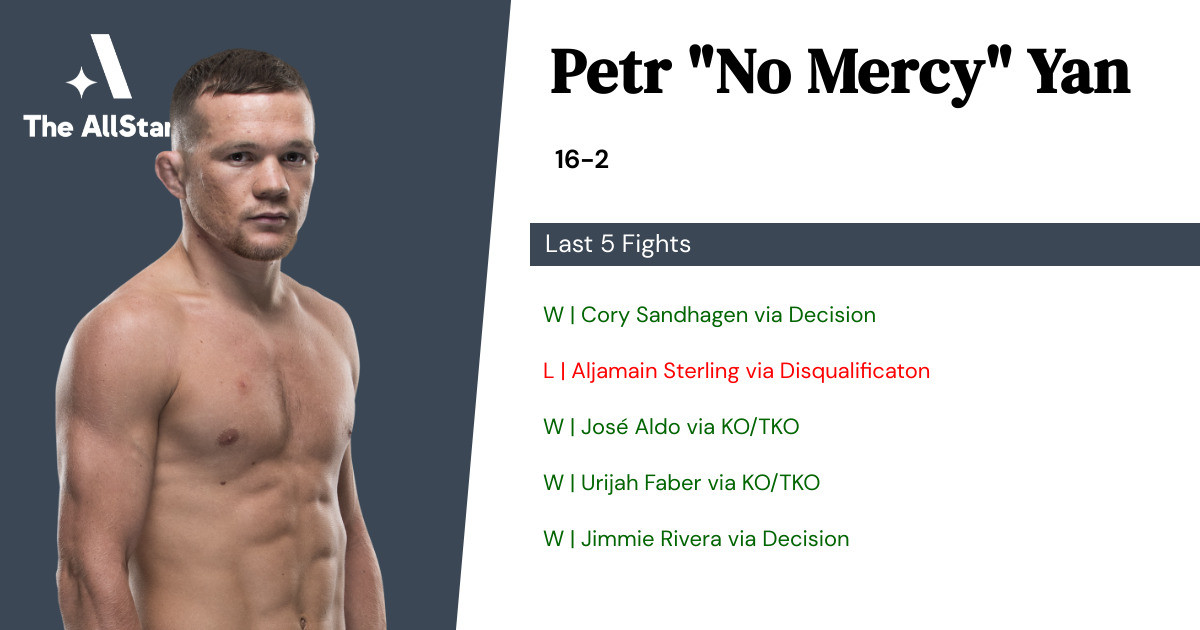 Petr Yan has gone 4-1 in the last 5 professional MMA fights.