For most normal people, vacation time from work is supposed to be a Ferris Buellerian cavalcade of parades, baseball games, and fancy lunches. NBA players enjoy their time in the sun, to be sure, but there's an expectation that time off of work is never really time away from work. Basketball players are supposed to live in the gym, working on their games, and improving their weaknesses for the upcoming ultra-marathon that is an NBA season. The Toronto Raptors have generally lived up to that high bar, boasting one of the best development programs in the league. 
It's not just the shooting development — with current and former Raptors like Precious Achiuwa, Chris Boucher, Norman Powell, OG Anunoby, Pascal Siakam, Gary Trent jr., and even Scottie Barnes showing great forward momentum in the program. For a time, Siakam's shooting development seemed historic. There's been incredible skill development for players like Siakam, who became one of the NBA's leading half-court creators this past season. There's been athletic development for Anunoby, now one of the most fearsome wing defenders league wide. There's been tactical development for Fred VanVleet, who entered the league a small shooting guard and is now an All-Star point guard. 
But all of that hasn't been enough. The Raptors still aren't a championship favourite. For that to happen, Toronto's core players need to use this offseason to improve elements of their games. Here's what's on the summer Christmas list for improvement.
Fred VanVleet: Driving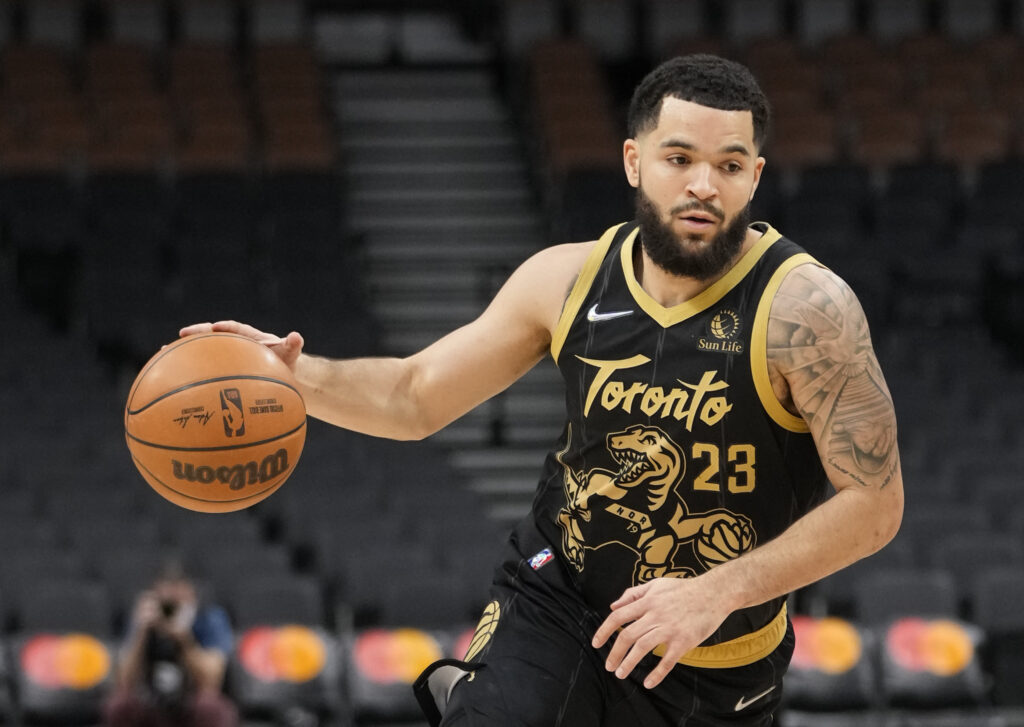 VanVleet is already one of one when it comes to development. The undrafted guard who is generously listed at six feet tall was not supposed to be an NBA player let alone an All Star. But there remain holes to his game. Among 40 players who averaged at least 20 points per game last season, VanVleet finished 32nd in true shooting percentage despite being one of the best and most frequent 3-point shooters in the league. 
Much of that comes down to his process when penetrating the second line of the defense and reaching the rim. He shot 43.2 percent on pull up 2-pointers, which is a solid bail-out option but not enough to force the defense into any tough decisions. He never added a floater-range option, and he only just cracked 50 percent from within five feet — what's supposed to be the most efficient shot in the game. All told, he was the least efficient high-volume driver in the entire NBA — shooting just 40.2 percent when driving and also passing more often out of drives than any other high-frequency driver. Defenders force him past them towards the rim, and VanVleet doesn't have enough in the bag to consistently punish that choice.
There are a variety of possible solutions for VanVleet. He could hit more midrangers. He could add a floater to his game, using his soft touch to simply get the ball on the rim before shot blockers have a chance to bother him. He could copy Kyle Lowry's ground-bound style of at-rim finishing to muscle more layups into the rim. But VanVleet needs to force the defense to make choices when he drives. As it stands, every time he passes up a shot to put the ball on the floor, defenses breathe a sigh of relief.
Gary Trent jr.: Finishing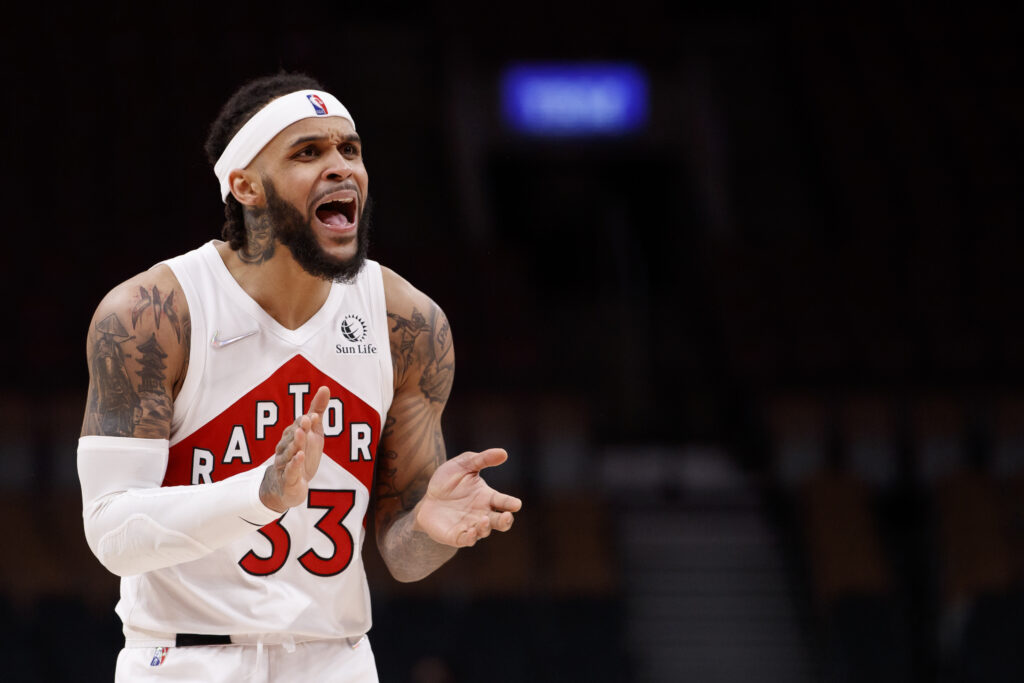 VanVleet may be a low-efficiency scorer around the rim, but he isn't the only one on the team. Gary Trent jr. matches VanVleet in terms of low-level frequency and accuracy on at-rim attempts. 
Yet Trent was Toronto's most efficient isolation player this past season. His midrange game is killer, and he doesn't waste time trying fancy dribbling moves or opening up the defense for a home-run pass. Trent just fires away. One would think that would open up the rim for Trent, as defenders press up to take away his only intention. But Trent steered away from layups like the plague.
He's not going to jump over opponents or jet past them in the lane. Those limitations are likely here to stay, but they don't mean he can't improve as a finisher. As it stands, Trent often lofted awkward hooks and floaters at the rim instead of going up strong, even if he had a size advantage over his defender. 
He faced much less attention at the rim than VanVleet — and is significantly taller — yet graded out as a comparable finisher. Trent also drew a lower rate of free throws. He often put defenders on his hip and still was bumped off his line to the rim. Hitting the weight room might be the most important ingredient to better finishing for Trent. To truly unlock his midrange artistry, Trent will need to keep defenders guessing. That will require becoming a threat at the rim.
OG Anunoby: Pull-up shooting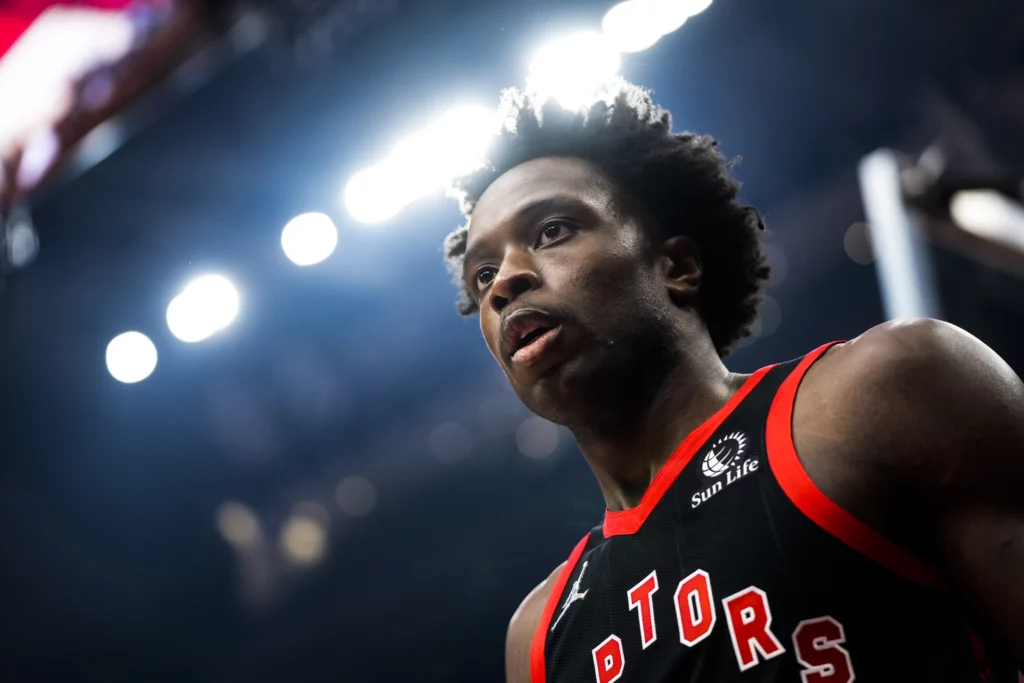 Anunoby is a knockdown shooter, but not all jumpers are made equally. He's a career 37.2 percent shooter from deep, but that includes 38.5 percent on catch-and-shoot triples last season versus 26.7 percent on pull ups. That's the difference between an elite marksman and a complete non-shooter. Anunoby is an elite finisher around the rim even though he can sometimes lose his balance on the drive. But between the arc and the rim, Anunoby offers virtually nothing.
Anunoby had the chance to stretch his legs as a self creator to start 2021-22 but settled into his unique role when Siakam returned to health. He finished as Toronto's least efficient isolation player despite finishing with the team's best effective field-goal percentage. It's not just pull-up triples that Anunoby crocodile arms. 
With his enormous wingspan — seven inches longer than his height! — and bulky body, energy transfer on pull-up jumpers might be difficult for him. He also seems to have trouble stabilizing his balance with the dribble quickly enough to both create space and get into his shot. Maybe that means Anunoby eschews pull ups in the midrange for stepping back to behind the arc where there are fewer bodies crowding his gather and rushing him. He's always been a good one-dribble shooter when taking side-steps to avoid flyby contests. Or like VanVleet, he adds in-between options like a floater; Siakam uses a push shot from just inside the free throw line as well as anyone else in the league. But Anunoby is not going to be a star until he can create for himself. That means overcoming his pull-up shooting barrier.
Pascal Siakam: Catch-and-shoot shooting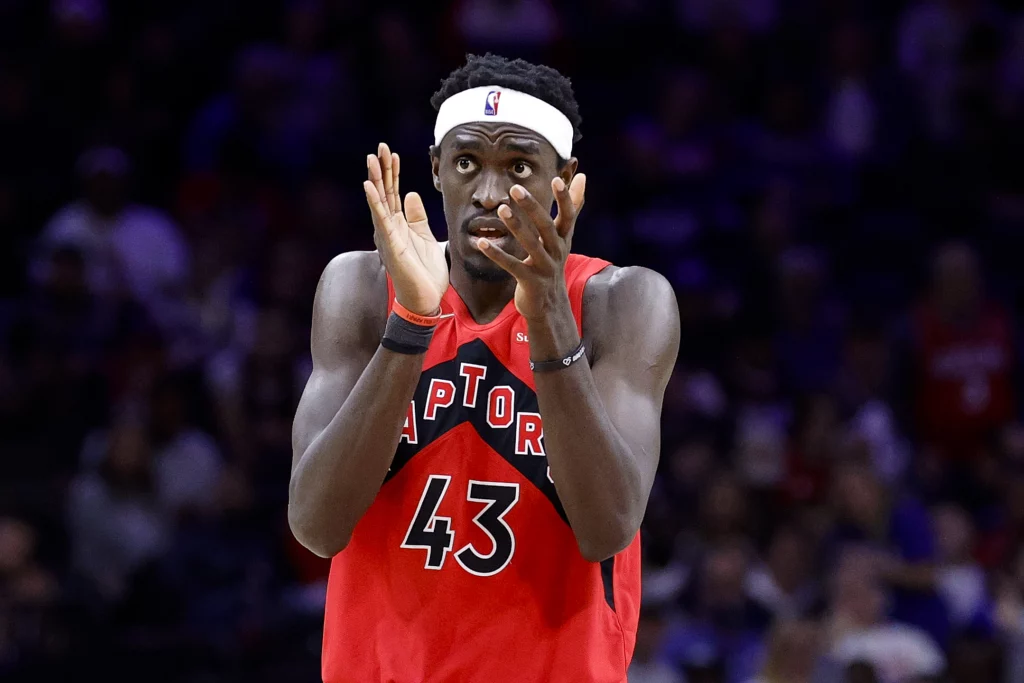 If Anunoby needs to add one side of the shooting coin, Siakam needs to focus on the other. Siakam, like Anunoby, is a very good pull-up shooter and a poor catch-and-shoot one. He actually hit 36.5 percent of catch-and-shoot triples last year. But unlike Anunoby, Siakam rarely had the chance to attempt them. He finished fifth on the team in attempted catch-and-shoot 3-pointers per game. He was too busy doing the heavy lifting for the offense — isolating, running pick and roll, and generally creating advantages on which his teammates could capitalize. As a result, Siakam had one of the most difficult shot charts in the league last year.
It doesn't get a whole lot less taxing than catching the ball and tossing up a jumper. Siakam ran the sixth-furthest distance per game of anyone in the league last year and led everyone in minutes. He could use a little simplicity to his game. For that to happen, Toronto needs someone else to be able to be the half-court engine. VanVleet adding drives, or Anunoby pull-up shooting, would do wonders in allowing Siakam to thrive off ball. Him finding more easy shots would also help him create and convert more hard shots.
The last time Siakam wasn't the Raptors' first option, he won the Most Improved Player award with a sky-high effective field-goal percentage of 59.1. The Raptors likely won't move him that far down the food chain, but he could do with an easier shot diet. Being able to take more catch-and-shoot triples would do wonders for his game.
Scottie Barnes: On-ball defense 
It would be easy to say that Barnes' shooting needs some work. But he shot 27.5 percent from deep in one year in college and 30.1 percent from the deeper NBA line on far more per-game attempts. He's already in Toronto's shooting program and working to improve further there.
But on the other end, Barnes still has some work to do. He's an enormous athlete, as long and mobile as his wing partners Siakam and Anunoby. Off the ball, he was devastating when closing out to shooters and dramatically improved at recovering and rotating to the correct spots as the season went on. On the ball, he had high highs. But for Barnes to fulfill his superstar potential, those highs will need to become the norm.
Barnes frequently gave up blowbys when matched up against smaller, speedier guards. He could be one of the (rarer than you think) few who can defend any position on the floor, but Toronto's defense found itself handicapped when Barnes faced guards who like to drive. He has the length to contest shots from any distance and the hip quickness to adjust his weight and momentum to dissuade drives. But instead of laying back and trying to beat drivers to spots — he can do that! — Barnes spent too much time trying to clog the airspace of ballhandlers, and he's not fast enough to recover after they rip past him. He has a tendency to open his hips, meaning he's at a huge disadvantage in trying to respond when drivers slither past him.
Barnes should become more reactive and less proactive as an on-ball defender. Toronto's peak form will involve Anunoby, Siakam, and Barnes swallowing the defensive end of the court entire, switching back and forth, walling off drives and jumpers and passes until opponents either turn over the ball, miss shots, or plain give up. Anunoby and Siakam have been at that level for some time. Barnes is close. But to get there, he needs to be more consistent guarding the ball.