Tyson Chartier, head coach of UFC bantamweight contender Rob Font, breaks down the title fight between Aljamain Sterling and Petr Yan on April 8 at UFC 273.
Betting Odds
Will Sterling be able to defeat the favorite Yan?
Chartier on Sterling's neck issues:
"I know he had neck issues so it's hard to…obviously I can't compare my career to Aljamain Sterling but back when I fought I was dealing with neck issues. I eventually ended up having neck surgery which ended my career. My whole pro career I wasn't able to grapple and you know I'm a grappler. I wasn't able to grapple in practice. I was just sparring, hitting mitts, and getting into shape. And then trying to grapple in fights. Your triggers are off, your timing is off. Your still worried about your neck flaring up if you do the wrong things. I definitely symphathize with where he is coming from. He went out in that [first] fight and tried to grapple without actually training grappling going into a fight.

"I'm really interested to see how he does when he feels his neck is ready to compete at that level again. Being able to grapple in camp. Going in knowing that your grappling conditioning is good. That maybe you can take [Yan] down and hold him down. You don't necessarily have to keep being crazy. "
Watch this interview on The AllStar's Youtube channel.
---
Fighter profile
Petr "No Mercy" Yan is a 28 year old male fighter from Russia with 16 pro wins and 2 losses. Yan most recently fought Cory Sandhagen at UFC 267: Błachowicz vs. Teixeira on Saturday October 30, 2021.
Yan's recent form coming into this matchup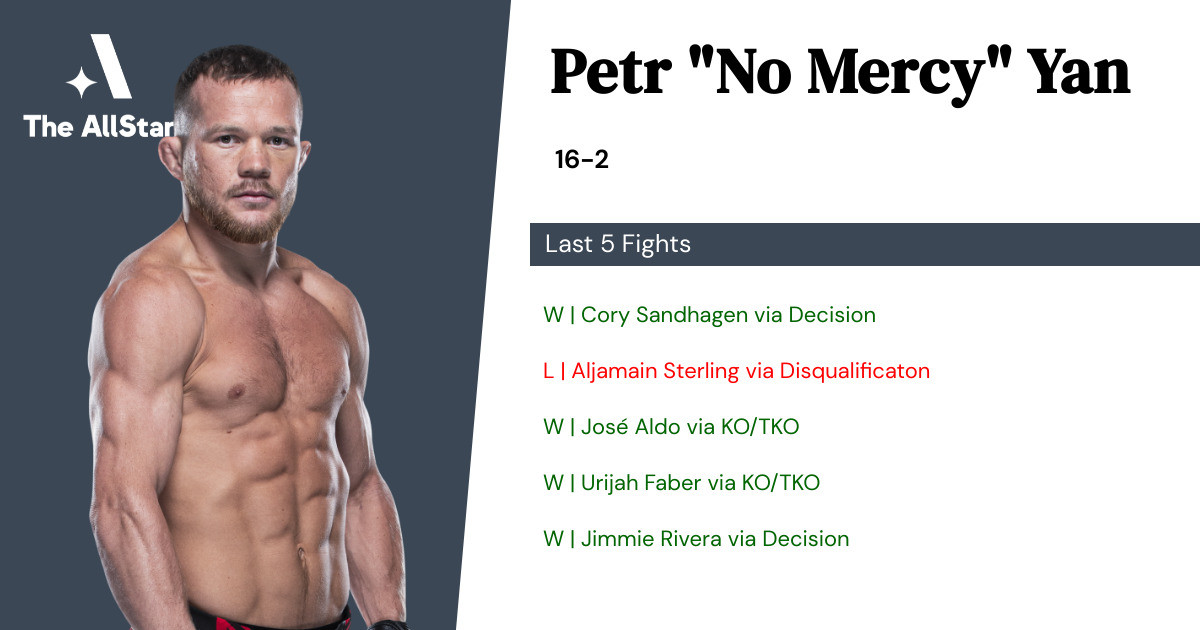 Yan has gone 4-1 in the last 5 professional MMA fights.
Win vs Cory Sandhagen • Decision R5 5:00 • 2021-10-30
Loss vs Aljamain Sterling • Disqualificaton R4 4:29 • 2021-03-06
Win vs José Aldo • KO/TKO R5 3:24 • 2020-07-11
Win vs Urijah Faber • KO/TKO R3 0:43 • 2019-12-14
Win vs Jimmie Rivera • Decision R3 5:00 • 2019-06-08