Won Il Kwon is purely focused on the ONE Championship bantamweight title, and he doesn't care who he has to go through to get it.
His next opponent could be promotional newcomer Stephen Loman, who recently knocked out Yusup Saadulaev at ONE: Winter Warriors 2. Loman expressed interest in fighting the South Korean slugger during an interview with the South China Morning Post.
Kwon, who dismantled former champion Kevin Belingon on the same night, dismisses any kind of callout.
"I really don't care what he said," Kwon told The AllStar. "For me, he is somebody who's in the street who's trying to surpass what I achieved. I just want him to move out of my way.
"I bet he's a very good athlete because he was a champion in another organization but just by watching his last fight versus Saadulaev I personally thought he was a bit overhyped. It wasn't what I expected."
There are many rising contenders in the division all vying for a shot at the title. Kwon has put himself in a position to argue to be next in line.
"John Lineker, he's number one right now. And he just got the title shot versus Bibiano Fernandes and guess who he beat to get the title shot? It was Kevin Belingon and that's what I did.
"There's a guy who's next [after] Belingon which is number three which was Yusup Saadulaev. He just lost to Stephen Loman. So people might say that Loman could be next but for me I don't agree with that because he just had one fight in ONE Championship so I don't think he deserves that title shot next. Maybe he should [fight] one more. And Belingon is still a higher-ranked guy than Saadulaev.
"They might talk about Fabricio Andrade. Yes, he is very good, he is very talented, he's very tough. I agree with that but the only ranked guy he beat was Shoko Sato. The last guy he beat was Li Kai Wen, who wasn't ranked. I beat Belingon who is the number two-ranked guy so I think talking about all that, I deserve the next title shot."
Lineker and Fernandes will battle for the title in early 2022. Even though Kwon is nursing an ankle injury at the moment, the 25-year-old is willing to step in for either fighter as long as the belt is on the line.
Kwon said: "I can't give too much details but I did have a good conversation with Chatri [Sityodtong], CEO of ONE Championship, and he did give me some good word and he did give me some good news."
Watch this interview on The AllStar's Youtube channel.
---
Fighter profile
Won Il "Pretty Boy" Kwon is a 26 year old male fighter from South Korea with 11 pro wins and 3 losses. Kwon most recently fought Kevin Belingon at ONE Championship: Winter Warriors 2 on Friday December 17, 2021.
Kwon's recent form coming into this matchup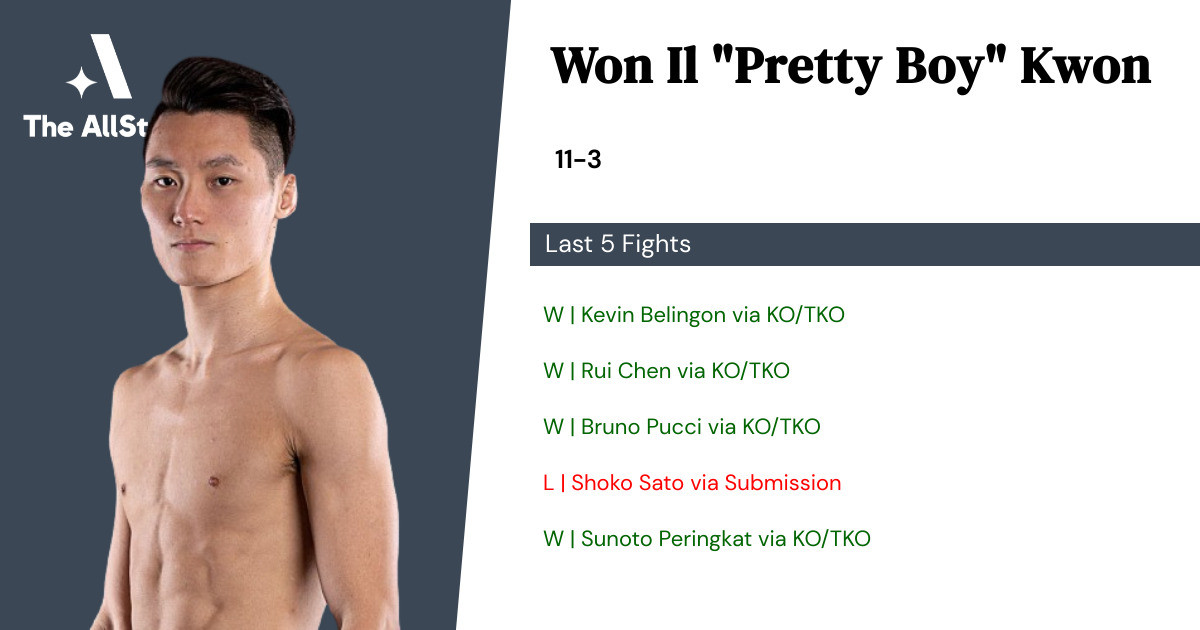 Kwon has gone 4-1 in the last 5 professional MMA fights.
Win vs Kevin Belingon • KO/TKO R2 0:52 • 2021-12-17
Win vs Rui Chen • KO/TKO R3 0:31 • 2021-01-29
Win vs Bruno Pucci • KO/TKO R1 2:00 • 2020-11-20
Loss vs Shoko Sato • Submission R1 4:05 • 2020-01-31
Win vs Sunoto Peringkat • KO/TKO R1 1:43 • 2019-10-12