Undefeated bantamweight Austin Bashi knows his next opponent Darnell White pretty well.
The two have actually trained at least six times together, providing Bashi with valuable insights into his rival's abilities, the fighter told The AllStar's John Hyon Ko in an interview.
White was a late replacement for their fight, which takes place on Dec. 10 at XFC YoungGuns 4.
"He's definitely tough, pretty well-rounded. Good striking, good grappling," Bashi said. "We just had real good drilling sessions with each other. Pretty good sparring sessions with each other. Good back and forth so it should be good."
Bashi is confident of ending the fight early, after two straight wins that went all the way.
"I see a finish. I definitely see a finish this time. Just gonna execute our game plan kinda doing what we did to the other guy. Just wear'em out, break'em. And then get my hand raised."
Bashi also spoke about:
His disappointment with his last performance
Building his experience
Recovery and ice baths
Watch this interview and more on The AllStar's Youtube channel.
---
Fighter profile
Austin Bashi is a 20 year old male fighter from the United States with 4 pro wins and 0 losses.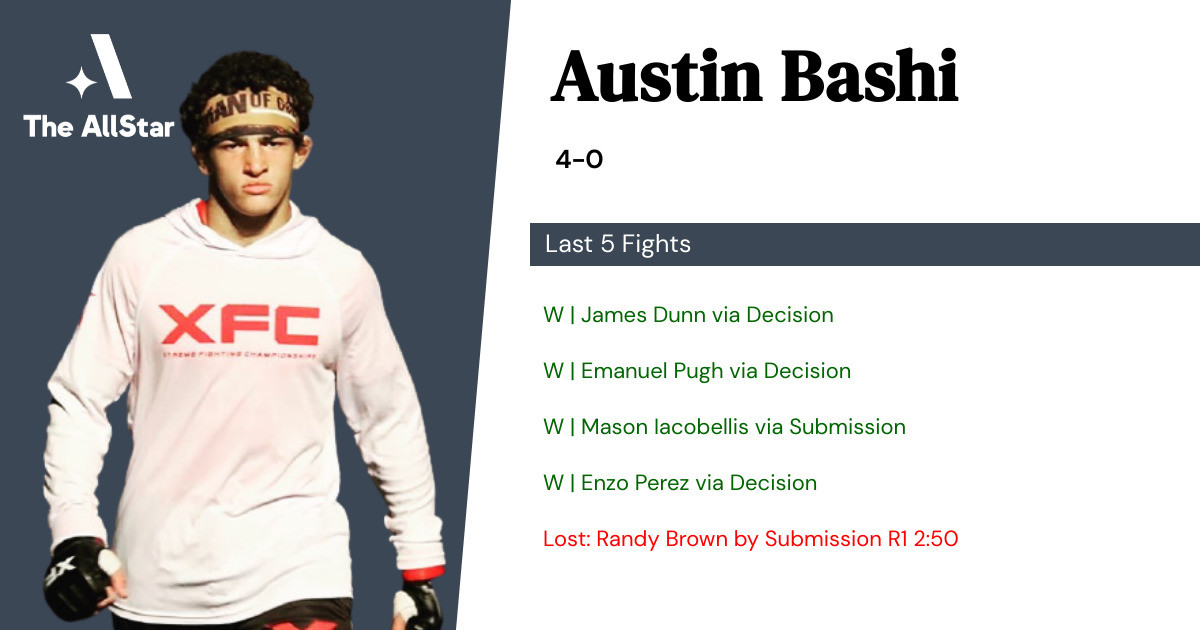 Austin Bashi has gone 4-0 in the last 5 professional MMA fights.
Win vs James Dunn • Decision R3 5:00 • 2021-08-06
Win vs Emanuel Pugh • Decision R3 5:00 • 2021-05-28
Win vs Mason Iacobellis • Submission R3 2:56 • 2021-03-27
Win vs Enzo Perez • Decision R3 5:00 • 2020-11-11