When fans criticized Xie Bin for being a decision fighter, he took it personally.
Rather than telling critics to buzz off, Xie made a switch to his mental approach to fighting that drove him to score five consecutive finishes after opening his career at 2-2.
Xie explained how he's adjusted his mentality several times in his fighting career. In the beginning, he took an unusual path to fighting in MMA by competing in a one-night tournament for his pro debut.
"For the first fight, I tried everything I know, everything I've learned in MMA, and even though I won that fight, I was already exhausted, "Xie said of the experience. "For the second fight, I lost by decision."
The single-night tournament with ONE Championship led to eight more fights with ONE, where he went 7-1, including a run of three straight wins by D'Arce choke. The impressive success of Xie's ONE Championship tenure made an appearance on Dana White's Contender Series a given last year.
However, Xie would go on to lose an airtight split decision to Oliver Murad. The loss came from a flat performance from the Chinese fighter that didn't fully showcase what he was capable of.
Xie believes in that fight, "I was not as sharp as I should be. It was not a one hundred percent because you know, I just want to prove myself that I left ONE now, I can get into UFC. I just want to prove myself too much, so it was a mental problem, so I didn't perform one percent of what I should be".
He believes that adjusting his mental preparation and expectations is at the heart of succeeding in MMA. Now presented with another chance to join the UFC through the tournament-based format of the Road to UFC, he's been working on relieving the pressure that stifled his performance on the Contender Series.
His gratitude for a second chance drove him during this training camp, which he spent in Tianjin, China, at Tianjin Top Team: "Last year, I lost the contender series fight, and I thought the door to the UFC was closed. But this time they gave me another chance, so I really appreciate this opportunity and really thankful for this opportunity and trained really hard."
He fights another top Asian prospect in Jeong Yeong Lee of South Korea, and Xie believes the former ROAD FC champion will be a great test. However, he plans to win the fight his way.
Explaining what his way is, Xie was brief: "Grappling, wrestling. That's my playground".
---
Fighter profile
Bin Xie "The Stalker" is a 24-year-old male fighter from China with 8 pro wins and 3 losses. Xie most recently fought Olivier Murad at Contender Series 2021: Week 9 on Tuesday, October 26, 2021.
Bin Xie's recent form coming into this matchup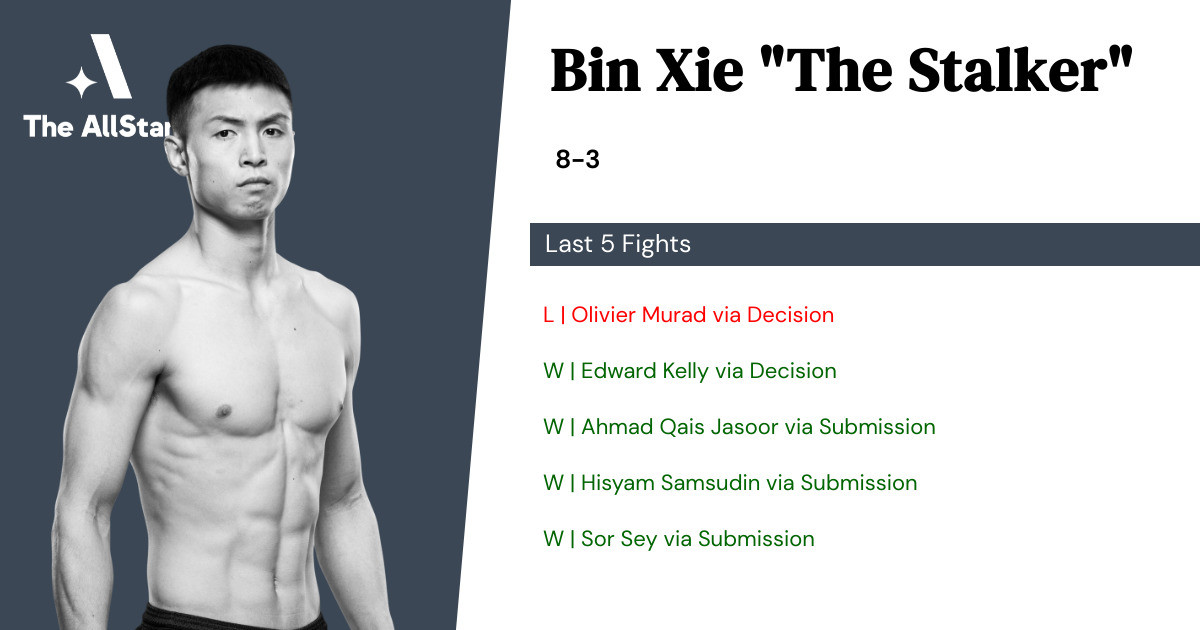 Bin Xie has gone 4-1 in the last 5 professional MMA fights.
Loss vs Olivier Murad • Decision R3 5:00 • 2021-10-26
Win vs Edward Kelly • Decision R2 2:50 • 2019-08-02
Win vs Ahmad Qais Jasoor • Submission R2 2:27 • 2019-04-12
Win vs Hisyam Samsudin • Submission R1 3:19 • 2018-11-09
Win vs Sor Sey • Submission R1 1:55 • 2018-07-27