Yan Xiaonan isn't just an underdog in the eyes of oddsmakers.
The 33-year-old strawweight revealed she's also received a noticeable lack of support from fans in her home nation of China during the buildup to her first-ever main event at UFC Vegas 61 this coming weekend.
In fact, the majority of pundits in the nation Yan represents seem to be backing her Brazilian counterpart, the number five ranked Mackenzie Dern, to seize victory in their forthcoming battle.
A notion such as this might affect some fighters, but if that reality had any bearing on Yan's confidence as she prepares for her first five-round bout, she did a masterful job concealing it. If anything, the disrespect seems only to have fuelled her desire to win.
"I don't really care about them," an unfazed Yan leveled with The AllStar's John Hyon Ko in a recent interview. "No matter what I showcase in this fight, [it's] not for them. Not for them. What I want to do [is] just showcase what I train for, the preparation [for] this fight, [and] just execute the game plan my coach tells me.
"But none of those things are for those people. No. [It's] for myself. For the people who really support me."
One might assume then, given the support Dern is receiving from Chinese fans, that the BJJ specialist has a large following in the east – but that's not the case, according to Yan.
Sure, Dern's a top-tier grappler who's exciting to watch, but Yan insists encouragement from her home nation directed toward the Brazilian stems from a more spiteful place. The Team Alpha Male student rides a two-fight skid into October 1st, and Chinese MMA fans, it seems, can be just as fickle of a bunch as their international counterparts.
"[It's] not because of her, [they probably just] dislike me. They don't think I performed very well in my last two fights – so that's why I think Mackenzie comes into this fight [as the favorite in China]."
"Not a lot of people think I can win this fight."
The fight will not be won on the backs of others' opinions, however; more likely Yan's opinion of herself – and throughout the ups and downs over the past year, that, it seems, hasn't shifted.
She's learned from and made peace with her two recent losses. Refusing to live in the past, Yan has her mind set on the task at hand.
"I have an upcoming fight a new goal, so I just focus on this…"
"I'm just looking forward."
---
Fighter profile
"Nine" Xiaonan Yan is a 33-year-old female fighter from China with 15 pro wins and 3 losses. Yan is scheduled to fight Mackenzie Dern at UFC Fight Night: Dern vs. Yan on Saturday, October 1, 2022.
Xiaonan Yan's recent form coming into this matchup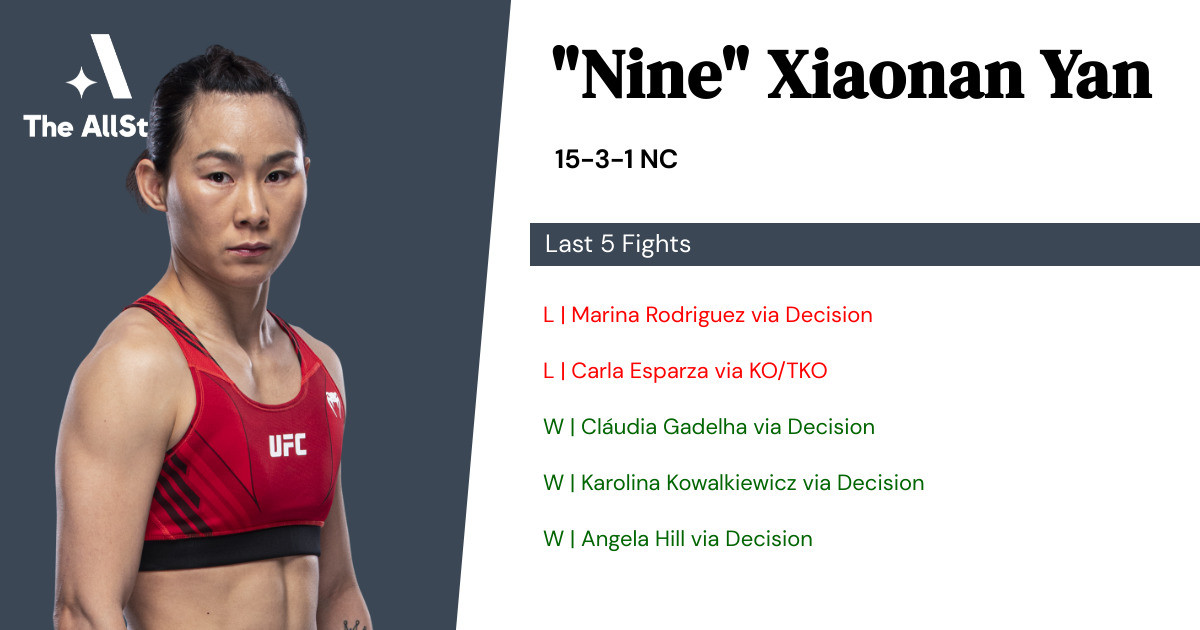 Xiaonan Yan has gone 3-2 in the last 5 professional MMA fights.
Loss vs Marina Rodriguez • Decision R3 5:00 • 2022-03-05
Loss vs Carla Esparza • KO/TKO R2 2:58 • 2021-05-22
Win vs Cláudia Gadelha • Decision R3 5:00 • 2020-11-07
Win vs Karolina Kowalkiewicz • Decision R3 5:00 • 2020-02-22
Win vs Angela Hill • Decision R3 5:00 • 2019-06-08
Xiaonan Yan's next opponent: Mackenzie Dern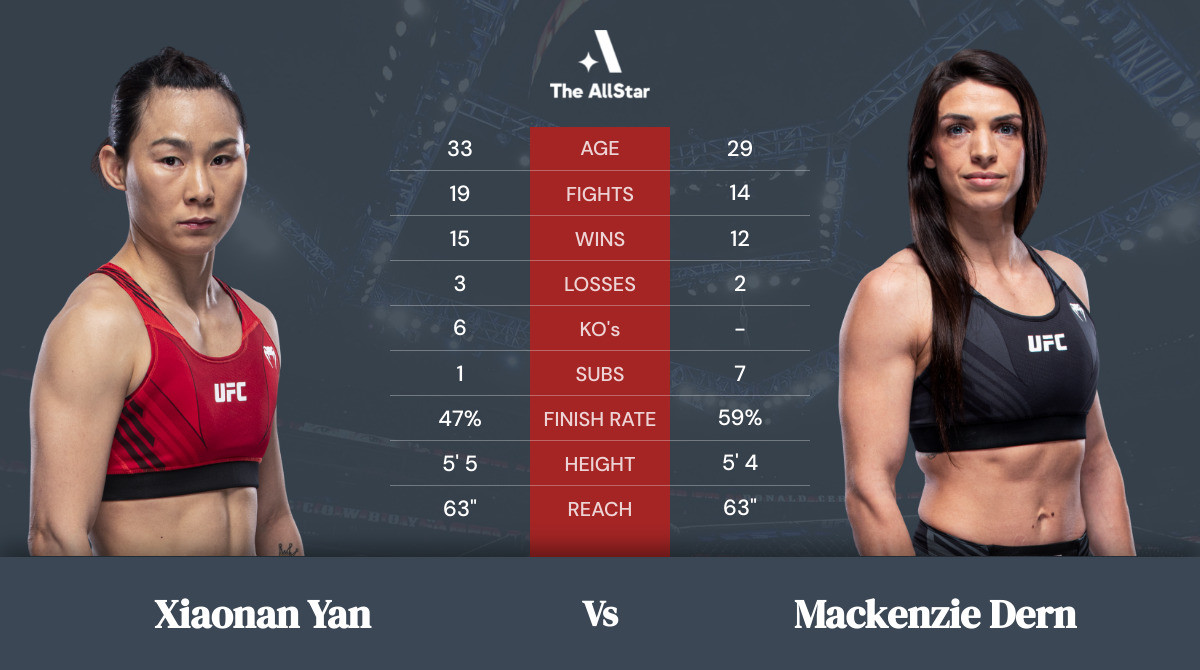 Mackenzie Dern's recent form coming into this matchup
Mackenzie Dern is a 29-year-old female fighter from the United States with 12 pro wins and 2 losses. Dern is scheduled to fight Xiaonan Yan at UFC Fight Night: Dern vs. Yan on Saturday, October 1, 2022.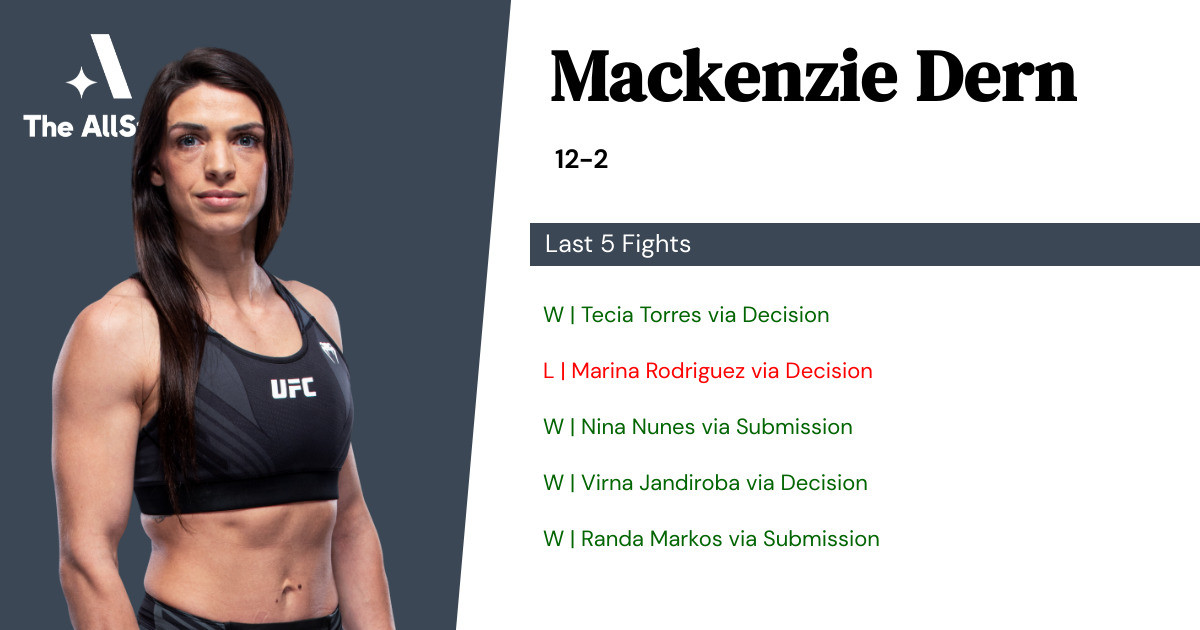 Mackenzie Dern has gone 4-1 in the last 5 professional MMA fights.
Win vs Tecia Torres • Decision R3 5:00 • 2022-04-09
Loss vs Marina Rodriguez • Decision R5 5:00 • 2021-10-09
Win vs Nina Nunes • Submission R1 4:48 • 2021-04-10
Win vs Virna Jandiroba • Decision R3 5:00 • 2020-12-12
Win vs Randa Markos • Submission R1 3:44 • 2020-09-19
How to watch and bet on Xiaonan Yan vs Mackenzie Dern
Keep track of all the latest odds and line-movements at our bout page for this matchup.