Yan Xiaonan firmly believes she should have emerged victorious at UFC 272.
The Chinese fighter feels snubbed by the judges in what was a pivotal clash for the women's strawweight division, opposite Brazil's Marina Rodriguez.
After the fifteen-minute bout was contested right until the final horn, Rodriguez edged the win in the eyes of two of the judges, leaving Yan visibly upset with the decision.
"I rewatched the fight [with my team] immediately when I arrived [back at] the athlete's hotel with my coaches with my team….all of us firmly believe I won the first two rounds," Yan told The AllStar. "And the third round we can give her the third round but still pretty close so I feel I won that fight."
Yan came out fast, determined to apply pressure and counter strike – though an unintentional groin strike in the opening round of the bout left Yan in agony for the remainder of the fight; a factor she believes had an effect on her ability inside the cage.
"The groin getting kicked or kneed [doesn't] only affect male fighters…"
The 32-year-old Liaoning native described the pain, explaining that it felt like her bone got kicked and that she could immediately feel the presence of blood. A true warrior, Yan chose not to inform an official about the injury, in fear that the fight would be stopped.
"I just told them 'it's okay it's okay give me some time'… but after the fight when I had the medical exam, there [was] a lot of blood there, and [it was] very painful."
Despite the injury, her Team Alpha Male cornermen believed she won the first two rounds and instructed her to play it safe in the final, "Don't take any risks," she recalls – a strategy she says she's come to regret.
"That is a huge lesson I learned from this fight," Yan said. "I should fight until the last second, [not] be conservative and… give it to the judges to decide… l should be more aggressive and secure the victory."
Though Rodriguez likely earned herself a title shot with that win, Yan isn't discouraged. With UFC 275 expected to take place in Singapore, the Chinese Top Team product has made the decision to stay stateside, continuing to train in Sacramento in the hope of getting a top five matchup for the June pay-per-view.
"If the UFC can give me a good opponent… I can fight anywhere."
When quizzed about a potential matchup with Joanna Jędrzejczyk – who's expected to make a return after a two-year absence from the sport – Yan fancied the thought of testing her mettle against the former champion.
"If [Zhang] Weili doesn't want to fight Joanna for the rematch, I want to fight Joanna."
---
Fighter profile
"Nine" Xiaonan Yan is a 32 year old female fighter from China with 13 pro wins and 2 losses. Yan is scheduled to fight Marina Rodriguez at UFC 272: Covington vs. Masvidal on Saturday March 5, 2022.
Xiaonan Yan's recent form coming into this matchup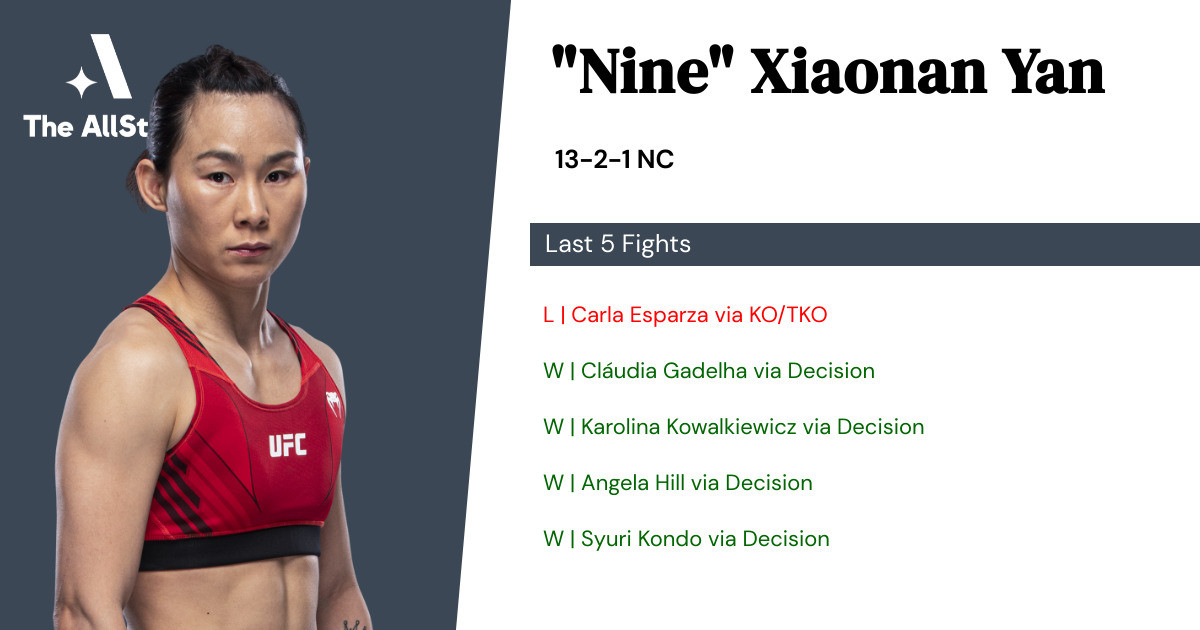 Xiaonan Yan has gone 4-1 in the last 5 professional MMA fights.
Xiaonan Yan's next opponent: Marina Rodriguez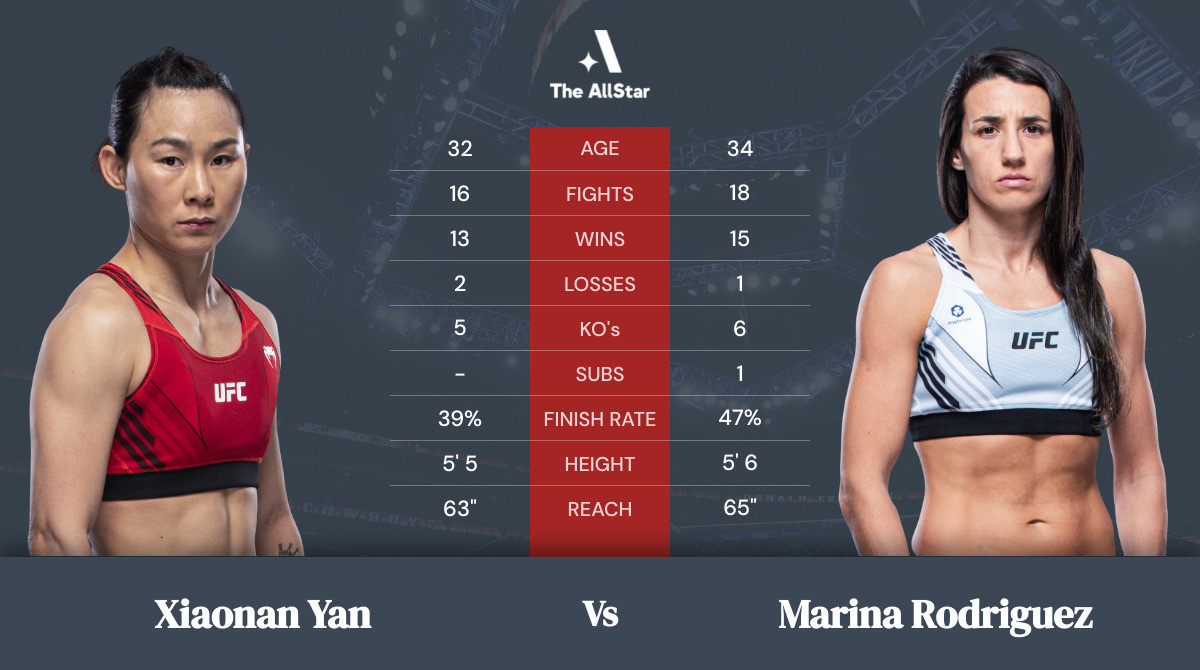 Marina Rodriguez's recent form coming into this matchup
Marina Rodriguez is a 34 year old female fighter from Brazil with 15 pro wins and 1 losses. Rodriguez is scheduled to fight Xiaonan Yan at UFC 272: Covington vs. Masvidal on Saturday March 5, 2022.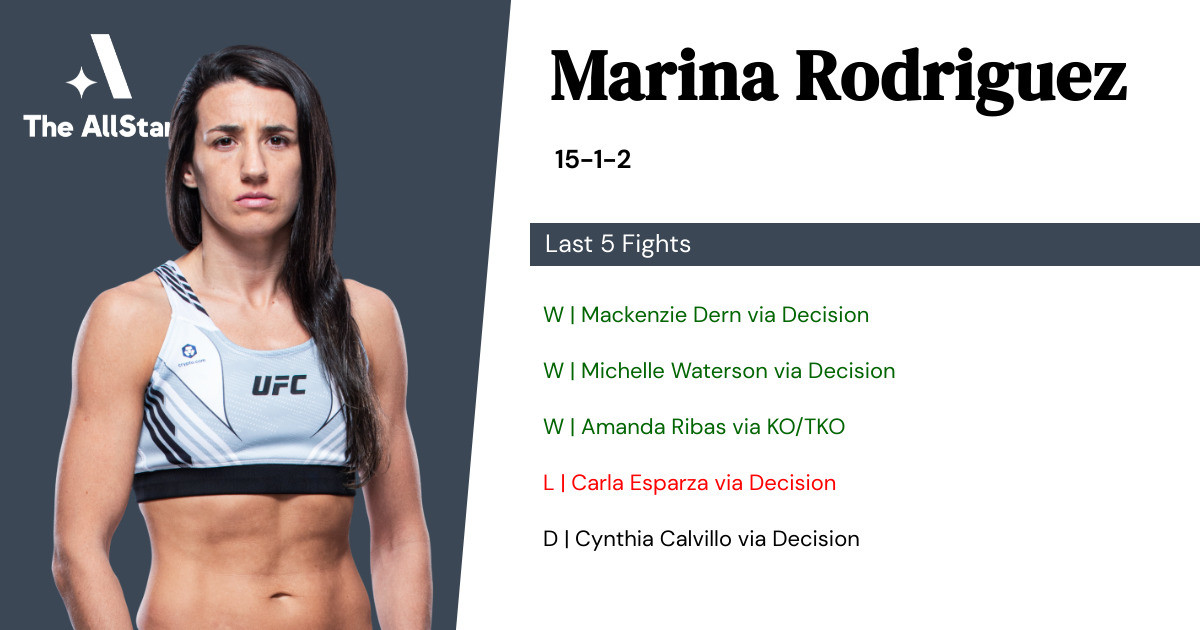 Marina Rodriguez has gone 3-1-1 in the last 5 professional MMA fights.
How to watch and bet on Xiaonan Yan vs Marina Rodriguez
Keep track of all the latest odds and line-movements at our bout page for this matchup.