Despite sitting in a precarious situation to get a win in her UFC 278 fight with Lucie Pudilova, China's Yanan Wu feels confident and at peace going into the fight.
In an interview with The AllStar, Wu spoke about her mindset, preparation, and thoughts on her opponent. "Mulan" noted a more cohesive training environment at JacksonWink MMA as well as opportunities to translate her work in practice to live competition.
"I think in my last camp because I was new to here, so still [becoming] familiar with everything, the training, the coaches, and we didn't have the chemistry between us. But for this time, everything is getting better, and we have more trust between me and the team, the coaches, so I think this camp is definitely better me than the last time."
The 26-year-old Wu has formed a bond with the teammates and staff at JacksonWink in Albuquerque but sees herself traveling later this year when her visa expires. She hopes to return home to China for a time and potentially make it to Thailand for some training as well. Beyond that is less clear.
In a few weeks time, Wu will enter the cage against returning UFC veteran Lucie Pudilova of the Czech Republic. Pudilova went 2-5 in her first stint, signaling her release in 2020. Since then, she's racked up a 5-1 record for the respected Central European promotion Oktagon and re-signed with the UFC.
Wu has watched all of Pudilova's Oktagon fights, and agrees that she's improved: "I know her background, so I think there may be some reasons the UFC released her in 2020 but there is also definitely a reason the UFC re-signed her again. Of course the UFC may see some improvement of her and think she is still a UFC caliber fighter, so I will take this fight very seriously".
Watching the footage, Wu sees strong points in the striking of Pudilova, namely, the "boxing skills and distance management, footwork, and control the distance, she did a good job on that". "Mulan" is also a striker, but from a Sanda background, so she see the fight as a competition of implementing a better striking game plan.
Typically one to appear happy and content, Wu doesn't feel stressed fighting Pudilova and avoiding a fourth straight loss. Of her mindset, she said, "I just do what I need to do. So my mindset is actually very peaceful and calm. Not a lot of crazy thinking in my mind"."
Fighting someone with good hands means mixing things up for Wu and keeping her opponent guessing. She has something planned to find victory over Pudilova.
"For this fight, I think I need to let my striking more efficiency and try to mix everything up," Wu said. "You know everything can happen in an MMA fight, so you need to able to deal with different circumstances. But I think the key to win this fight is to be more efficient".
---
Fighter profile
"Mulan" Yanan Wu is a 26 year old female fighter from China with 13 pro wins and 5 losses. Wu is scheduled to fight Lucie Pudilová at UFC 278: Usman vs. Edwards 2 on Saturday August 20, 2022.
Yanan Wu's recent form coming into this matchup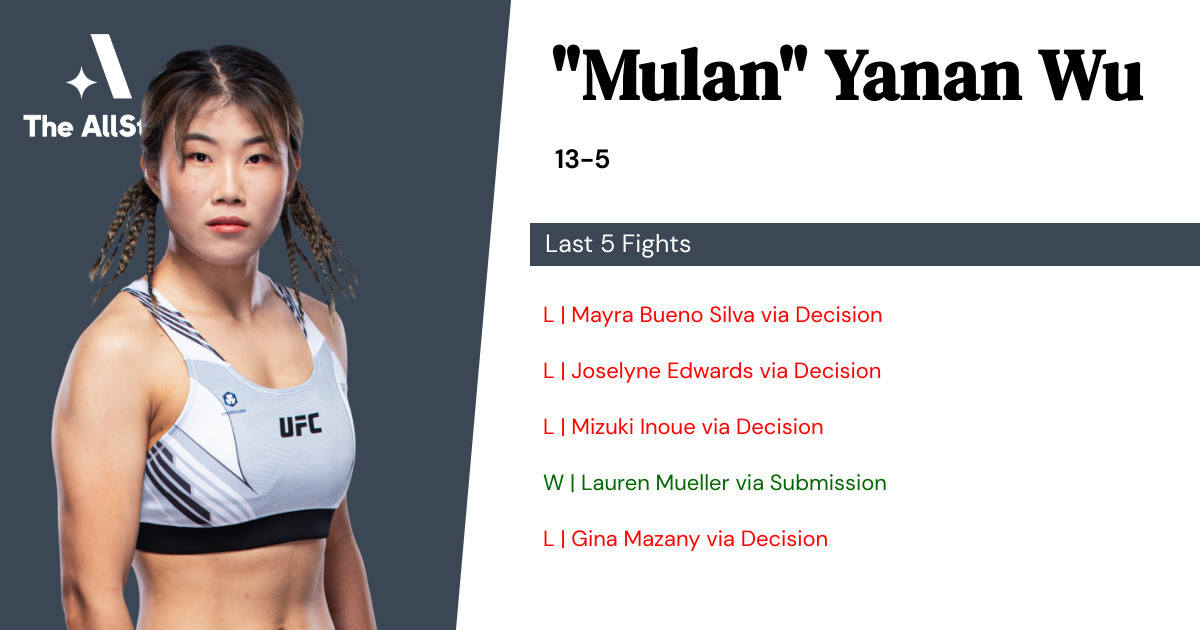 Yanan Wu has gone 1-4 in the last 5 professional MMA fights.
Loss vs Mayra Bueno Silva • Decision R3 5:00 • 2022-04-16
Loss vs Joselyne Edwards • Decision R3 5:00 • 2021-01-16
Loss vs Mizuki Inoue • Decision R3 5:00 • 2019-08-31
Win vs Lauren Mueller • Submission R1 4:00 • 2018-11-24
Loss vs Gina Mazany • Decision R3 5:00 • 2017-11-25
Yanan Wu's next opponent: Lucie Pudilová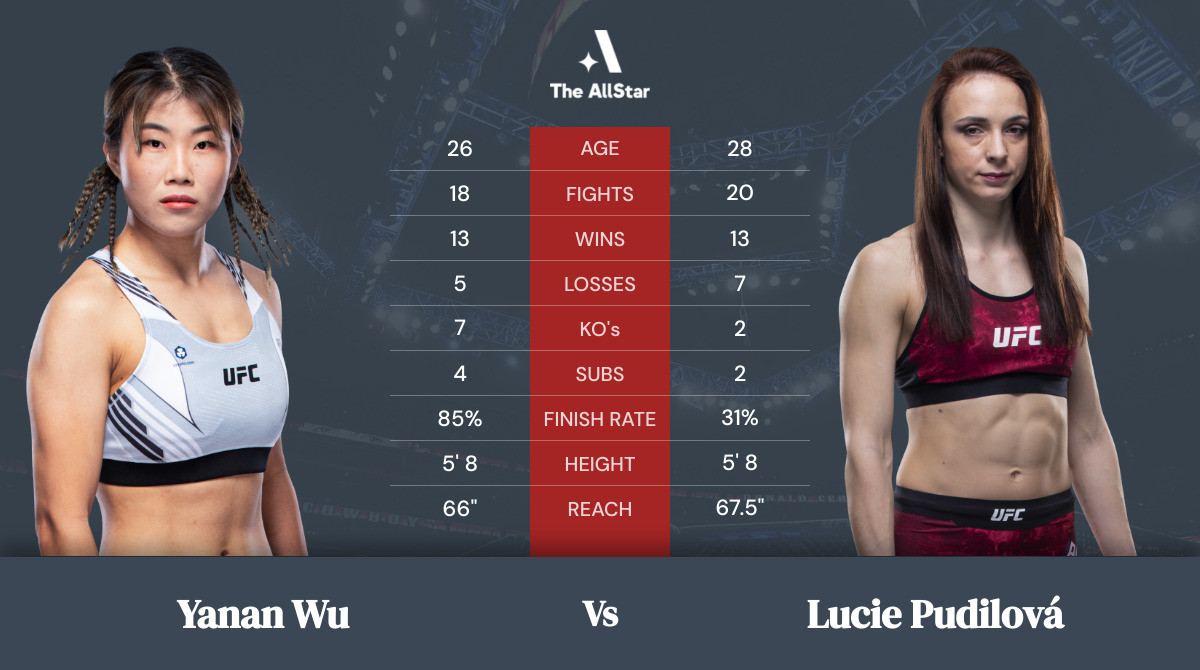 Lucie Pudilová's recent form coming into this matchup
Lucie Pudilová is a 28 year old female fighter from Czech Republic with 13 pro wins and 7 losses. Pudilová is scheduled to fight Yanan Wu at UFC 278: Usman vs. Edwards 2 on Saturday August 20, 2022.
Lucie Pudilová has gone 4-1 in the last 5 professional MMA fights.
Win vs Carol Yariwaki • Decision R3 5:00 • 2022-04-09
Win vs Marta Waliczek • Decision R3 5:00 • 2021-11-06
Loss vs Talita Bernardo • Decision R3 5:00 • 2021-07-24
Win vs Maiju Suotama • Decision R3 5:00 • 2021-03-27
Win vs Marta Waliczek • Decision R3 5:00 • 2021-01-30
How to watch and bet on Yanan Wu vs Lucie Pudilová