Second-round submission.
This is Chris Daukaus' prediction for the main event at UFC 280 in arguably the most anticipated matchup of the year. Charles Oliveira and Islam Makhachev will clash for the vacant lightweight title on October 22 in Abu Dhabi.
Oliveira and Makhachev being elite grapplers, the fight is expected to hit the ground eventually. However, both have very different styles, with the former being a BJJ black belt and the latter being a combat sambo champion.
While Oliveira is a feared submission artist, many doubt if 'do Bronx' will be comfortable grappling against the Dagestani from his guard. Daukaus' brother Kyle, who fights in the UFC's middleweight division, brought something to the attention of his elder sibling which has been weighing on his mind ever since.
"I don't think Charles is gonna sub him off his back. I don't think Charles is gonna sub him on top, I don't think Charles is gonna be on top. I think Charles is gonna sub him off the cage," Daukaus told The AllStar. "He's gonna lock a submission up off of the cage, whether it's Islam trying to take him down, from strikes he's gonna wrap his neck up. I think Charles is gonna sub him off the cage, probably early second round."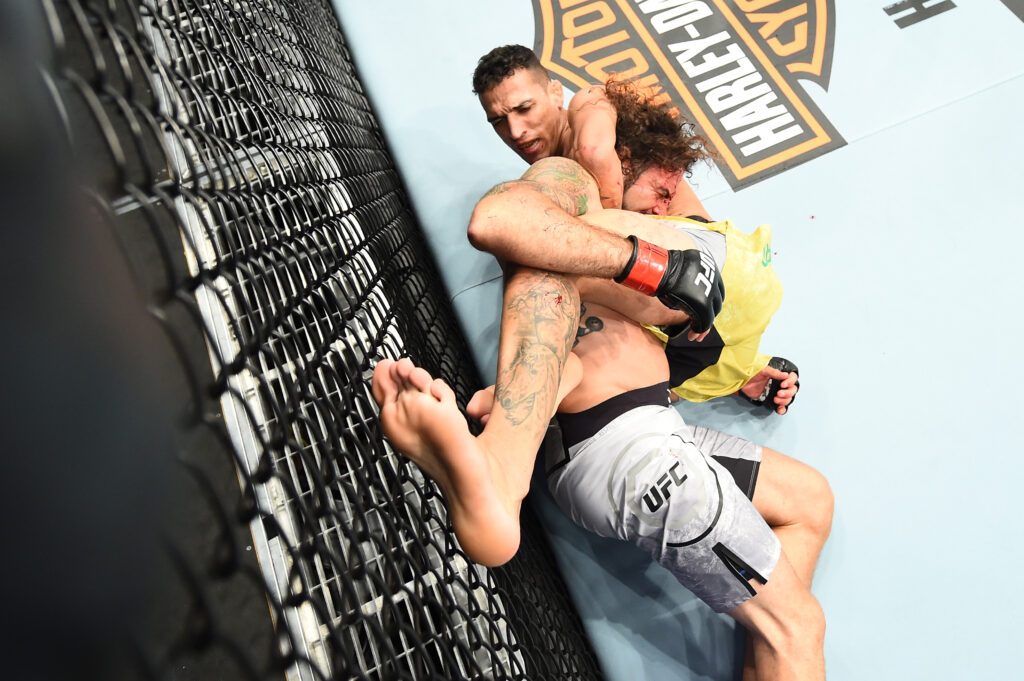 Former lightweight champion Khabib Nurmagomedov is a mentor, friend, and coach to Makhachev, literally having grown up together in Dagestan. Going into UFC 280, 'The Eagle' is touting his prodigy to absolutely run through Oliveira.
While Makhachev is undoubtedly one of the best lightweights in the world, Daukaus believes Nurmagomedov may have gone too far by claiming that his pupil will dominate.
However, in case he does, Daukaus believes the lightweight division becomes irrelevant as no one else is likely to beat the Dagestani standout. The UFC heavyweight added:
"I respect Khabib and his opinion but he's f***ing wrong. Sorry, Khabib. He's not running through. And if he runs through him, I'll eat my words, I'll apologize. But if he runs through Oliveira, everyone in the division just needs to leave the division. Cause no one's beating him."
Daukaus believes there's another factor that'll play in favor of Oliveira, the amount of pressure both fighters are going in with. Prior to the magnificent run that saw him rise atop the lightweight division, Oliveira had eight losses in 19 outings. The Dagestani brigade has taken repeated jibes at Oliveira's past record leading up to UFC 280.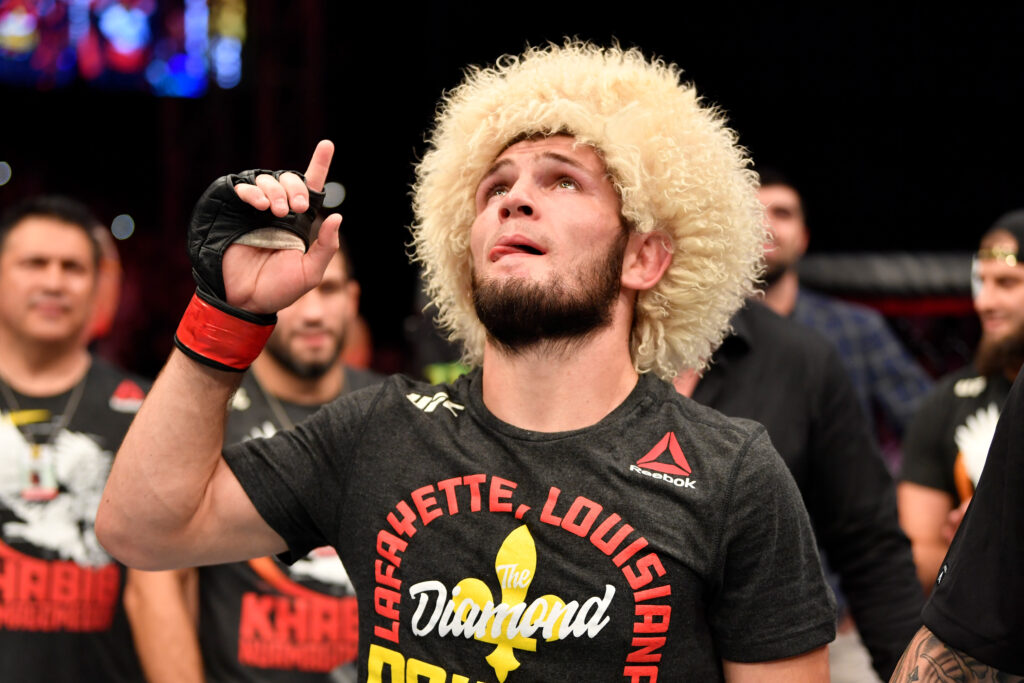 Both Nurmagomedov and Makhachev are products of the iconic 'Father's plan', which was laid out by the late Abdulmanap Nurmagomedov, revered as a pioneer of Russian MMA. Considering the heights that Nurmagomedov has already scaled, Daukaus believes there is a lot of pressure on Makhachev going into his clash against Oliveira.
"Khabib's making this whole big thing about how Charles has tapped eight times in the UFC. I think Islam has a lot more pressure on him than Charles, to be honest with you. I think from the media, from Khabib himself, the pressure from Khabib's dad and the whole camp."
---
Fighter profile
Charles "do Bronx" Oliveira is a 32-year-old male fighter from Brazil with 33 pro wins and 8 losses. Oliveira is scheduled to fight Islam Makhachev at UFC 280: Oliveira vs. Makhachev on Saturday, October 22, 2022.
Charles Oliveira's recent form coming into this matchup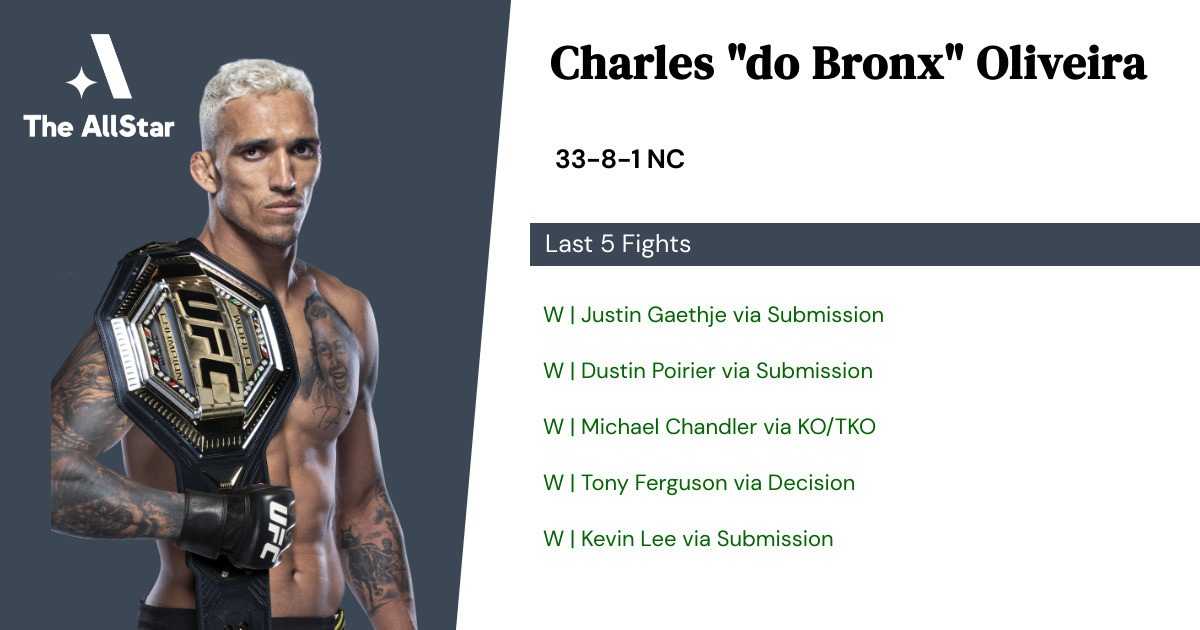 Charles Oliveira has gone 5-0 in the last 5 professional MMA fights.
Win vs Justin Gaethje • Submission R1 3:22 • 2022-05-07
Win vs Dustin Poirier • Submission R3 1:02 • 2021-12-11
Win vs Michael Chandler • KO/TKO R2 0:19 • 2021-05-15
Win vs Tony Ferguson • Decision R3 5:00 • 2020-12-12
Win vs Kevin Lee • Submission R3 0:28 • 2020-03-14
Charles Oliveira's next opponent: Islam Makhachev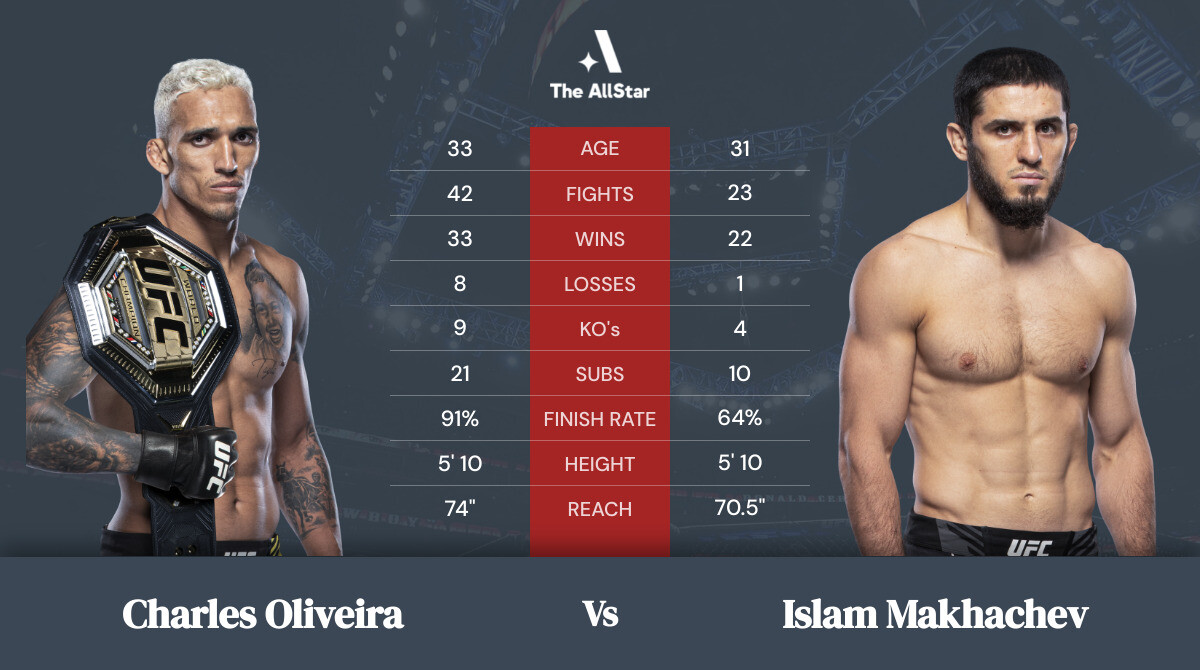 Islam Makhachev's recent form coming into this matchup
Islam Makhachev is a 31-year-old male fighter from Russia with 22 pro wins and 1 loss. Makhachev is scheduled to fight Charles Oliveira at UFC 280: Oliveira vs. Makhachev on Saturday October 22, 2022.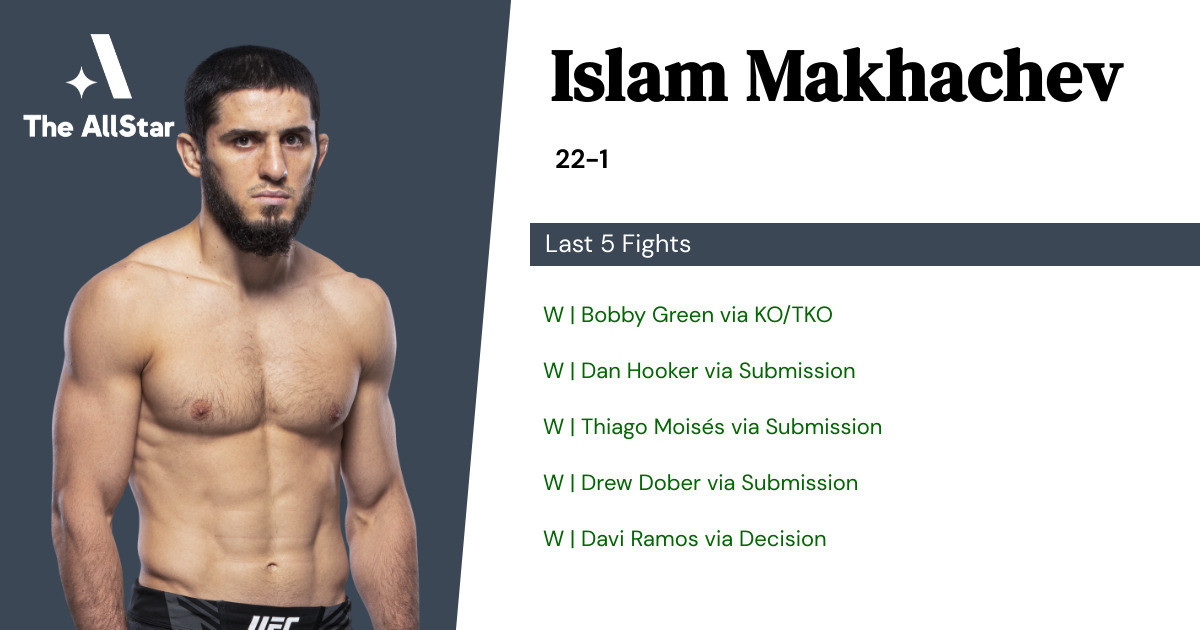 Islam Makhachev has gone 5-0 in the last 5 professional MMA fights.
Win vs Bobby Green • KO/TKO R1 3:23 • 2022-02-26
Win vs Dan Hooker • Submission R1 2:23 • 2021-10-30
Win vs Thiago Moisés • Submission R4 2:38 • 2021-07-17
Win vs Drew Dober • Submission R3 1:37 • 2021-03-06
Win vs Davi Ramos • Decision R3 5:00 • 2019-09-07
How to watch and bet on Charles Oliveira vs Islam Makhachev