At UFC 273, featherweight world champion Alexander Volkanovski returns to action as he defends the throne against long-time contender Chan-Sung Jung, better known as The Korean Zombie. Headlining a stacked pay-per-view card, the fight marks the challenger's first title shot since 2013.
Volkanovski has looked near unstoppable since joining the promotion back in 2016, running through the likes of Chad Mendes, Jose Aldo, and Max Holloway en route to capturing gold. Originally scheduled to fight Holloway for the third time, the bout failed to come to fruition due to injuries, allowing for The Korean Zombie to step in.
"I think it will [pull the action out of me]," Volkanovski told The AllStar.
"This going to be a fun fight, obviously I've got a lot of respect for The Korean Zombie. He's been in the game a long time, been at the top [for just as long], that's why he's getting this shot. He's been one of the legends of our division for a while now. I'm glad it's happening and I can't wait to go out there. Stylistically it will bring the best out of me, and not only that, I am the best that I've been as well. Right now, the level I'm at knowledge-wise; my fitness is always gonna be there, I've always had the fight IQ and all that.
"This is gonna be a good one for me. Obviously, he's dangerous and I've got to be careful of some things, but my style usually takes care of a lot of those things. I think this will definitely be a fun one. The fans will be in with a treat."
Known for his penchant for walking down opponents and connecting with big shots, The Korean Zombie, while not the most deserving contender in the division, remains a giant threat to Volkanovski's status as champion. 3-2 in his last five outings, he's well aware that April 9 may be his last attempt to summit the mountain and capture glory. This adds an extra element of danger to his game; desperate men do desperate things, after all.
Though he'll be on the lookout for the Korean's heavy blows, Volkanovski believes the fans are in for a fun contest, giving credit to his foe for adapting as an athlete.
"I definitely seen improvements," Volkanovski said. "I definitely seen that the Zombie went and made some changes and evolved a little bit. Whereas I still feel like the Zombie that fought [Brian] Ortega was the same Zombie that's been there the whole time. That's why I'm expecting a different [version] again. I think he knows he just can't be the same guy, [we have all] been watching him his whole life. A lot of people were starting to catch onto [his] style and whatnot, and Ortega was a good example of that.
"He went and made some changes which was pretty cool to see. You've seen that with a lot of the guys now. A lot of people have their style and that's it, but you're starting to see people work gameplans, strategies and all that kind of stuff, which is cool to see. The game is evolving. Some people don't evolve with it, and maybe that seemed [to be] the case with Zombie.
"But in his last performance he looked good, I don't think I've ever seen him work his wrestling so much. Everything else was just working off that. It's probably one of the best performances I've seen him have all round."
Despite coming towards the latter end of his career, Jung's evolution from tricky brawler to well-rounded martial artist is something every competitor can learn from. With a sport as young and progressive as MMA, it truly is evolve or die.
"I'm expecting an even better version of Zombie again," Volkanovski said. "He's gonna know what he's up against. I know he said some things in the past and whatever, [but] I know he knows he's in for a big fight and a hard challenge. He's trying to make changes and look for something that's gonna work. He's gonna try and do that early."
Many pundits have suggested that in order for the challenger to be victorious, an early finish must be on the cards. Though he agrees, "The Great" doesn't see any way Jung can enter punching range without being tagged.
"You can't just plot your way in, walk forward and expect me to let you walk in my range and throw shit," Volkanovski said. "I'm gonna fuck you up while you're coming in. It's not that easy [for him]. It does make sense in a way but it's easier said than done.
"I believe he needs to [come] out guns blazing, but there needs to be some sort of strategy behind it. You've got guys sometimes with this style can work, but at the top, if you just want to sit there flat-footed and think you can scrap with these top guys you're gonna realize you'll get pieced up a lot. You're gonna be nullified pretty easily, that only gets you so far.
"When things aren't going his way I feel like he'll think he has to go for broke, and he's gonna go wild. That's why I think its gonna be a real fun fight. I've just got to stay on course."
---
Fighter profile
Alexander "The Great" Volkanovski is a 33 year old male fighter from Australia with 23 pro wins and 1 losses. Volkanovski is scheduled to fight Chan Sung Jung at UFC 273: Volkanovski vs. Korean Zombie on Saturday April 9, 2022.
Alexander Volkanovski's recent form coming into this matchup
Alexander Volkanovski has gone 5-0 in the last 5 professional MMA fights.
Win vs Brian Ortega • Decision R5 5:00 • 2021-09-25
Win vs Max Holloway • Decision R5 5:00 • 2020-07-11
Win vs Max Holloway • Decision R5 5:00 • 2019-12-14
Win vs José Aldo • Decision R3 5:00 • 2019-05-11
Win vs Chad Mendes • KO/TKO R2 4:14 • 2018-12-29
Alexander Volkanovski's next opponent: "The Korean Zombie" Chan Sung Jung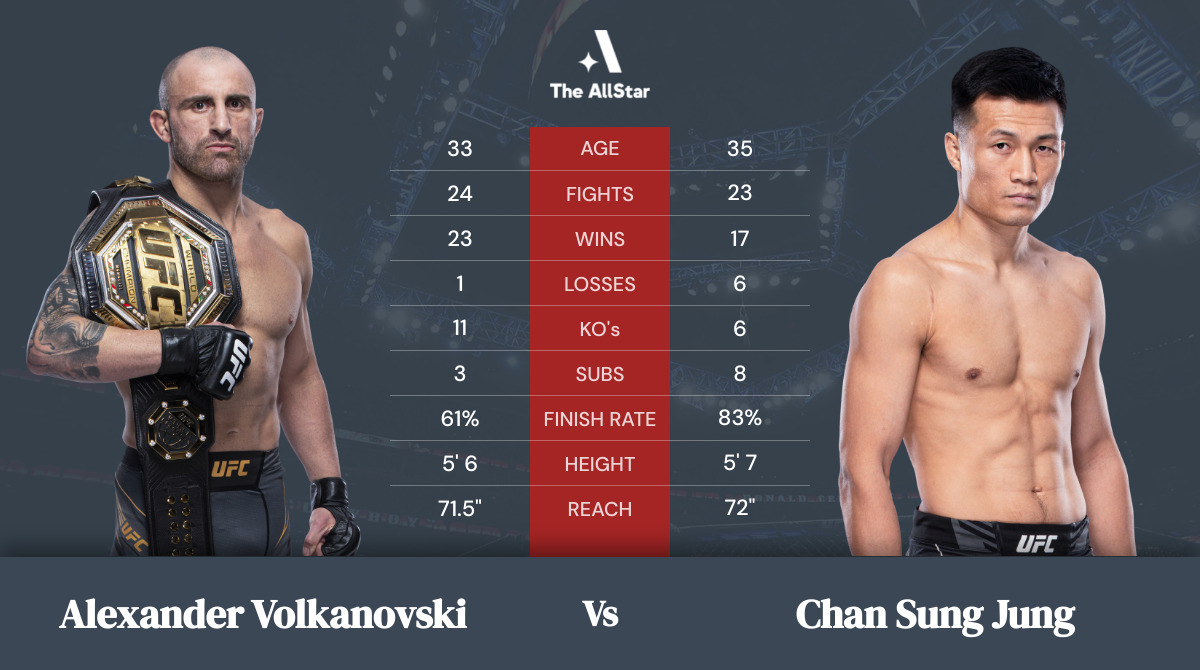 "The Korean Zombie" Chan Sung Jung's recent form coming into this matchup
"The Korean Zombie" Chan Sung Jung is a 34 year old male fighter from South Korea with 17 pro wins and 6 losses. Jung is scheduled to fight Alexander Volkanovski at UFC 273: Volkanovski vs. Korean Zombie on Saturday April 9, 2022.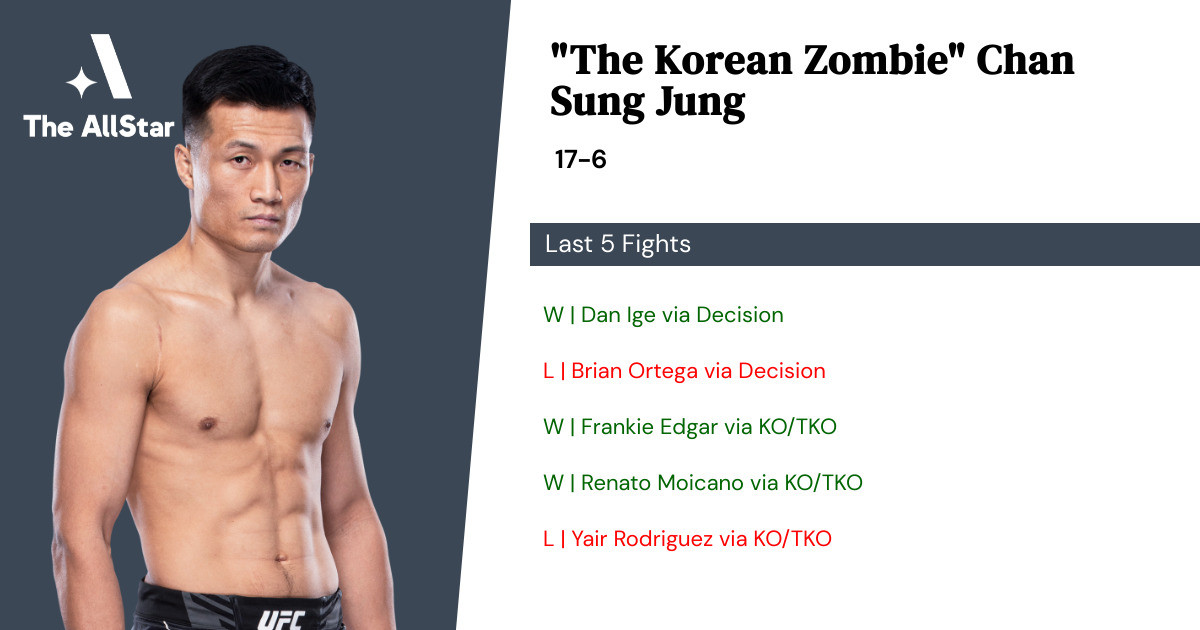 Chan Sung Jung has gone 3-2 in the last 5 professional MMA fights.
Win vs Dan Ige • Decision R5 5:00 • 2021-06-19
Loss vs Brian Ortega • Decision R5 5:00 • 2020-10-17
Win vs Frankie Edgar • KO/TKO R1 3:18 • 2019-12-21
Win vs Renato Moicano • KO/TKO R1 0:58 • 2019-06-22
Loss vs Yair Rodriguez • KO/TKO R5 4:59 • 2018-11-10
How to watch and bet on Alexander Volkanovski vs Chan Sung Jung
Keep track of all the latest odds and line-movements at our bout page for this matchup.