Current featherweight king, Alex Volkanovski, is locked in to face UFC veteran and fan favourite, "The Korean Zombie" Chan Sung Jung, next month.
They will headline the highly anticipated UFC 273 card, taking place in Jacksonville, Florida on April 9th, with the featherweight championship strap on the line.
Freestyle MMA head coach, Joe Lopez, feels Volkanovski is physically in the shape of his life – though the road to his third title defence has seen its share of obstacles in the build-up to the pay-per-view card.
The 33-year-old Australian was initially booked for a trilogy bout with fierce rival, Max Holloway – however Holloway, just days after the official fight announcement, was forced to withdraw from the main event due to an undisclosed injury.
Interestingly, a short time after Zombie had filled the contender's position, "Blessed" claimed he'd recovered and assumed the role of the backup fighter for the championship bout – filling in should either combatant withdraw.
"I thought he just wanted to get in Volk's head and play a bit of a game [while] he's hurt," Lopez told The AllStar. "All he has to do is make a call and say 'Yeah I want to be the backup fighter' when he knows all too well he's not going to be – just to play on Alex's head."
"Personally I think he's still hurt…" the Freestyle MMA coach added.
Despite this, Lopez believes the champ's mentality is unfazed by the alleged mind-games, claiming "He doesn't think about [these] things too much."
As mentally prepared as Volkanovski is ahead of his next title defence – he believes, physically, he's never felt so good – Coach Lopez agreed, referencing the fact that Volkanovski spent his entire training camp at home in Australia as a contributing factor behind the champs physical state.
"He's got access to his physio, and all his rehab and everything here," Lopez says, adding that the champ's able to get on top of 'niggling' injuries before they become an issue.
"I've [also] sort of changed a bit of our schedules. Before there were a lot more harder sessions… Now I've changed it so that we do one easy, one hard session…" the head coach explains.
It's these little factors, Lopez believes, that come into play at the highest levels of the sport; though having some world-class fighters from across the pond stop by can't hurt either.
A cohort from City Kickboxing in New Zealand set up camp at the Windang gym for a two-week stint during this training camp. The group, including head coach Eugene Bareman, light heavyweight prospect Carlos Ulberg, and new UFC signee Mike 'Blood Diamond" Mathetha, weren't allowed into their home country due to stringent pandemic protocols in place in NZ.
"It's been busy," Lopez says, speaking on the extra bodies in the gym 'it's been good catching up."
The neighbouring countrymen are well known for their banter, and while it has its place in the gym, Lopez ensured nothing interfered with his regimented training.
"I am old-school… You backchat me and you're doing push-ups," he quipped.
Lopez is wary of underestimating anybody in the division's top ten, least of all a decade long UFC veteran like Jung.
"Zombie's a legend of the sport," he begins, applauding his durability and heart. The coach understands the danger he presents – evident, in his opinion, in some of the Korean's most recent performances.
"…Apart from the [Brian] Ortega fight, the other ones – even with Yair [Rodriguez], he was winning that fight."
The downside of Zombie's fighting style, in Lopez's opinion, is that he's often there to be hit when overcommitting on a power shot; an error the coach believes Jung will "Pay heavily" for making.
Having now spent years as Volkanovski's head coach, Lopez understands how difficult it is for opponents to prepare for the Australian's unique style – adamant that the vast array of tools the featherweight champ has at his disposal will be the deciding factor when the cage doors close.
"He makes you fight his fight," Lopez said. "Alex has got a lot of tools, he's good on the ground, he's good on the wrestling, he's got good striking… He's all-round, you know."
The veteran coach envisions a fast tempo fight from the first horn, and expects Volkanovski to push the pace early, and put Zombie's conditioning to the test.
"I want him to… burn the Zombie out," Lopez revealed. "Drain his battery."
---
Fighter profile
"The Korean Zombie" Chan Sung Jung is a 35 year old male fighter from South Korea with 17 pro wins and 6 losses. Jung is scheduled to fight Alexander Volkanovski at UFC 273: Volkanovski vs. Korean Zombie on Saturday April 9, 2022.
Chan Sung Jung's recent form coming into this matchup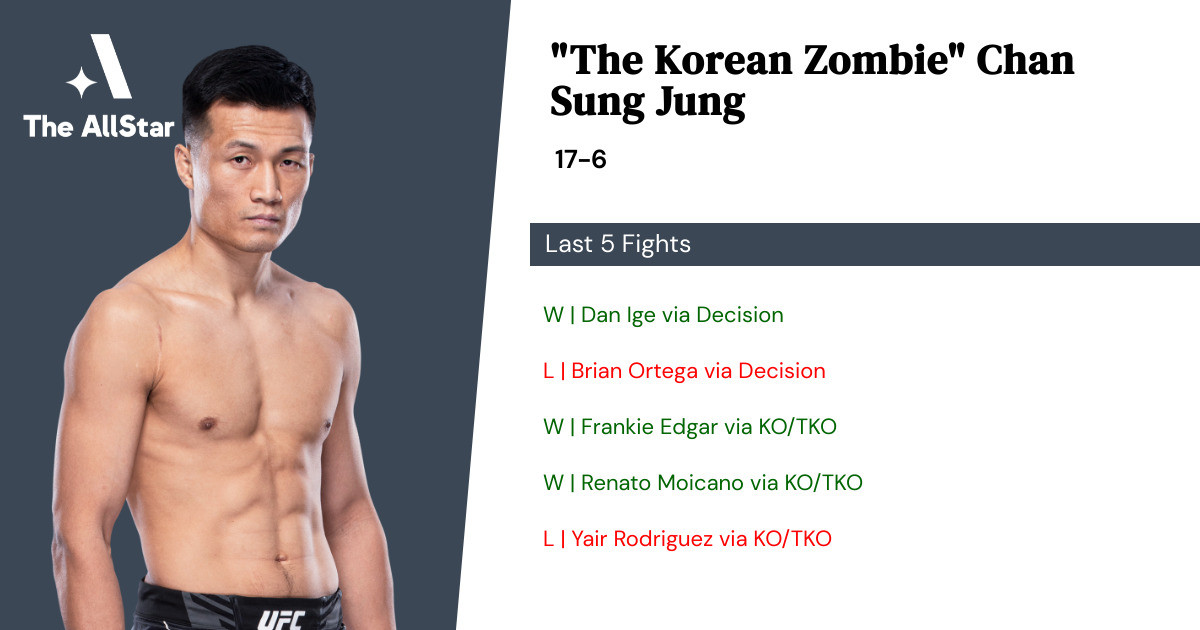 Chan Sung Jung has gone 3-2 in the last 5 professional MMA fights.
Win vs Dan Ige • Decision R5 5:00 • 2021-06-19
Loss vs Brian Ortega • Decision R5 5:00 • 2020-10-17
Win vs Frankie Edgar • KO/TKO R1 3:18 • 2019-12-21
Win vs Renato Moicano • KO/TKO R1 0:58 • 2019-06-22
Loss vs Yair Rodriguez • KO/TKO R5 4:59 • 2018-11-10
Chan Sung Jung's next opponent: Alexander "The Great" Volkanovski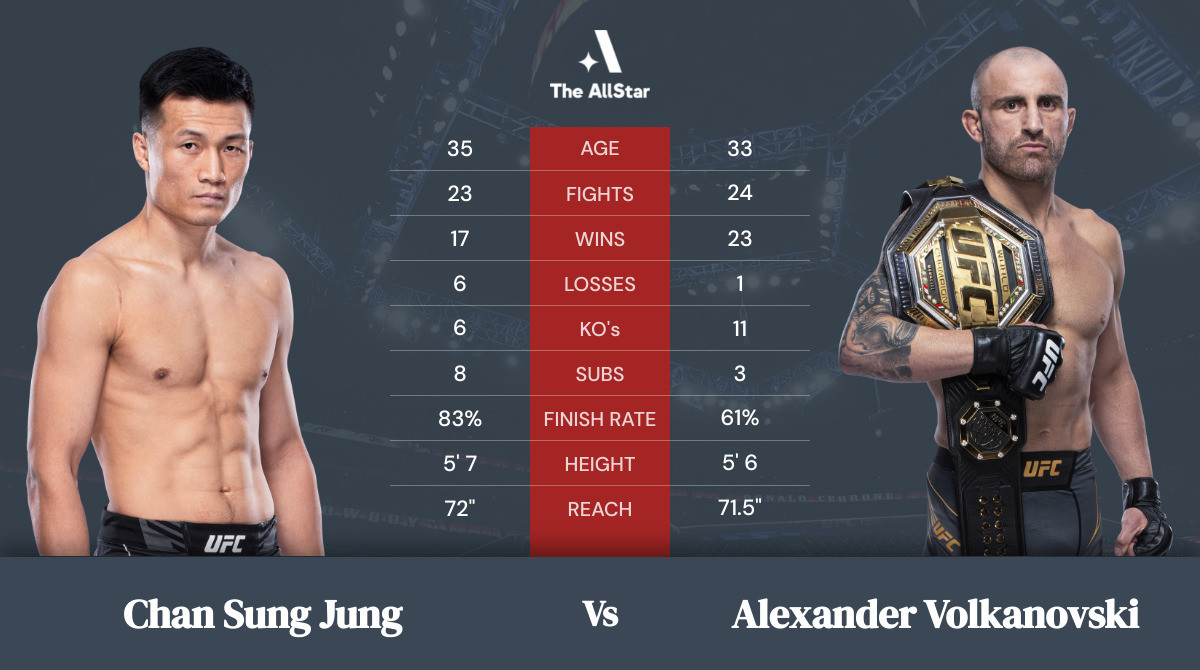 Alexander "The Great" Volkanovski's recent form coming into this matchup
Alexander "The Great" Volkanovski is a 33 year old male fighter from Australia with 23 pro wins and 1 losses. Volkanovski is scheduled to fight Chan Sung Jung at UFC 273: Volkanovski vs. Korean Zombie on Saturday April 9, 2022.
Alexander Volkanovski has gone 5-0 in the last 5 professional MMA fights.
Win vs Brian Ortega • Decision R5 5:00 • 2021-09-25
Win vs Max Holloway • Decision R5 5:00 • 2020-07-11
Win vs Max Holloway • Decision R5 5:00 • 2019-12-14
Win vs José Aldo • Decision R3 5:00 • 2019-05-11
Win vs Chad Mendes • KO/TKO R2 4:14 • 2018-12-29
How to watch and bet on Chan Sung Jung vs Alexander Volkanovski
Keep track of all the latest odds and line-movements at our bout page for this matchup.