Kevin Nicholson is a physical trainer who specialises in acute rehabilitation. He writes the MMAInjury Update newsletter on Substack.
UFC bantamweight champion Aljamain Sterling will be part of a very exclusive group when he returns to the Octagon this weekend.
As far as I know, Sterling is one of only two UFC fighters returning to competition after surgery to replace an intervertebral disc. Not spinal segment fusion-more commonly seen in neck surgeries – this is actually a disc replacement.

 (Side note: Tristan Connelly is the other fighter. He recently had his second disc replacement, and is set to make his return on April 30th.) 
Sterling's surgery was in April 2021. Now, more than a year since his last fight, Sterling is returning to face Petr Yan in a bantamweight title fight at UFC 273 on April 9th.
The background
Sterling has been dealing with neck pain and associated neurologic complications for many years. In fact, he revealed in an Instagram post that he has had this issue for 10 or more years. His problems reached a critical point after his March 2021 fight against Yan.
Following that bout, he started experiencing weakness in his left arm. Sterling's social media posts made it evident that he was suffering significant neurologic compromise that could no longer be overlooked. The disc replacement surgery was scheduled.
Why disc replacement?
Disc replacement surgery is an alternative treatment for cervical radiculopathy resulting from degenerative disc disease. Radiculopathy refers to any number of symptoms that can occur due to a compromised (or "pinched") nerve root in the spine.
In Sterling's case, the nerve compromise was in his neck, so his disc replacement was a cervical disc-replacement surgery. A more traditional surgical treatment for this problem is a fusion. This is where a diseased segment of the spine is fused using a combination of bone graft and hardware stabilization.
The goal with cervical disc replacement is to (1) relieve compression on compromised nerves, and (2) maintain some motion of the segment that receives the disc replacement.
With a fusion surgery, motion at the segment is eliminated. One of the primary drawbacks of this procedure is that the segments above and below the fused level are subjected to increased stress over time. This may eventually develop into a degenerative disease that necessitates further surgery.
By contrast, it is believed that the preserved movement allowed by the disc-replacement surgery will lessen the likelihood of this complication. Below is an example of the hardware that is implanted between the vertebrae.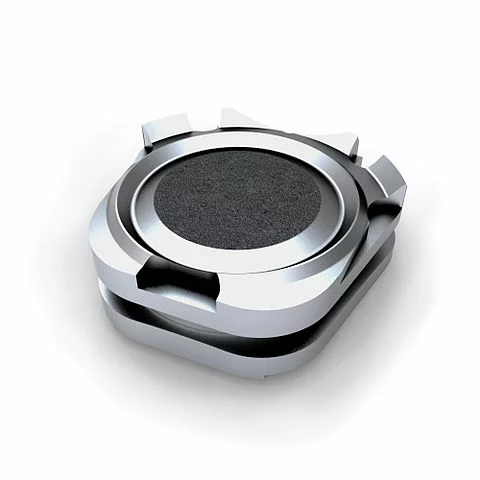 Path to recovery
Disc replacement surgery in an elite-level MMA fighter is a novel occurrence. As such, there really isn't a defined framework of rehabilitation, specific to an MMA athlete. There is no playbook with an expected time frame and milestones for recovery, leading up to a return to competition.
Contrast that with fighters who have more common surgeries, such as ACL reconstruction of the knee. They return to fight within a fairly predictable timeframe.
In the 1-3 weeks after the surgery, Sterling began working on cardiovascular conditioning. He received physical therapy, working on upper body strengthening in general.
More specifically, his strengthening focused on the left upper extremity, with a goal of improving the strength of the muscle groups affected by the nerve injury. From his posts on Instagram, he was also working on integrating cervical movement with thoracic and bilateral upper extremity movement. The post below is a great look at his rehab program in the early weeks after the surgery.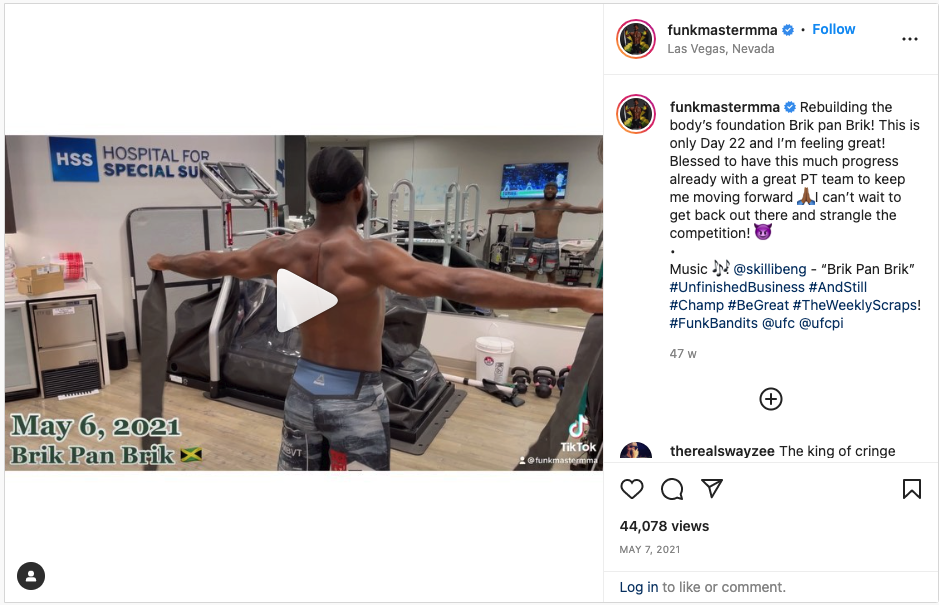 Delayed rematch
Just six short months after his surgery, Aljamain was set to rematch Petr Yan at UFC 267 in Abu Dhabi. Early in October 2021, Sterling said that strength was coming back in his arm but he continued to have problems with sustained holds (isometric holds with his arms). He was also experiencing extreme fatigue during training and light sparring activity.
These lingering problems caused him to pull out of his scheduled championship bout. It was also unlikely that he could get physician clearance to compete so soon after the neck surgery.
It should have been no surprise. A return to competition in just six months was too aggressive. Sterling's strength in the weak left arm was just starting to return to normal, and it seemed evident from his social media that he was not yet to a point of intense, fight-specific training.
He only started hitting the bag and pad work about 5 weeks post-surgery. He still had a significant amount of work to do even past the six-month post-surgery mark to get into fight-ready condition.
Recovery timeline
Based on Sterling's interviews and social media posts, below is my attempt to illustrate his recovery timeline.
(Note: This is just an "educated guess," and is not meant to represent anything more than that. It's really just an example of how a team can set programming milestones leading up to a training camp, while simultaneously ensuring a good surgical outcome.)
Throughout his recovery, from surgery through his fight camp, Sterling has had and will continue, with periodic check-ins with his surgeon, as well as his physical therapy rehabilitation team.
The integration of his rehab and training teams will be integral, up to and even after his fight. This is critical to ensure that he is not regressing. The rehab team will watch for subtle indicators of a potential issue, such as isolated sensory disturbances on his arm, transient spikes in pain that compromises his training, and of course muscle weakness.
Key indicators
When a fighter returns to competition after major surgery or prolonged injury layoff, there are usually some "key indicators" that I will watch for, specific to their surgery or injury.
In Sterling's case, there are two key indicators that will be of interest:
Firstly, how will he respond if he gets into a position with direct force being applied to his neck? This would include Yan applying a guillotine, or a clinch that forces the head and neck into a hyper-flexed or hyper-extended position.
Second, how will he respond if Yan pressures him up against the cage? This is a position that can necessitate sustained isometric contraction of upper extremity muscles, including those that were potentially compromised by his neck injury. Will muscle fatigue be more evident, and affect Sterling quicker, than it would absent the injury?
There are other aspects of his fight game that could be compromised if he is not 100% by the time fight day rolls around. How crisp will his left hand strikes/jabs be? Will there be signs of hesitation if he shoots aggressively for a takedown? This only adds to the intrigue of this fight.
As an observer of MMA athletes recovering from injury, I really hope he is successful in his comeback and can compete at a championship level. If he can be competitive, and suffer no ill effects from the surgery moving forward after this fight, then Sterling's path of recovery from disc-replacement surgery can set the standard for other fighters.