Ariane Lipski was eagerly preparing for her March 12th bout opposite JJ Aldrich, excited to show her improvement inside the cage since her last appearance.
Just a few weeks out from the fight, however, "The Queen of Violence" suffered a shoulder injury and was forced to withdraw from the UFC Fight Night card in Las Vegas, Nevada.
"I had an injury in my shoulder," Lipski told The AllStar. "I was feeling pain. I didn't know exactly what it was, and I was doing the wrong treatment… Now I know what [it] is, and [the doctor] gave me two weeks [recovery]…"
"It's not a really serious injury, but I can't spar, so I can't do rounds… I wouldn't be prepared to fight, and I've already fought with an injury [previously], so I know that it's not a good choice."
With fighting, and even sparring being taken off the table for Lipski at the moment, the 28-year-old has turned her immediate focus to rehabilitating her injury as best she can, in as short a timeframe as possible.
"Now my focus is on my rehab and physical therapy. I'm training, but specific training – only things [I know] I can do… But the focus is to get better and get my shoulder strong, Lipski said.
"We're starting with recovery, just moving – because I was really not moving my shoulder [to] take [down] the inflammation, so now I feel it's getting better… The next step is muscles… very hard strength and conditioning training, and then… I'll get back to sparring…"
Lipski explains that, for herself, one of the harder aspects of recovering from an injury is having to practice patience. The flyweight notes she's often battling her mind to not become overzealous in what little training she's been able to do.
"The worst thing is we have to work on our patience [and] our mind… because the funnest part is sparring, trying new stuff… but when you're only drilling – only drilling and doing a specific drill because you can't do all the movements… sometimes you want to spend all the energy… You want to fight…"
Looking forward to her eventual return, Lipski and her team are aiming to be back in the Octagon within the first half of 2022, telling The AllStar "we're expecting the beginning of May, we are waiting [to find out] for sure, but we think that I'm gonna be ready in May."
Though Lipski is disappointed she won't get the chance to test her skills against Aldrich on the 12th, she believes she'll be ready for whoever the UFC throws her way upon her return.
"I was really excited, it would be a great fight," Lipski said. "But I understand she wants to fight [now]… I don't have a name [of an opponent] now – my focus is [to] get better, be 100 percent and [whoever] I have to fight, I will be ready."
Lipski, now confident as ever in her own ability, made some changes to her fight preparation over the last year. In 2021 the Brazilian fighter made the jump to Florida super-gym American Top Team – home to some of the most elite talent in the sport. She praised the lifestyle change, as well as the motivation the team gives her day in and day out.
"We're really happy [with] the decision we made to move to Florida. We're really enjoying living here… It's always nice weather, you know, you're excited to wake up and go to the gym. Before we moved to start training at American Top Team, they told me 'it's a different energy' and I was like what are you talking about? Then when [I went] to the gym, I [felt] that energy… "
The decision to move was made after Lipski's loss to Antonina Shevchenko, in which she was taken down and finished with strikes in the second round.
"[After the Shevchenko fight, it was] time to improve my wrestling. Then against [Montana] De La Rosa I couldn't show my improvements – but after the fight, I really didn't know why… Some months [later] I understood that it's about time. It's not like six months of training wrestling [and] I would be ready to defend all takedowns. No, It's more time. You have to practice and repeat and [make a] mistake and repeat again…"
Lipski admits she initially had a tough time dealing with online backlash after her back-to-back losses in the promotion; though having already been on a two-fight skid early in her career, she understands that "hard moments make you stronger."
"I start to see a lot of haters, and I haven't been in that situation before in the UFC, this is hard, you know – [they're] talking a lot of shit…" Lipski recalled. "[That] was the moment that I had to learn [not to] care about what haters think about you – believe in what you do at the gym because they don't know about your life, they just see the fight…"
---
Fighter profile
"Queen of Violence" Ariane Lipski is a 28 year old female fighter from Brazil with 14 pro wins and 7 losses. Lipski most recently fought Mandy Böhm at UFC Fight Night: Smith vs. Spann on Saturday September 18, 2021.
Ariane Lipski's recent form coming into this matchup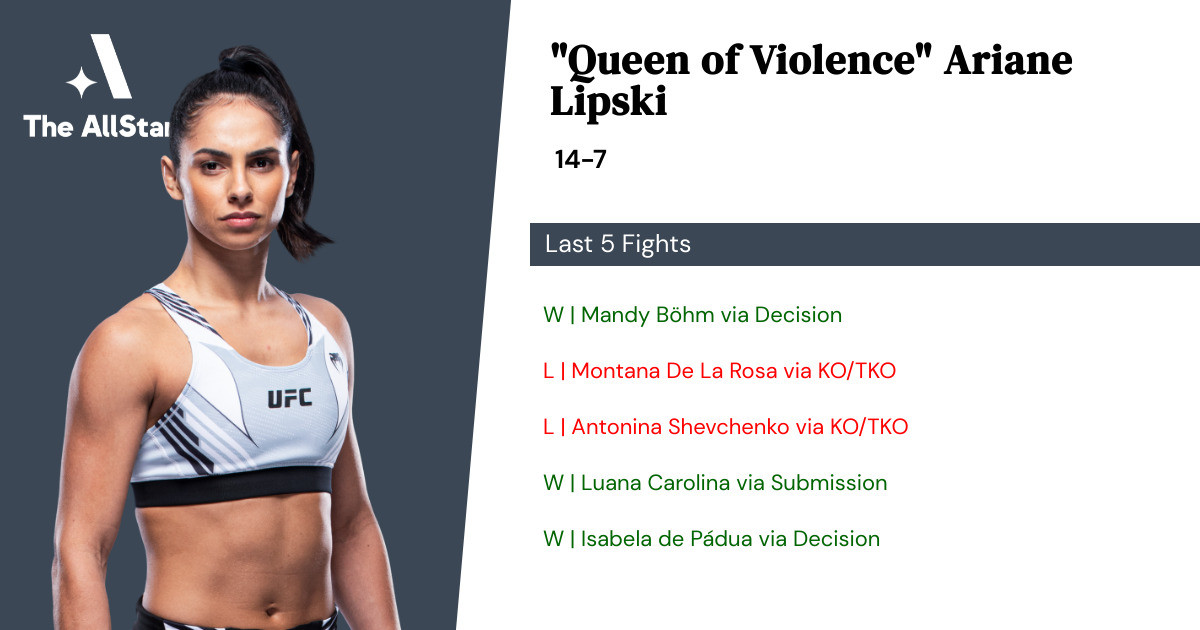 Ariane Lipski has gone 3-2 in the last 5 professional MMA fights.
Win vs Mandy Böhm • Decision R3 5:00 • 2021-09-18
Loss vs Montana De La Rosa • KO/TKO R2 4:27 • 2021-06-05
Loss vs Antonina Shevchenko • KO/TKO R2 4:33 • 2020-11-21
Win vs Luana Carolina • Submission R1 1:28 • 2020-07-18
Win vs Isabela de Pádua • Decision R3 5:00 • 2019-11-16