With UFC Vegas 43 in the books, the ranking panelists went back to update their personal rankings (myself included). There were some divisions that saw major shake-ups, and others that saw virtually no movement. Let's take a look at who moved and what the reason might be for it.
Welterweight
The Movement
| | |
| --- | --- |
| Fighter | Placement |
| Jorge Masvidal | #6 (+1) |
| Neil Magny | #7 (+1) |
| Sean Brady | #8 (+6) |
| Michael Chiesa | #9 (-3) |
| Belal Muhammad | #10 (-1) |
| Khamzat Chimaev | #11 (-1) |
| Geoff Neal | #12 (-1) |
| Jingliang Li | #13 (-1) |
| Santiago Ponzinibbio | #14 (-1) |
Welterweight Rankings Change
The Breakdown
Following UFC Vegas 43, the biggest winner in the rankings was Sean Brady. Previously sitting in the #14 spot in the welterweight rankings, he jumped all the way up into the top ten and grabbed that #8 spot. This comes on the heel of beating Michael Chiesa by unanimous decision. In that fight, Brady used his wrestling and jiu-jitsu to control Chiesa for the better part of the first two rounds and gutted out a tough spot in the third to get the nod. The tough third round might be a reason why some panelists didn't rank him higher. However, this move still puts Brady ahead of notable names like Belal Muhammad and Khamzat Chimaev.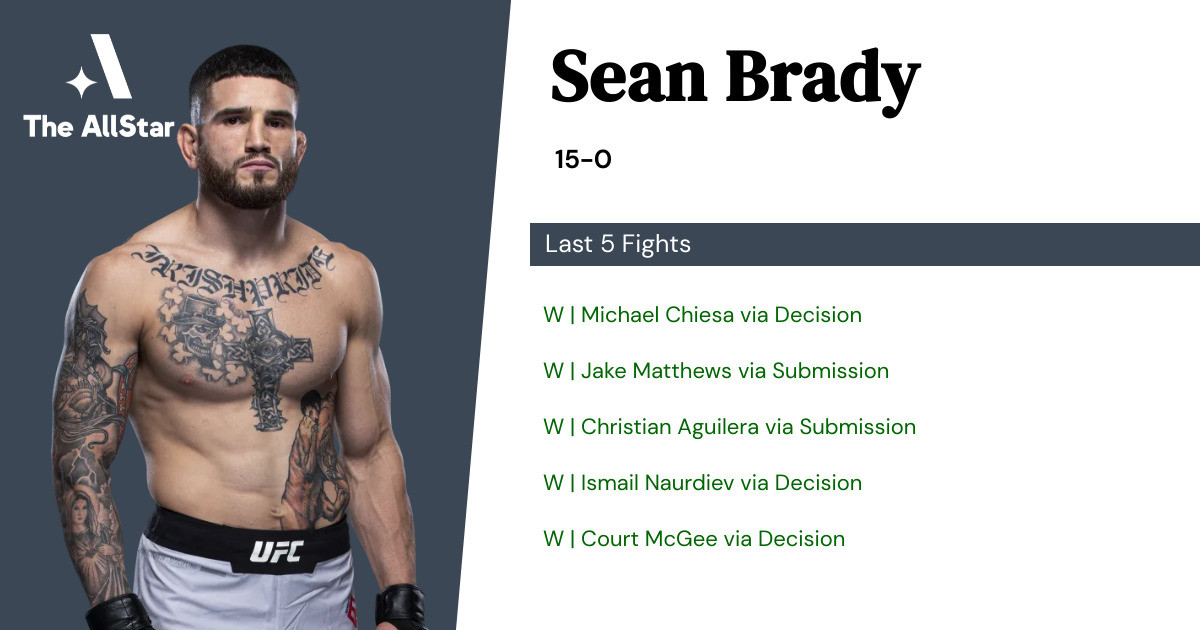 While the tough third round for Brady may be the reason he didn't rise more, it may also be the culprit for why Michael Chiesa managed to not fall more than three spots. He dropped behind Brady, along with Jorge Masvidal and Neil Magny in the rankings.
Women's Flyweight
The Movement
| | |
| --- | --- |
| Fighter | Placement |
| Taila Santos | #5 (+5) |
| Joanne Wood | #6 (-1) |
| Viviane Arujo | #7 (-1) |
| Andrea Lee | #8 (-1) |
| Jessica Eye | #9 (-1) |
| Cynthia Calvillo | #10 (-1) |
Women's Flyweight Rankings Change
The Breakdown
Jumping nearly as much as Brady, but to an even higher spot, was Taila Santos. The Brazilian prospect leaped from her #10 spot in the rankings following a brutal finish of Joanne Wood. She tagged and dropped Wood twice on the feet and eventually followed up with a rear-naked choke finish. The submission was the only finish on the decision-heavy UFC Vegas 43 card. Not only did it net her an extra 50k, but it also grabbed her five extra spots in the rankings. She comes in at #5 in the latest edition.
Although Santos made a huge leap, there was virtually no fall for Wood at all. The Syndicate MMA product fell only behind Santos in the rankings. Previous victories over Andrea Lee and Jessica Eye are likely the reason we didn't see a further skid for her.
Women's Bantamweight
The Movement
| | |
| --- | --- |
| Fighter | Placement |
| Ketlen Vieira | #6 (+1) |
| Yana Kunitskaya | #7 (-1) |
Women's Bantamweight Rankings Change
The Breakdown
In the main event of UFC Vegas 43, Ketlen Vieira topped the self-proclaimed Miesha Tate 2.0. Although she took some criticism for her gameplan and her lack of aggression, Vieira got the nod of every judge's scorecard. While the win over a former champion is big for her resume, it did little for her ranking. She moved up just one spot from #7 to #6.
It is worth noting that the move puts her ahead of Yana Kunitskaya – a fighter who beat her this past February. This seems like an odd move but is most likely due to their results since that fight. Vieira picked up a win against a former champion. Kunitskaya, meanwhile, is coming off of a TKO loss to Irene Aldana this past summer.
Also worth noting is the fact that we saw no change in the ranking of Miesha Tate. She remains in the #8 spot.
Is there movement in the rankings that you still don't understand? Ask us on Twitter (@TheAllStarSport) and we'll make sure Gumby answers it for you. You can also ask him directly (@GumbyVreeland).