Brain Kelleher earned a unanimous decision victory over Kevin Croom at UFC Vegas 46 at featherweight. Fight week was very hectic with his original opponent Saidyokub Kakhramonov, a fight set in the bantamweight divison, being pulled three days before the event due to COVID protocol. 
With all the adversity a late notice replacement entails, Kelleher stepped up and perform well against the longer, more rangier fighter Croom. Even though he did suffer a cut over the right eye, the Long Island native battled and finished the fight strong to leave no doubt for the judges. 
With two straight victories and a 5-2 record in his last seven, Kelleher wants another crack at a ranked fighter and Raphael Assuncao looks enticing in his eyes. 
"It's time for me to get over that hump. I've gotten a couple chances a couple of times to break into that top 15 and I've come up short to really good fighters, Ricky Simon and Cody Stamann. But I hung in there with those guys and I fought good fights especially the Stamann fight. I've really performed well and feel like I can be there. It's just a matter of going in there and edging out these guys. 

" I just looked at the rankings and I literally saw [Raphael Assuncao] name and thought that's a great fight right there for me to break into the Top 15. Another veteran who's been in this sport a long time. I know he's coming off a bad knockout loss as of recent to Ricky Simon and so I'm sure he's on like a little bit of a break but it kinda lines up because I gotta let this cut heal. Another couple of months, three months maybe April. That's a great matchup, a great fight for me to kinda put myself in that area we were talking about." 
Watch this interview on The AllStar's Youtube channel.
---
Fighter profile
Brian "Boom" Kelleher is a 35 year old male fighter from United States with 24 pro wins and 12 losses. Kelleher most recently fought Kevin Croom at UFC Fight Night: Kattar vs. Chikadze on Saturday January 15, 2022.
Kelleher's recent form coming into this matchup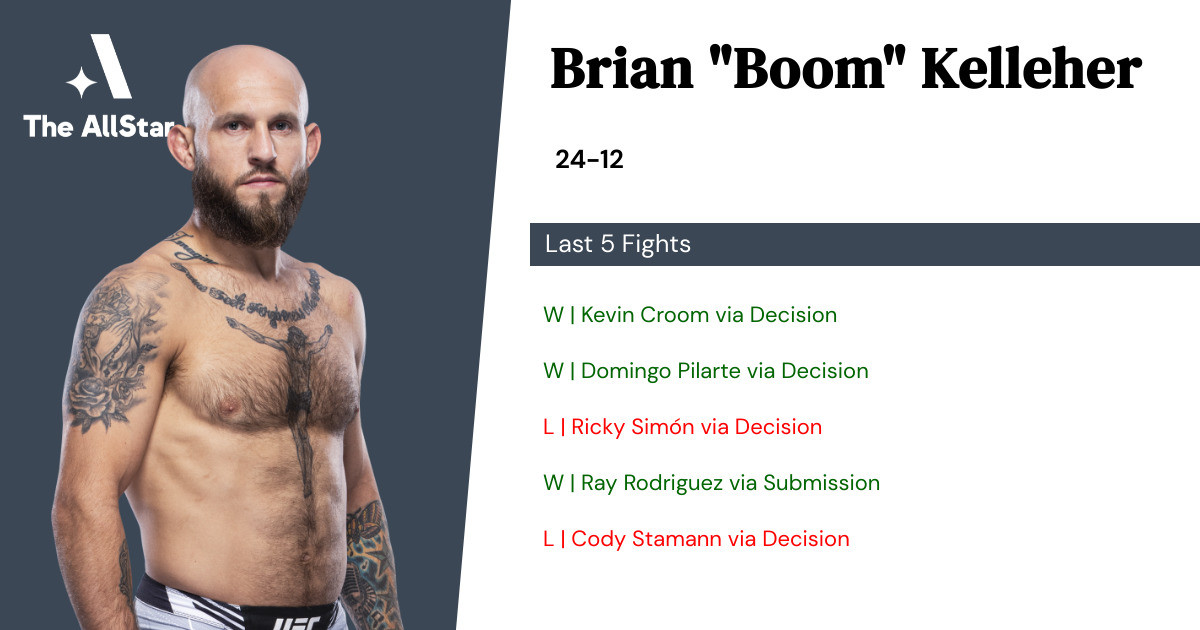 Kelleher has gone 3-2 in the last 5 professional MMA fights.
Win vs Kevin Croom • Decision R3 5:00 • 2022-01-15
Win vs Domingo Pilarte • Decision R3 5:00 • 2021-08-21
Loss vs Ricky Simón • Decision R3 5:00 • 2021-02-13
Win vs Ray Rodriguez • Submission R1 0:39 • 2020-09-05
Loss vs Cody Stamann • Decision R3 5:00 • 2020-06-06