Calvin Kattar has been super aggressive in preparing for his UFC main event against Giga Chikadze, according to his coach.
Betting Odds
Does Kattar upset Chikadze?
Kattar is coming off a one-sided decision loss to former featherweight champion Max Holloway in Abu Dhabi last January. The New England native spent the past year building off the mistakes made in that fight and has used the performance as motivation.
"There were things that were broken," coach Tyson Chartier told The AllStar. "You also gotta put it into perspective. We were fighting a Max Holloway who other than Jose Aldo is the greatest 145-pounder of all time in the arguments and I don't know you've ever seen someone like Max look better than he looked that night. It was like he was in the matrix. He was making good reads, he was just in the flow state and it was impressive to see. Unfortunately it was at our expense.
"It just wasn't our night that night. We did see some things that night that he was able to expose in our skillset and our game plan and our team in general. For the last year, we have been able to try to fill those holes and really work on those weaknesses. And even sharpen the weapons we already have."
Heading into the main event on Jan.15 against Chikadze, Chartier revealed the sacrifices yet affirms that it is mostly business as usual for the team.
"It's just fun to be back in fight camp with him," Chartier said. "It's been a year. He took the year off. Before that, we were in fight camps for three years straight pretty much. It's almost like the boys are back together. We're training for another Kattar fight. It's nostalgic because I'm seeing all the memories come up on Instagram and Facebook about us training for the fight last year. Every holiday is not a holiday now. We're skipping all the holidays to train and then taking off the first fight card of the year again.
"He's at the tail end of a 13-week camp. We've been at it. In the gym…over the holiday's things get a little thin and with COVID so we've been really keeping the group light. There's been like three or four days a week it's me and him on the road traveling to different gyms to get a lot of one-on-one time."
The only slight difference outside of the familiar faces surrounding 'The New England Cartel' is the addition of Ross Levine, who has been brought in to emulate Chikadze throughout training camp.
"This time we are fighting a heavy kicker [in Chikadze], Chartier said. "So obviously we brought in people with similar backgrounds. We brought in Levine who is a six-time world champion in karate. He has the 2019 knockout of the year for Glory. He's an undefeated kickboxer. He's Karate Combat's 'Rookie of the Year' last year. A little bigger than Giga, he fights at 170 and 185. But man that freaking kid's quick.
"Just that look. The angles where the kicks are coming from and how they set up their kicks. It's been a really cool camp being able to pick Ross' brain about how they set things up. Just getting someone's mindset on striking coming from that background versus a traditional boxing or MMA background. It's good to have him part of the camp. He studied film on Giga and giving us those looks."
Bouncing back from the damage taken in the fight against Holloway is a toilsome endeavor for any elite athlete. Chartier has no doubt about the focus and mindset of Kattar leading into his third straight headliner.
"Kattar coming off a loss is different from Kattar coming off a win. I don't know that's a good or bad thing. Ideally, you'd be the same. He's got that chip on his shoulder. He's always dialed in but it's just that extra aggressiveness that he has. Everything is revolved around just beating Giga Chikadze on the 15th.
"I'm excited. He put in the work. He looks great. He seems in a really good space mentally."
Watch this interview on The AllStar's Youtube channel.
---
Fighter profile
Calvin "The Boston Finisher" Kattar is a 33 year old male fighter from United States with 22 pro wins and 5 losses. Kattar is scheduled to fight Giga Chikadze at UFC Fight Night: Kattar vs. Chikadze on Saturday January 15, 2022.
Kattar's recent form coming into this matchup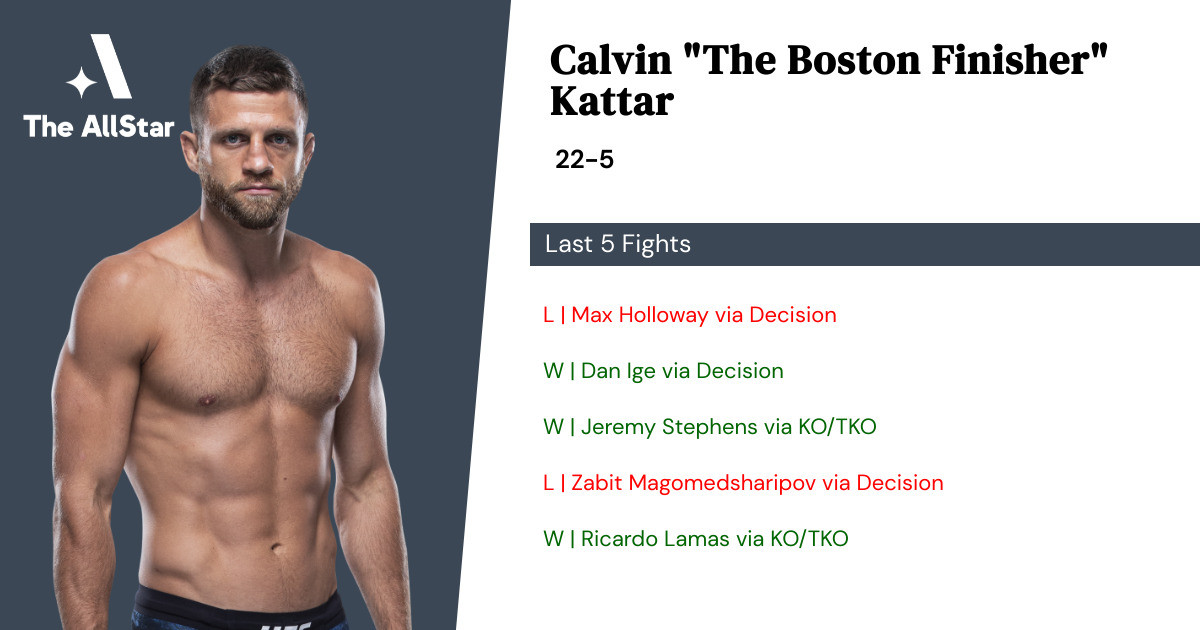 Kattar has gone 3-2 in the last 5 professional MMA fights.
Calvin Kattar's next opponent: Giga "Ninja" Chikadze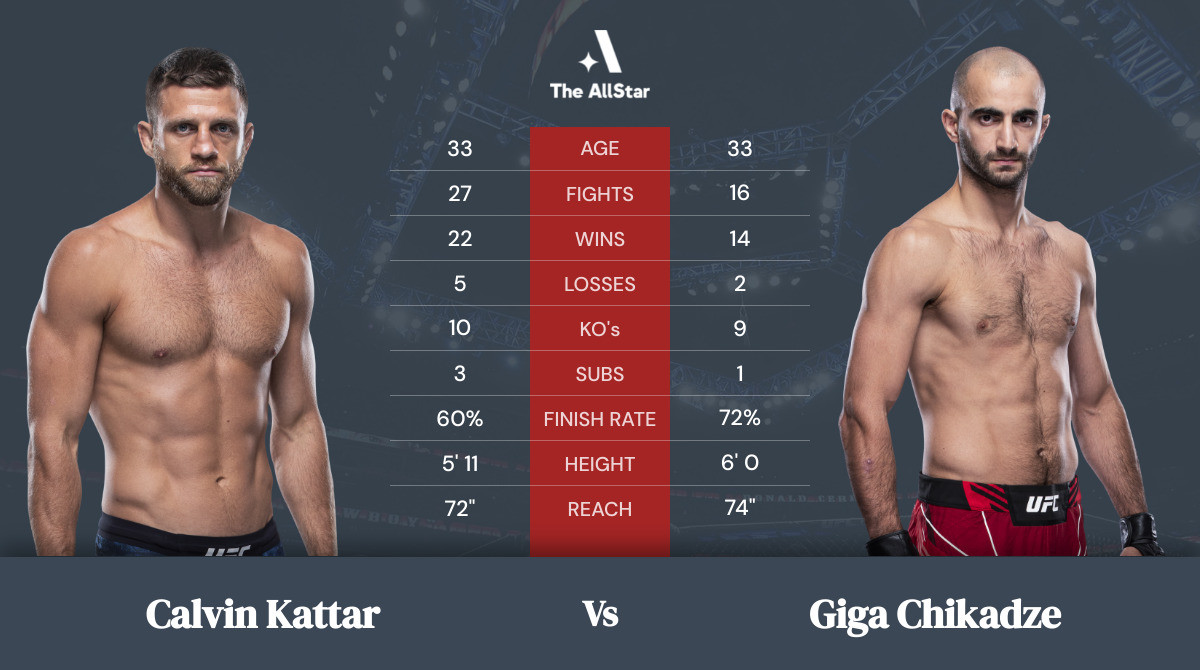 Giga "Ninja" Chikadze's recent form coming into this matchup
Giga "Ninja" Chikadze is a 33 year old male fighter from Georgia with 14 pro wins and 2 losses. Chikadze is scheduled to fight Calvin Kattar at UFC Fight Night: Kattar vs. Chikadze on Saturday January 15, 2022.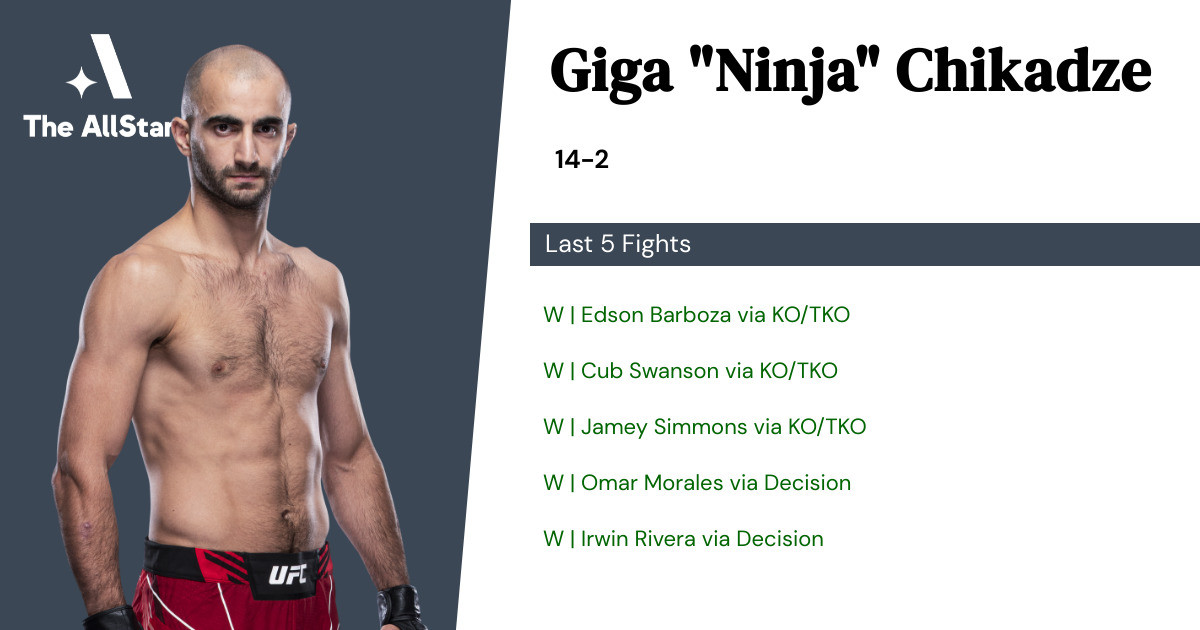 Chikadze has gone 5-0 in the last 5 professional MMA fights.
How to watch and bet on Calvin Kattar vs Giga Chikadze
Keep track of all the latest odds and line-movements at our bout page for this matchup.