Chelsea Chandler's road to the UFC has been anything but easy.
A late start, neck surgery, canceled bouts, injuries, and more recently, issues with her thyroid are just some of the roadblocks the 28-year-old protege of Nick and Nate Diaz was forced to navigate on her journey to the world stage.
But on October 1, Chandler will have arrived.
The Stockton local draws Julia Stoliarenko at UFC Vegas 61 for her first foray inside the Octagon – a Lithuanian submission artist with a one-track mind in regards to her game plan. Chandler knows she'll have an advantage on the feet, particularly in the later rounds, but admitted it's inevitable that the fight will, at some point, hit the canvas. When it does, she'll be ready.
"I know it's gonna go to the ground," Chandler shared in a recent interview with The AllStar. "I'm not afraid for it to go to the ground. I might even take it to the ground. [I had] a lot more of a jiu-jitsu-based camp than stand-up, but I still box every day. I just had to do a lot of emphasis on Jiu Jitsu."
"I would [like to keep the fight standing]," Chandler admitted. "But this girl's crazy you know. So I think it's gonna go everywhere, and especially in the first round – like she comes out like a bat out of hell, a hundred percent, and then I think she fades the second and third round. So I think the deeper it goes, the deeper she's gonna be, and I'm gonna be able to take over, really, wherever it goes."
Training under Cesar Gracie, Chandler's certainly no slouch on the ground herself. The BJJ purple belt has confidence in her ability to negate any dangers Stoliarenko may present in grappling exchanges. She feels she's too clued on to fall into the same traps that have ensnared those that came before her.
If all goes to plan, Chandler likes her chances of walking away from her promotional debut with an extra $50,000 for her efforts.
"That's what I've been hoping for, so I've been training my ass off."
"I'm expecting a dominant performance. This card isn't super stacked, so I feel like there's a really big opportunity, especially in this fight, for the big bonus – because I mean she takes a beating, she tries to give a beating, she drops [people], she gets dropped. So I think this fight has the makings of a fight of the night or performance of the night, and I'm actually really happy about this fight. I'm excited."
---
Fighter profile
Chelsea Chandler is a 28-year-old female fighter from the United States with 4 pro wins and 1 loss. Chandler is scheduled to fight Julija Stoliarenko at UFC Fight Night: Dern vs. Yan on Saturday, October 1, 2022.
Chelsea Chandler's recent form coming into this matchup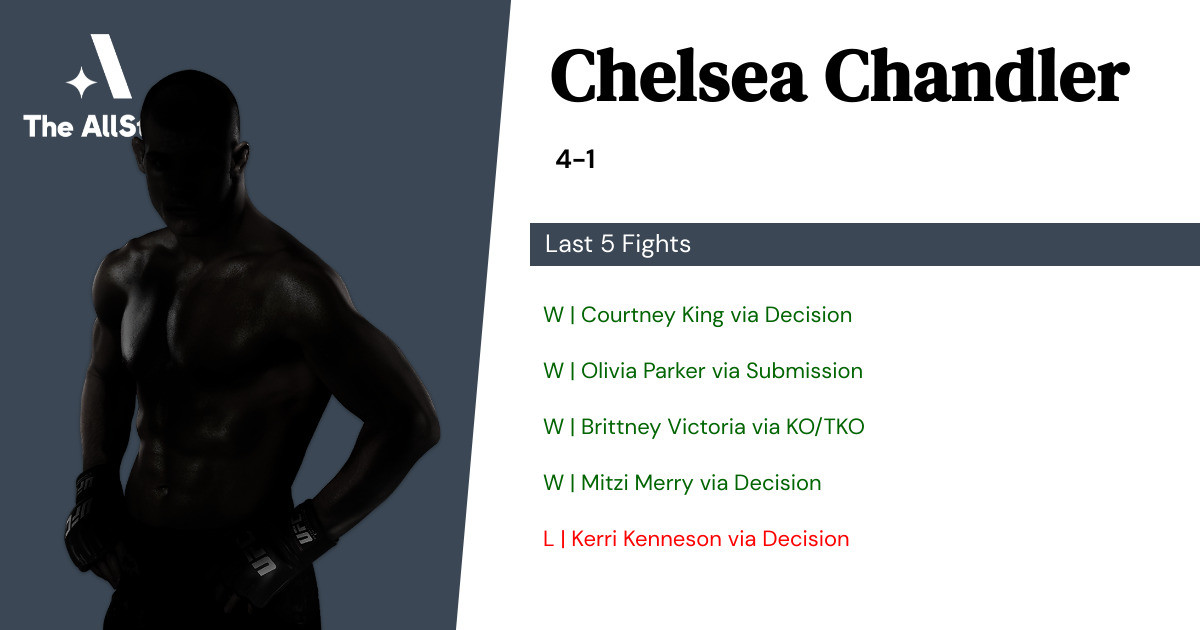 Chelsea Chandler has gone 4-1 in the last 5 professional MMA fights.
Win vs Courtney King • Decision R3 5:00 • 2022-05-11
Win vs Olivia Parker • Submission R1 1:05 • 2020-07-02
Win vs Brittney Victoria • KO/TKO R2 3:58 • 2019-06-07
Win vs Mitzi Merry • Decision R3 5:00 • 2018-11-16
Loss vs Kerri Kenneson • Decision R3 5:00 • 2018-03-24
Chelsea Chandler's next opponent: Julija Stoliarenko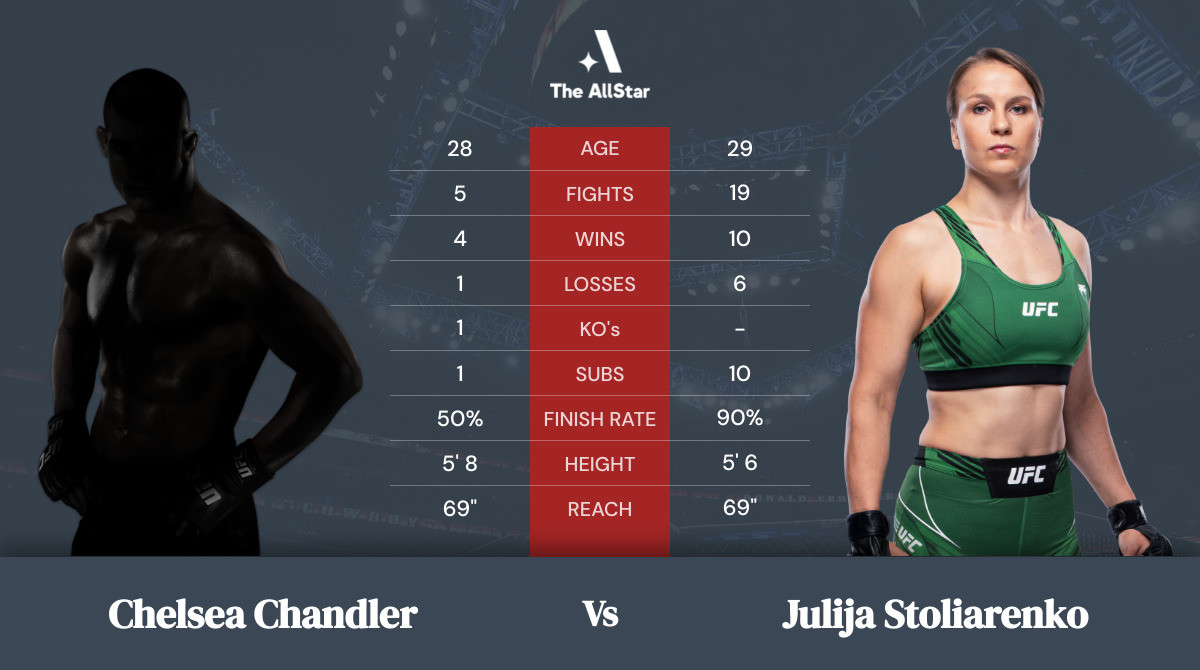 Julija Stoliarenko's recent form coming into this matchup
Julija Stoliarenko is a 29-year-old female fighter from Lithuania with 10 pro wins and 6 losses. Stoliarenko is scheduled to fight Chelsea Chandler at UFC Fight Night: Dern vs. Yan on Saturday, October 1, 2022.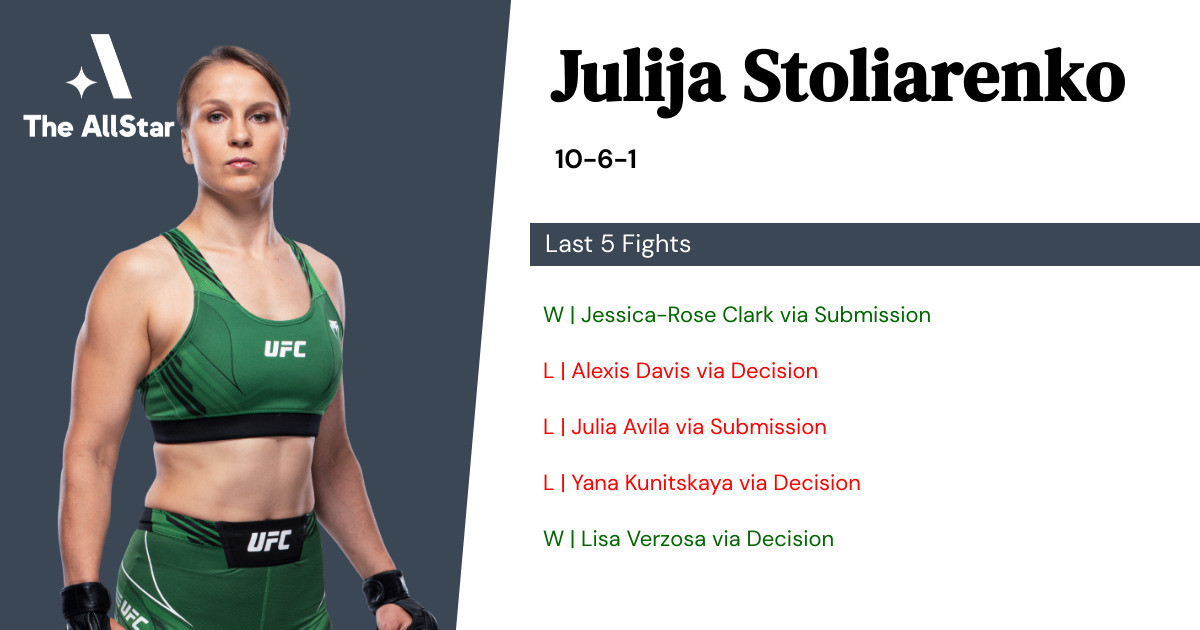 Julija Stoliarenko has gone 2-3 in the last 5 professional MMA fights.
Win vs Jessica-Rose Clark • Submission R1 0:42 • 2022-07-02
Loss vs Alexis Davis • Decision R3 5:00 • 2022-02-05
Loss vs Julia Avila • Submission R3 4:19 • 2021-06-26
Loss vs Yana Kunitskaya • Decision R3 5:00 • 2020-08-08
Win vs Lisa Verzosa • Decision R5 5:00 • 2020-03-06
How to watch and bet on Chelsea Chandler vs Julija Stoliarenko