Damon Jackson hasn't always gotten the respect he's believes he's owed in the UFC, but perhaps that's beginning to change.
"The Leech" has a fight with surging featherweight Pat Sabatini on September 17th, and he's confident that the fight forms the dividing line between the top fifteen of the division and everyone else.
In an interview with The Allstar, the jiujitsu black belt spoke about his fight for credibility in the UFC even with a recent 4-1 record in the promotion. Against Sabatini – another fighter on a win streak – Jackson sees the fight as a crossroads bout to the upper tier of featherweight.
"100 percent, that's why I've been, like, you know, laser-focused on it and really pushing myself and pushing my body to the max to ensure that there's no issues anything- weight cut, rehydration, conditioning, nothing," Jackson said. "So I'm just as much as I can now, prepping for it and I'll be ready to go."
He took a similar approach going into his last fight in June, an ultimately more challenging experience than he expected, owing to a last-minute withdrawal by his scheduled opponent Darrick Minner. Jackson would prevail against Minner's replacement – LFA bantamweight champion Daniel Argueta – in a three-round decision.
"Man, that was so frustrating, I was so frustrated with that performance, because I had such a good weight cut, and I had a really good camp, I was training for Darrick Minner. And so it was a little bit of a different fight. Whenever they gave me that opponent change, I was like, I knew this was gonna happen, I called it out…I already said he was gonna pull out, and he did," Jackson explained.
Not only did he have to fight a debuting fighter instead of a more established veteran, but his body wasn't cooperating on fight night either: "Something was going on where my legs felt like bricks. I didn't say a word to anyone, but I changed my gameplan. I took him down so easily, it was crazy. Like I was walking out to the cage…I just couldn't engage my lower body, I just couldn't engage my grip, it was something weird."
Jackson believes the shutdown of his legs had two do with his rehydration process after cutting weight. While he still earned a unanimous decision win, he had to completely change his attack plan in the moments before entering the APEX cage – something a professional fighter never wants to do.
Given his recent win streak, Jackson is happy that fans can see he's an elite talent: "I want to stay active, I want to be fighting some of the best people I can, I can hang with so many guys in the division, I can, you know, beat so many of guys in the division."
Wrestling skills
Jackson loves the matchup with Sabatini and sees it surprising a lot of people for its capacity for entertainment. Sabatini is also a tremendous wrestler, and Jackson sees their comparable skills clashing and creating perpetual momentum shifts.
"You know I think that this is why, you know, Sean Shelby is so good at his job, you could look at this fight and think this is gonna be boring fight, but I think it's gonna be the complete opposite.
"I think it's going to be very scrambly for wrestling and jiujitsu positions and then we might find ourselves slugging it out on the feet, we're both going to be tough wrestlers to take down and tough to submit so it's gonna be a scrap for sure."
---
Fighter profile
Damon "The Leech" Jackson is a 34 year old male fighter from United States with 21 pro wins and 4 losses. Jackson is scheduled to fight Pat Sabatini at UFC Fight Night: Sandhagen vs. Song on Saturday September 17, 2022.
Damon Jackson's recent form coming into this matchup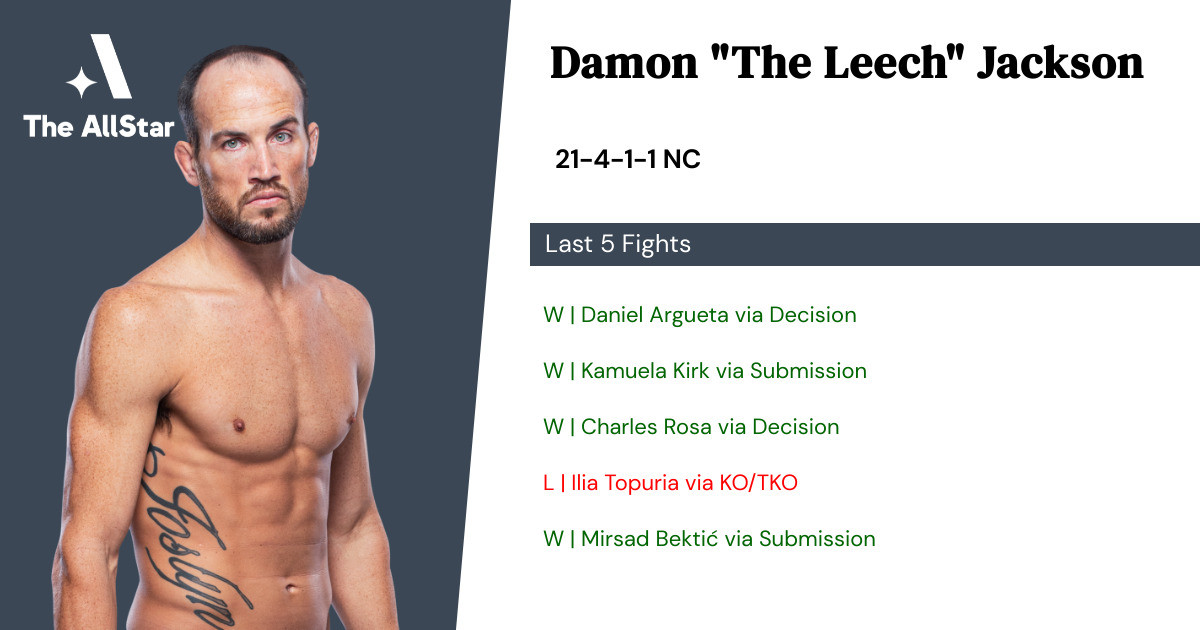 Damon Jackson has gone 4-1 in the last 5 professional MMA fights.
Win vs Daniel Argueta • Decision R3 5:00 • 2022-06-04
Win vs Kamuela Kirk • Submission R2 4:42 • 2022-03-12
Win vs Charles Rosa • Decision R3 5:00 • 2021-10-09
Loss vs Ilia Topuria • KO/TKO R1 2:38 • 2020-12-05
Win vs Mirsad Bektić • Submission R3 1:21 • 2020-09-19
Damon Jackson's next opponent: Pat Sabatini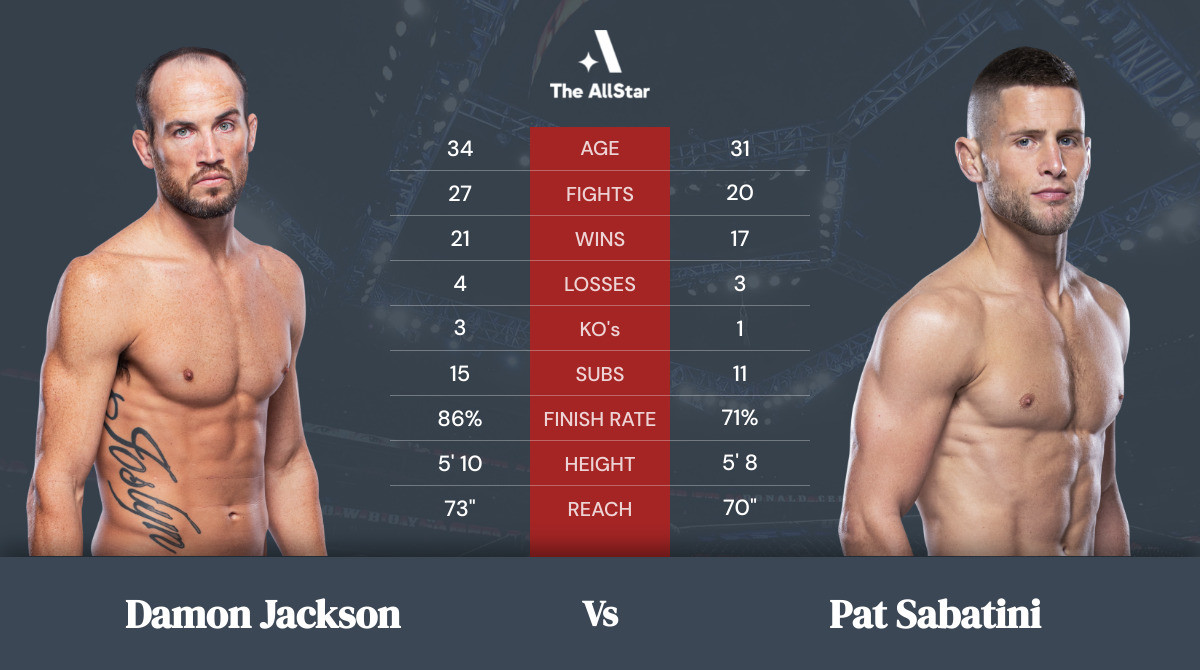 Pat Sabatini's recent form coming into this matchup
Pat Sabatini is a 31 year old male fighter from United States with 17 pro wins and 3 losses. Sabatini is scheduled to fight Damon Jackson at UFC Fight Night: Sandhagen vs. Song on Saturday September 17, 2022.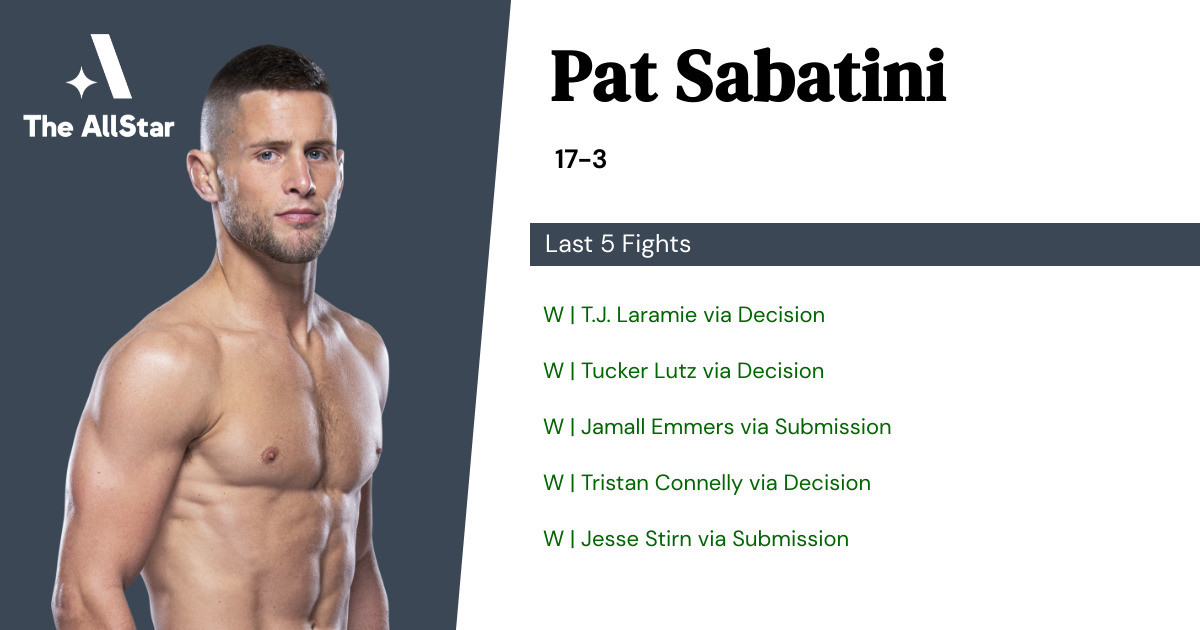 Pat Sabatini has gone 5-0 in the last 5 professional MMA fights.
Win vs T.J. Laramie • Decision R3 5:00 • 2022-04-16
Win vs Tucker Lutz • Decision R3 5:00 • 2021-11-20
Win vs Jamall Emmers • Submission R1 1:53 • 2021-08-28
Win vs Tristan Connelly • Decision R3 5:00 • 2021-04-24
Win vs Jesse Stirn • Submission R2 2:23 • 2020-12-18
How to watch and bet on Damon Jackson vs Pat Sabatini
Keep track of all the latest odds and line-movements at our bout page for this matchup.