Reigning UFC featherweight champion Alexander Volkanovski has kept himself a hot topic of conversation in MMA this week, following his recent masterclass performance in which he dismantled The Korean Zombie, Chan Sung Jung.
'Volk' is currently running a whirlwind press tour in the United States, making appearances on most major media outlets, MMA or otherwise, and the 145-pound king has one thing on his mind: A chance at adding his name to the list of revered two-division champions in the UFC.
Or as UFC veteran Dan Hooker simply puts it, becoming "Champ, Champ."
There's been chatter about the Aussie making the jump to lightweight for some time, as the 5'6" former rugby player has competed, with success, as heavy as the middleweight in the past.
Now, with the featherweight division at somewhat of a standstill in terms of clear contenders, Volkanovski has been more vocal than ever about getting the chance to seize his opportunity at greatness.
"Any of the top guys at 155," Hooker stated on The AllStar MMA Live show, weighing in on the matter, 'I feel like he can beat them."
The champ's request has seemingly been met with resistance from UFC President Dana White, who expressed hesitation about letting Volkanovski 'walk' into a title shot – a sentiment echoed, still, by a niche of the sport's fanbase.
Hooker believes, if needed, a third and final victory over fierce rival Max Holloway cements the Australian's right to the opportunity.
"After [that fight], I feel like there will be a real question that starts to get asked, like 'what can Volk do at [lightweight]'?"
The 'Hangman' went on to offer his thoughts on Volkanovski's likely opposition, if and when he makes the leap to 155-pounds. He applauded the prospect of a title fight opposite Justin Gaethje, should he emerge victorious at UFC 274, before adding:
"That's a fight I think Volkanovski walks away with."
When quizzed on a match-up against current lightweight champ Charles Oliveira, Hooker remarked "He just beat two guys that fight like Oliveira," referring to the style of veteran all-rounder Jung, and the jiujitsu prowess of Brian Ortega.
"He just beat [them] in a dominant fashion…"
Size isn't likely to factor into the equation either, the New Zealand native believes; asserting that Oliveira has competed at featherweight in the past and "isn't the biggest 155-pounder in the world…"
"I would say, they step on the scale at 55 – Volk weighs more than Oliveira when they step in the ring."
By Hooker's estimation, there's a very strong possibility that we see 'The Great' truly cement his namesake before 2022 draws to a close.
"That's an incredibly winnable fight, regardless of whether it's Gaethje or Oliveira," he asserted, "He's the kind of guy that would do something like that… "
"By the end of the year – Champ, Champ. Sign me up."
---
Fighter profile
Alexander "The Great" Volkanovski is a 33-year-old male fighter from Australia with 24 pro wins and 1 loss. Volkanovski most recently fought Chan Sung Jung at UFC 273: Volkanovski vs. Korean Zombie on Saturday, April 9, 2022.
Alexander Volkanovski's recent form coming into this matchup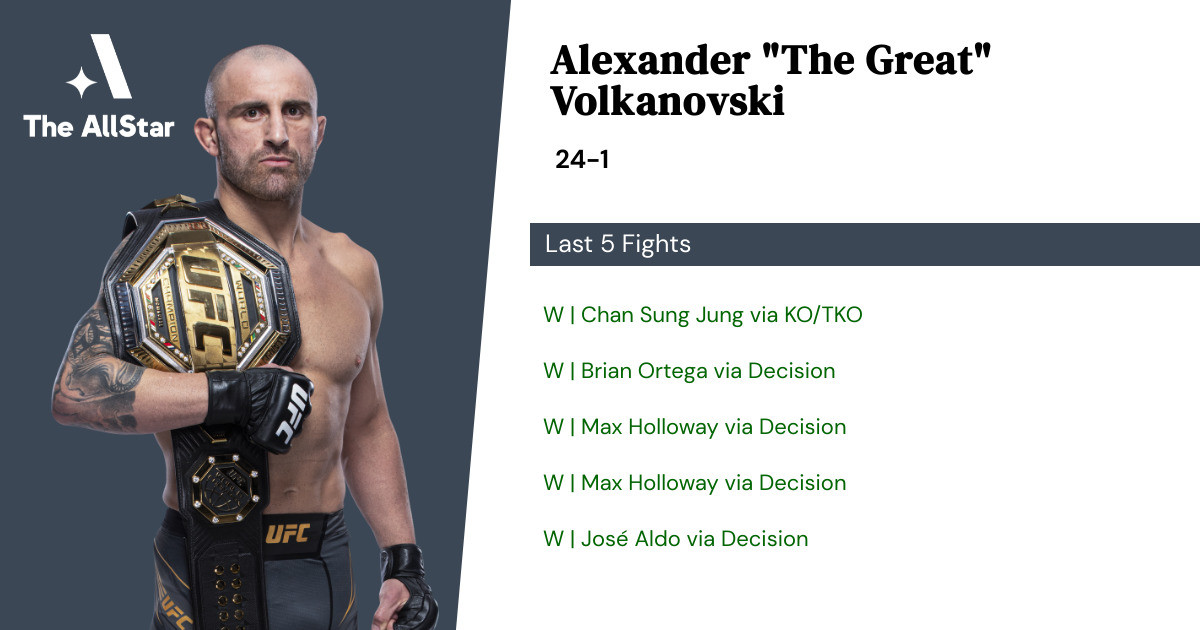 Alexander Volkanovski has gone 5-0 in the last 5 professional MMA fights.
Win vs Chan Sung Jung • KO/TKO R4 0:45 • 2022-04-09
Win vs Brian Ortega • Decision R5 5:00 • 2021-09-25
Win vs Max Holloway • Decision R5 5:00 • 2020-07-11
Win vs Max Holloway • Decision R5 5:00 • 2019-12-14
Win vs José Aldo • Decision R3 5:00 • 2019-05-11