Cristiano Ronaldo gave Old Trafford some cheer on Monday night to sign off a home campaign in a season largely devoid of it, and underlined why his romantic return to the club simply must continue for another season.
Ronaldo won't be used to life outside the Champions League, but the second-tier European trophy remains the only possible club competition he's never won. Incoming manager Erik ten Hag must now ensure he is still here next season.
"This hasn't just been the goalscorer Cristiano Ronaldo tonight," United legend Gary Neville said on commentary during the Sky Sports broadcast. "It's been the centre forward Cristiano Ronaldo. The ball being played into him. He's run the channels. He's run back. He's pressurised.
"This No 7, I think he's telling everybody he's going to be here next year. He's that important it wouldn't already surprise me if he's demanded to know whether he's in the manager's plans. He just has to be on this form."
After seeing a beautifully-taken effort from the surprisingly excellent Juan Mata's pass ruled out for a tight offside call late in the first half, which would have made it 2-0 to the hosts, Ronaldo wasn't to be denied.
With the sublime Christian Eriksen pulling the strings as Brentford knocked on the door for an equaliser, Ronaldo engineered the goal that effectively made it game over, using his veteran nous to goad opposing left-back Rico Henry into barging him over in the box.
Viva Ronaldo
Bruno Fernandes rightly handed him the ball this time, and Ronaldo stepped up and smashed it home, with Old Trafford bursting to chants of "Viva Ronaldo!"
If there was any doubt, Ronaldo made it clear he is going nowhere, pointing to the turf and lapping up the adulation from his adoring public during the squad's traditional lap of honour of the pitch after the final home game of the season.
"I'm not finished," he said to the broadcast camera following him, smiling from ear to ear.
With some United fans walking out on 73 minutes in a fresh protest against the club's owners, the Glazer family, Malcolm and Joel and Co were again indebted to their star man, who took some of the heat off what could have been an incendiary evening.
United have endured a miserable season. They've sacked club legend Ole Gunnar Solskjaer and replaced him with interim manager Ralf Rangnick, who has failed to inspire the players but perhaps more importantly has exposed just how poorly run the club is run from top to bottom.  
Greatest goalscorer
But Cristiano Ronaldo has been one of the few bright sparks. He has treated the fans to some magnificent hat-tricks and stellar goals as he officially became the greatest goalscorer in history.
Before the match, United named him player of the month for April – his fourth award this season, more than anyone in the squad. Monday night's goal also saw him equal his league tally from his final season in his first stint at United. It's like he never left. 
Who else has ever been able to do this at this age in the Premier League? He even inspired Tom Brady to make a U-turn on retirement for the Glazers' Tampa Bay Buccaneers, with the NFL icon watching on in awe as Ronaldo smashed in three at home against Spurs.
Recent reports have linked Ronaldo with another romantic homecoming, this time to Real Madrid in the summer. But United and Ten Hag would be stupid to let him leave now, despite the mass upheaval required at the club. 
Ralf Rangnick
"The way that he played again tonight, not only because he scored a goal but he also won the penalty and helped defensively tonight, so why should he not be a player who could still be part of the squad and help the team?" Rangnick said after the match.
"But this is a question you have to ask Erik when he is here and it is also important how Cristiano sees himself and his position.
"Cristiano is not a central striker, he also does not want to play in that position. In order to not play central, you have to play with two strikers as we did in the last 15 minutes or in my first game against Crystal Palace or the second one against Norwich, and even in the second-half against Newcastle.
"But if you look at international football, there are not many top teams who play with two strikers. Most of the international top teams either play with three strikers or a false nine, so for me it's not a question of position, it's a question of what kind of quality players Manchester United have in the future."
Priceless asset
Indeed, it would be foolish to suggest everything has been rosy with Ronaldo since his return. He's had some terrible, anonymous games where he barely touched the ball, with critics falling over each other to suggest the great man was finally done.
But with Ten Hag pulling the strings and the right formation and balance of players around him, Cristiano Ronaldo could be an invaluable asset next season. To be honest, his contributions have been priceless this season – it's worrying to think where the club would be without him right now. 
With a raft of attacking departures expected in the summer, including Edinson Cavani, Paul Pogba, Jesse Lingard, Anthony Martial, Mata, Mason Greenwood, and possibly even Marcus Rashford, Ten Hag will know he can't afford to ship out Ronaldo while he beds in new talent and bloods the youth.
Then there are the leadership qualities that the serial winner Ronaldo brings. Just ask Anthony Elanga, who has been taken under the Portuguese's wing and celebrates every "Siu!" like a fan in the stands, or the highly-touted 17-year-old forward Alejandro Garnacho, an unused substitute who ran to the corner flag to celebrate Ronaldo's goal with his idol.
Player of the year?
Ronaldo has the most goals in the Premier league in 2022 [9], and he gave everyone a six-week head start. He has 18 overall in 29 league games, having missed United's first three fixtures before sealing an emotional return to the club from Juventus.
Factor in the 6 goals in 7 Champions League games, and the fact he has been putting up these numbers in the worst United side for more then three decades, and Ronaldo more than deserves at least another year at Old Trafford.
In fact, you could make a sneaky case for him as the Premier League player of the season. He is third in the goalscoring charts behind Liverpool's Mo Salah [22] and Tottenham's Son Heung-min [19] but has played less games than both in an environment that has been – at best – completely dysfunctional.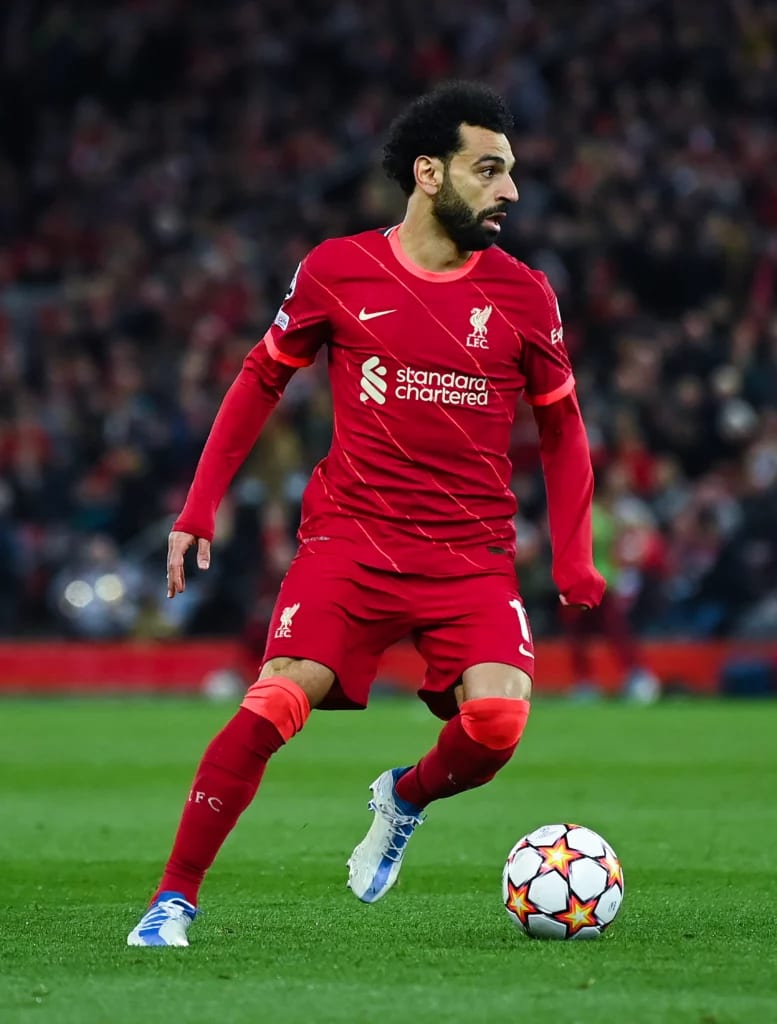 The fact his best stretch of the season – 9 goals in his last 8 games – has come at the business end, with little in the way of back-up, is even more impressive. Not to mention he returned from a devastating personal tragedy late last month, with the death of his newborn son, to score 3 goals in as many games.
Painful decline
Ronaldo has had to carry the load for United this season, with Greenwood unavailable after being arrested on allegations of sexual assault, Cavani injured or uninterested for most of the season, Martial farmed out on loan to Sevilla where he has hardly set the world on fire, and Rashford's form and desire deserting him entirely.
So while Salah took the honours for player of the season at the Football Writers Association last week, and will probably get the official nod from the Premier League too, Ronaldo's contribution should not be forgotten.
United players used to win the official award regularly, with six in a row from 2006-07 to 2010-11 (two of them Ronaldo). They've not had another, marking the painful decline of the club since Sir Alex Ferguson retired with Liverpool, Manchester City and Chelsea cleaning up on all fronts.
But if Ten Hag gets his recruitment right in the summer, Cristiano Ronaldo could legitimately be in with a shout of becoming the oldest ever recipient of the award at 38.
And what a fitting end that would be to the greatest career of all time.