Natan Levy makes his UFC debut at UFC Vegas 43. Daniel Vreeland takes a look at what makes the debuting prospect stand out.
The Stats
| | |
| --- | --- |
| Name | Natan Levy |
| From | Herzliya, Israel |
| Class | Lightweight (155lbs) |
| Height | 5'9″ |
| Reach | 72 inches |
| Pro Record | 6-0 |
| Last Promotion | Syndicate MMA |
The Lowdown
Natan Levy enters this weekend as the first-ever Israeli-born UFC fighter. He enters the UFC by way of the Contender Series, where he picked up a gritty submission victory. Prior to his fight in the Apex, Levy fought professionally for LFA. Each of his previous five bouts were for the notable regional promotion. He spent nearly two and a half years for them. Although that averages out to right around two fights per year, he was booked much more frequently. Contact tracing surrounding his contact with someone who tested positive for COVID and a myriad of other reasons pulled other opponents from bouts with him.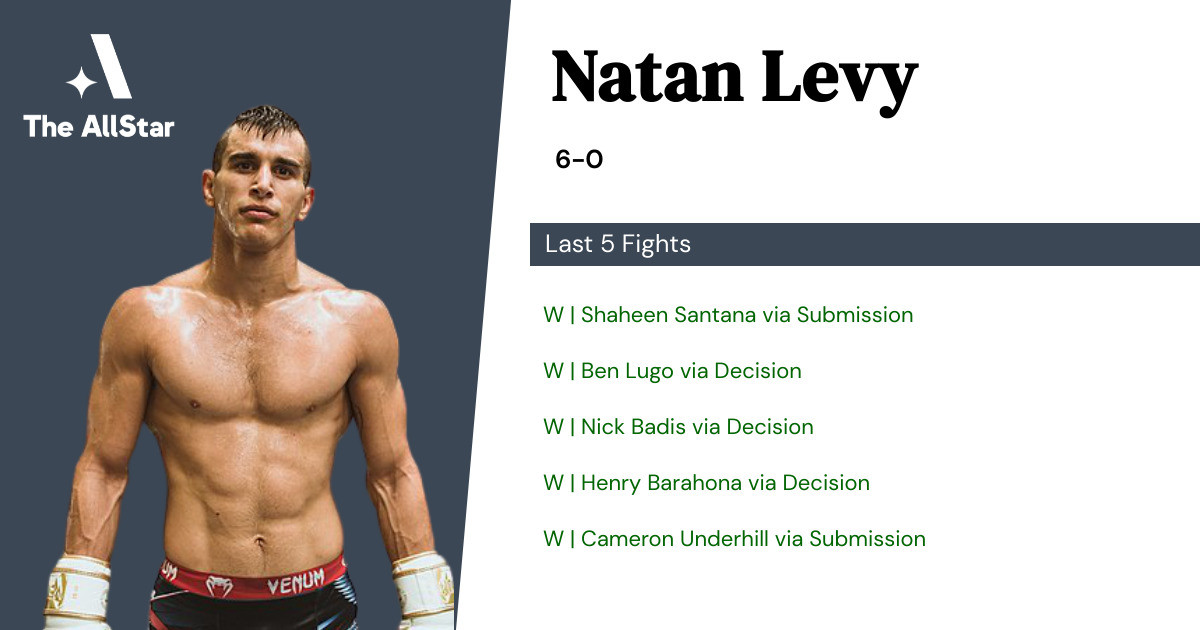 While Levy picked up a submission victory to get into the UFC, his martial arts base actually comes from the striking side of things. Levy originally started in the karate world and eventually earned himself a black belt in the art. Although he has powerful kicks, distance management, and all the other things you would expect of someone with such a rank, the best work he's done in the MMA world is on the ground. He has some pretty strong takedowns, especially if he can get in on the legs of his opponent. When he locks his hand, he's particularly dangerous. Once on the mat, that danger continues. He's picked up three submission victories in the six bouts he's had thus far.
What to Expect Saturday
Levy typically comes out with an aggressive striking style. He's not afraid to let it fly and get in hectic exchanges early. When he's faced with someone who doesn't like to take steps backwards, as he will be with Rafa Garcia, this typically causes a clinch. No matter how much two fighters like to throw in the pocket, when they begin mixing it up in close range they tie-up. This is really where the traits I think are strongest from Levy shine. When he gets in those exchanges, he is phenomenal with body lock takedowns. If his hands are clasped together, he's tough to keep from getting what he wants. His last LFA fight with Ben Lugo is a great example of this typical mode of operating.
The dynamic of this will be interesting with Garcia. On one hand, Garcia likes to wrestle himself. He usually is the aggressor when it comes to takedowns though, not the one defending. He has faced a few attempts and has dealt with those admirably, but they were not in this same style as Levy. Both of his prior opponents shot double legs from distance and looked to finish – neither did much from the clinch, particularly not in the open. It'll also be interesting as Garcia doesn't appear to be worried about getting hit. I assume that Levy will work for the takedown, but with the level of striking accolades that he has, I could see him finding success there too.
Tale of the Tape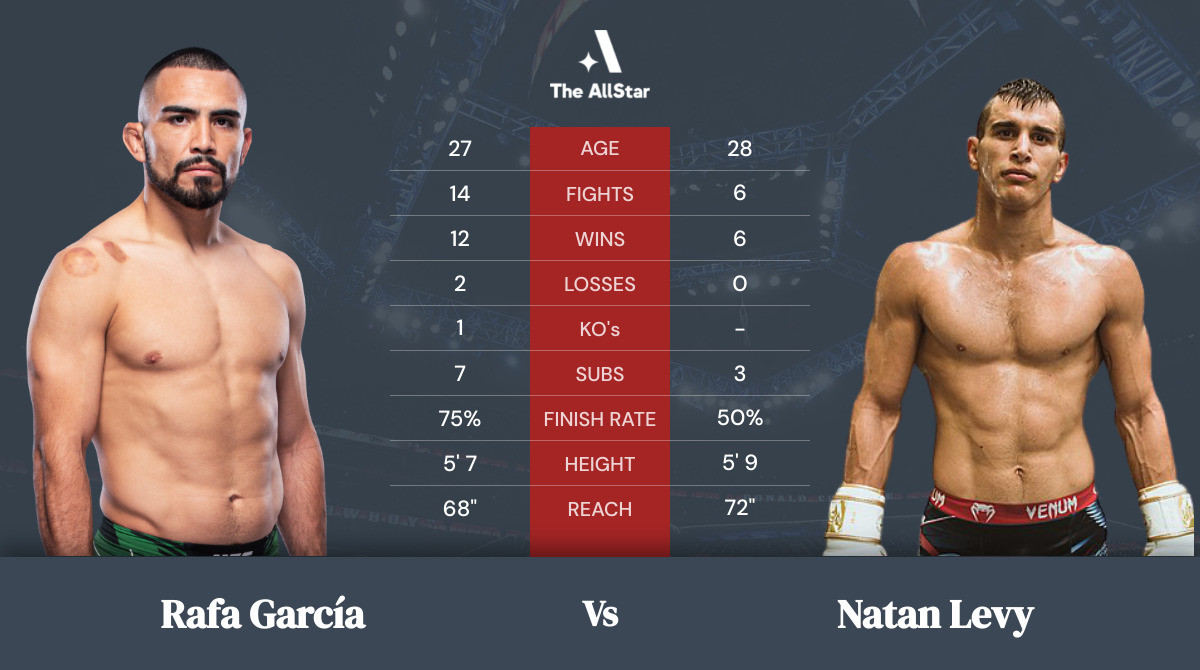 | Natan Levy | vs | Rafa Garcia |
| --- | --- | --- |
| 30 | Age | 27 |
| 6 | Fights | 14 |
| 6 | Wins | 12 |
| 0 | Losses | 2 |
| 0 | KO's | 1 |
| 3 | Subs | 7 |
| 5′ 9 | Height (in) | 5′ 7 |
| 72 | Reach (in) | 68 |
Natan Levy vs Rafa Garcia
What to Expect Long-Term
It's a bit easier to project out Levy as he isn't exactly a young lightweight. While he's had just six professional fights and is just making his UFC debut, he is already thirty-years-old. We're likely to see growth from him the more and more he works with top striking coach, John Wood at Syndicate MMA. However, it'll likely be less growth than we'd see in say a twenty-four-year-old prospect. With all that being said, I think he has a lot of the tools to be a tough out for a lot of guys. I particularly think those who like to wrestle like Garcia will have issues with him due to his ability to lead that dance and strike if they stay away from it.
Without some substantial growth in his defense and the way he pieces things together, I think the ceiling for him is the edge of the top 15. He should be more than enough for someone like Garcia. Additionally, there is a chance that his finishing instinct propels him even higher than I expect.
Now that you have the lowdown on this hot prospect, look like the smartest guy at the book by getting him at the best price. Right now he's listed as a +110 underdog. You can get those odds right here.