Since his arrival in the UFC, dual-weight terror Khamzat Chimaev has wreaked havoc on those before him, running through the likes of Li Jingliang and Gerald Meerschaert to round off his perfect 10-0 professional record. If these performances weren't telling enough of his mindset, "Borz" has made his intentions clear to compete as often as possible, currently holding the modern record for quickest turnaround (10 days).
With the majority of the fanbase firmly on the hype train, many are eager to see him square off with welterweight champion Kamaru Usman. Though just four fights into his promotional career this matchup remains more realistic than ever, but as it stands, just one man stands in the way.
After a fairly successful lightweight run, Brazil's Gilbert Burns made the switch to 170 in 2019 and has since shown new levels as a fighter. With his stint currently sitting at 5-1 – a sole defeat coming at the hands of Usman during a failed title bid – it's fair to say that he's earned his #2 ranking. Thrashing the likes of Tyron Woodley and Stephen Thompson, "Durinho" is keen to add another high-profile name to his hit list.
On April 9 at UFC 273, Burns meets the rising Chimaev in a number one contender fight; with the latter having the opportunity to leapfrog his peers, it may mark the arrival of the new generation.
"If not this guy [then] who? A lot of people said no," Burns explained to The AllStar, offering an insight as to why he accepted a fight with Chimaev.
"Colby and Masvidal [fought] each other, Leon Edwards is fighting for the title and I'm not fighting [Vicente] Luque as he's fighting Belal [Muhammad]. [I] didn't have a lot of options. A lot of guys turned the fight down.
"I saw this guy [Chimaev] who is hungry and upcoming. I asked for Neil Magny and other fighters but the UFC said no. I think they were setting up this fight because they know I was begging for a fight."
Aiming for the quickest path back to the title, Burns displayed his skills in a grappling-heavy win over "Wonderboy" Thompson last July. While he's been on the sidelines for close to a year, April 9 may be the date he finds himself retaking the coveted #1 position.
"I think a lot of people make him out to be a monster," Burns said. "I saw Dana White say 'he's a murderer'. No, he's a good fighter, but people [are too quick to call] him a monster [despite] the competition he's been given. But at the same time, he's made a good point beating those guys the way he did. Now the competitions gonna be way different. He's fighting a guy that just fought for the title, a guy with 20 wins and 4 losses; he's stepping up big time in [terms of] competition. I'm looking forward to it. I think he's very good.
"I understand the guys not a top 5 or top 10 [fighter], but he's very tough. He hasn't had the opportunity to show his skills against a lot of guys in the top 10, but I think he can beat a lot of guys [ranked] there. I'm not gonna stay here begging to fight Colby [Covington] or Leon Edwards, no, give me this guy and let's see if he's that good. I do believe he's very good; Dana said it's a number one contender fight, whoever wins fights for the title next."
Hailed as a generational prospect with an undefeated record, there's a natural level of confidence that accompanies someone like Chimaev. Though it can often come across as arrogance Burns believes it's vital for young fighters to back themselves, not looking into the trash talk too much.
"I think he's very confident," Burns said. "I don't think he's arrogant, I like guys who believe in themselves, are confident and say whatever they want. That's how I got a title shot too – calling everyone out and fighting on short notice. I remember for [my] Demian Maia fight in Brazil, Tyron Woodley had a fight coming in London against Leon Edwards but then everything shut down [due to COVID]. I [won], called him out and eventually got the fight. So I think [Chimaev's] doing the right thing, I don't think he's arrogant. I see him as confident, especially being undefeated.
"I do believe he's a little bit overconfident. He thinks he's untouchable, he's never saw a loss. I remember thinking [the same] when I was [undefeated]."
Rather than picturing an early finish, he envisions a long, drawn-out war at UFC 273. With the crowd on his side and experience in his favor, he trusts in his abilities to get the victory and once more fight for welterweight gold.
"To be honest right now I'm seeing a war," Burns revealed. "I don't see an easy fight. I see that guy coming big and strong, fresh, especially in the beginning. [He's] hungry and will try to impose a lot of pressure.
"I see three hard rounds with this guy. I'll never take an opponent [lightly], and for sure he's not going to be that guy. He's very confident, hungry, big, undefeated [and] Russian. I'm not taking that guy easy. I'm seeing a war. I don't believe we're going for a decision or going for a finish, I see a grinding, high pace [with lots of] grappling, striking, and wrestling. I see a hard fight for both of us."
---
Fighter profile
Gilbert "Durinho" Burns is a 35 year old male fighter from Brazil with 20 pro wins and 4 losses. Burns is scheduled to fight Khamzat Chimaev at UFC 273: Volkanovski vs. Korean Zombie on Saturday April 9, 2022.
Gilbert Burns's recent form coming into this matchup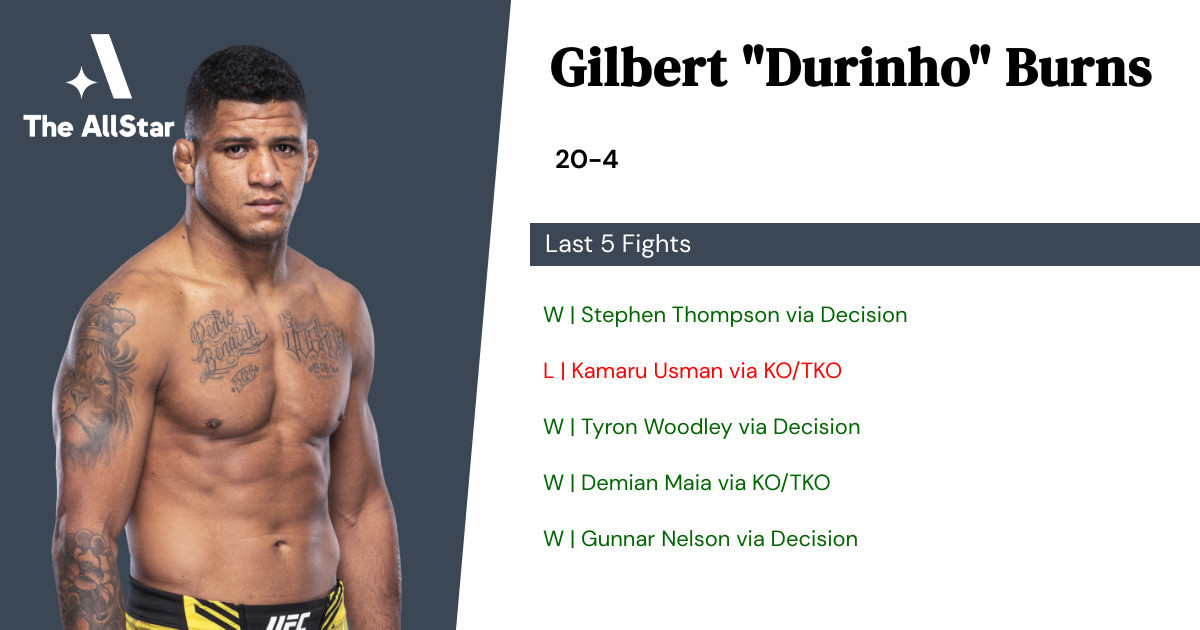 Gilbert Burns has gone 4-1 in the last 5 professional MMA fights.
Win vs Stephen Thompson • Decision R3 5:00 • 2021-07-10
Loss vs Kamaru Usman • KO/TKO R3 0:34 • 2021-02-13
Win vs Tyron Woodley • Decision R5 5:00 • 2020-05-30
Win vs Demian Maia • KO/TKO R1 2:34 • 2020-03-14
Win vs Gunnar Nelson • Decision R3 5:00 • 2019-09-28
Gilbert Burns's next opponent: Khamzat "Borz" Chimaev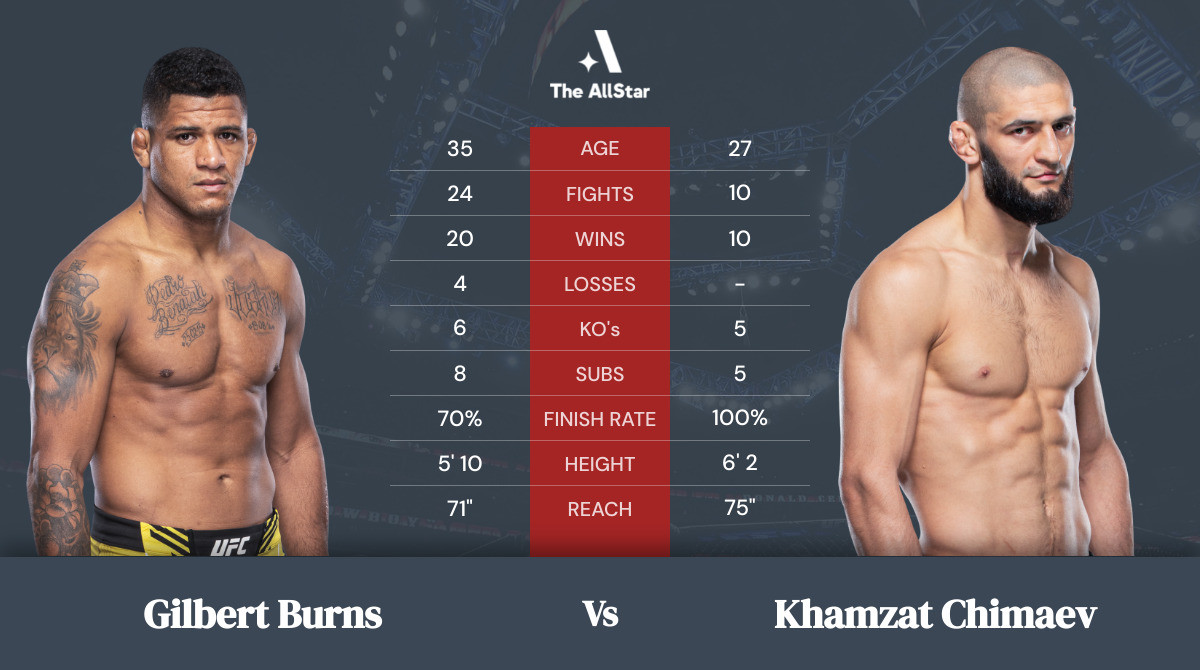 Khamzat "Borz" Chimaev's recent form coming into this matchup
Khamzat "Borz" Chimaev is a 27 year old male fighter from Sweden with 10 pro wins and 0 losses. Chimaev is scheduled to fight Gilbert Burns at UFC 273: Volkanovski vs. Korean Zombie on Saturday April 9, 2022.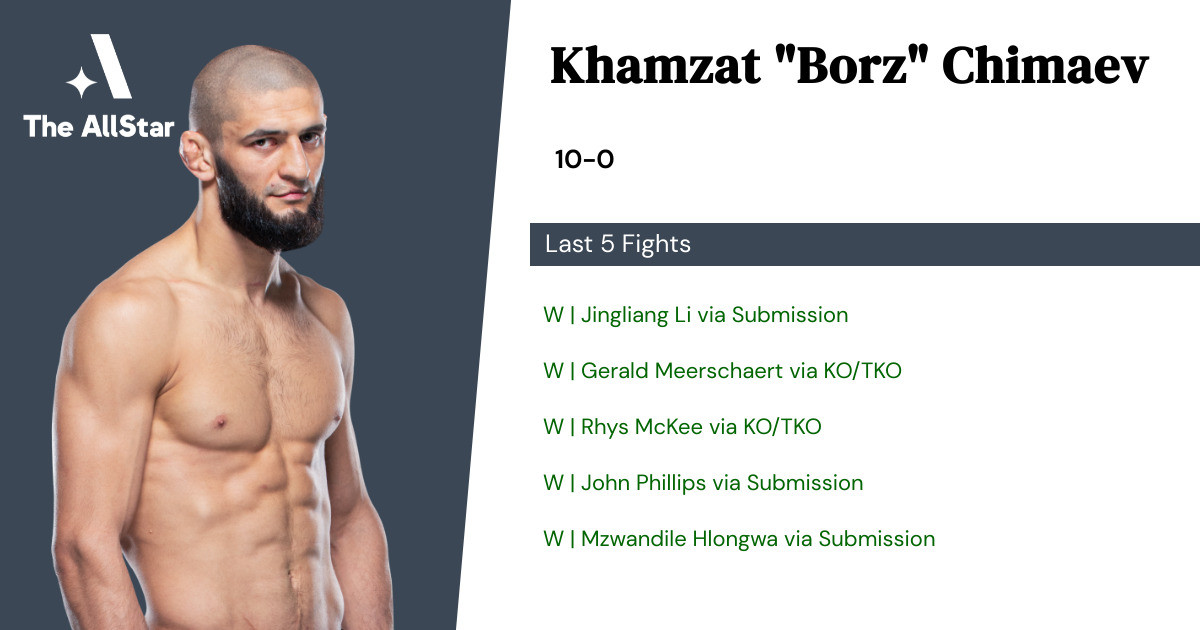 Khamzat Chimaev has gone 5-0 in the last 5 professional MMA fights.
Win vs Jingliang Li • Submission R1 3:16 • 2021-10-30
Win vs Gerald Meerschaert • KO/TKO R1 0:17 • 2020-09-19
Win vs Rhys McKee • KO/TKO R1 3:09 • 2020-07-25
Win vs John Phillips • Submission R2 1:12 • 2020-07-15
Win vs Mzwandile Hlongwa • Submission R2 1:15 • 2019-10-04
How to watch and bet on Gilbert Burns vs Khamzat Chimaev