Usually, MMA fighters chase history once they're inside the UFC, but Hyun Sung Park is trying to do it by the time he makes it.
The undefeated Korean is competing in the Road To UFC tournament, which is going down in Singapore the day before UFC 275. He faces Indonesia's Jeremia Siregar.
If Park makes it through the tournament and gets signed to the UFC, he will become the first male Korean flyweight to compete in the promotion. And to him, that is very special.
"Saying that I do make it to the finals or win the tournament makes me the first-ever Korean flyweight to make it to the UFC. It's not just history within the community of MMA in South Korea, but it will entirely change my life," Park told The AllStar.
"The way my family, my girlfriend, the people around me that have supported me- [it will] change their views now that I've made it to the big leagues, the UFC. This opportunity itself is already life-changing."
Park's biggest goal in life has been to make it to the UFC, and competing in the Road To UFC tournament just made a ton of sense.
"Looking outside of MMA, my first ever goal in life was to make it to the UFC. So, I guess the Road To UFC itself makes sense. Since it's me on my way to the UFC, which was my first goal ever," Park said. "So this is the most important fight of my life, the biggest fight of my life, the biggest opportunity of my life. So, I wish to impose everything I have to make it to the league that I've always dreamt of."
His opponent, Siregar, holds a 100% finish rate and is riding a two-fight win streak. The Korean fighter didn't have an official prediction, but he said that he plans on showcasing his hard work.
"I can't really tell you what kind of performance. I will definitely be trying to showcase the work that I've worked with him over the last six weeks," Park said.
Park only started his MMA career two years ago, but in that time has grown leaps and bounds, and really believes he has hit his stride.
"I started MMA at the age of 24, right after my military service," Park said. "Actually, I did do a little bit of MMA for about two months prior to my military service. It actually just made me want to do MMA more when I was doing my military service, and right after I started, I decided to pursue my career in MMA."
---
Fighter profile
Hyun Sung Park is a 26-year-old male fighter from South Korea with 5 pro wins and 0 losses. Park most recently fought Joo Hwan Kim at Double G FC 11 on Thursday, December 30, 2021.
Hyun Sung Park's recent form coming into this matchup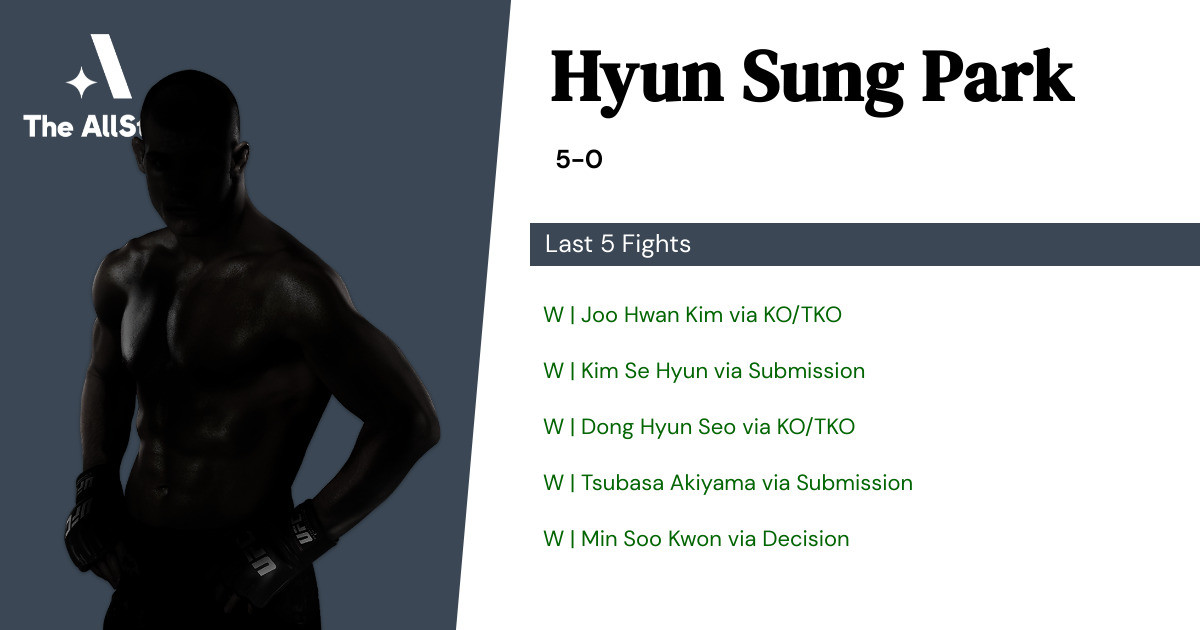 Hyun Sung Park has gone 5-0 in the last 5 professional MMA fights.
Win vs Joo Hwan Kim • KO/TKO R2 3:40 • 2021-12-30
Win vs Kim Se Hyun • Submission R1 4:01 • 2021-03-19
Win vs Dong Hyun Seo • KO/TKO R1 2:09 • 2020-11-28
Win vs Tsubasa Akiyama • Submission R2 0:40 • 2019-03-30
Win vs Min Soo Kwon • Decision R2 5:00 • 2018-11-18