"Let's ride man," an eager Randy Brown tells The AllStar.
Brown was rehashing his elation upon receiving the call-up to face the surging prospect, Khaos Williams, at UFC 274 on May 7; an opportunity he instinctively jumped at, when others may have given pause.
"You know me – I only fight the killers," A short glance down his long resume corroborates the welterweight's claim, "So when [the UFC] came to me, I was like 'hell yes!"
"He's very, very dangerous," the 31-year-old concedes, well aware of his dance partner's sheer power. Williams has finished three of his last five fights via punches; the most recent of which, a devastating short left hook against the lethal Miguel Baeza, catapulted him toward stardom. The 'Rudeboy' plans on spoiling the party.
"I love the style that he brings to the UFC. The power, the nastiness – I love it all," the veteran Brown begins, "But I feel like I've seen it before."
Eight years of tenure in the UFC, Brown feels, has prepared him for whatever look the 28-year-old Williams might show come fight night. As such, the proud fighter of Jamaican heritage is keeping his circle close throughout this fight camp – confident he has all the tools necessary to beat 'The Oxfighter".
"I think that being home was best for me," Brown says of his ongoing regimen, adding that he's taken a few short trips to train in Philadelphia; though he's keeping any specifics of his training close to his chest this time around.
"He's gonna see this interview right?" he jests – speaking on his approach to the fight, "I can't just give away my game-plan."
The welterweight laughs, though an inflection of seriousness can be heard in his tone. It's fairly obvious he doesn't want to give his opposition any ammunition to work with.
Opening up a little on what he expects from Williams when they lock horns in Arizona, Brown suggests he envisions a high octane contest from the opening horn – and for that, he's thrilled.
"It's the type of fight that I like… he's throwing volume, big power, he's coming forward – super aggressive. I love those guys, you know, I think that plays right into my style."
A seven-month layoff for a foot injury has the New York native ostensibly ecstatic for his return to the cage – eager to showcase how the lessons learned from his previous, somewhat rare full-fifteen minute outing have forced him to evolve as a fighter.
"My toe was dislocated," He states, referring to the injury that occurred in the first 30 seconds of his bout with Jared Gooden. "It just kept coming out and I had to keep readjusting it."
Though not what many would refer to as a serious injury, it visibly hindered Brown in that performance. "[My] foot – that's my wheels man… that did a lot more than I thought it would" he added.
"[That fight] showed that I can persevere… I've learned to slow down a fight, and kinda just take it at my pace – force people to fight at my pace."
Turning to a more introspective line of thinking, Brown reflects on how he managed that adversity, attributing his mental fortitude inside the cage to the countless obstacles he's had to overcome in his young life.
"I'm not even supposed to be here," he quips, alluding to the struggles he faced growing up in Jamaica. " I feel like I've overcome a lot of things. Losses, injuries, critics, situations. I've been overcoming shit since I was born."

"I've been beating the odds forever."
---
Fighter profile
Randy "Rudeboy" Brown is a 31-year-old male fighter from Jamaica with 14 pro wins and 4 losses. Brown is scheduled to fight Khaos Williams at UFC 274: Oliveira vs. Gaethje on Saturday, May 7, 2022.
Randy Brown's recent form coming into this matchup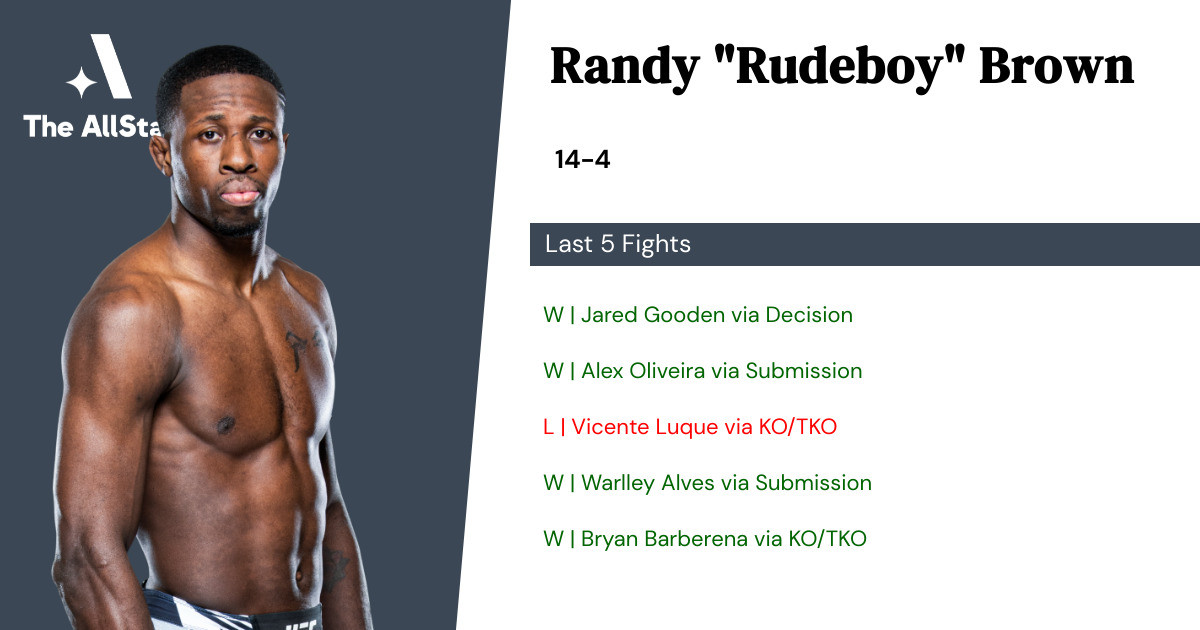 Randy Brown has gone 4-1 in the last 5 professional MMA fights.
Randy Brown's next opponent: Khaos "The Oxfighter" Williams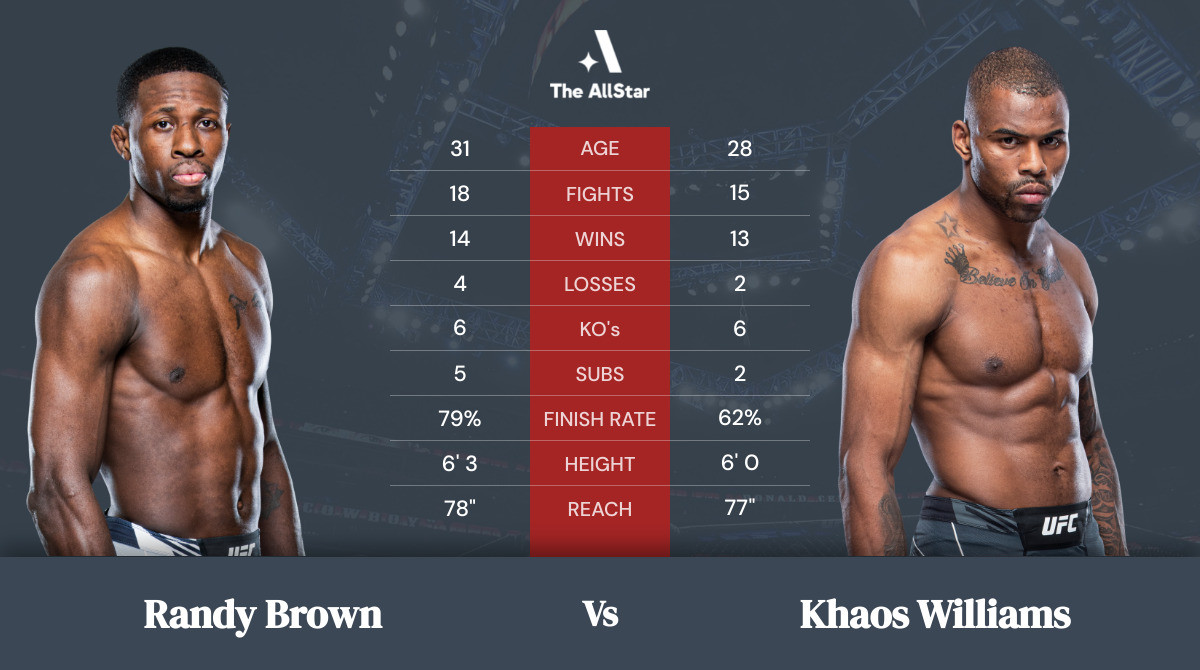 Khaos "The Oxfighter" Williams's recent form coming into this matchup
Khaos "The Oxfighter" Williams is a 28-year-old male fighter from the United States with 13 pro wins and 2 losses. Williams is scheduled to fight Randy Brown at UFC 274: Oliveira vs. Gaethje on Saturday, May 7, 2022.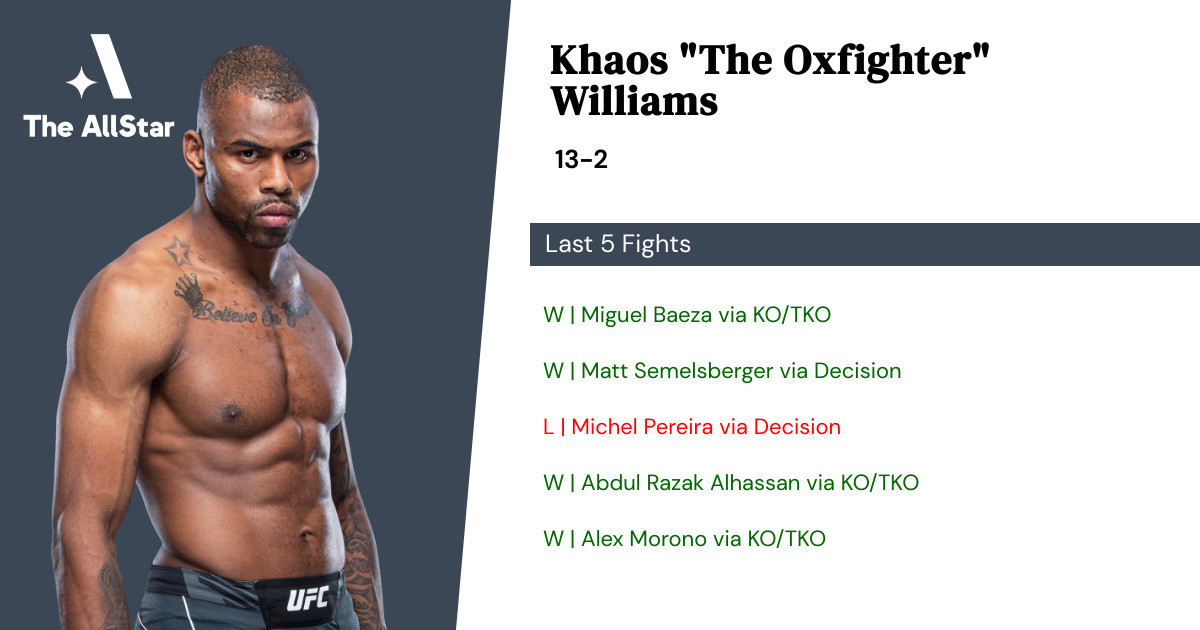 Khaos Williams has gone 4-1 in the last 5 professional MMA fights.
How to watch and bet on Randy Brown vs Khaos Williams