Houston representative Ike Villanueva is gearing up to step back in the cage on April 23rd, opposite the long-absent Tyson Pedro at UFC Vegas 52.
The two light-heavyweights were paired up in late January, six months removed from Villanueva's last outing.
"I didn't even know who he was until they gave me the message," Villanueva told The AllStar – A statement delivered with no ill connotation; and fair considering the Texan signed to the promotion two years after Pedro's last bout.
"But as he's coming back, all the guys are pulling up these old articles… so we're gonna find out what he's got."
'Hurricane' is looking to snap his current two-fight skid at the UFC Apex, the last of which had him questioning his mixed martial arts career, going as far as to consider retirement.
"I had to get away, get away and clear my head."
"Don't f*cking talk like that – we're not done," was his wife's swift response when he finally shared those sentiments. At the time, Villanueva was living and working in Chicago – self-admittedly over-indulging in the windy city's famous pizza, among other delicacies. That conversation with his partner re-sparked his desire to compete.
"When my wife told me that, shit, I jumped back on that horse – let's get back to work baby!"
Since being back in his hometown of Houston, working with the likes of Bob Perez (among others), the 38-year-old has dropped 30 pounds and is laser-focused on the task at hand.
"They got the dog man," Villanueva cautions. "A motivated Ike is a dangerous Ike, man."
The fighter of proud Mexican heritage is expecting a brawl with Pedro in the opening round; a prospect he's excited for – and one he believes from which he will emerge triumphantly.
"I tell you what," he starts, with a grin from ear to ear – "That first round's gonna' be a banger… he's gonna come out guns blazing – and I'm ready for it man, I'm gonna meet him in the center."
Needless to say, with 15 knockout victories adorning his professional resume, Villanueva has his intentions set on winning the fight the best way he knows how.
"I'm looking to knock his block off man… Bonus chasing."
Looking toward any potential edge that may help sway the fight, Villanueva suspects Pedro's recent ACL injury may hinder the Australian; not solely physically, but more so in his state of mind and decision-making abilities.
"Being an athlete, that's one of the biggest injuries to come off of," he explains. Having himself fallen victim to injury in the past, the Texan understands how much of an effect it can have on one's mental fortitude.
"If that was me it would be in the back of my head – 'should I kick? Should I not kick? Should I strike?' it plays in your head plenty of times man…"
"…Especially [being] a guy that kicks a lot," he continues. "I'm gonna be there to check that first kick and we're gonna see how he reacts."
When questioned about his own psychological state, having suffered back-to-back losses inside the Octagon, Villanueva asserted that it's about how bad you want it – and he wants it.
"When my backs against the wall man, it's time to perform… It's time to go man cause I'm not ready to go home," Villanueva said.
"My 18-year-old son will be in my corner that night," he adds. "…He sent me a message last night – 'hey dad, we're gonna break that streak at the apex…' Little stuff like that, that motivates my old ass."
Expressing concern for the Australian, the 38-year-old warns the returning Pedro against entertaining any thoughts he may have of walking through him come fight night.
"I'm not that guy," he advises, confident in his heart and durability. "I'm gonna meet his ass in the middle and we're gonna throw down."
---
Fighter profile
"Hurricane" Ike Villanueva is a 38-year-old male fighter from the United States with 18 pro wins and 13 losses. Villanueva is scheduled to fight Tyson Pedro at UFC Fight Night: Lemos vs. Andrade on Saturday, April 23, 2022.
Ike Villanueva's recent form coming into this matchup
Ike Villanueva has gone 1-4 in the last 5 professional MMA fights.
Ike Villanueva's next opponent: Tyson Pedro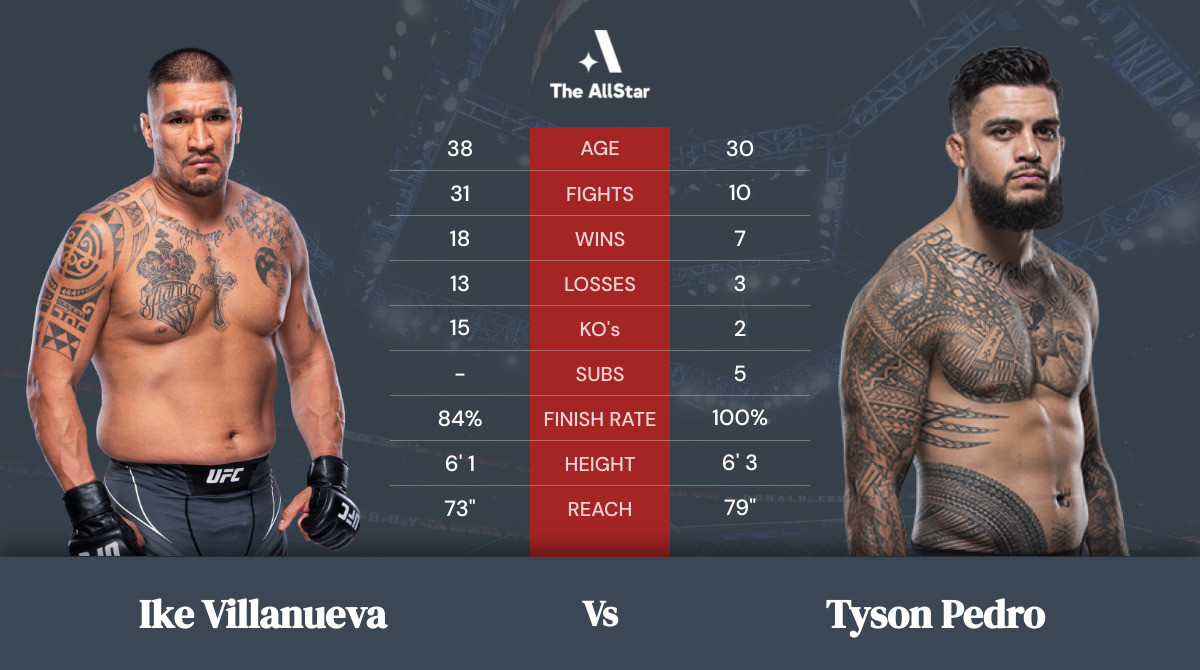 Tyson Pedro's recent form coming into this matchup
Tyson Pedro is a 30-year-old male fighter from Australia with 7 pro wins and 3 losses. Pedro is scheduled to fight Ike Villanueva at UFC Fight Night: Lemos vs. Andrade on Saturday, April 23, 2022.
Tyson Pedro has gone 2-3 in the last 5 professional MMA fights.
How to watch and bet on Ike Villanueva vs Tyson Pedro