UFC lightweight Matt Frevola has heaped praise on Islam Makhachev ahead of his UFC lightweight title bout against Charles Oliveira at UFC 280 on October 22nd.
Frevola has compared Makhachev to his mentor and close friend Khabib Nurmagomedov. "The Eagle" retired as the UFC lightweight champion after defending the title three times. He ended his career with a perfect professional record of 29 wins and no losses, with 13 of those victories being in the UFC.
Nurmagomedov dominated inside the Octagon with his relentless, wrestling-heavy style but Frevola believes that Makhachev is a more well-rounded fighter.
"Islam is the real deal. He looks pretty unstoppable, he looks like Khabib out there with better striking," Frevola told TheAllStar.
"Islam is more of a submission guy than Khabib. Khabib was more of a 'take you down and smash you' guy."
---
Frevola said that Oliveira's last defeat, which was against Paul Felder in 2017, could be an indicator to how the fight against Makhachev could play out.
In that contest, Felder avoided several submission attempts from Oliveira before securing a finish through ground-and-pound in the second round.
Frevola believes that Makhachev's wrestling could neutralize Oliveira's jiu-jitsu.
"I'm just hoping Oliveira doesn't get too comfortable on his back because I feel like that's a way Islam could maybe win," Frevola said. "Islam takes him down and avoids those submissions and is able to smash him, kind of how like Paul Felder did."
"Felder went out there and defended all those chokes and then Oliveira quit on him. It looked like he quit."
In spite of this, Frevola thinks that Oliveira has shown in his recent fights that he is more mentally resilient than he was when he competed against Felder.
"A lot of people have been saying that [Oliveira] has quit in him but he has proved those guys wrong, getting dropped and coming back and winning. I think he has fixed that."
Fighter profile
Islam Makhachev is a 30-year-old male fighter from Russia with 22 pro wins and 1 loss. Makhachev is scheduled to fight Charles Oliveira at UFC 280: Oliveira vs. Makhachev on Saturday, October 22, 2022.
Islam Makhachev's recent form coming into this matchup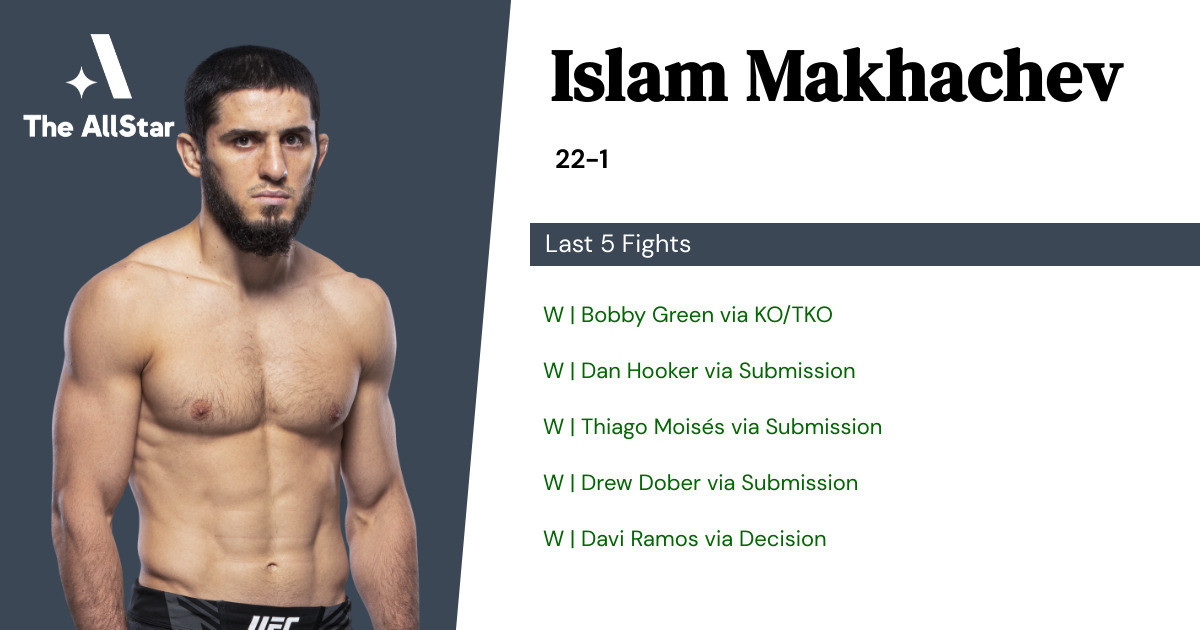 Islam Makhachev has gone 5-0 in the last 5 professional MMA fights.
Win vs Bobby Green • KO/TKO R1 3:23 • 2022-02-26
Win vs Dan Hooker • Submission R1 2:23 • 2021-10-30
Win vs Thiago Moisés • Submission R4 2:38 • 2021-07-17
Win vs Drew Dober • Submission R3 1:37 • 2021-03-06
Win vs Davi Ramos • Decision R3 5:00 • 2019-09-07
Islam Makhachev's next opponent: Charles "Cipriano" Oliveira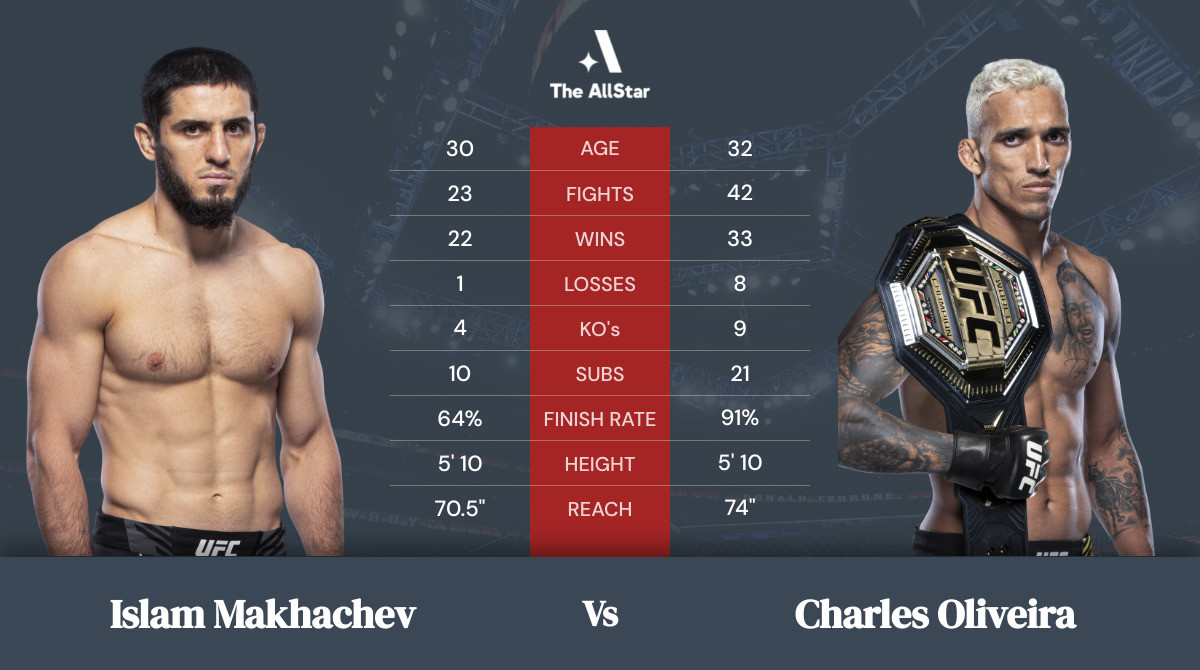 Charles "Cipriano" Oliveira's recent form coming into this matchup
Charles "Cipriano" Oliveira is a 0 year old male fighter from Brazil with 8 pro wins and 4 losses. Oliveira most recently fought Carlos Prates at SFT 37: Prates vs. Oliveira on Saturday September 3, 2022.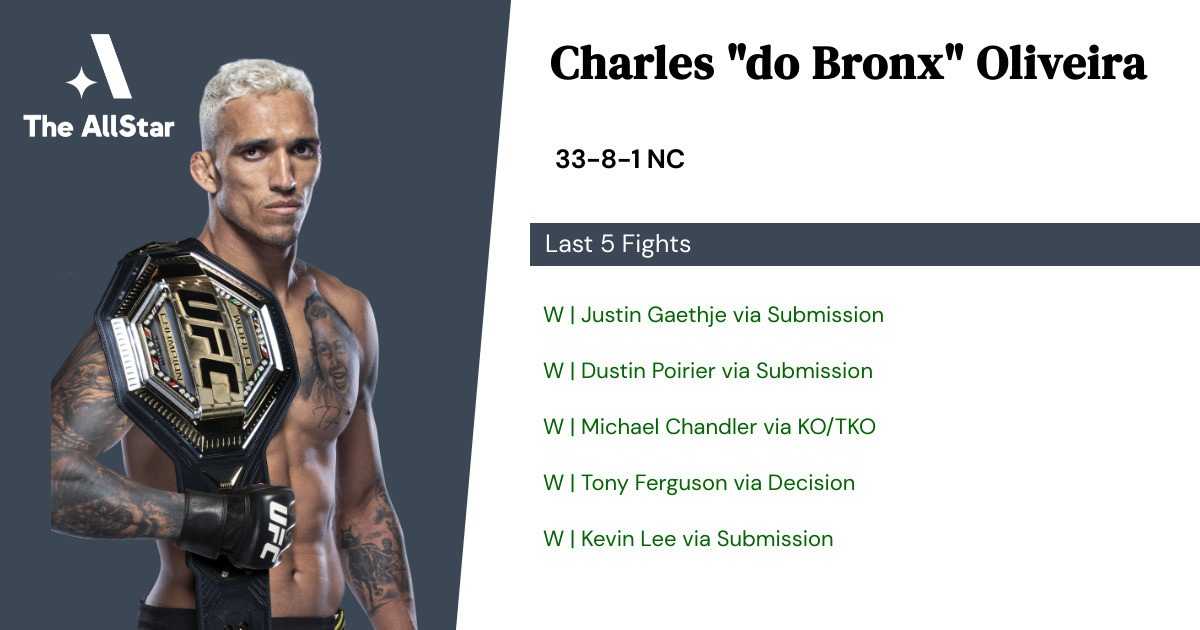 Charles Oliveira has gone 5-0 in the last 5 professional MMA fights.
Win vs Justin Gaethje • Submission R1 3:22 • 2022-05-07
Win vs Dustin Poirier • Submission R3 1:02 • 2021-12-11
Win vs Michael Chandler • KO/TKO R2 0:19 • 2021-05-15
Win vs Tony Ferguson • Decision R3 5:00 • 2020-12-12
Win vs Kevin Lee • Submission R3 0:28 • 2020-03-14
How to watch and bet on Islam Makhachev vs Charles Oliveira