Fresh off of his contract-winning performance on Dana White's Contender Series in 2021, Javid Basharat feels no added pressure heading into his promotional debut on March 12.
"The Snow Leopard", booked opposite Guam's Trevin Jones, believes there's no better place for his formal introduction to the organization than at UFC Vegas 50.
"With the fights being [held] in the [UFC] Apex," Basharat told The AllStar. "I feel like I've already had my debut."
The 26-year-old explains that carrying an undefeated record comes with pressures of its own, a factor he's learned to manage so far in his 11 professional fights. "It's something I've dealt with my whole career," the prospect recounts, clearly believing nerves won't be an issue come showtime.
Not overlooking his opponent, however, Basharat is keenly aware of the problems Jones may present inside the Octagon. "I think Trevin's a fantastic fighter," the Afghani-born Englishman began, dismissing the idea of judging his opponents on their last performance. Basharat believes outside factors affected Jones' latest outing, claiming "I know it's going to be a better version of Trevin…"
"I've prepared for him as if he was a world champion."
Having the opportunity to train in Las Vegas full time had been a goal of Basharat's for some time. The fighter believed he was falling victim to big fish syndrome before the move to Xtreme Couture. He noted how beneficial it's been to have more skilled athletes on the mats, pushing him every day in the gym.
"For me, it was a big thing," he said. "You kind of get to see the standard – and you're never gonna have a day where you're just dominant… I think you need that."
The newcomer went on to praise the coaches at the gym, admitting it was a great feeling to now be working with athletes and coaches he'd been watching on the TV for years.
"It's just a great place for me to be at this point in my career – especially because I've got so much to learn…"
Eager to put these new lessons into practice, Basharat is excited for Saturday night; applauding the stylistic matchup he's presented with. "It's a bangin' fight. He's a banger, he likes to finish," the debutant said. "I don't think he'll be [trying] to finish me [though] – I think he's gonna try to take me down…"
The streaking bantamweight is confident he'll be in control of the fight regardless of where it plays out.
"I'm good to go wherever, to be honest with you… I'm expecting a takedown from him – but I should be expecting to take that from anyone – it's MMA kickboxing."
"We're prepared for all of that, you know."
---
Fighter profile
Javid "The Snow Leopard" Basharat is a 26 year old male fighter from Afghanistan with 11 pro wins and 0 losses. Basharat is scheduled to fight Trevin Jones at UFC Fight Night: Santos vs. Ankalaev on Saturday March 12, 2022.
Javid Basharat's recent form coming into this matchup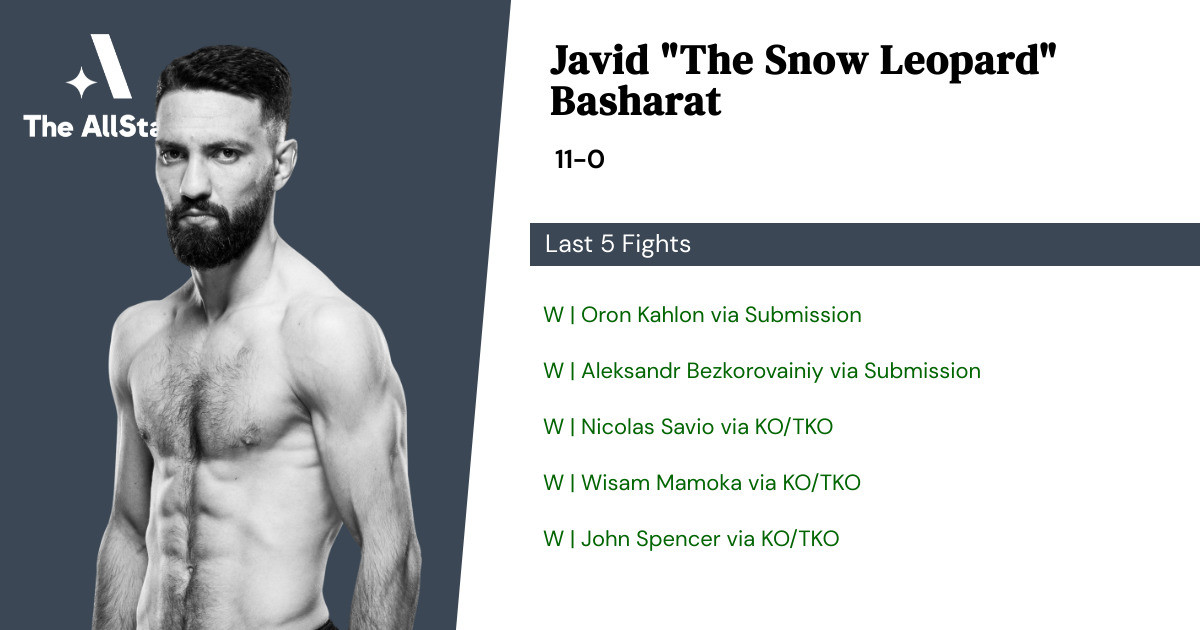 Javid Basharat has gone 5-0 in the last 5 professional MMA fights.
Win vs Oron Kahlon • Submission R3 4:12 • 2021-10-26
Win vs Aleksandr Bezkorovainiy • Submission R2 4:44 • 2020-12-05
Win vs Nicolas Savio • KO/TKO R1 • 2020-02-15
Win vs Wisam Mamoka • KO/TKO R1 • 2019-07-06
Win vs John Spencer • KO/TKO R1 1:50 • 2019-05-11
Javid Basharat's next opponent: Trevin "5 Star" Jones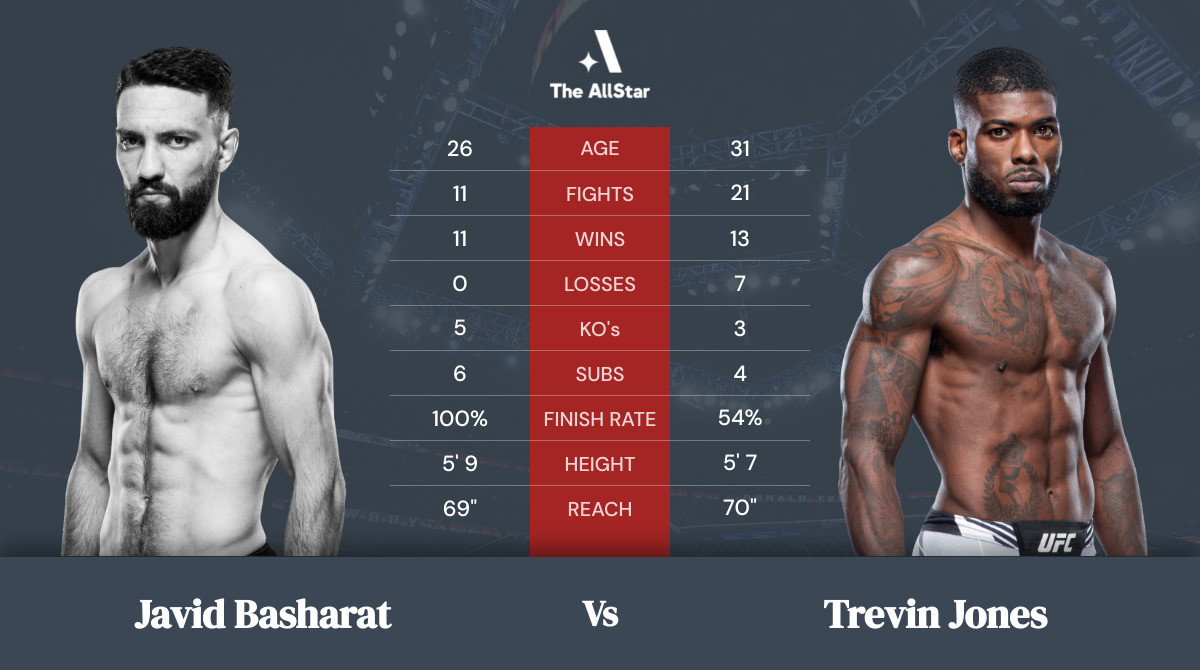 Trevin "5 Star" Jones's recent form coming into this matchup
Trevin "5 Star" Jones is a 31 year old male fighter from Guam with 13 pro wins and 7 losses. Jones is scheduled to fight Javid Basharat at UFC Fight Night: Santos vs. Ankalaev on Saturday March 12, 2022.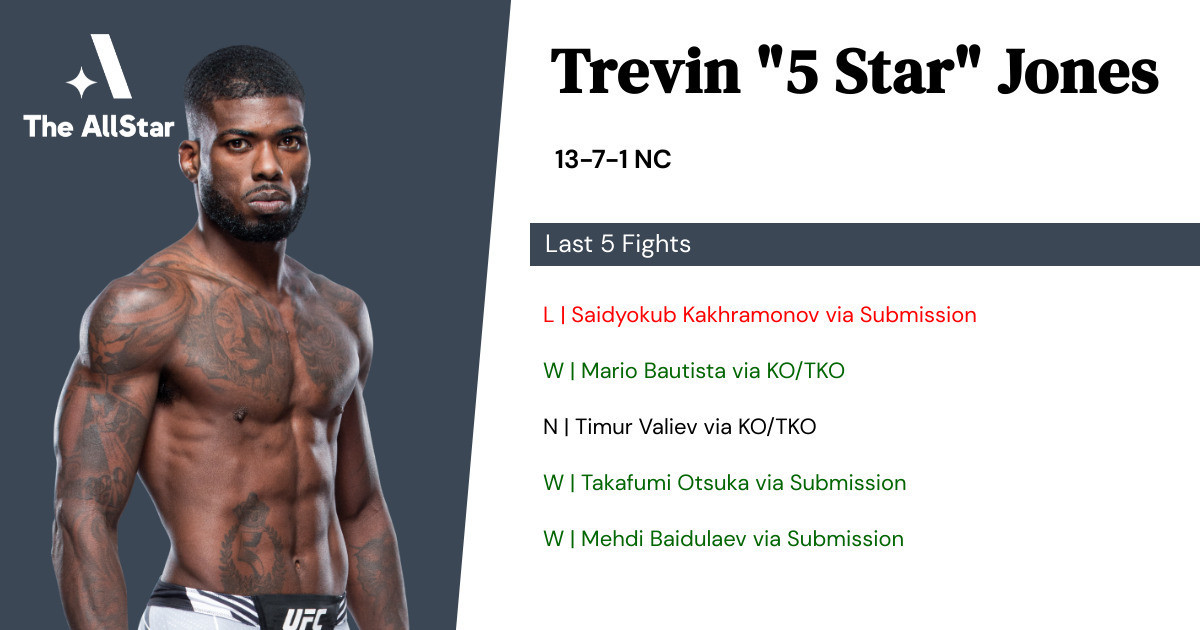 Trevin Jones has gone 3-1 in the last 5 professional MMA fights.
Loss vs Saidyokub Kakhramonov • Submission R3 4:39 • 2021-08-21
Win vs Mario Bautista • KO/TKO R2 0:40 • 2021-03-06
No Contest vs Timur Valiev • KO/TKO R2 1:59 • 2020-08-22
Win vs Takafumi Otsuka • Submission R2 1:40 • 2019-05-12
Win vs Mehdi Baidulaev • Submission R1 4:37 • 2019-01-26
How to watch and bet on Javid Basharat vs Trevin Jones