Many glamorize the dream of signing with the UFC. For "Ugly Man" Joseph Holmes, he knows better.
Holmes had to prove himself to Dana White twice before getting his UFC contract, finishing opponents both in the Contender Series and at a subsequent Fury FC fight. Even then, his debut fight took place in less-than-ideal circumstances, stepping in to replace an injured fighter on only a few days' notice. It was a rough stage to show his best self to fans.
In an interview with The AllStar, Holmes reflected on the debut fight against Jamie Pickett last January, and how things could have gone differently had he had more time to prepare. Holmes said, "I had him hurt in the first, you know. Honestly, you know obviously, it was a lot of my cardio, but I was nervous, shy; it was my UFC debut…If I could just keep the pace I had in the first going at least another round- at least half a round- things could have probably looked different."
The loss, however, didn't deter Holmes and make him feel as though he didn't belong. After all, Holmes lost his pro debut, only to follow it up with seven straight finishes.
Today, Holmes is preparing for a "second debut", a sophomore appearance against Alen Amedovski at a UFC Fight Night on May 21st. In contrast to his debut, he's had his longest training camp to date for the Amedovski fight.
The drawn-out time to anticipate the showdown is exactly what Holmes prefers.
"I had a three-month camp…it's the longest camp I've ever had in my entire life, I'm loving it," Holmes revealed.
The slow pace of the camp allowed him to focus on making some of the most necessary improvements to his game, including food and stamina.
He stressed the unexpected benefit of going with a food preparation company to supply him.
"Since I got with ICON Meals, like, you know I'm traveling to KC like I have been for a while. You know I'm waking up in the morning 10am training after driving all night long, full of energy. Not even stressing, 'Oh I need to stop and put food in my belly', you know what I mean, I already got my meals set out ready for me to make it".
In addition to the improvements to his diet, Holmes couldn't stress enough the evolution of his conditioning. He often begins workouts by tiring himself out so that he knows how to push through when his strength is dragging.
When it comes to his fight with Amedovski, Holmes looks forward to applying the pressure behind his improved cardio.
"I feel really confident," Holmes said. "I've been wrestling a lot more, I feel like we'll see a traditional Ugly Man show.
"Now that I've had enough time to focus on things, I'm gonna resort back to my old self, take this guy down, not give up on that takedown, you know what I mean and put my hands on him, but not feeling like I have to do this to win…just let myself have fun and figure out as I go what's working…I've been working so much cardio since my debut, I want to get him tired in the first round and get stronger."
---
Fighter profile
Joseph "Ugly Man" Holmes is a 26-year-old male fighter from the United States with 7 pro wins and 2 losses. Holmes is scheduled to fight Alen Amedovski at UFC Fight Night: Holm vs. Vieira on Saturday, May 21, 2022.
Joseph Holmes's recent form coming into this matchup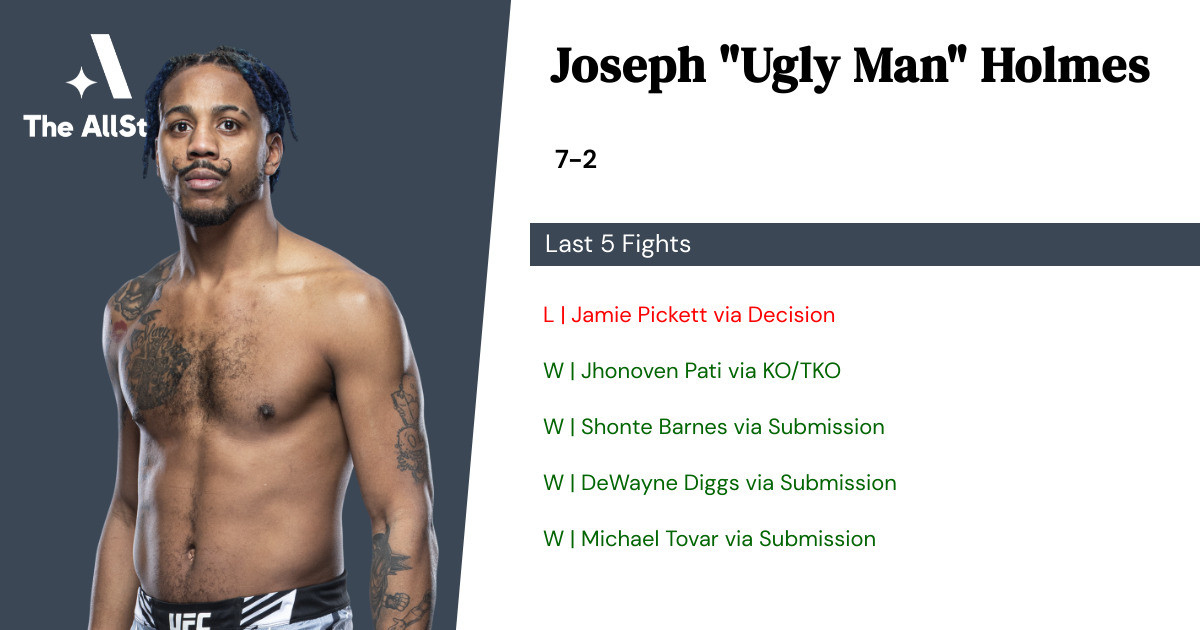 Joseph Holmes has gone 4-1 in the last 5 professional MMA fights.
Loss vs Jamie Pickett • Decision R3 5:00 • 2022-01-15
Win vs Jhonoven Pati • KO/TKO R1 2:27 • 2021-11-14
Win vs Shonte Barnes • Submission R2 2:46 • 2021-10-05
Win vs DeWayne Diggs • Submission R2 2:48 • 2021-08-27
Win vs Michael Tovar • Submission R1 3:34 • 2021-05-14
Joseph Holmes's next opponent: Alen Amedovski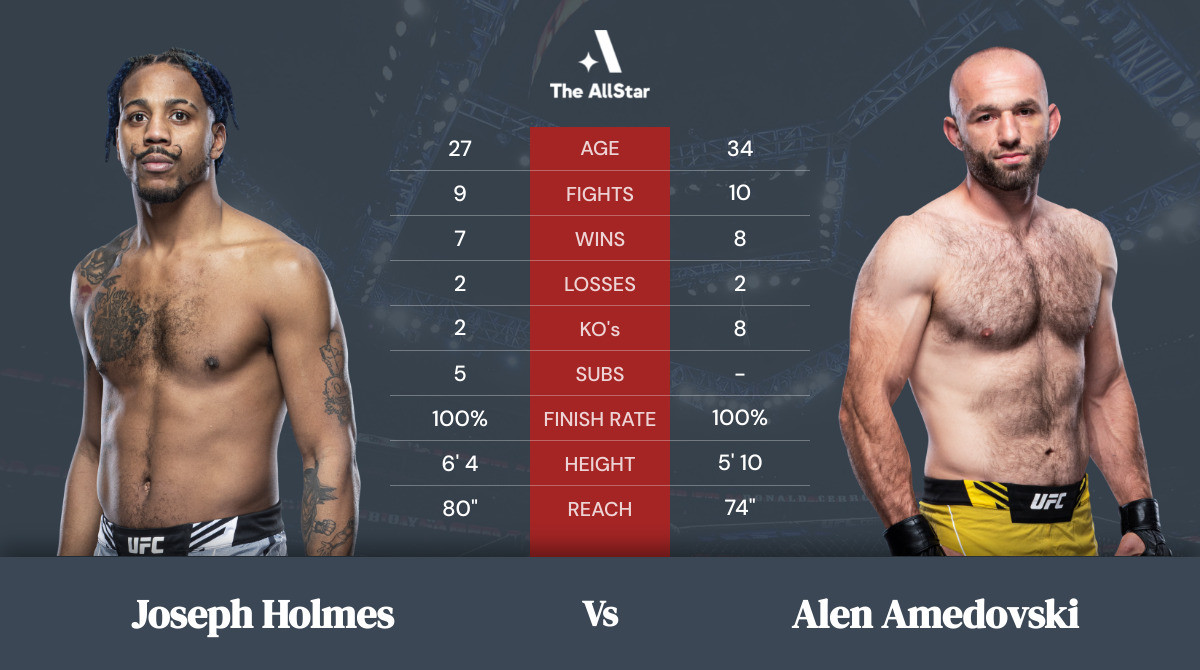 Alen Amedovski's recent form coming into this matchup
Alen Amedovski is a 34-year-old male fighter from North Macedonia with 8 pro wins and 2 losses. Amedovski is scheduled to fight Joseph Holmes at UFC Fight Night: Holm vs. Vieira on Saturday, May 21, 2022.
Alen Amedovski has gone 3-2 in the last 5 professional MMA fights.
Loss vs John Phillips • KO/TKO R1 0:14 • 2019-09-28
Loss vs Krzysztof Jotko • Decision R3 5:00 • 2019-04-20
Win vs Ibrahim Mané • KO/TKO R1 0:12 • 2018-12-01
Win vs Will Fleury • KO/TKO R1 1:49 • 2018-07-14
Win vs Badr Mamdouh • KO/TKO R2 3:06 • 2018-03-03
How to watch and bet on Joseph Holmes vs Alen Amedovski