The stars seem to be aligning for Kaleb Rideout, Eternal MMA's newly minted welterweight champion.
After a breakthrough performance that earned him the 170-pound belt at Eternal 67, the 25-year-old makes no bones about what he's aiming for: To join former Eternal alums such as Casey O'Neill, Jack Della Maddalena and Jacob Malkoun in the UFC.
Indeed, Rideout earned his strap fighting for a title in the Australian promotion that has been vacant since Della Maddalena left for the UFC. The style in which he fashioned his win over the bookie's favorite Kevin Jousset left observers – and the man himself – in no doubt about the future.
"This is just a stepping stone, you know," Rideout said in his post-fight interview. "Eternal champion, next thing you know you're gonna be looking at me as the UFC champion – and I promise that. You can clip that, cause I'll be there."
On Saturday night, 'Krazy Horse' would enter the cage as a moderate underdog to elite French judoka Jousset, who trains out of New Zealand's world-class City Kickboxing gym.
City Kickboxing Test
Working with UFC middleweight champion Israel Adesanya, among countless other top-tier martial artists, left Jousset, and the majority of punters backing him, filled with a sense of confidence that his skill set would be too vast for his opponent.
Rideout imagined a different result.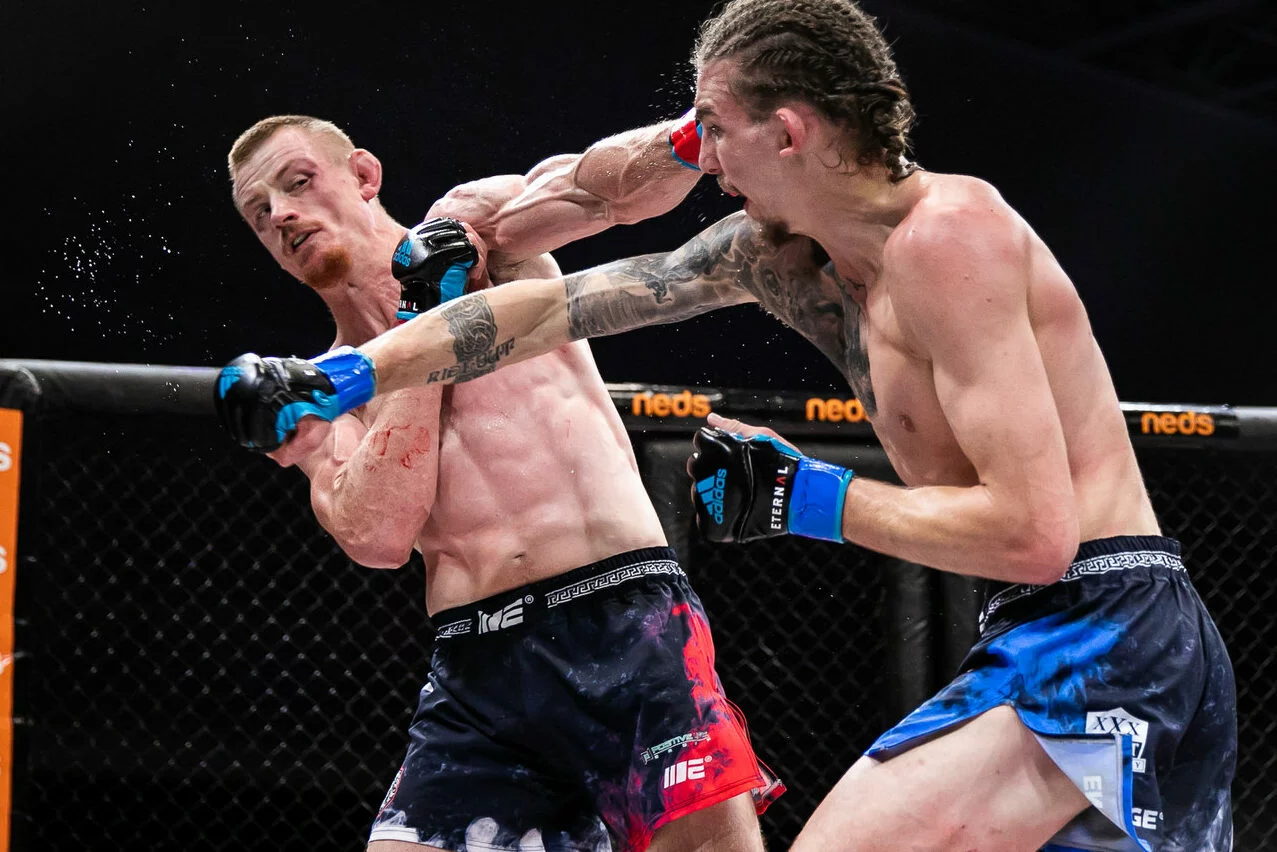 From the first horn, the unorthodox Australian striker put his footwork on display and began picking Jousset off at distance – not dissimilar to how one Sean O'Malley might operate. He utilized his offbeat movement and timing to give the Frenchman little opportunity to set his feet and pursue offense in the opening five minutes.
Rideout pulled out his usual bag of tricks – a spin here, a standing hammer fist there – but it was his capability to follow up three and four times after throwing the initial strike that truly set him apart that night.
He was already fighting like a champion.
This game plan would continue relatively unchecked until midway through the second frame when Jousset began applying a wrestle-heavy strategy. Rideout would generally prove too difficult to hold down for long stretches.
Championship quality
He showed an ability to nullify incoming offense while in precarious positions under an elite grappler, which is surely a skill that will serve him well should he grace the UFC's wrestle-centric welterweight division.
The Aussie was so poised that, even while being held in Jousset's corner, he took time to have a chat with opposing coaches Eugene Bareman and Joe Lopez.
"Very nice to meet you Eugene. Hey Joe, how you been," Rideout japed with the elite trainers while being controlled in the red corner at the end of the fourth.
"Oi, Eugene can we get a photo after this please?" he continued. Clearly the Australian's gas tank wasn't affected by the obscene pace he kept, even heading into his first ever championship rounds.
Rideout ultimately got the nod on two of the judges' scorecards after a full 25 minutes of action. The right man won the fight.
It was Rideout's flashes of brilliance on the feet, and sound defensive responsibility that steered him toward victory. To top it all off, Bareman obliged his photo request.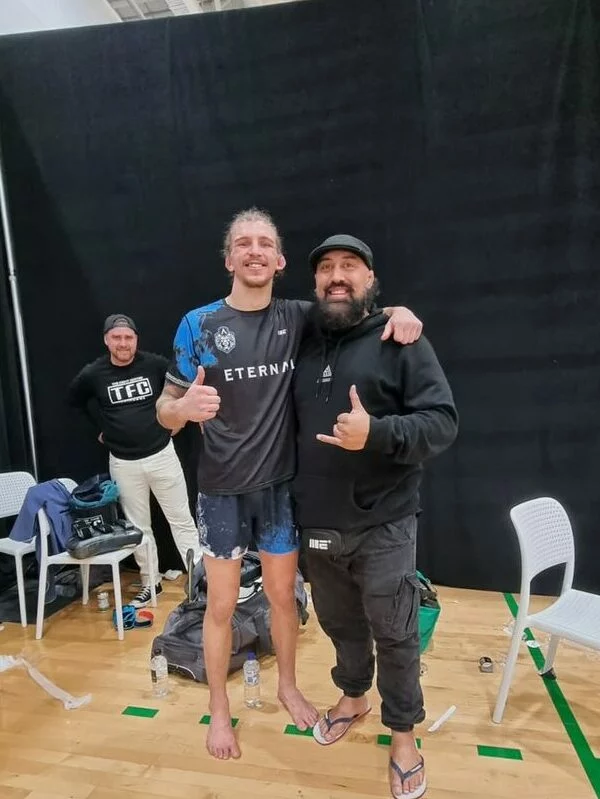 On top of the high-octane main event that closed out Eternal 67, there were a handful of standout performances lower on the card.
Justin Van Heerden
In the co-main event and number one contender bout at featherweight, Freestyle MMA's Justin 'Lockjaw' Van Heerden continued to showcase a total evolution of his game as he claimed his third straight submission victory.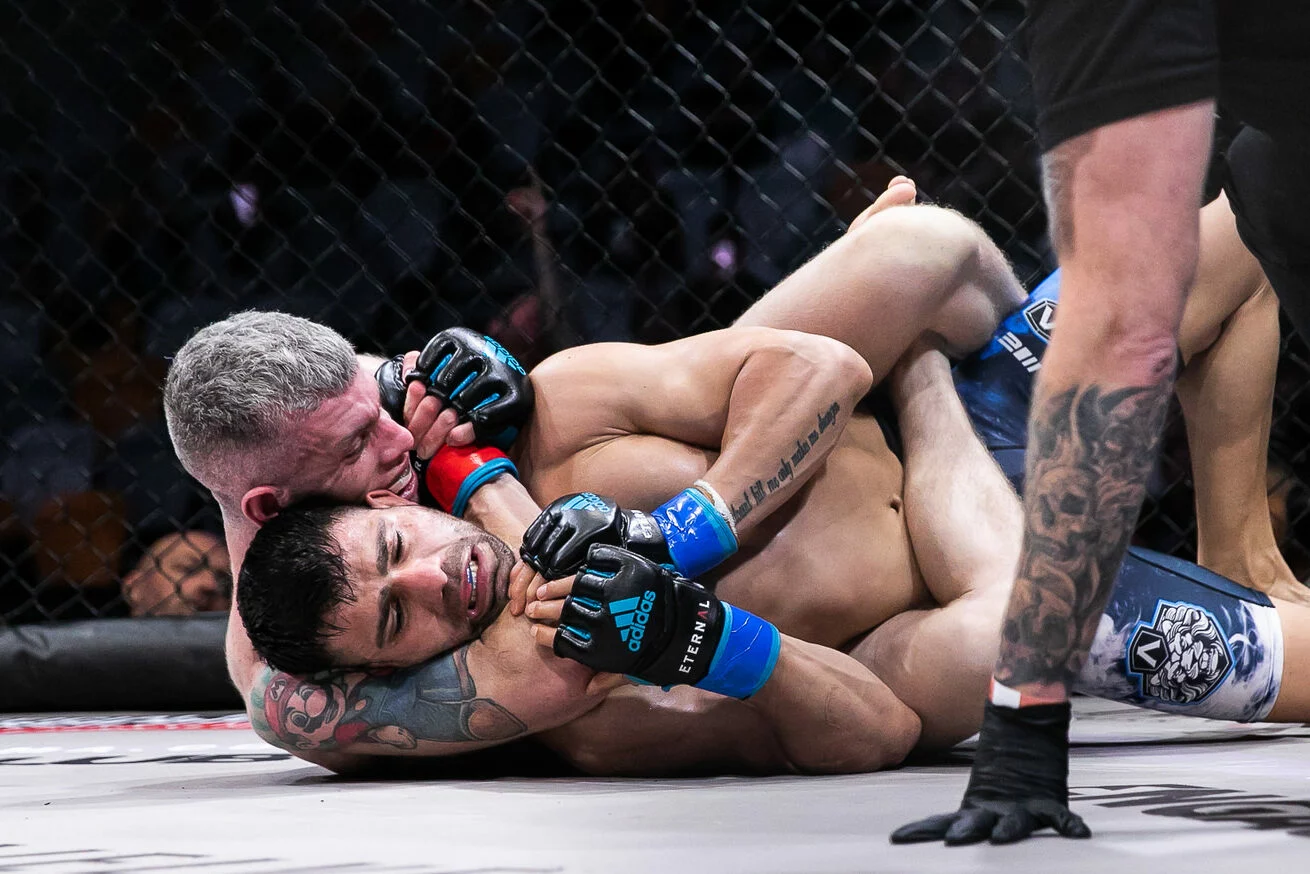 Heralded as one of Australia's highest caliber grapplers, it initially shocked fans, and even the commentary booth, to see Van Heerden choosing to stand and trade with previously undefeated powerhouse Mohammad Alavi – but after stumbling the Persian twice in the opening minutes, it was clear the risk had paid off.
When the fight hit the floor in the second, the Springbok began applying heavy offensive pressure, forcing his opponent to defend and surrender positions until 'Lockjaw' managed to find a rear-naked choke and exact a tap out of Australia's 'most avoided' featherweight.
With that win, Van Heerden coined the moniker 'Justin "Do Bronx" in his post-fight interview, and called for a shot at the 145-pound strap, currently held by Jack Jenkins who sits on a six-fight win streak.
Tom Nolan
Earlier in the night, lightweight Tom Nolan moved to 3-0 after a massive finish over Niam Stephen (now 2-1).
It took Nolan, 22, less than a round to dispose of his Kiwi dance partner, outworking him on the feet, and ultimately finishing Stephen just four minutes into the opening frame with hellacious elbows from top position.
'The Big Train' has long been touted as an up-and-comer to watch in the Australian MMA scene. With performances like Saturday's, along with a healthy amateur career and kickboxing royalty Steve and Elliot Compton guiding him, it's not hard to see why many believe Nolan has the capability to make it on the world stage.