Time is not on Victor Henry's side.
Once labeled one of the hottest 135-pound prospects outside of the UFC, the 35-year-old was a mainstay and title holder in multiple Asian promotions throughout his prime. Now, edging ever closer toward the end of it, he has a final tall task in the crosshairs before Father Time rears its head: ascend the cut-throat UFC bantamweight ladder.
In his sophomore outing at UFC Vegas 62, Henry will face Raphael Assunção in a high-stakes clash between elder statesmen – each brimming with motivation but with limited years left on the clock.
Though Assunção is on a four-fight skid into the matchup, the 40-year-old serves as a solid early gauge for Henry's upper-bound limits. The Brazilian can claim wins over current and former champions Aljamain Sterling and TJ Dillashaw, but both victories were more than five years ago – and Assuncao has never held UFC gold himself. Following back-to-back knockout losses, he'll be undoubtedly yearning to restore a semblance of glory to his name before inevitably hanging up the gloves.
But Assunção's record doesn't matter – that's how Henry sees it: "I really don't look at wins and losses," he told The AllStar while discussing how he views the matchup. It's a tough test against a bantamweight mainstay with an axe to grind and value to his name.
Henry points to the pairing as a demonstration of just how highly regarded he feels he is by UFC brass.
"Assunção was the highest ranked on the list [that they gave me]," Henry told The AllStar in a recent interview. "So I was like 'all right let's go there,' so that only goes to show what the UFC is trying to do with me."
Though now finding his feet in the weight class, Henry was initially unsure where he'd fit in in the UFC's stacked 135-pound division. There's limited room on the top 15 ladder, and competition is fierce, even outside of the rankings. As such, when first signing with the promotion, 'La Mangosta' just didn't know what they planned to do with him.
However, following a successful debut in January and a subsequent call-up to face Assunção, he now feels that he's on track to become a problem at bantamweight.
"Seeing how they're giving me a top guy, now I gotta train for it," Henry says as if he'd been holding back until now. He knows as well as anyone that you can't underestimate a crafty vet.
"Assunção's in an interesting spot at this point in his career and I can't take anything lightly. So even though he's had a couple losses, the most dangerous somebody can be is when they're backed in the corner – and I believe he's gonna come out fighting."
Significant strikes
In preparation, Henry studied his opponent's habits and tendencies meticulously – but more than that, he's focused on altering his own. He was ecstatic to break the record for the most significant strikes in a bantamweight bout during his last outing but disappointed he couldn't finish the fight.
He vowed that won't happen again.
"For this fight, you can expect the same level of activity, but I plan on having them out there before before the third."
"I want to go out there and I want to solidify myself as better than him so I can start climbing up that rank."
---
Fighter profile
Victor "La Mangosta" Henry is a 35 year old male fighter from United States with 22 pro wins and 5 losses. Henry is scheduled to fight Raphael Assunção at UFC Fight Night: Grasso vs. Araujo on Saturday October 15, 2022.
Victor Henry's recent form coming into this matchup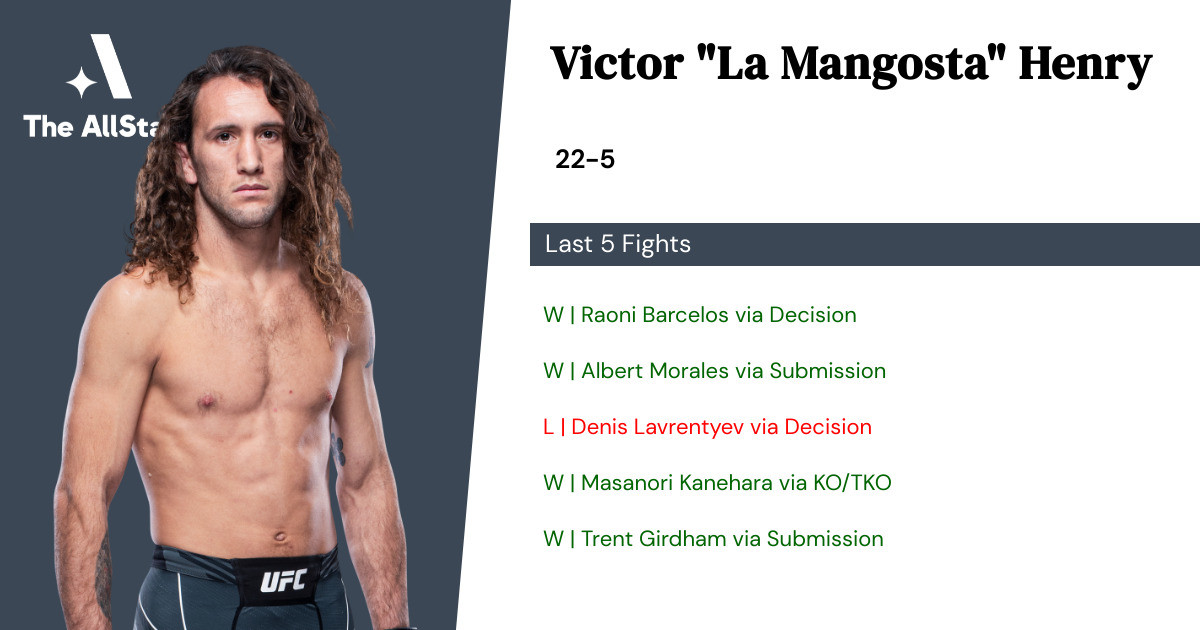 Victor Henry has gone 4-1 in the last 5 professional MMA fights.
Win vs Raoni Barcelos • Decision R3 5:00 • 2022-01-22
Win vs Albert Morales • Submission R2 1:46 • 2021-10-30
Loss vs Denis Lavrentyev • Decision R3 5:00 • 2020-11-07
Win vs Masanori Kanehara • KO/TKO R2 0:45 • 2020-02-22
Win vs Trent Girdham • Submission R3 2:14 • 2019-08-18
Victor Henry's next opponent: Raphael Assunção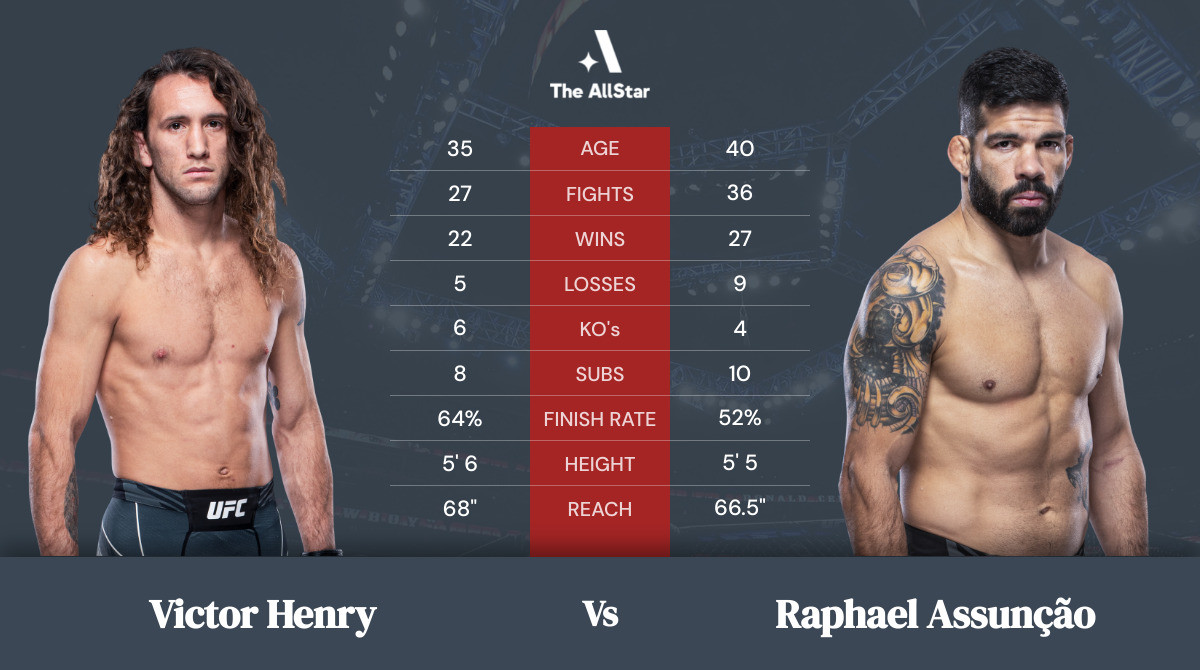 Raphael Assunção's recent form coming into this matchup
Raphael Assunção is a 40 year old male fighter from Brazil with 27 pro wins and 9 losses. Assunção is scheduled to fight Victor Henry at UFC Fight Night: Grasso vs. Araujo on Saturday October 15, 2022.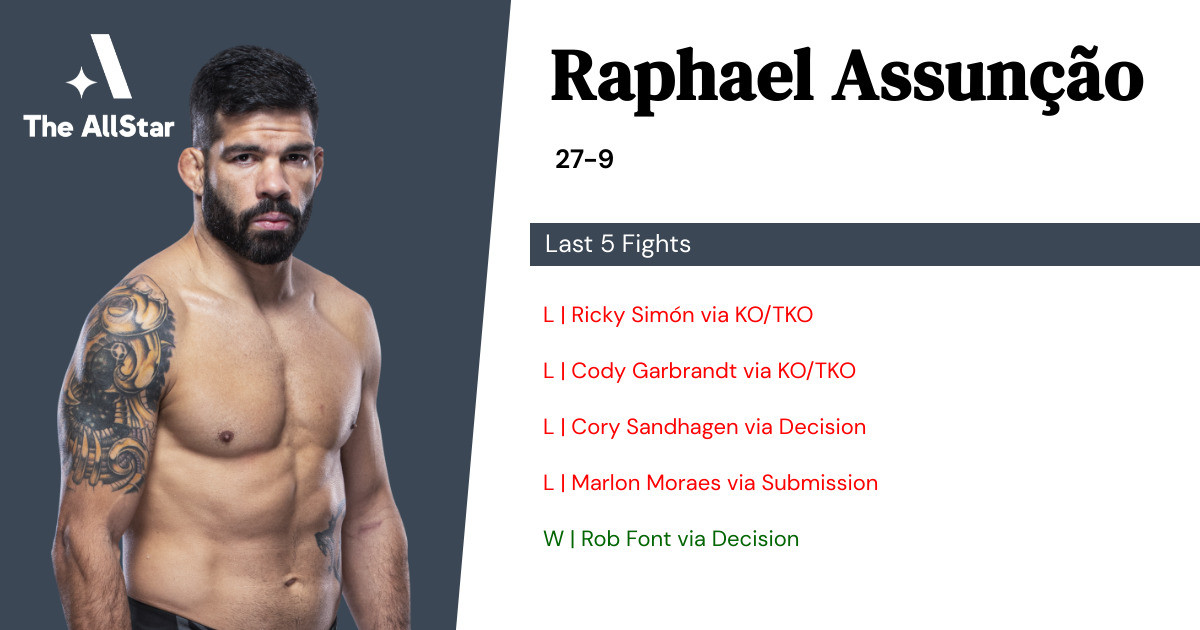 Raphael Assunção has gone 1-4 in the last 5 professional MMA fights.
Loss vs Ricky Simón • KO/TKO R2 2:14 • 2021-12-18
Loss vs Cody Garbrandt • KO/TKO R2 4:59 • 2020-06-06
Loss vs Cory Sandhagen • Decision R3 5:00 • 2019-08-17
Loss vs Marlon Moraes • Submission R1 3:17 • 2019-02-02
Win vs Rob Font • Decision R3 5:00 • 2018-07-07
How to watch and bet on Victor Henry vs Raphael Assunção
Keep track of all the latest odds and line-movements at our bout page for this matchup.