Veteran heavyweight Mark Hunt still has fire in the belly.
On the latest installment of The AllStar's Fine Dining with Fighters, the 48-year-old let slip that another soirée into the boxing ring is on the cards at home in Australia; the real reason behind his whirlwind visit to Phuket, Thailand. However, he kept most details of the bout close to his chest.
"They coaxed me out of my wheelchair," the Kiwi said with a grin when probed on why he had made the trip across the pond.
The driving force behind the decision to lace up the gloves once again? "Money of course."
"That drives me. I got lawsuits to pay, you know. Shit to look after, kids to feed," Hunt leveled with host, John Hyon Ko.
"But I love competing, It's been a long time. I still got the fire cuz."
While the 30-plus-year martial arts veteran was hesitant to give any specifics surrounding his return, such as an opponent or targeted date, he did share that the deal was made on his terms, and he's happy with how it's panning out.
"The pros outweighed the cons by miles, so it got me off the couch, trying to get healthy again. Good money, of course; and it's on my terms. I was happy with the deal and there was no bullshit about it – unlike like some fucking companies you deal with."
Happy as he may be to step back inside the ring for his 57th professional combat sports contest, Hunt's fully aware he'll fill the role of the elder statesman in the upcoming bout. In a sport where the old are fed to the young, he has no illusions of what his, as yet unnamed, opponent hopes to gain from the pairing.
"They got the old man out of the wheelchair and they want to use me as a 'we'll take his name' – cause I got a great name. Even though it's an old name, it's a great name."
Even so, Hunt hopes to employ a gameplan that stretches back as far as his professional career, beginning in 1998:
"I'll knock his teeth out."
Quizzed on why he chose to make his return in boxing rather than mixed martial arts, Hunt revealed that he had previously been in talks with promotions such as ONE Championship and bare-knuckle boxing outfit BKFC, though negotiations eventually fell through.
"Nothing eventuated from them. Probably because people are scared about the lawsuit I'm in. After the UFC I couldn't get a job because people get scared about trying to pick someone up if they're suing them."
"The only thing that made sense was boxing."
---
Fighter profile
Mark "Super Samoan" Hunt is a 48-year-old male fighter from New Zealand with 13 pro wins and 14 losses. Hunt most recently fought Paul Gallen at Sydney Super Fight: Tszyu vs. Morgan on Wednesday, December 16, 2020.
Recent form in MMA coming into this matchup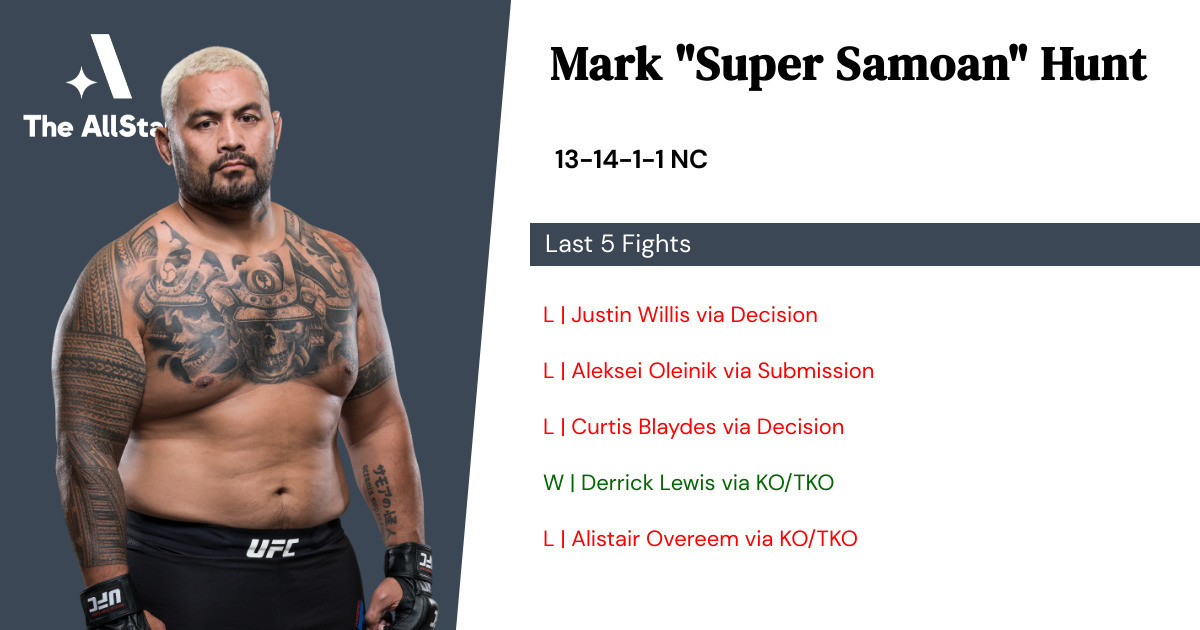 Mark Hunt has gone 1-4 in the last 5 professional MMA fights.