UFC lightweight Matt Frevola will return at UFC 270 on Jan.22 against Genaro Valdez.
"Steamrolla" spoke to The AllStar's John Hyon Ko about:
The Valdez Matchup
Honeymoon in Italy
Training at Serra-Longo
Thoughts on Valdez (5:36)
"He's a good undefeated fighter with a lot of finishes. I saw him on the Contender Series and he's tough. He comes out throwing but I saw he's a Mexican fighter. I'm thinking he's a boxer but then you go and look at all of his fights he looks to grapple every fight. So I wanna say he's almost like a new-age Mexican MMA fighter which I'm excited for. I'm very well-rounded so I'm prepared for it.
"I love to strike. I love to wrestle. I love jiu-jitsu. So that's why I love mixed martial arts. Being able to use every aspect of fighting and putting it all together in the cage is what always comes most natural to me."
Prediction for the Fight(11:15)
"This guy Valdez. He's a good, undefeated fighter making his UFC debut. I remember when I was undefeated making my UFC debut thinking that my shit don't stink and I had a little wake-up call. That's what I plan on doing to this guy. Welcoming him to the UFC and welcome him to the talent level that's in the UFC."
Watch this interview and more on The AllStar's Youtube channel.
---
Fighter profile
Matt "Steamrolla" Frevola is a 31 year old male fighter from the United States with 8 pro wins and 3 losses. Frevola is scheduled to fight Genaro Valdéz at UFC 270: N'Gannou vs. Gane on Saturday January 22, 2022.
Frevola's recent form coming into this matchup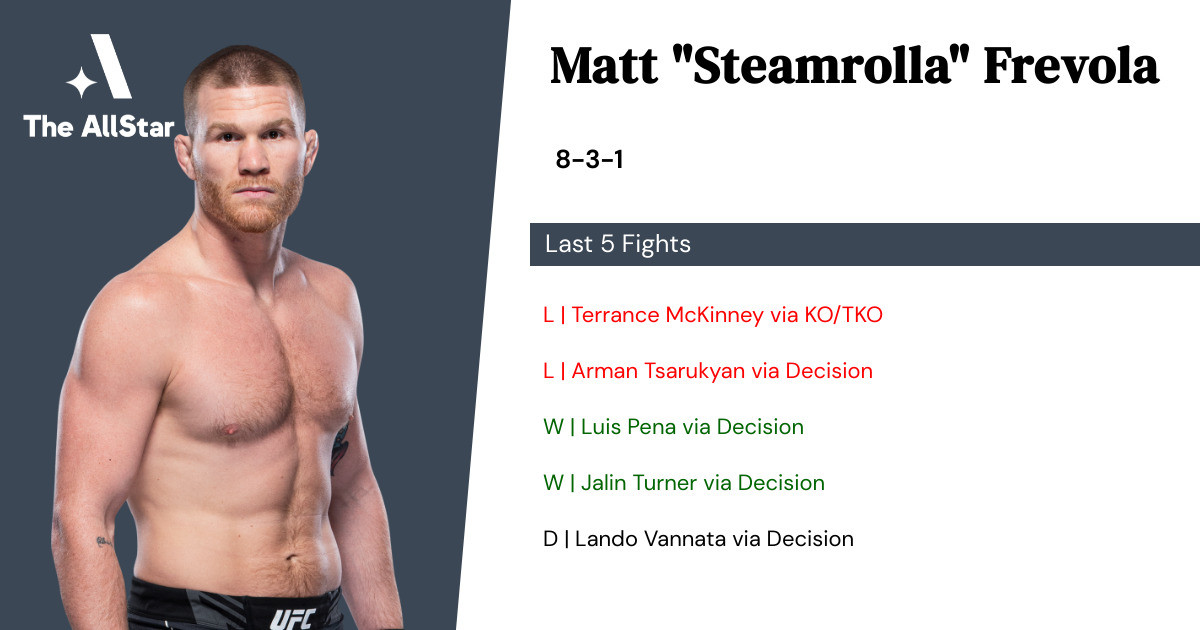 Frevola has gone 2-2-1 in the last 5 professional MMA fights.