UFC journalists love to jump on a good beef especially if there's a title fight involved.
That's certainly been the case in the lead-up to UFC 270 and its main event, the heavyweight unification bout between old sparring buddies Francis N'Gannou and Cyril Gane.
In recent weeks, writers have focused invariably on supposed beefs between the two fighters, between N'Gannou and his old coach Fernand Lopez, and even between Lopez and N'Gannou's current mentor Eric Nicksick.
Indeed, there's nothing like a good heavyweight title fight to generate some hype. And sometimes it's just that: hype. Lopez is sick of talking about his fall-out with his old charge and is willing to let bygones be bygones.
---
---
Nicksick, meanwhile, is no hype merchant. In a recent interview with The AllStar, the Xtreme Couture coach did candidly voice his displeasure over apparently leaked footage of N'Gannou sparring with Gane years ago. But he did so in a manner that revealed his respect for the fight game and the high standards by which he holds people to.
How he spoke about Gane is also revealing. There is only respect and nothing to indicate any ill will toward a fighter who is 10-0 in professional MMA. Nicksick says he's been "sitting down and breaking down" Gane ever since he beat Alexander Volkov in June last year. Within two months, Gane was back in the ring to finish Derrick Lewis early.
"He's been on my radar," Nicksick told The AllStar earlier this month. "Really Ciryl and Derrick Lewis were kinda the guys that were shaping the landscape of the heavyweight division outside of us or Stipe. I've had my eye on him for a while and I think that this guy definitely deserves this opportunity of where he's at, he's earned it."
No hype, no beef. All business, without giving too much away.
"Some of the things we've been working on outside of the fight that you've seen…you've seen the KO stuff," Nicksick said. "A lot of the things we've been working on I think you'll definitely see Jan. 22nd for sure."
Implicit in any coach's planning is to map out scenarios and strategies for his fighter. Nicksick is no different and it's helpful that he's in the corner of a stone-cold finisher like N'Gannou.
"I scenario, problem solve and do all these things in my head but I don't try to put it out to the fighter because I don't want to put more information in their head that they need to know," he said. "If something presents itself, I want make sure I have that in my head.
"I've done that quite a few times and I just watch this man go in there and just totally knock somebody out cold. I think you're going to expect fireworks in that fight and I'm excited for both camps. I think this is a great fight and if Francis does stay in the UFC and everything works out as planned, I think this fight will probably happen three times in these guys' careers."
Fighter profile
Ciryl "Bon Gamin" Gane is a 31 year old male fighter from France with 10 pro wins and 0 losses. Gane is scheduled to fight Francis N'Gannou at UFC 270: N'Gannou vs. Gane on Saturday January 22, 2022.
Gane's recent form coming into this matchup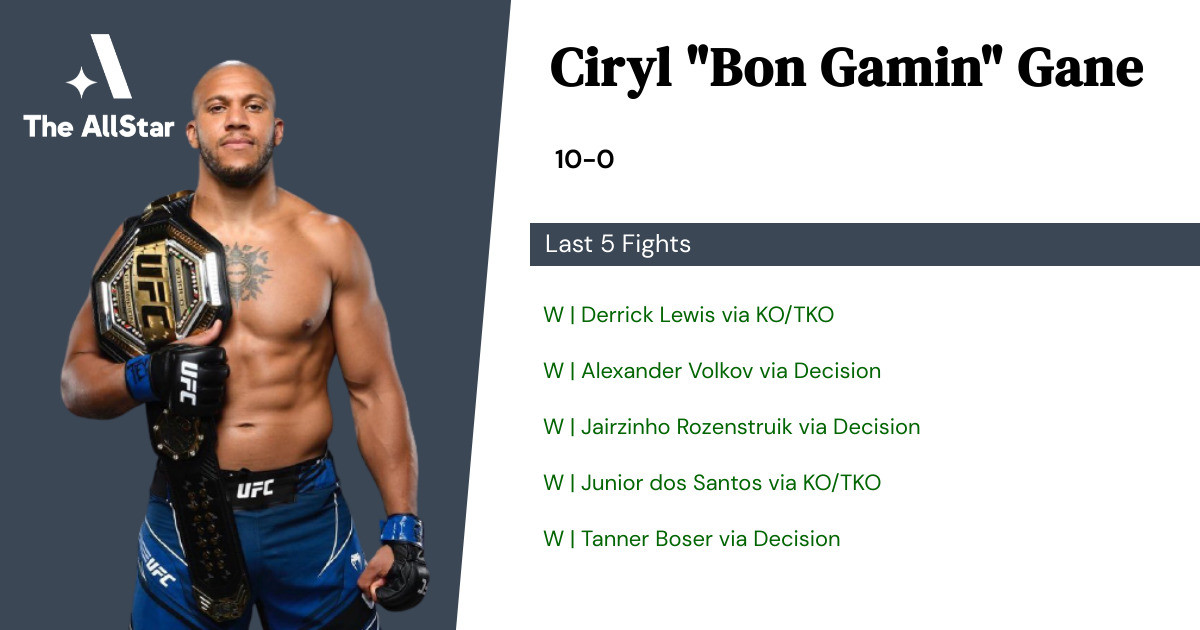 Gane has gone 5-0 in the last 5 professional MMA fights.
Ciryl Gane's next opponent: Francis "The Predator" N'Gannou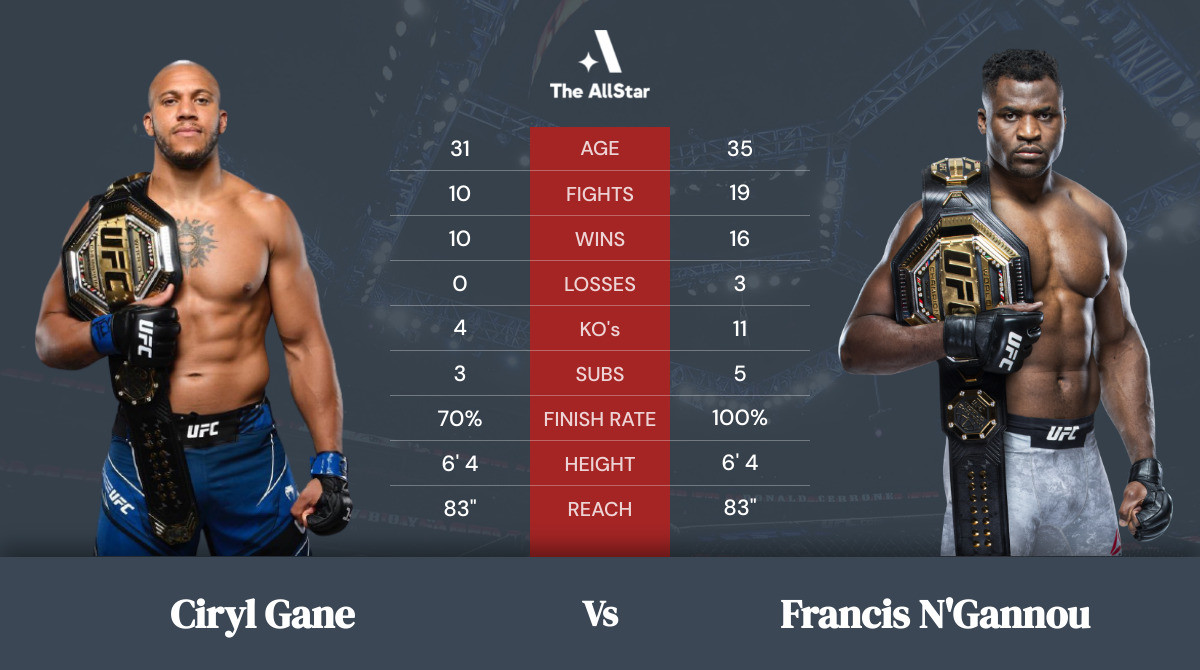 Francis "The Predator" N'Gannou's recent form coming into this matchup
Francis "The Predator" N'Gannou is a 35 year old male fighter from Cameroon with 16 pro wins and 3 losses. N'Gannou is scheduled to fight Ciryl Gane at UFC 270: N'Gannou vs. Gane on Saturday January 22, 2022.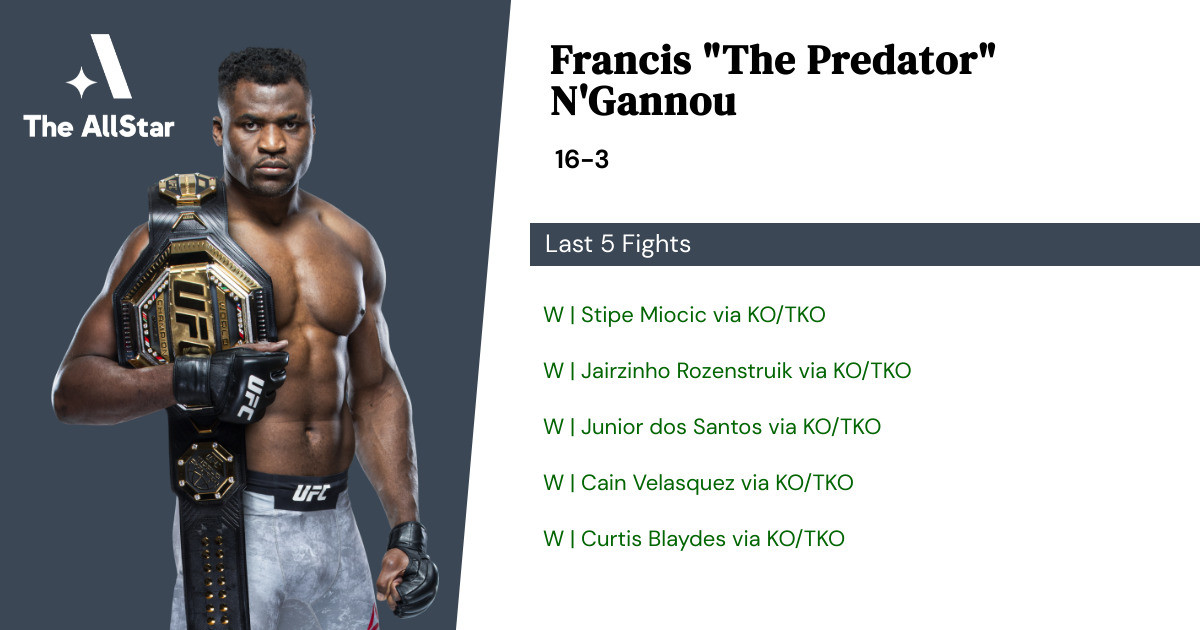 N'Gannou has gone 5-0 in the last 5 professional MMA fights.
Win vs Stipe Miocic • KO/TKO R2 0:52 • 2021-03-27
Win vs Jairzinho Rozenstruik • KO/TKO R1 0:20 • 2020-05-09
Win vs Junior dos Santos • KO/TKO R1 1:11 • 2019-06-29
Win vs Cain Velasquez • KO/TKO R1 0:26 • 2019-02-17
Win vs Curtis Blaydes • KO/TKO R1 0:45 • 2018-11-24
How to watch and bet on Ciryl Gane vs Francis N'Gannou
Keep track of all the latest odds and line-movements at our bout page for this matchup.