Fabricio de Andrade is unwilling to wait without any guarantees.
With three straight ONE Championship wins under his belt, the Brazilian bantamweight is chomping at the bit for a title fight. First he has to wait for the outcome of the John Lineker-Bibiano Fernandes contest, which is due to take place in the first quarter of 2022.
ONE Championship has yet to officially announce a date for that match-up to decide the undisputed holder of the bantamweight belt. And the contenders are lining up. Besides de Andrade, fighters like "Pretty Boy" Kwon Won Il and Team Lakay's Stephen Loman all have an argument for the next title shot.
"We still don't know when the title fight is going to happen," de Andrade told The AllStar. "We still haven't had any updates and I don't want like sitting and waiting too long to fight.
"Loman, he's good. I want to fight the best guys," the kickboxing phenom said. "The two people that could fight for the title are me and Loman."
The 24-year-old last fought at ONE Championship: Winter Warriors 2 in December, finishing Kai Wen Li in the first round with a vicious flurry of head strikes.
Later in the night, Kwon Won Il made his presence felt by dismantling former champion Kevin Belingon and calling for the next title shot. While impressed by Kwon, de Andrade believes the South Korean's loss to Shoko Sato still looms heavy. The Brazilian won a decision against Sato last February to earn his spot in the rankings.
"He wants to fight for the title but I think it's too soon for him," de Andrade asserted. "He wasn't ranked. He lost to Sato. Sato is ranked as well. I understand that he wants it. He can have like one more fight and then he can fight for the title. But I think right now if you think about what makes sense in the rankings is Loman and me would have to fight.
"If you think the title fight will happen in March, then by then when they fight the champion is gonna want to have some rest. It's going to take months. So I don't want to wait from like now December to October to fight again. That would be a long time waiting so I would rather fight another good guy. Beat another good guy and then I can fight again for the title."
De Andrade's mentality is to keep his nose to the grindstone and clock his time inside the gym and on the mats. He is adamant the pieces will fall into place at the right moment.
"I keep training hard. I keep doing what I have to do. Like I had to leave Thailand to get better training. Those little actions are making me improve as well with time. And when the opportunities come, I gonna always be ready because I'm doing everything I can to be ready."
Watch this interview on The AllStar's Youtube channel.
---
Fighter profile
Fabricio "Wonder Boy" de Andrade is a 24 year old male fighter from Brazil with 6 pro wins and 2 losses. de Andrade most recently fought Kai Wen Li at ONE Championship: Winter Warriors 2 on Friday December 17, 2021.
Fabricio de Andrade's recent form coming into this matchup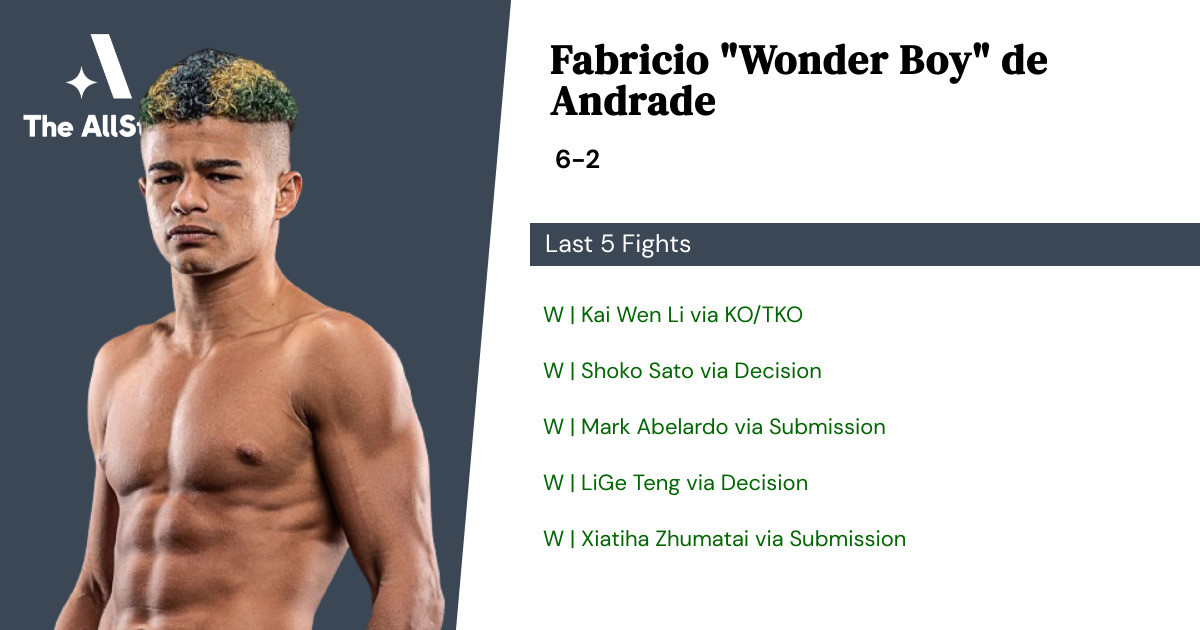 Fabricio de Andrade has gone 5-0 in the last 5 professional MMA fights.
Win vs Kai Wen Li • KO/TKO R1 4:41 • 2021-12-17
Win vs Shoko Sato • Decision R3 5:00 • 2021-02-05
Win vs Mark Abelardo • Submission R2 1:11 • 2020-07-31
Win vs LiGe Teng • Decision R3 5:00 • 2019-05-17
Win vs Xiatiha Zhumatai • Submission R2 3:24 • 2018-04-01