The AllStar's John Hyon Ko covers Road to UFC: Episode 3 & 4 live from Singapore. His commentary on the weigh-ins followed with the fight blog.
Fight results, commentary – Friday, June 10
6:30 pm: Fight are done. Looks like either we will see the next round in September in Shanghai or October in Abu Dhabi but just hearsay. See you Sunday for UFC 275.
6:24 pm: Both kick at the same time and Wulijiburen is hit in the cup. Short break and back to action. Nose gets the quick finish. Looks like Wulijiburen injured his knee. Nose with the TKO due to injury.
6:15 pm: Bantamweight main event between Shohei Nose and Wulijiburen is about to go down. Let's see if Wulijiburen will wrestle his oppoent to the ground and grind him out.
6:06 pm: Kim makes quick work of his opponent. Didn't even break a sweat. KO victory for 'Red Horse'.
6:02 pm: Lightweight bout between Asikerbai Jinensibieke and Kyung Pyo Kim up now. Kim is looking as one of the favorite in the tournament. He gets to prove it shortly.
5:55 pm: Angga engaging in the striking and holding his own but Lu dips under and gets the takedown easy. Working from top with peppering shots. Some slick BJJ from Lu trapping the arm. Heavy gap in skill it looks on the ground. Angga just eating punches. Heavy shots from top and it is over. Lu get the TKO victory.
5:50 pm: The boys are banging. Angga initiates the grappling but Lu doing well defending. Lu looking for kill shots. Angga failing with the wrestling and Lu landing solid strikes. Lu dips under and gets the takedown.
5:40 pm: Lu Kai and Angga Hans battle next in a featherweight contest. Lu has a 100% finishing rate. Let's see if he can take out the Indonesian ground specialist.
5:28 pm: Park puts his undefeated record on the line. Solid jab lands for Park. Siregar kicking alot. Combo ending in a nut shot. Siregar is visibly in major pain. He is folded on the mat but gets back up. Park and Siregar are throwing. They start to grapple and Park is on top. He pounds him out. TKO finish for Park.
5:20 pm: Flyweights up next with Hyun Sung Park taking on Jeremia Siregar. Park was Topnoi's training partner for this training camp. Interesting since they are on the same side of the bracket. But he has to win to even be in a scenario of fighting Topnoi.
5:11 pm: Left counter looking sharp for Kim. Hard right for Adajar but Kim is landing clean with strikes. Lunging body shot. Adajar is working but eats a counter and drops. Kim on top working some grappling. Adajar holding on to the hands and eating punches. Kim went for the armbar and transitioned to the triangle. Adajar taps. Kim gets the submission.
5:03 pm: Back to action! Episode 4 kicks off with a welterweight non-tournament bout between Han Seul Kim and John Adajar. Kim should be the favorite here.
4:31 pm: Episode 4 will start at 5pm local time. See you then.
4:00 pm: Episode 3 is over and we will have a short intermission. I guess Topnoi had a victory cigarette after the fight.
3:57 pm: Lee looking to strike and Bin dips under but taking heavy elbows. Lee grabs the arm out of nowhere and it is over. Lee via armbar submission.
3:51 pm: Main event time. This is going to be a banger. Jeong Young Lee and Xie Bin face off in a featherweight bout. Both are highly skilled and talented. I'm hyped for this one.
3:45 pm: Yuma eating shots and walking forward. Topnoi landing heavy punches and elbows. Yuma gets into a scramble and lands on top. He has the back but couldn't do anything. Topnoi via UD.
3:36 pm: Yuma mixing in the grappling early. Yuma pressing Topnoi on the fence, working hard for a single leg. Yuma attacking the neck and taking the back. Yuma almost had the choke but Topnoi toughs it out. He gives out a couples yells to end the round.
3:30 pm: Yuma pressuring. Good striking exchanges. Topnoi clips Yuma and getting the better of the striking. The left kick and left overhand landed with consistency.
3:15 pm: One of the fights of the night coming up next. A flyweight bout between Yuma Horiuchi and Topnoi Kiwram. This is going to be interesting.
3:11 pm: Nakamura is very highly touted coming out of Japan. Great takedown for Nakamura. There seems to be a huge skill difference on the ground. Heavy punches. Opposite side crucifix for Nakamura. Big punches again. Gusman can not get out. Ref steps in for illegal elbows. Nakamura gets a point deduction. The refs are not playing around. Yesterday a point was taken without warning. Big takedown for Nakamura again. This guy is a crazy grappler. Nakamura with the Kimura submission. Gusman seems to be injured.
3:00 pm: No break between fights. A bantamweight clash between Rinya Nakamura and Gugan Gusman. Gusman came in at 133.5. I wonder if that is an advantage or disadvantage.
2:57 pm: Seo needs to win with a finish but doing nothing to initiate the fight. Knutsson landing strikes with Seo whiffing. Seo with some damage on her face. Seo tries to take her down but no success. That was the worst fight of the week so far. Seo really had nothing. The long layoff and lack of striking really inhibited her. Knutsson wins via UD.
2:48 pm: Illegal knee along the fence. Seo eats a solid one. Short break and back to action. Knutsson winning all the striking exchanges and showing more strength. Lots of clinch fighting. Knutsson drags Seo to the ground. Some punches land from top. She moves to half guard. Seo has nothing for her.
2:42 pm: They danced around for the first two minutes. Seo tries for a takedown. Knutsson working well in the clinch. This is probably the most uneventful first round of the tournament so far. Lots of movement but no action. I have no idea who won that round.
2:30 pm: Just in time for the first fight. A women's strawweight between Ye Dam Seo and Josefine Knutsson up first. A non-tournament bout.
11:25 am: Good morning from Singapore as we wait for hostilities to commence at Road to UFC: Episode 3 & 4. I will be providing the results and commentary from the Singapore Indoor Stadium. The fights start at 2:30 pm local time.

While you're here, catch up on my live coverage of Episode 1 & 2 bouts yesterday. You can also check out my commentary on the Episode 3 & 4 weigh ins.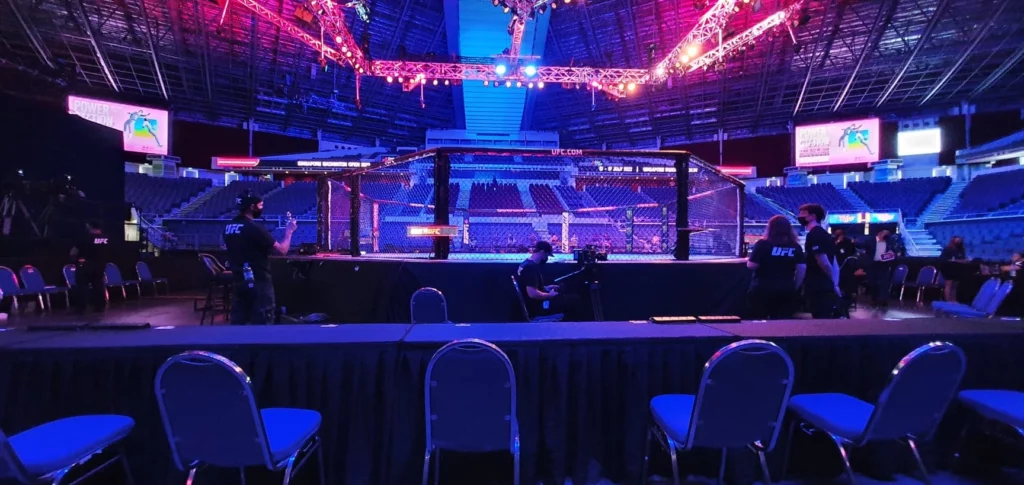 Weigh in commentary – Wednesday, June 8
Road to UFC: Episode 3 weigh in results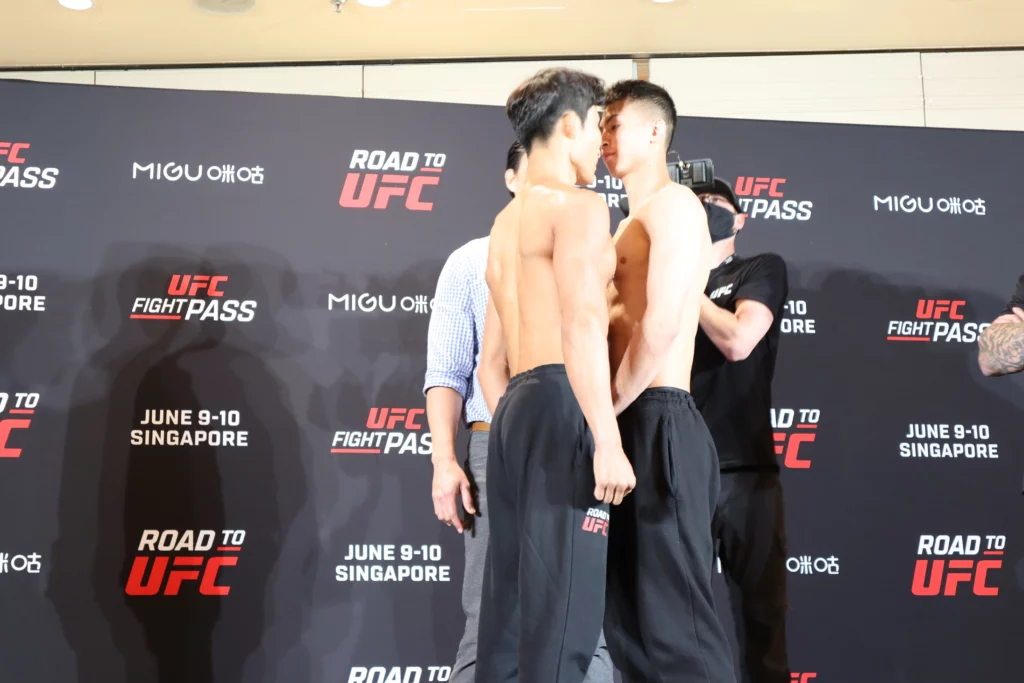 Featherweight: Jeong Young Lee (146) vs Xie Bin (145.5)
Flyweight: Yuma Horiuchi (126) vs Topnoi Kiwram (126)
Lightweight: Anshul Jubli (155.5) vs Sho Patrick Usami ()
*Usami did not weigh in due to an injury sustained. Details are fickle.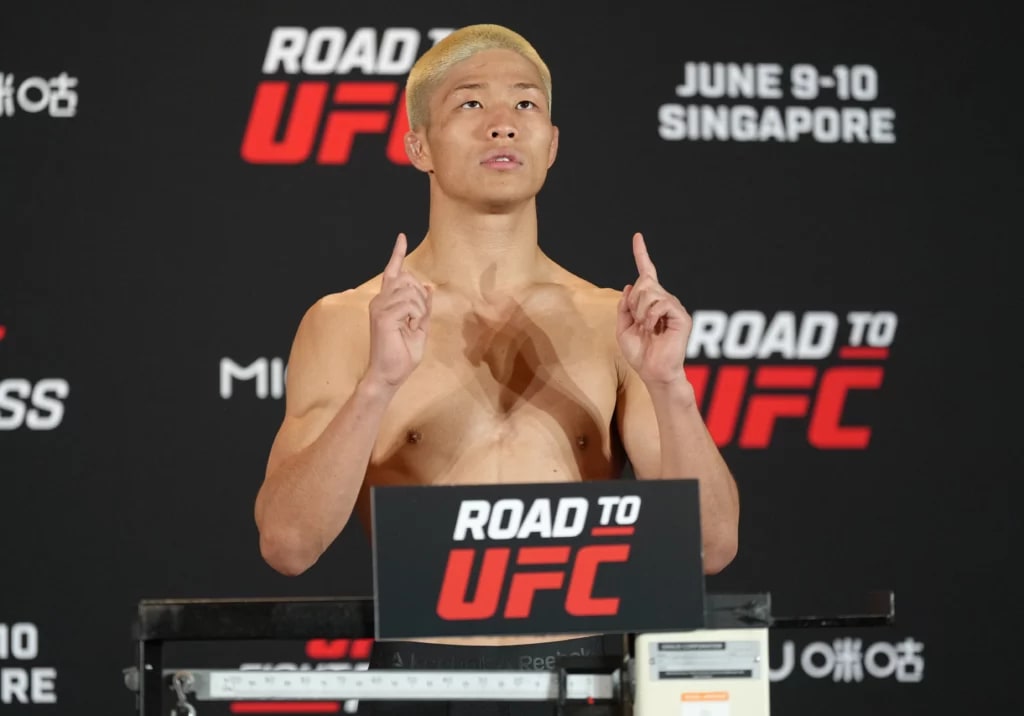 Bantamweight: Rinya Nakamura (136) vs Gugan Gusman (133.5)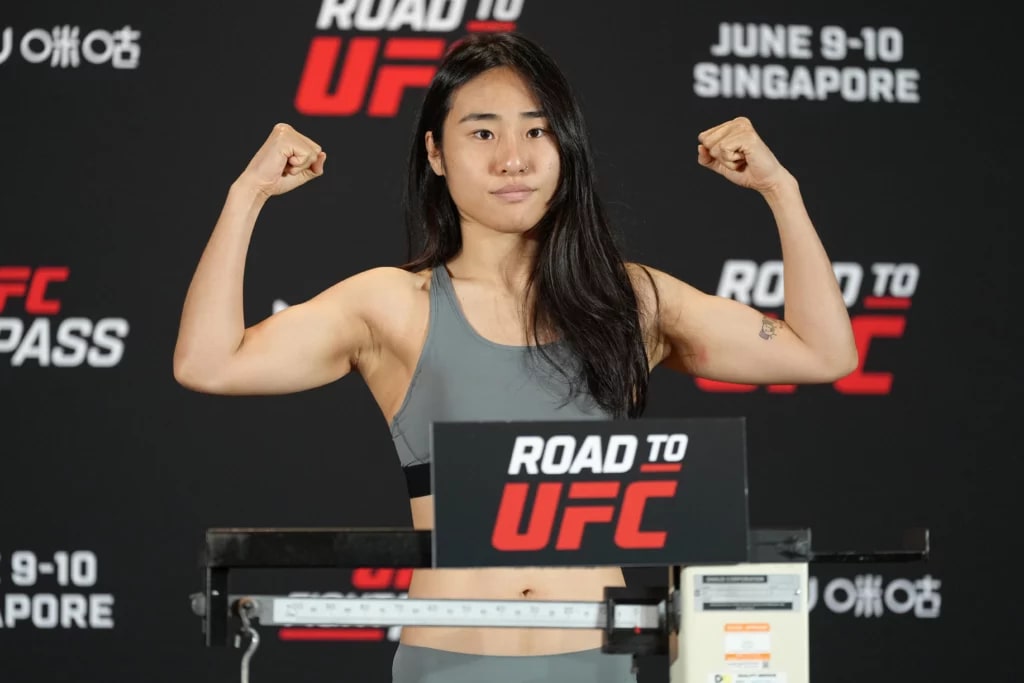 Women's Strawweight: Ye Dam Seo (116) vs Josefine Knutsson (116)
Road to UFC: Episode 4 weigh in results
Bantamweight: Shohei Nose (135.5) vs Wulijiburen (135.5)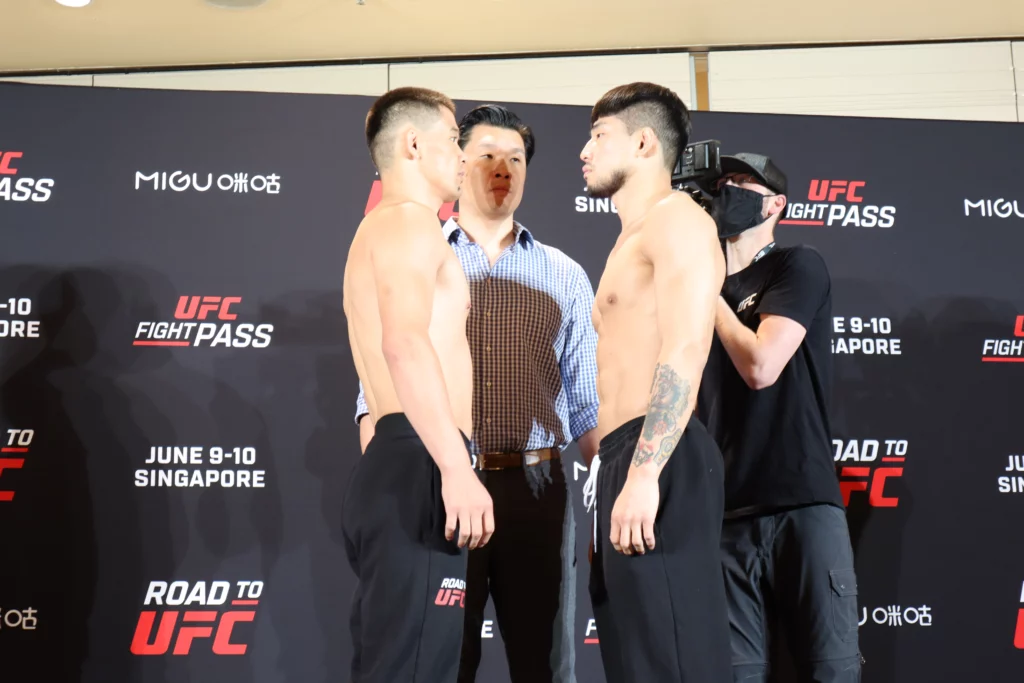 Lightweight: Asikerbai Jinensibieke (156) vs Kyung Pyo Kim (156)
Featherweight: Kai Lu (146) vs Angga Hans (144.5)
Flyweight: Hyun Sung Park (125.5) vs Jeremia Siregar (124)
Welterweight: John Adajar (170) vs Han Seul Kim (171)
---
10:54 am: Weigh-ins are complete.
10:51 am: Ahshul Jubli steps up. 155.5 is his weight. Looks like his opponent Sho Patrick Usami is not weighing in.
10:17 am: John Adajar to step on the scale. 170 is his weight and the fight with Kim is official.
10:00 am: Still waiting for John Adajar, Anshul Jubli, and Sho Patrick Usami.
9:28 am: Jeong Yeong Lee is next. 146 is his weight and the fight is official.
9:27 am: Jinensibieke steps up. He is 156 and his fight with Kim is on and popping.
9:18 am: Still waiting on welterweight John Adajar, lightweight Jinesibieke, lightweight Usami, bantamweight Jubli, and featherweight Jeong Yeong Lee left to step on the scale.
9:15 am: Shohei Nose is stepping up next. He makes weight at 135.5 and his fight is now official.
9:14 am: Nakamura is up with beautiful blonde hair. 136 and his fight is official.
9:14 am: Siregar makes championship weight at 124. His fight is official.
9:12 am: Xie Bin up to the scale next. He is 145.5
9:11 am: Wulijiburen makes weight at 135.5 is the official weight.
9:10 am: Liu Kai walks up the scale. 146 and a couple of yells. This featherweight clash is official.
9:10 am: Kyung Pyo Kim is next. He is 156.
9:09 am: Hyun Sung Park walks up. He hits the mark at 125.5.
9:08 am: Yuma Horiuchi is next. He hits the mark and gives a little scream as well. The second fight is official.
9:07 am: Ye Dam Seo hitting the scale now. She is 116. And the first fight is official.
9:05 am: Angga Hans walks up to the scale. 144.5.
9:04 am: Gusman up next. He hits the bantamweight mark at 133.5.
9:03 am: Flyweight from Thailand TopNoi up. 126 on the mark.
9:01 am: Welterweight South Korean Han Seul Kim is next. 171lbs.
9:00 am: No time to waste. Knutsson is first to the scale. She hits the mark at 116.
8:45 am: Locked and loaded for another weigh in.