After a wild opening round in Singapore, the "Road to UFC" semi-finals were officially announced by the UFC for October 23rd in Abu Dhabi.
The eight bouts- as well as two non-tournament fights- go down in the wake of the gargantuan UFC 280 card a day before at the Etihad Arena. They'll be split into two "episodes" to air on UFC Fight Pass, with the finals taking place on the prelims of a future UFC show. Sources have said a possibility is on the Fight Night card on December 17th, but isn't set in stone due to the quick turnaround from Abu Dhabi.
ROAD TO UFC SEMIFINALS EPISODE 5 (3am EST / 12am PST)
Featherweight- Yi Zha (20-3) vs. Koyomi Matsushima (13-5)
Yi Zha vs. Koyomi Matsushima should be an absolute scramble-fest. Matsushima fought a fast-paced fight in his unanimous decision victory over Hong Jun Young. While a small featherweight, he comes from a judo background and mixes his takedowns with strikes beautifully. He typically throws single strikes on the feet but is fast and accurate when he does.
Yi is also a highly skilled grappler, but more so in the BJJ realm. Where Matsushima struggles to keep opponents down, Zha is great at making his opponents carry his weight and has a high finishing rate on the ground. He submitted Keisuke Sasu in two minutes in his first RTU fight, and that was with a shorter training camp. He's been training at Bali MMA consistently since June, the 25-year-old could be a problem for Matsushima come October.
Flyweight- Qiulun (16-8) vs. Choi Seung Guk (5-1)
This fight could end up being the widest gap in the odds for the Road to UFC semifinals, favoring the more experienced Chinese flyweight Qiulun. On paper, Qiulun is a terrible matchup for Choi. The Korean showed good leg kicks and top pressure in his first RTU fight against Rama Supandhi, but struggled with the speed in the striking department. In addition, he doesn't always move his head well.
In contrast, Qiulun exemplifies the best of the flyweight weight class. He's fast, moves in all directions, and strikes off multiple angles. To win, he can play off of his strengths and outstrike Choi on the feet. The Zombie MMA prospect can dial up his pressure and try to slow Qiulun down with leg kicks if he wants to turn the tide- but he'll have to keep focus and be in tremendous shape if he hopes for that outcome.
Flyweight- Topnoi Kiwram (8-3) vs. Park Hyun Sung (6-0)
Former teammates will go head-to-head, with Topnoi aiming to become the first male UFC fighter from Thailand. Both fighters should eventually be in the UFC, so it's a shame one of them has to get booted from the tournament in this fight.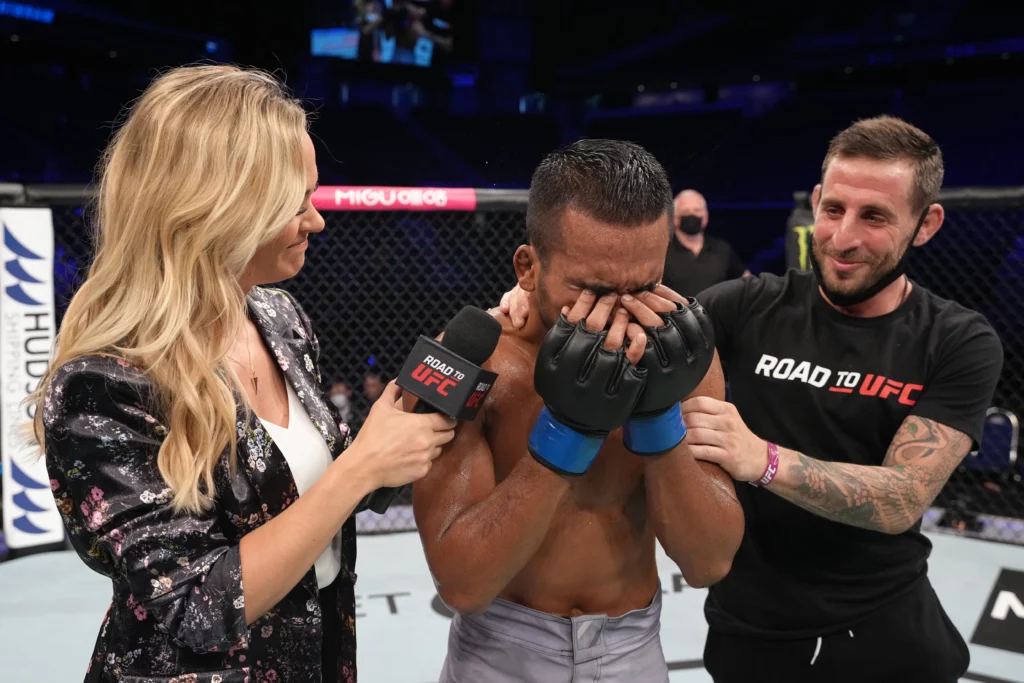 Kiwram fought arguably the stiffest competition on the field against Yuma Horiuchi in June, winning by unanimous decision. As one would expect from a fighter as experienced as Topnoi is, he utilizes a modified Muay Thai style to MMA, attacking with devastating counters.
Park will want to follow the blueprint of Horiuchi in round two of his fight with Topnoi to get the win, using his flexibility and scrambles to out-maneuver Topnoi to the ground. Park did nearly everything right in his win over One Pride champion Jeremy Siregar, showing a tight game and accurate strikes en route to a first-round TKO. This should be a competitive one.
Bantamweight- Kim Min Woo (10-2) vs. Toshiomi Kazama (10-2)
While Kim got a bye to the second round when his opponent dropped out, he deserves to be there. One of the top prospects out of South Korea, Kim is a huge bantamweight and holds a BJJ black belt. He works his jab well and throws good power from range, which carried him to a ROAD FC bantamweight title.
He'll fight another ground specialist in Kazama, who holds a BJJ brown belt. The Japanese standout was masterful in outclassing Chinese wrestler Keremuaili Maimaitituoheti in Singapore, using trips, submission attempts, and ground and pound to win a decision. If Kim can defend the takedown attempts from Kazama, he could have a striking and power advantage on the feet. A ground battle could be far more even and display a chess match between two tacticians.
Featherweight non-tournament bout: Balajin (23-3) vs. Keisuke Sasu (9-2-1)
Chinese-Mongolian wrestler Balajin finally gets his shot at earning the UFC's approval when he fights Keisuke Sasu in a non-tournament bout. Balajin had to drop out from the opening round of the tournament at the last minute due to Covid, while Sasu is returning after being submitted by Yi Zha in the first round.
Both of these fighters are ground-fighting specialists but in radically different styles. Sasu, the former Shooto featherweight champion, is a judo master who's gone the distance in most of his fights. Balajin, on the other hand, is dropping down from featherweight and excels at Mongolian-style wrestling, winning the majority of his fights by submission.
He's been a bit one-dimensional so far in his career, but he's also been training at Fight Ready under the striking direction of Eddie Cha, alongside fellow Mongolians Aoriqileng and Alatengheili. This fight could go multiple directions, with their grappling canceling out for a striking match, or Balajin could try to use his size to wear on Sasu on the ground.
ROAD TO UFC SEMIFINALS EPISODE 6 (5am EST / 2am PST)
Featherweight- Lu Kai (8-3) vs. Lee Jeong Young (8-1)
China's Lu Kai has quickly become one of the country's top prospects. After a highlight-reel knockout in the Czech Republic last year, he dominated Indonesia's Angga Hans to a second-round TKO. While fast and powerful on the feet, Lu has a background in judo.
On the other side, Lee was perhaps even more impressive in his Road to UFC debut. He proved himself as an aggressive action fighter when he submitted Xie Bin with an armbar in just 36 seconds. This fight should be all action wherever it goes, and both of these young fighters could definitely be UFC-bound soon either way.
Bantamweight- Rinya Nakamura (5-0) vs. Shohei Nose (9-2-2)
A favorite to win the bantamweight tournament, Japan's Rinya Nakamura lived up to the hype with a first-round kimura over Gugun Gusman. The highly-touted wrestler also has three incredible knockouts to his record, making him one of the best raw prospects of the tournament.
Not much was seen of his opponent, fellow Japanese fighter Shohei Nose, in his Road to UFC debut fight, as he won quickly over an injured opponent. While it's all but guaranteed Nakamura will get this fight to the ground eventually, he'll face a much more dangerous threat this time around, as Nose owns six of nine wins by first-round submission (including a recent neck-scissors choke). Because of that, Nakamura could also play it safe and battle on the feet.
Lightweight- Jeka Saragih (12-2) vs. Ki Won Bin (16-7)
Jeka Saragih went from a late replacement in Singapore to producing the most spectacular finish of the opening round. Already ahead in a dogfight against Pawan Maan, he knocked out his Indian foe with a spinning backfist in round three.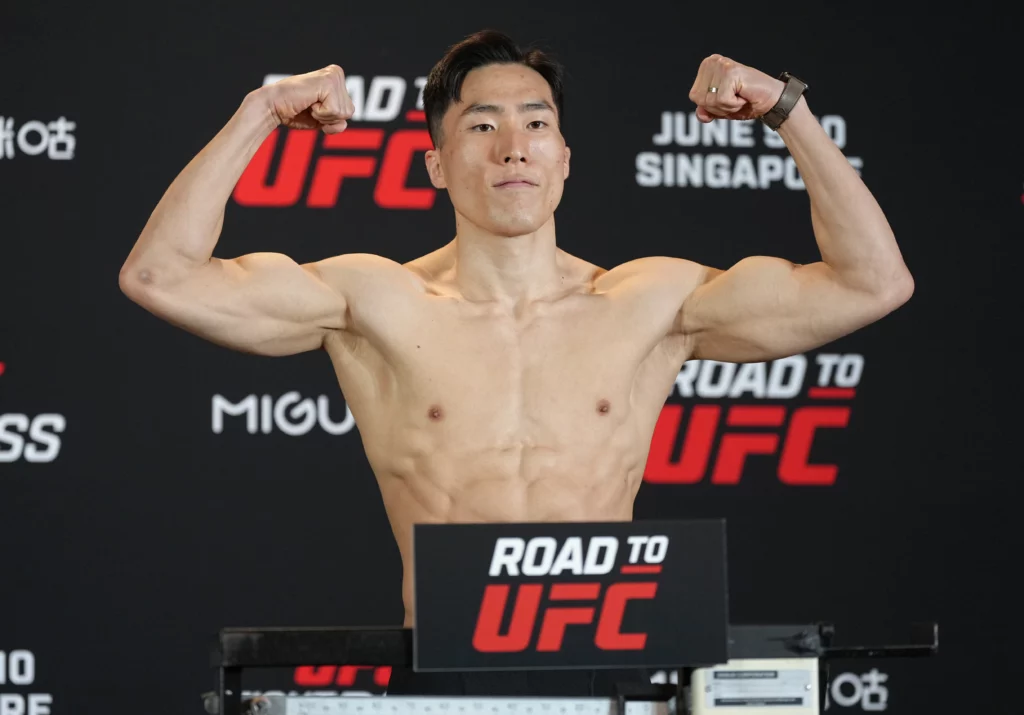 He'll have a much more experienced foe the second time around, as he fights smashing machine Ki Won Bin of South Korea. If this fight stays standing, someone's getting flatlined. Ki is enormous for lightweight and throws elegant, accurate combinations. As the most experienced competitor in Road to UFC, he'll likely be the favorite, but Saragih's power and wild striking make it more unpredictable.
Lightweight- Kim Kyung Pyo (11-3) vs. Anshul Jubli (5-0)
India's lone entrant at this point is Anshul Jubli, who is also one of the country's top overall prospects. He's also a relative unknown, as he's just five fights deep into his career and got a bye into the semifinals. He's still on the good side of his prime and has wins over two of India's better names in Srikant Sekhar and Sanjeet Budhwar, and represents the new wave of Indian fighters who originate with an MMA base.
He'll fight "Red Horse" Kim Kyung Pyo, who rides the momentum of a first-round knockout of Asikeerbai Jinensibieke in the opening round. Despite being a solid grappler, look for Kim to try to keep this standing. Jubli is also an excellent grappler, and going to the ground may be too risky for Kim. This will either be a breakout show for India's brightest prospect or an outclassing for "Red Horse".
Bantamweight non-tournament bout- Xiao Long (24-7) vs. Felipe Lima (11-1)
Another fighter getting another chance at redemption is China's Xiao Long. Xiao was also supposed to fight in the tournament, but Covid dashed those plans. At 24, he already has a ridiculous amount of experience, having held the WLF belt for a long time and competing in Dana White's Contender Series.
The UFC matchmakers found a worthy opponent to match Xiao's experience in Brazilian standout Felipe Lima. Lima is the FCR bantamweight champion, winning the belt in the Swedish promotion by flying knee knockout last November. Also training out of Bali MMA this year, Xiao will likely wrestle against Lima. Look for Felipe to flex his aggression against Xiao and counter the takedowns with knees.