In her latest column, recently retired UFC fighter Roxanne Modafferi  breaks down the romantic challenges that women MMA fighters face.
"Hi, my name is Roxanne."
"Roooxanne? Oh you're a fighter?! Don't beat me up!"
"…. I'm not … going to beat you up…"
Nice to meet you, too. I've gotten this reaction so many times. Mocking statements. Jokes that are only funny to the men saying them. Maybe the man was just poorly expressing being impressed, and curious as to if a girl could actually do well against him in combat?
It's really hard for fightergirls to find a partner, whether they are men or other females. If the partner doesn't train, the fightergirl finds a lack of understanding of things like: the fighter lifestyle, cutting weight, diets, dedication, being exhausted all the time, and most importantly, why on earth would a girl wanna go beat up another girl?
If we date another fighter, they understand all that.
Dating in Japan
I once had a conversation with one of my Japanese instructors about if he'd ever date another fighter, and he said, "No, I want to go home and not think about martial arts."
Over the nine years I lived in Japan, I got hit on exactly two times (that I'm aware of. I admit I'm a little dense). One time, a dude invited me for coffee after jiujitsu, and I thought he just wanted to learn about foreigners (like I said, dense). The other time I realized it, and felt surprised someone noticed me.
I always wondered if that was the same for American men as well as Japanese. Most fightergirls I'm aware of have fellow martial artists as companions. Sometimes they are just training partners, and sometimes they are a coach.
I get the sense that American men appreciate a partner who can understand their needs as a fighter, too. When I say "sense," I mean that my boyfriend Chris told me that outright. I cornered him for his last fight.
Dating in the gym
There are different major viewpoints on fighters dating fighters:
1) Don't date in the gym. It's a workplace.
2) Dating at the gym is okay.
2.5) Where the heck else is a serious athlete supposed to socialize if he or she is always at the gym?
I feel like it's common for coaches and students to get together because they spend a lot of time around each other.
Dating coaches is risky. If things go sour, the girl might be inclined to find a new gym. If it's dating a training partner, the possibility of just avoiding them often is greater than avoiding the coach.
My fiance Chris is a training partner. It worked out splendidly and now we're engaged. We sometimes do jiujitsu in our living room. It's marvellous. We coordinate our clothes sometimes. It's probably sickeningly adorable and I'm proud of that.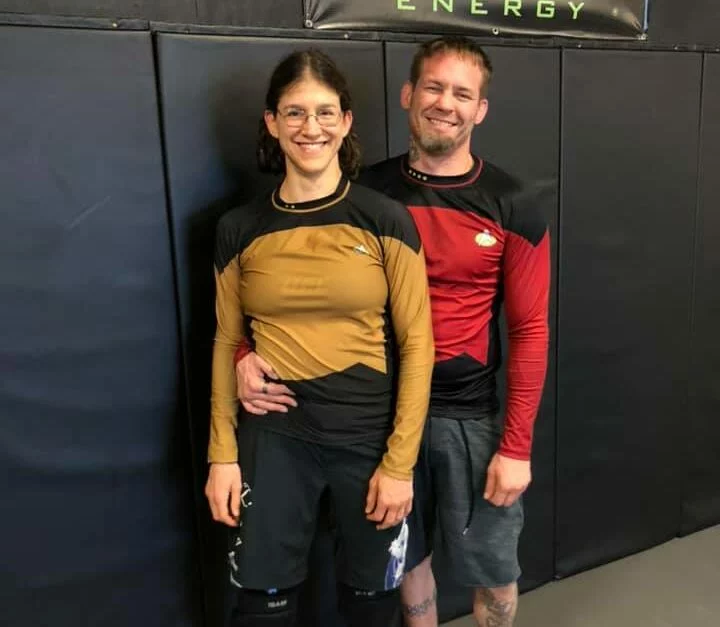 Fighter couples
Amanda Buckner and Jay Jack are a successful couple running an MMA gym together in Maine. They were the first pair I knew about, and they helped me hold onto hope for myself when I was a lonely single.
Lauren Murphy is married to Joe Murphy, who is one of the main jiujitsu practitioners in her life. 
Hiroyuki Abe ended up marrying one of his students at the AACC gym in Japan, and she is a pro MMA fighter.
My training partner Joanne Wood (formerly Calderwood) married my head coach John Wood last year. I was invited to their wedding and it was lovely.
Obviously I'm on the side of the fence where fighters should go for it if they want to be serious. Serious, like true love.  I've seen a lot of drama from dating around without being serious, and that's no fun for anybody in the gym.
Wonderful things can come out of finding commonality.  However, beware: most fighters are a little crazy!