Daniel Vreeland takes a deep dive into one of UFC 268's fights. This week: Shane Burgos vs Billy Quarantillo – an all New York clash.
The Stats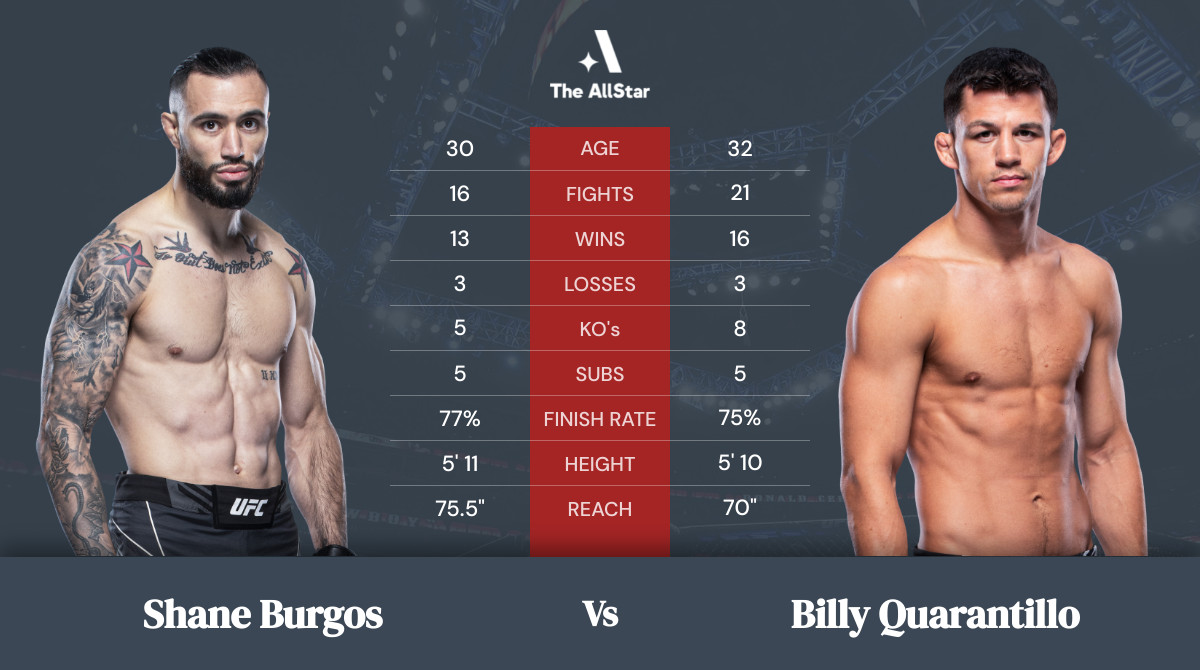 | "Hurricane" Shane Burgos | "Billy Q" Quarantillo |
| --- | --- |
| 13-3 (6-3 UFC) | 16-3 (4-1 UFC) |
| Monroe, New York | Ransomville, New York |
| 5'11" – 75.5" Reach | 5'10" – 70" Reach |
| Team Tiger Schulmann | Gracie Tampa South |
Shane Burgos vs Billy Quarantillo – Tale of the Tape
Leading Up
Heading into UFC 268, Shane Burgos is riding the first two-fight losing streak of his career. After ripping off five wins in his first six fights in the UFC, with only a loss to Calvin Kattar, he's run into a bit of a tough stretch. After going toe-to-toe with Josh Emmett in the first two rounds, he entered the third round at a round apiece. However, Emmett blew him out of the water in that round, winning all three judges' scorecards, including a 10-8 on one of them.
Burgos was then booked with Edson Barboza, who was just 1-1 since coming down to featherweight. Barboza clipped him with a right hand and at first, it seemed that he had just eaten it. However, after standing there for a few seconds, Burgos looked disoriented and began backpedaling until he hit the cage and fell down. The result was a TKO and Burgos' second straight loss.
Quarantillo came to the UFC through the two most popular ways for a prospect to do so. He fought on season 22 of The Ultimate Fighter – losing to Saul Rogers, who was supposed to be in the finals. Then, after some wins on the regional circuit, Quanantillo got a shot on The Contender Series against eventual UFC signee Kamuela Kirk. A third-round TKO won him a contract and he's pretty much been on fire since.
With the exception of a tough loss to Gavin Tucker, Quanantillo has looked stellar in his five-fight stint. Three of his four wins came by stoppage with a KO, a TKO, and a submission. Most recently, he faced off with Gabriel Benitez. In that fight, he dragged Benitez into deep water with a high pace and number of takedowns. Eventually, he would wear his opponent out and finish him with ground and pound from a back take position.
Styles Make Fights
Hurricane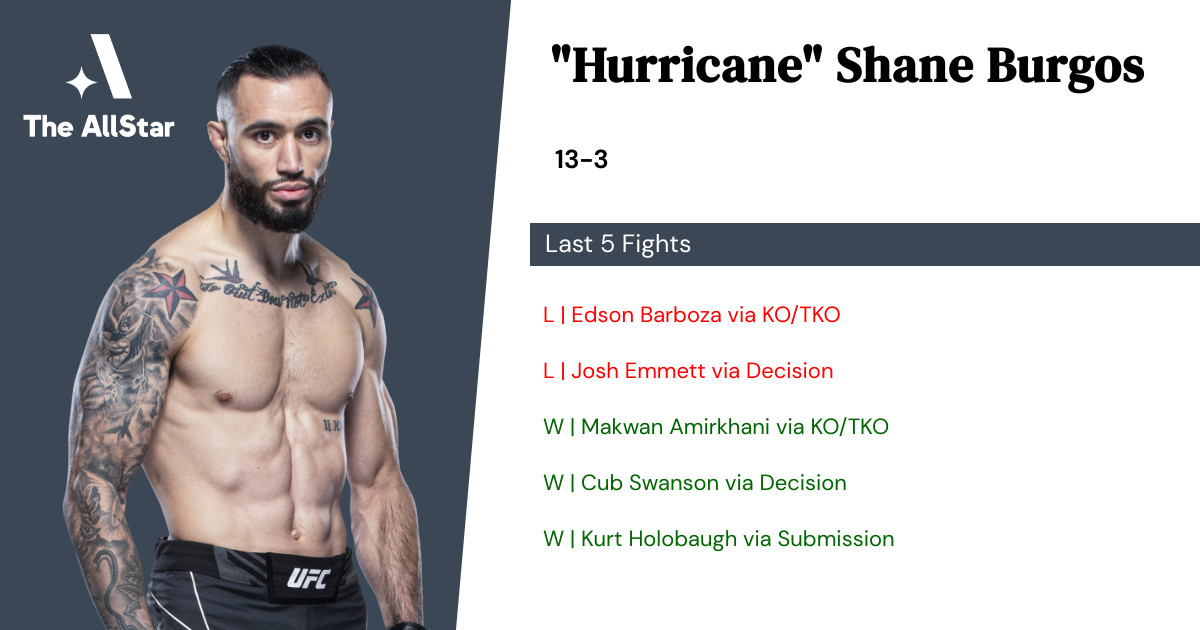 There is a lot to like about what Shane Burgos does on the feet. He's obviously a very talented striker and puts together combinations well. The thing that makes them such smart combinations though is the progression of them. At the beginning of nearly all of his combinations, he throws out feelers. That is to say that the strikes early in his combination are less designed to actually cause damage and more so to figure out how to cause damage. Some fighters do this with simply a smart jab, but Burgos is much more than that. He'll use a number of different punches to try to determine the right follow-up or to draw out movement from his opponent.
After all of this, he is exceptionally good at landing the big blow. He doesn't discriminate where this one (or sometimes multiple strikes) goes – we've seen him finish people with a shot to the head and to the body both. The only thing we don't see often from Burgos on the feet are kicks. He tends to like to stick to the boxing and has had good outcomes with that approach.
You aren't very likely to see Burgos intentionally use his grappling at UFC 268. He has only gone for two takedowns in his nine-fight UFC career but has landed both of them. The last one was in June of 2017 against Godofredo Pepey, so I would hardly expect that we'll see more at UFC 268. However, that doesn't mean we have nothing to talk about with his ground game.
For one, it is worth mentioning that he does have a good takedown defense rate. He's stuffed 89% of takedowns that have been tried in the UFC. He also is solid at getting back to his feet when he is down – although he may have struggled a tad with that in the Josh Emmett fight. It's also worth noting that when he hurts someone, he's not afraid to jump into guard to look for the finish. He has good solid jiu-jitsu basics that keep him safe as he lands the big blows to try to end the fight.
Billy Q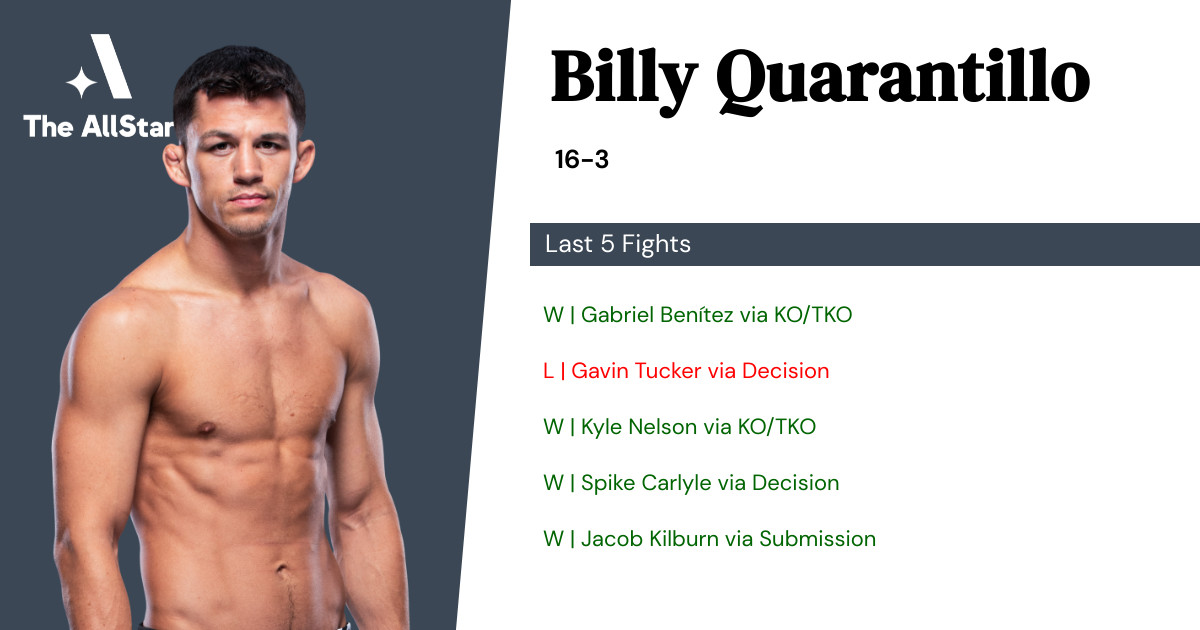 You can expect to see less polished striking from Quarantillo, but some of that is by design. Some of his striking is a bit predictable. He likes to throw a left jab followed by a big overhand right. Sometimes he'll do this two or three times in a row, and won't care if his opponent knows it. This may seem silly, but the reason is quite simple – he wants to be in the clinch.
The clinch is where Quarantillo does his very best work. Not only is it a path to the ground (which we'll talk about in a little bit), but it also is how he does his best damage on the feet. He uses a Muay Thai plum well and lands knees to both the body and the head. He isn't afraid to dirty box there a bit and he uses a lot of these attacks to get his opponents sleeping on takedown attempts. When they throw knees of their own, he uses that to counter to his favorite facet of the fight.
The ground is clearly where Quarantillo does his best work. He's an aggressive submission artist – he averages 1.7 submission attempts per fifteen minutes. Some of those come from his prolonged top game, but we've seen him use triangle attempts and armbar attempts from the guard as well. As for getting it to the ground, he has a number of options there as well. He does have a good double leg that he drives through to finish, but he also recently showed that he has some trips that work well too. Against Spike Carlyle, Quarantillo got into that aforementioned clinch position and landed a mean knee. When Carlyle was reacting to that, he locked up a body lock and hit an outside trip. This diversity of options makes him a bit trickier to deal with when it comes to defending and could be a difference-maker at UFC 268.
The Clash
This fight gives us a little taste of that older era where styles clashes were pure in form. Although neither of these guys have the glaring weaknesses we've seen from that older era, neither is really hiding what they want to happen. If Burgos gets his wish at UFC 268 and this stays standing, I think he's got a lot of advantages. The primary advantage is that Quarantillo is pretty weak defensively when he's forcing himself into the clinch. This could be a moment where Burgos begins to time the movements and land one of those big blows.
On the other side, I see a clear-cut advantage for Quarantillo on the mat. Burgos has solid wrestling and submission defensive, but he hasn't really been forced to use them for a prolonged period of time. If Quarantillo is able to get it to the mat in the earlier part of a round, I could see the chinks in the armor playing a factor here. However, getting it early so he has time to work, will be essential.
Final Verdict
Although I appreciate the takedown defense of Burgos, I think the numbers are a bit inflated. Stuffing fourteen takedowns from Godofredo Pepey will help the statistics until the end of time. I think it's far more telling that he had issues with fending off the attempts of Makwan Amirkhani. I expect Quarantillo to have similar success getting the takedowns at UFC 268, but doing a better job at holding the position. Whether he gets the finish or not, this will win him enough rounds to take the fight.
If you agree with Gumby, you can find Quarantillo as a +175 underdog. If that line tickles your fancy, you can bet on it right here.