Daniel Vreeland takes a deep dive into one of UFC Vegas 45's fights. This week: Stephen Thompson vs Belal Muhammad – a showdown between the up-and-comer and the stalwart of the top of the welterweight division.
The Stats
| Stephen "Wonderboy" Thompson | Belal "Remember the Name" Muhammad |
| --- | --- |
| 16-5-1 (11-5-1 UFC) | 19-3, 1NC (10-3, 1NC – UFC) |
| Simpsonville, South Carolina | Chicago, Illinois |
| 6'0" – 75" Reach | 5'10" – 72" Reach |
| Pitch Black MMA | Roufusport |
Stephen Thompson vs Belal Muhammad – Tale of the Tape
The Odds
Leading Up
Thompson
It's been a wild career for the thirty-eight year old Wonderboy, and it doesn't appear to be close to ending. After losing to Matt Brown in just his second fight, Thompson went on a massive seven-fight win streak. That streak included wins over past and future champions, Robert Whittaker and Johny Hendricks, respectively. In back-to-back title fights with Tyron Woodley, "Wonderboy" would go 0-1-1, with both results coming by majority decision. After dropping back-to-back fights to Anthony Pettis and Darren Till, Thompson agreed to take on a few of the up-and-comers in the divisions. He would turn both Geoff Neal and Vicente Luque away in dominating fashion, staking his claim for a continued spot at the top of the division. However, a July setback to title contender Gilbert Burns again has him looking to prove himself against someone down the rankings a bit.
Muhammad
Despite being a bit younger than Wonderboy, Muhammad has had a long road to this point filled with some ups and downs as well. After starting his UFC career just 1-2, Muhammad rattled off four straight wins. That came to a halt at the hands of the aforementioned Geoff Neal, who took a unanimous decision from him back in 2019. It didn't take long for Muhammad to rebound.
He returned to the cage just three months later to pick up a win over Curtis Millender, and would use that to put together another four-fight winning streak. This one would end in more curious fashion. When Khamzat Chimaev was forced to pull out of his fight with Leon Edwards due to COVID, Muhammad jumped at the chance. Sadly, it would be little of a chance as he was poked in the eye in the second round, causing the fight to be stopped. Edwards stated that he was uninterested in re-booking with Muhammad, but Muhammad would get another high-profile opponent in Demian Maia. He went on to beat Maia to get back on the right track.
Styles Make Fights
Wonderboy
The striking skills of Wonderboy are well-documented. He's a karate specialist, but there's far more to just saying that fact and actually dissecting what it is that he does well. From an offensive perspective, it's about the ability to string things together. Most fighters can put together a decent combination, but Thompson does so in a way that makes him particularly dangerous. None of his combinations are based on rote memorization. Instead, they just center around him staying on his opponent – often literally. In between some of the bigger shots, he leaves his lead hand on his opponent. This serves two different purposes. Firstly, he is able to read the distance to make sure the next shot is available. Secondly, he's able to deter his opponent from returning fire.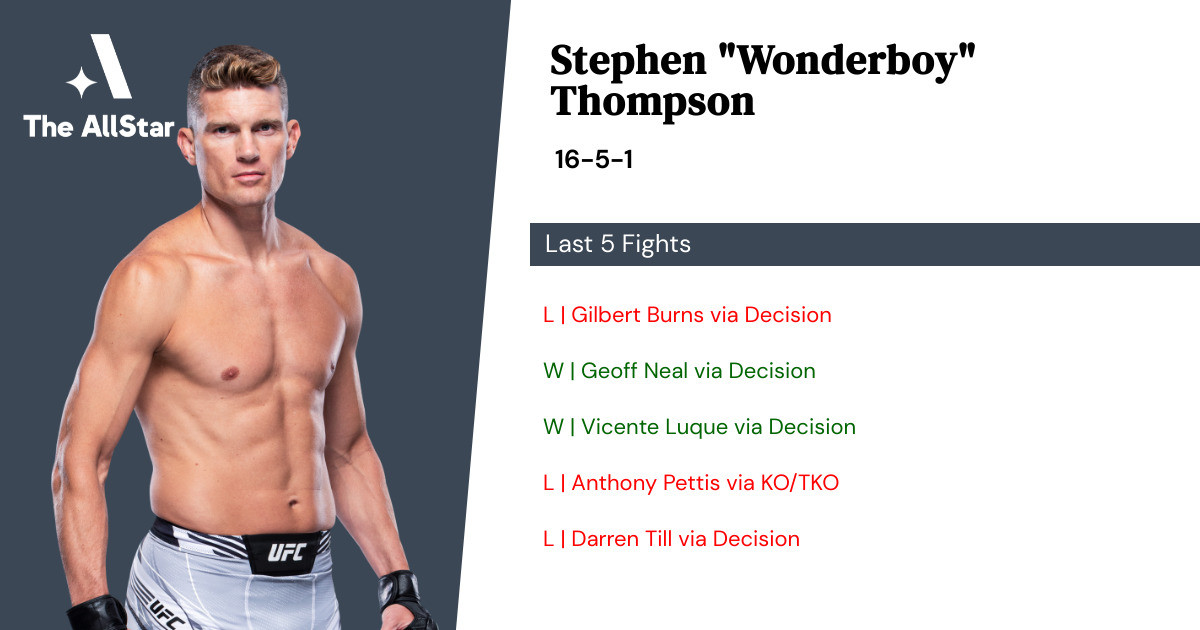 Apart from the very impressive offensive combinations, Wonderboy also is sharp on the defensive side. He's only been knocked out once in his career (by Anthony Pettis) and that is no accident. He starts by using kicks to maintain the distance he prefers in striking exchanges. He also mixes in the jumping in-and-out motion popular with karate stylists, which keeps his opponents from finding range. If there is one critique of these facets of his game, it's that he can occasionally get backed up a bit too much.
You're unlikely to find a time in his career where Thompson will want to grapple. His first loss came to Matt Brown when he was badly outgrappled. The most recent loss, to Gilbert Burns, was the same. He appears to be good at defending takedowns, but a really solid wrestler like Burns may steal a couple. He is often quick back to his feet though.
Remember the Name
Perhaps the best part of Muhammad's striking style is that he adapts it to the fighter he is fighting. Even just looking back a couple of fights, you see a very different Muhammad. Against Leon Edwards, you see him very light on his front leg. This is likely to check the kicks as Edwards goes to the legs quite a bit. It also helped him throw in some kicks of his own to help avoid the clinch with the craft Edwards.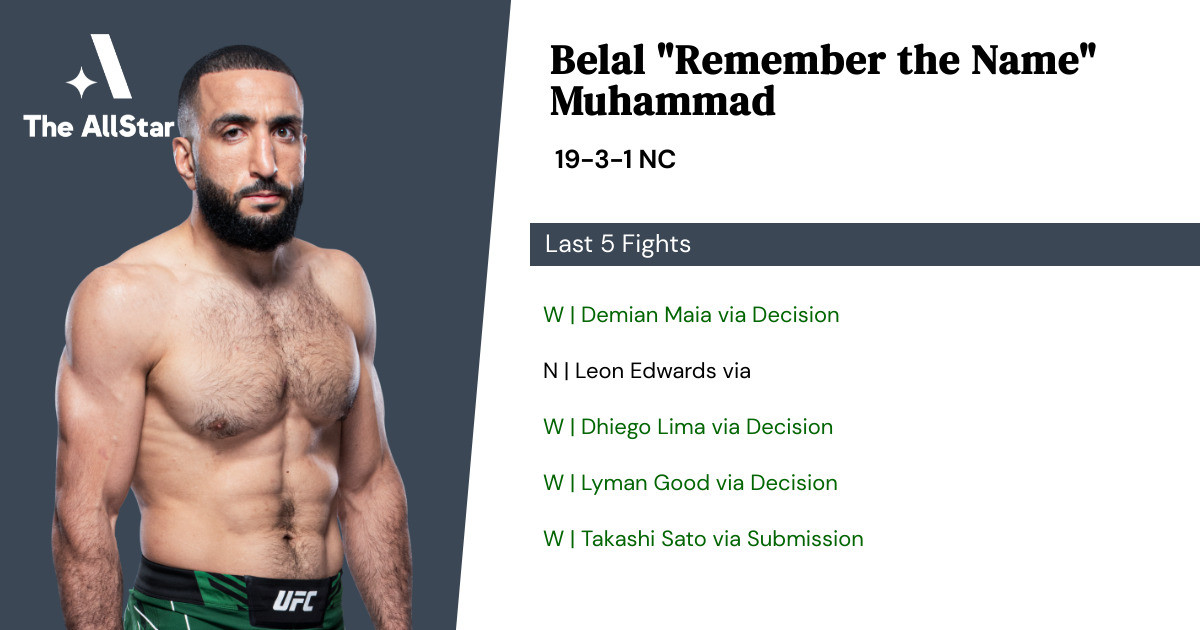 In the next fight, against Demian Maia, we saw a huge change. He was planting his front foot much more often and didn't want Maia anywhere near it. Plus, he was changing from his orthodox stance to a southpaw one back and forth in order to keep Maia guessing about where he would need to shoot on. While changing things up this much can be detrimental to some fighters, Muhammad seems to toggle between different approaches with little loss to his fighting ability.
As far as consistent things he does on the feet, Muhammad likes to throw hooks as he lunges forward. Sometimes, like in the Maia fight, this would happen right in the middle of a stance switch in order to catch his opponent off guard. More often it comes behind a jab that helps find the range. In either instance, the fact that he doesn't sit down on it is part of why he hasn't shown much power in the UFC. He currently has just one stoppage due to strikes in his fourteen UFC fights, and it came in his second fight.
Muhammad does like to shoot takedowns depending on his opponent. Being that he's facing Wonderboy, it would make sense that he try a few in this fight. However, he's just three for his last eighteen attempts – which come from his last four fights. While he used to get more in terms of volume early in his career, the percentage has never been good. For his career, he's just 28% successful.
The Clash
Given the takedown percentage of Muhammad and the ability to keep distance, I have a hard time seeing this fight ever hit the mats. Muhammad just doesn't get deep enough on his shots and Wonderboy does not allow very much in the way of opportunities to do so. Not to mention, only elite-level grapplers have been able to have sustained top control time against Wonderboy, and I just don't think Muhammad is there yet.
If this fight does take place entirely on the feet, it will be interesting to see how Muhammad adjusts to the style of Wonderboy. There are lots of things he could try to replicate from Gilbert Burns' approach that may possibly have success here. However, one of his bigger and more consistent weapons, the hook on the way in, seems prime to be countered by Thompson. On Thompson's side, making sure to maintain that distance and forcing Muhammad to pay for coming in recklessly will be key.
Final Verdict
At the end of the day, Wonderboy is just too good on the feet for Muhammad. Although Muhammad adjusts well to his opponents, the lack of knockout power or ability to really hurt Thompson on the feet limits him. I also think that he is going to have issues dictating the arena of the fight. Wonderboy moves too well to be consistently pinned to the cage. Furthermore, he is not easy to take down. With all this being said, I like Wonderboy here. He most likely takes a decision, but I wouldn't be shocked if he lands a big blow.
If you agree with Gumby, you can find Wonderboy as a huge -227??? favorite. If that line tickles your fancy, you can bet on it right here. Drop your predictions in the comments below.