In her latest column, recently retired UFC fighter Roxanne Modafferi sheds some light on an ever-present challenge that professional fighters face: injuries.
No fighter enters a competition in perfect health. Well, to be honest, maybe twice I felt pretty perfect, but that was super rare. I fought 50 MMA matches and more jiujitsu bouts on top of that.
Fighting sports are obviously very physical, and the fighter has to train incredibly hard. Accidents happen; someone's neck gets wrenched while trying to do a takedown in wrestling, or a knee gets twisted. Ligaments rip. Spines get disc damage.
Most common are minor things: stiff neck and back, twisted ankle, aches and pains. We fighters learn to live with it. We are always in pain every day with something.
MMA is an extreme sport where physical strength and stamina are super important things. Functionality is even more vital.
Dealing with major or minor injuries is one of the most important things a fighter goes through, especially in the lead-up to a fight.
Dealing with injury
Were they injured in the beginning of the training camp with lots of time before the fight, or just before the fight date?
Should they still fight or pull out? How should they handle the injury?
The major factors are:
How long to recover?
How severe the injury?
What kind of life-changing impact will it have?
What kind of monetary impact will it have?
I hurt my knee one month before my fight against Takayo Hashi at Jewels: 18th Ring in the spring of 2012.
I decided to continue with the fight because I had wanted to fight her for years and I wasn't sure I would be able to get another opportunity. Hindsight showed me that it was a mistake. I couldn't train properly. I could only ride the bike.
Bad back
We fought, and the whole time I was worried about my knee giving out. I underperformed and lost the fight. She might have beat me even if I were healthy but now I will never know.
I regret that decision.
I have had a bad lower back and neck for over a decade. The pain fluctuated in severity. Knowing I'd never be perfect, I just tried to do things to keep it minimal, like getting massages and being careful. Those injuries, which occurred in competition and training respectively, affected me in my daily life.
In one of my fights against Tara LaRosa, my neck was particularly painful. I could scarcely turn from side to side! In desperation, a week before the fight, I looked up an acupuncturist with high ratings in Atsugi, the city where I was living in Japan. He turned out to be blind. How mystic!!
Turns out it wasn't so mystic when he couldn't find a needle he left in my neck. Eventually he found it but I was freaking out and vowed never again. The treatment didn't help at all, but I had stuff wrong that acupuncture couldn't fix, so I can't really blame him.
Lifelong damage
My neck loosened up a little bit just before my fight, and I ended up being able to ignore it. My neck pain didn't affect the fight. I happened to win that one.
In the winter of 2012, I was scheduled to fight Shizuka Sugiyama in Deep Jewels. That time my neck was so bad that I couldn't tilt it side to side. It wasn't just the muscles being tight. I could feel it in my vertebrae.
Something was majorly wrong. I tried to practice but I was terrified that if somebody pushed me wrong, my neck would break and I would get lifelong damage.
I got imaging done and I did indeed have a little bit of a bulging disc. It happened when I was grappling and I smashed my neck into somebody's body and it got twisted at an odd angle. I pulled out of the fight. I ended up not getting another opportunity to fight her but I don't regret my decision.
More recently, I've had trouble with my right knee. It began bothering me a little bit when I started training to fight Taila Santos last year. It had been aching and bothering me a little bit the previous year but nothing that stopped me from any training.
Popping sound
I just iced it. Something always hurt, and every day, it was a constant source of stress. Will it hurt tomorrow or feel better? How much will I suffer tonight after practice?
It was a coin toss.
After I fought Viviane Araujo in January 2021, (I felt so healthy for that fight but still didn't win. Her technique was better.) I took a few weeks off and then started training again. Then during jiujitsu, my knee got twisted and made a popping sound.
I continued trying to train in February, but I had to take it easy. I was only able to operate at maybe 35% of my normal ability and intensity. I agreed to fight Taila Santos in May. I thought I would've gradually improved but after an entire month, it did not. It actually got gradually worse, and that percentage is not acceptable for fighting for me.
When a fighter gets injured they have to ask themselves, how much speed, power, and mobility will be limited?
Taila Santos
I wondered if maybe I could just ignore it. I took a grappling fight in Submission Underground as a test. It hurt to bend the knee, which locked up backstage while I was trying to warm up.
I knew then that I could never function well enough in a risky UFC bout. It was so stressful and devastating to know I lost a chance to fight and make money. Then I had to go out there and do my best in the Jiujitsu match.
I pulled out of the Taila fight, and the UFC ended up just delaying it, rescheduling it later in the year for September. The MRI showed I had a meniscus tear! I felt happy that it wasn't my imagination and it could be repaired!
So often, the doctors didn't have an answer for me. I got surgery and it only took me six weeks to recover! The doctor did a terrific job.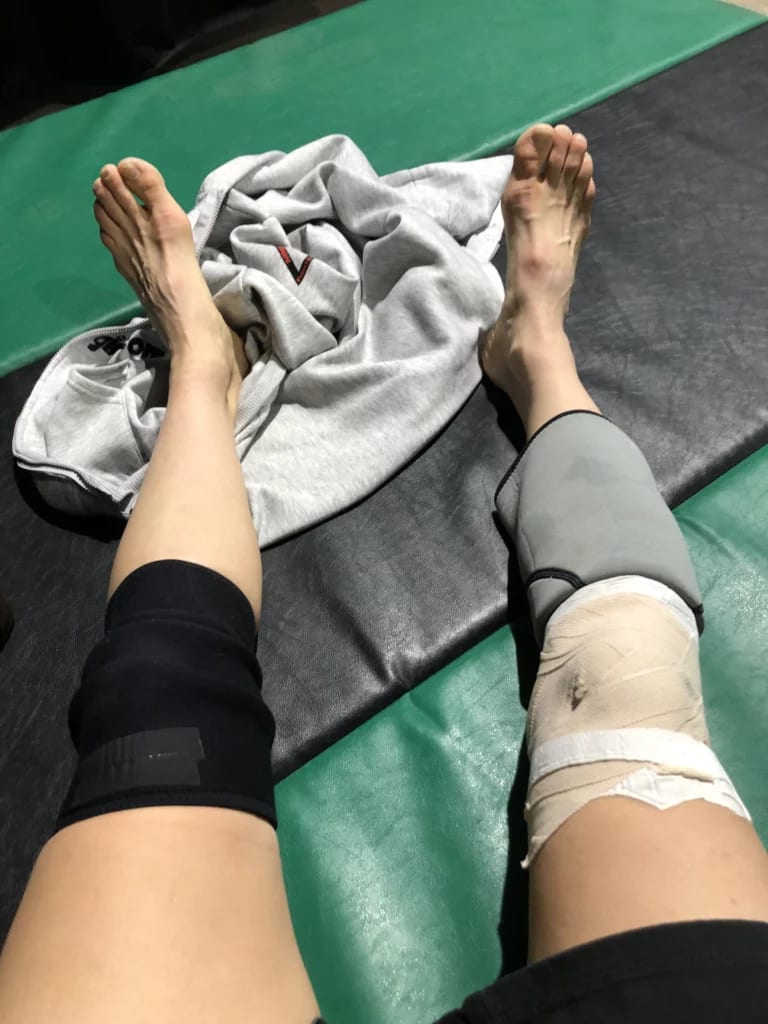 I felt perfect just before that fight against Taila! No knee, back, or shoulder pain! Still lost the fight.
Head injuries
Head injuries are not talked about as much because they are harder to judge and analyze. Fighters who get concussed in training should be super careful.
You get knocked out in sparring by a training partner A-hole who goes too hard, go home, and then expect to go to practice the next day. No!! Your brain needs rest! How many days? We don't know! It depends on your symptoms.
Do you get headaches? Do you feel pressure in your school? Are you dizzy or nauseous? If so, the fighter needs to give themselves time to heal so their daily life isn't hindered by brain damage.
I've gone through periods where I kept getting mild concussion symptoms, like headaches, in training so I ended up telling certain training partners that I wouldn't spar with them anymore. My brain health is not worth gambling on whether they can control themselves or not.
Money issues
What if the fighter is injured but needs the money? More fighters have this issue than you'd think. Up-and-coming fighters are trying to make it in the world of sport fighting. Sometimes they can barely pay their bills and count on the fight money to pay the rent.
Then they HAVE to fight. They might be risking their lives. I think it's a shame to feel that kind of pressure. High-profile fights are close to impossible to pull out of because the promotion pours so much money into promoting the fight in advance.
Imagine if you bought a plane ticket to go across the country to see Conor McGregor fight, and then a week beforehand he pulled out?
People are kind of not supposed to talk about their injuries unless they win. If you lose and talk about it, it sounds like you're making an excuse, and are taking away from your opponent. It's bad sportsmanship.
Of course, you don't want to talk about it beforehand or you'll clue in your opponent. If you win and mention that you were hurt, it sounds so epic. You pushed through it! However, then that encourages others that you should be able to push through something.
Fighter struggles
But then those who can't or lose anyway feel like a failure. "Why couldn't I overcome?" Also, if someone who beat me admits they were injured, it makes me think, "Gosh, I couldn't even beat them injured. I am trash." This has happened to me multiple times and made me feel so worthless I can't even describe.
Injuries hinder fighters, and are both emotionally and physically taxing. They can impair a fighter's performance in the fight, and limit their ability to train. However, there is more to winning a fight than physicality – there's technique, strategy, and execution, and failing at any of those can lead to their downfall just as much as the injury.
Fighters are always struggling with the process of just getting to the cage. This is why I never boo anybody when watching a fight.