Jinh Yu Frey is a well-traveled fighter who has held championship accolades and is looking to extend her win streak to three straight in the UFC.
Frey began her Octagon run in a bit of an inauspicious way with back-to-back losses in 2020. However, she turned a corner the next year and obtained victories against rising prospect Gloria de Paula and gritty veteran Ashley Yoder.
Douglas Frey, Frey MMA/10th Planet North Dallas coach and Jinh's husband, revealed the multiplicity of factors related to what's behind the resurgence.
"I think there's a couple of things," Frey told The AllStar. "The first fight [she] took it on six days' notice. Hadn't been training and came off the mountain. We had been eating smores and drinking wine next to a fire pit in New Mexico. We're driving home and got the call hey, we need you in six days. She hadn't been grappling, had been healing from a neck injury that had been bugging her since autumn of the year previous. She dropped that fight and of course that fucking sucks.
"Then she got the opportunity on Fight Island against Loma [Lookboonmee]. And Loma is an incredible fighter. I thought we had the correct approach and game plan. But we didn't really have the training partners. She had a couple of my guys who are very small amateurs. As small as Jinh. I think maybe the preparation wasn't a hundred percent. Except for in the third round, we saw Jinh really dial in on the way she should have approached the fight, to begin with."
Consecutive losses can put any UFC athlete in a tough spot so they started to look for answers. Physically she is gifted and has all the tools, yet the mind needed some work.
"She started working with a mental coach right after that fight," Frey said. "A guy that I have known for a while. A former FBI and a former D1 wrestler who has worked with a lot of athletes in the past. We got into contact with him. Jinh started working with him and his team one on one. It started really helping her with just managing the nerves that come with being in the big show.
"She's fought in Rizin, Invicta, Road [FC]. She has had big show opportunities but it really isn't the gravity of the UFC. There's just a different feel when you get here. When you come from being a champion who is known for being very good in a weight class and then dropping two in a row, those were some hard times in our household. As a husband, have a lot of positive reinforcement.
"So I think everything that happened with that helped with her third fight in the UFC. Then she maintained that relationship with her mental coach through the fourth fight and saw the value in it. Really put in the time and effort to learn how to approach your own mind when it comes down to that. That and she joined up with Fortis [MMA]."
Sayif Saud, the head coach of Fortis MMA, has a reputation for elevating established fighters to the next level. She made the sacrifice and started to make the trek to Dallas to train with one of the premier teams in the world.
Working with the level of talent, alongside new addition Sam Hughes, has given her the missing pieces and the hard sparring necessary to compete at the top of the strawweight division.
"We had a good rapport," Frey said of Saud. "He's just a pretty far drive away from us. But I said, 'Jinh if you need fight speed, there's so many UFC fighters in that gym. That's where you need to go.'
"She, I wouldn't say reluctantly but was kind of like this is new. This is going to take some work but she did it and now she's a staple of Fortis. She'll finish her time training out of Fortis and of course my gym as well."
Douglas describes this as a Benjamin Button scenario. Jinh turns 37 in May but is actively accruing new skills and improving within the sport every day. She recently signed a new four-fight deal and seems to be taking a slow approach to her future.
Glover Teixeira won the UFC light heavyweight title at the age of 42 so nothing is impossible and the path to the belt is only a few wins away.
---
Fighter profile
Jinh Yu Frey is a 36 year old female fighter from United States with 11 pro wins and 6 losses. Yu Frey is scheduled to fight Hannah Goldy at UFC Fight Night on Saturday February 26, 2022.
Jinh Yu Frey's recent form coming into this matchup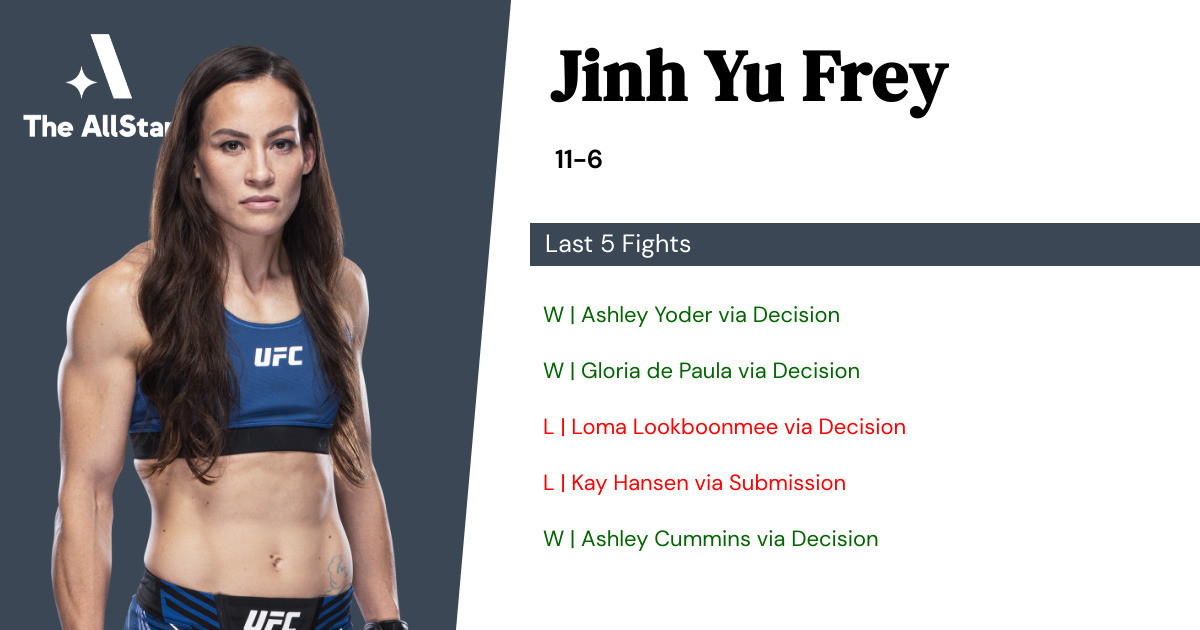 Jinh Yu Frey has gone 3-2 in the last 5 professional MMA fights.
Win vs Ashley Yoder • Decision R3 5:00 • 2021-07-31
Win vs Gloria de Paula • Decision R3 5:00 • 2021-03-13
Loss vs Loma Lookboonmee • Decision R3 5:00 • 2020-10-03
Loss vs Kay Hansen • Submission R3 2:26 • 2020-06-27
Win vs Ashley Cummins • Decision R5 5:00 • 2020-02-07